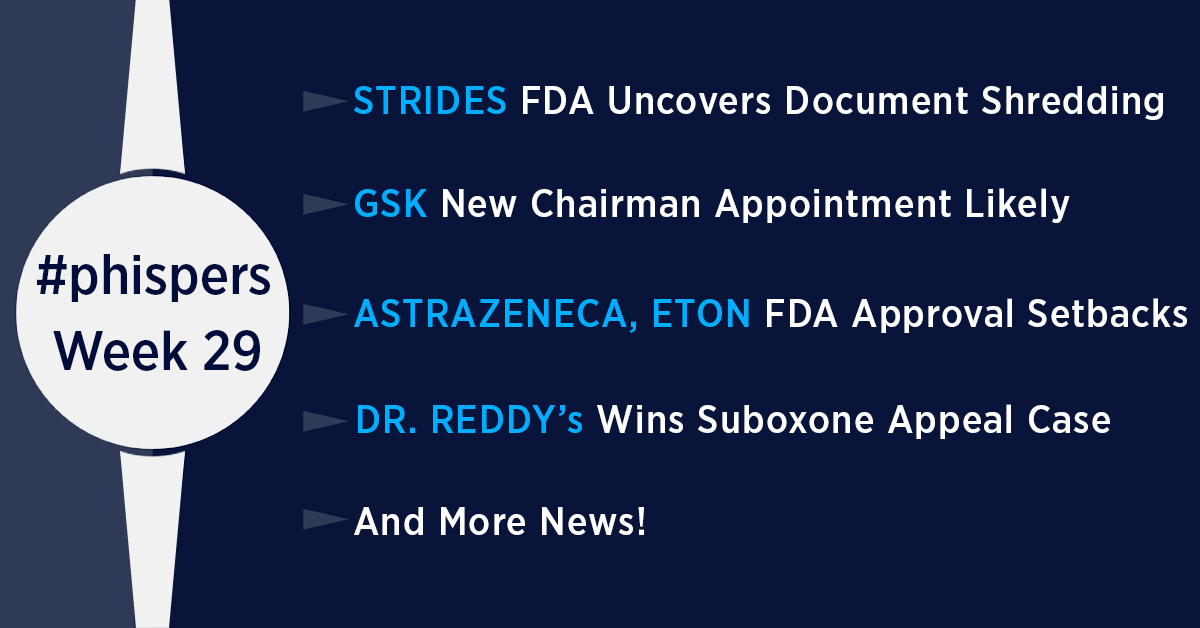 FDA uncovers shredding of documents at Strides; US scraps drug rebate proposal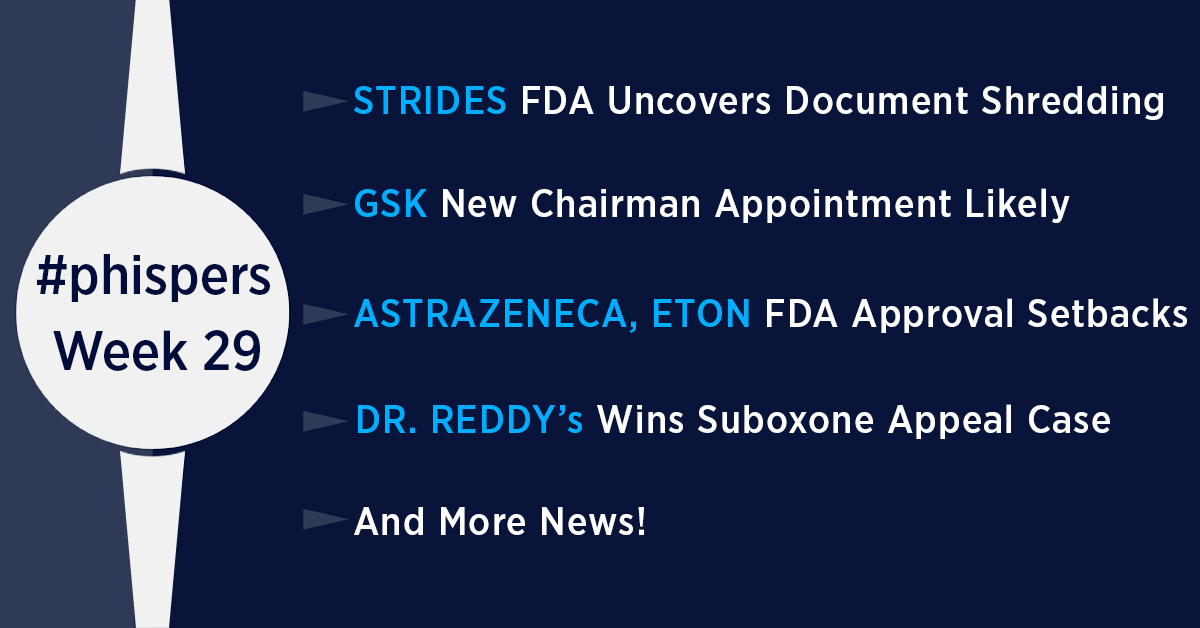 ×
This week in Phispers, we bring you news from the US where the Trump administration struck down a proposal that required health insurers to pass rebates from drugmakers to Medicare patients.
British drug giant GSK is likely to name Jonathan Symonds as its chairman.
Symonds has worked at both AstraZeneca and Novartis.
Gilead has entered into a research partnership with biotech Galapagos by investing US$ 5 billion.
The deal restricts Gilead from acquiring Galapagos.
FDA uncovered flagrant violations of cGMP norms at Indian drugmaker Strides Pharma and issued it a warning letter.
Another Indian company — Indoco Remedies — received a warning letter for its tablet-manufacturing unit.
AstraZeneca's diabetes treatment — Farxiga — failed to bag FDA approval for type-1 diabetes. And Indivior lost an appeal to block generic Suboxone.
Indian drugmaker Dr Reddy's can now market the generic opioid treatment.



FDA uncovers shredding of documents at Strides; Indoco gets another warning letter
India saw flagrant violations of current good manufacturing practices (cGMP) yet again. An FDA inspection of Strides Pharma Science Limited uncovered uncontrolled shredding of documents along with discarded cGMP documents. The finished pharmaceutical manufacturing site located in Periyakalapet, Puducherry, was inspected from January 28 to February 5, 2019.
The FDA investigator found multiple bags of uncontrolled cGMP documents, which were awaiting shredding, with color coding indicating they were from drug production, quality, and laboratory operations. A blue binder containing cGMP records, including discarded batch records for US drug products, was also found along with other records in a 55-gallon drum in Strides' scrapyard. The dates on the cGMP documents in the binder indicate they were only seven days old, when the FDA inspection took place.
The warning letter issued to Strides questions the effectiveness of its Quality Unit, the integrity and accuracy of the firm's cGMP records along with the firm's ability to thoroughly investigate deviations.
In its response to the FDA, Strides stated that the binder of cGMP documents "inadvertently come [sic] to scrap yard" and that they were investigating the issue.
Indoco Remedies' unit receives FDA warning letter: There was more bad news from India — Indoco Remedies received a warning letter for its tablet manufacturing operations. The company's sterile injectable manufacturing facility had received a warning letter in March 2017, but was cleared by the FDA in April.
In February, PharmaCompass had reported that data-integrity concerns had been uncovered at the firm's tablet manufacturing facility (Plant I) in Goa. Following a seven-day inspection in January, the FDA had issued a Form 483 to the company, which had revealed data-integrity concerns. The investigation "found that production and IPQA (in-process quality assurance) personnel purposely recorded values within established limits" even though the actual values were not within limits.
Last year, the same Indoco facility was cited by the UK's Medicines and Healthcare products Regulatory Agency (MHRA) for GMP non-compliance after inspectors found "evidence of falsification of data in GMP records".
The inspection, which was conducted in March 2018, had also found that the company's pharmaceutical quality system was ineffective and the firm provided false and misleading statements to the inspectors.
The consistency of inspection outcomes at Indoco comes at a time when the FDA announced that after five years of close cooperation with the EU, the FDA has successfully completed its capability assessments of 28 EU member states. The assessments have determined that each EU member state has the capability, capacity and procedures in place to carry out cGMP inspections at a level equivalent to the US.
This process will help the FDA mutually recognize inspections conducted by EU member states and reduce its inspection burden when it comes to covering 4,600-plus registered establishments subject to surveillance inspections, three-fifths of which are on foreign soil.
The EU had completed its capability assessment about the FDA in June 2017.



Indivior loses appeal to block generic Suboxone;
Dr Reddy
's allowed to market drug
In the US, Indian drugmaker Dr Reddy's Laboratories (DRL) got a shot in the arm as drugmaker Indivior Plc lost an appeal to block its generic Suboxone opioid treatment. A federal court ruled against Indivior in its bid to stop DRL and Alvogen from selling generic versions of its opioid addiction treatment Suboxone Film.
The federal court upheld lower court rulings that DRL did not infringe two Indivior patents related to Suboxone, and Alvogen did not infringe one of those patents.
Suboxone is an opiate replacement therapy drug used to help treat opiate cravings and withdrawal. It allows opioid-based drug buprenorphine to be absorbed through the mouth to help control cravings and stave off withdrawal. Suboxone Film dissolves to release two active ingredients — buprenorphine and naloxone. When combined with counseling and support services, the therapy is considered one of the most effective ways to treat opioid addiction.
Suboxone Film had accounted for about 80 percent of Indivior's revenue, until the generic equivalents came in. Indivior had managed to block DRL's generic version of Suboxone Film through a court injunction in July 2018, despite the Indian company receiving regulatory nod to sell the product. In February this year, the US Supreme Court allowed sale of generic equivalents of Suboxone. Following this, Indivior had appealed against the ruling.
Earlier this year, DRL had sought more than US$ 70 million from Indivior as compensation for lost US sales of its generic version of Suboxone Film.
Last week, Reckitt Benckiser Group Plc, which spun off Indivior in 2014, agreed with US regulators to pay up to US$ 1.4 billion to settle claims.
The settlement, the largest by any company related to the US opioid epidemic, resolved long-running probes by the US Justice Department and the Federal Trade Commission into the companies' marketing and sales of Suboxone Film.
The deal came after Indivior was indicted and accused in April this year of deceiving doctors and healthcare benefit programs into believing Suboxone Film (which is a form of opioid) was safer and less susceptible to abuse than similar drugs.



Trump administration scraps drug rebate proposal; may target drugmakers
Last week, the Trump administration scrapped its proposal that would have required health insurers to pass billions of dollars in rebates they receive from drugmakers to Medicare patients.
This was an ambitious plan to lower prescription medicine prices. The government had hoped that by eliminating rebates of 15 to 30 percent, or more, of a drug's listed price, the prices would fall. It also delays fulfillment of Trump's pledge to lower drug prices for consumers before the November 2020 Presidential elections.
The rebate rule was estimated by the nonpartisan Congressional Budget Office (CBO) to cost the government US$ 177 billion over the next 10 years. The CBO had also said it was likely drugmakers would not cut their prices because of the rule.
This means that pharmacy benefit managers (PBMs) like Cigna Corp and CVS Health Corp, which negotiate rebates with drugmakers on behalf of the government's Medicare program, will continue to benefit from those discounts. Drug manufacturers pay the rebates to PBMs for getting their drugs covered by Medicare's Part D prescription plan.
Health and Human Services Secretary Alex Azar said Trump decided to pull the proposal after concerns that it would cause insurance companies to increase premiums for seniors.
Last week, the Trump administration had received a setback when a federal judge in Washington DC struck down its rule that would have forced drug companies to disclose the list price of their drugs in television ads.
Trump had said last week that he's preparing an executive order declaring a "favored nations clause" for drug prices, where the US will pay no more than the country with the lowest prescription drug prices. Last week, Trump had also signed an executive order designed to reform America's kidney treatment industry, which could possibly save the government millions of dollars.
Analysts said Trump could make a push to lower drug prices by allowing Medicare to create an "international pricing index." Therefore, drug companies may be in the direct path of Trump's next big policy push to lower drug prices,
Azar mentioned that he is working with Trump on allowing the importation of cheaper drugs from other countries.
There are several reasons why the rebate reform may have been dropped. It was a complex system, and its effects were highly unpredictable and subject to debate. JP Morgan analyst Gary Taylor said in a note that political momentum had been building against the rebate rule "due to the perceived unintended windfall profits that might have accrued to pharmaceutical manufacturers."
Moreover, stand-alone Part D plans have limited flexibility to absorb the removal of rebates. Besides, the proposal couldn't address the commercial market.



Seasoned pharma executive Jonathan Symonds may chair GSK
British drug major GlaxoSmithKline is all set to name Jonathan Symonds as its chairman. Symonds is a seasoned executive and has worked at both AstraZeneca and Novartis. GSK has been on the look out for a chairman for the last six months.
Currently, Symonds is the deputy chairman at HSBC Holdings Plc. His appointment is subject to approval from banking regulators, reports said. Symonds would replace Philip Hampton, who had said in January this year that he is stepping down.
The new chairman would oversee the consumer health joint venture GSK is setting up with Pfizer. The deal — announced in December 2018 — would spin out the unit formerly headed by GSK CEO Emma Walmsley and merge it with the equivalent division at Pfizer to create a new entity.
At GSK, Symonds would lead a team of seven non-executive directors alongside the three C-suite members sitting on the board. He would also oversee GSK's shift in its R&D strategy, with a renewed attempt at developing some blockbuster cancer therapies. The drug behemoth is also focusing on growing its vaccines business.



Gilead invests US$
5 billion into Galapagos
; Recordati buys two Novartis drugs
Gilead Sciences Inc is investing US$ 5.1 billion in Belgian biotechnology company Galapagos NV. Under the agreement, Gilead will pay US$ 3.95 billion upfront to Galapagos and invest US$ 1.1 billion to raise its stake to 22 percent, from the existing 12.3 percent.
With this deal, Gilead's new CEO Daniel O'Day is trying to replicate the model of Swiss drug giant Roche Holding AG, a company where he worked for over 30 years.
The deal includes a 10-year standstill agreement that restricts Gilead's ability to acquire the company. Therefore, O'Day is committing to the idea of research partnerships that stop short of outright M&A. This was a strategy that had paid off at Roche. By leaving Galapagos independent, O'Day hopes it will remain innovative.
The move will bring O'Day growth opportunities in Galapagos's specialist areas including fibrosis and arthritis, and give Galapagos deep funds to develop and commercialize its drugs.
Boehringer buys Amal Therapeutics: Boehringer Ingelheim is acquiring all shares of Amal Therapeutics, a private Swiss biotechnology company focused on cancer immunotherapy.
Amal Therapeutics derives cancer vaccines from its technology platform KISIMA. The company's lead vaccine — ATP128 — is currently developed for stage IV colorectal cancer and is slated to begin first-in-human trials later this month.
Boehringer Ingelheim plans to develop new therapies by combining assets from its cancer immunology portfolio with Amal's proprietary KISIMA immunization platform.
The total transaction could amount up to US$ 365 million (Euro 325 million).
Recordati buys two Novartis drugs: European specialty drug-company Recordati bought two Novartis drugs for US$ 390 million. The drugs acquired by Recordati are Signifor and Signifor LAR for the treatment of Cushing's disease and acromegaly in adult patients for whom surgery is not an option or for whom surgery has failed. Cushing's disease and acromegaly are both hormonal conditions.
Worldwide sales of Signifor in 2018 were US$ 72 million. The agreement also covers the acquisition of worldwide rights to osilodrostat (LCI699), an investigational innovative drug for the treatment of endogenous Cushing's syndrome, for which marketing authorization applications have been filed in the European Union and in the USA.
Meanwhile, AbbVie has expanded its oncology pipeline with the acquisition of Mavupharma, a privately held biotech targeting cancer through an immune pathway called STING. The companies did not disclose the terms of the transaction.



AstraZeneca's diabetes treatment fails to get FDA nod for type-1 diabetes
The US Food and Drug Administration (FDA) has rejected British drugmaker AstraZeneca's diabetes treatment — Farxiga — for use as a supplement to insulin in adults with type-1 diabetes, a condition in which the pancreas produces little or no insulin hormone. It affects about 5 percent of patients with diabetes.
The company said the regulator issued a complete response letter (CRL), declining its application for using the drug in patients with type-1 diabetes where insulin alone has not been able to control blood sugar levels.
Farxiga is already approved in the US for use in type-2 diabetes, the more common form of the condition. AstraZeneca did not specify the concerns FDA had raised for not approving the drug for type-1 diabetes. However, the company said it would work with the FDA to chart out its next course of action.
In Europe, European Medicines Agency (EMA) approved Farxiga earlier this year as treatment for use in Type-1 diabetes.
Farxiga is one of the drugmaker's top 10 drugs by sales. It generated US$ 1.39 billion in 2018, and is key to its future as it turns itself around.
Eton's conjunctivitis treatment rejected: The American regulator also rejected Eton Pharmaceuticals' treatment for conjunctivitis.
No concerns were raised about the clinical data in the application, and the company expects to respond to the FDA's CRL shortly, Eton said.
"We believe the issues cited in the complete response letter can be addressed in the coming months," chief executive officer Sean Brynjelsen said.
The PharmaCompass Newsletter – Sign Up, Stay Ahead
Feedback, help us to improve. Click here
Image Credit : #Phisper Infographic by SCORR MARKETING & PharmaCompass is licensed under CC BY 2.0
" The article is based on the information available in public and which the author believes to be true. The author is not disseminating any information, which the author believes or knows, is confidential or in conflict with the privacy of any person. The views expressed or information supplied through this article is mere opinion and observation of the author. The author does not intend to defame, insult or, cause loss or damage to anyone, in any manner, through this article."
Read More