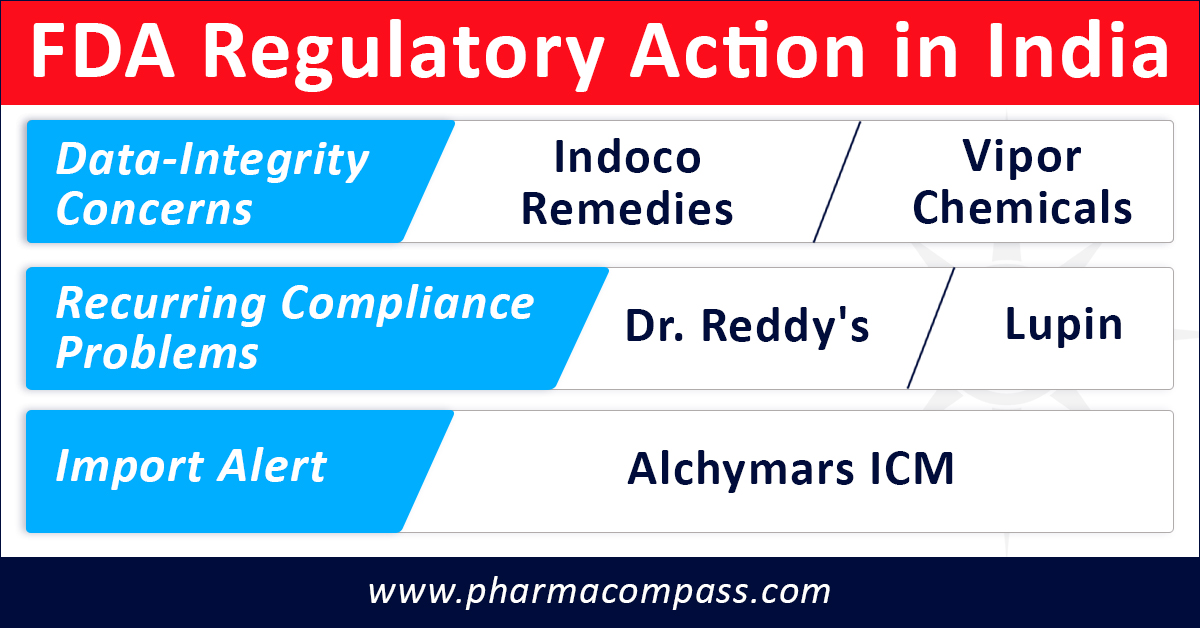 Recurring cGMP problems at Lupin, Dr Reddy's; Data-integrity concerns at Indoco, Vipor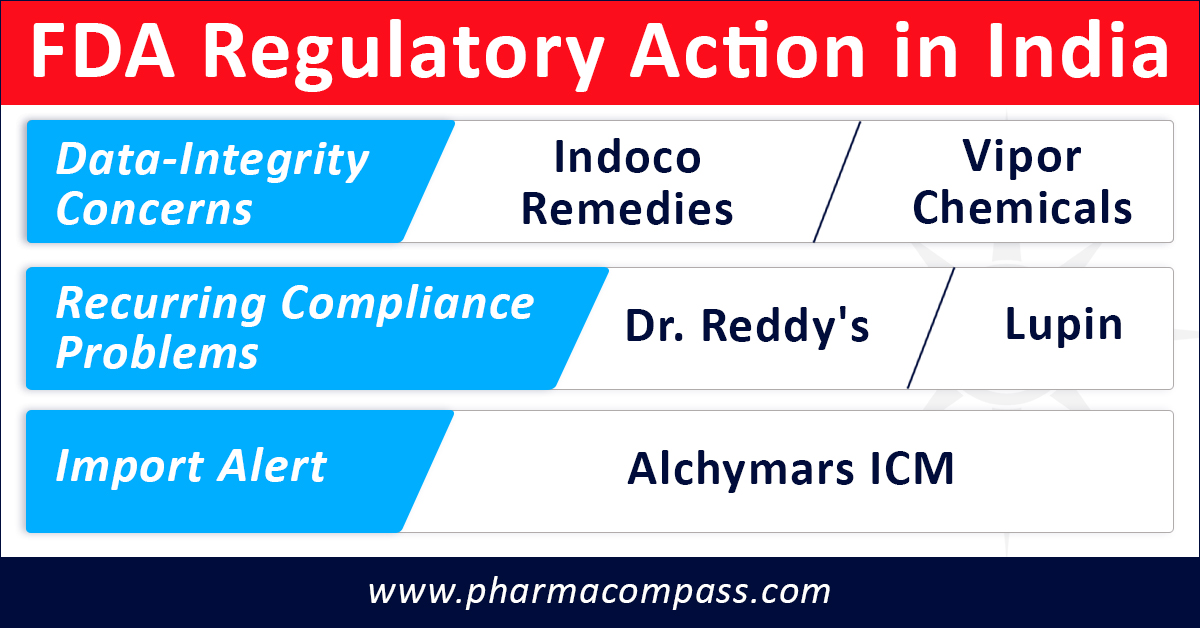 ×
Leading Indian companies, such as Dr Reddy's Laboratories and Lupin Limited were issued a Form 483 by the US Food and Drug Administration's (FDA) for deficiencies in their quality, production and equipment systems and poor handling of OOS results.
Other drug firms in India such as Indoco Remedies, Alchymars ICM SM Private Ltd and Vipor Chemicals also saw regulatory action. While Vipor was issued a warning letter after being placed on an import alert, Alchymars was placed on import alert and Indoco was also issued a Form 483 following an inspection of its Goa facility.
However, India wasn't the only country on FDA's radar. American generic drug manufacturer Akorn Inc was issued a warning letter on January 4 for significant violations of current good manufacturing practice (CGMP) regulations for finished pharmaceuticals at its Decatur manufacturing facility in Illinois. The inspection took place between April 9 and May 16, 2018.
However, this week, we are focusing on India, where it seems that companies definitely need to pay heed to regulatory compliance.


Dr Reddy's rollercoaster week: Form 483 follows lifting of warning letter from a site

Dr Reddy's Laboratories faced a choppy week due to repeated observations from the FDA for its Bachupally formulation plant in Hyderabad.
At the end of the inspection at the Bachupally plant, FDA issued 11 observations in its Form 483, outlining certain procedural deficiencies in quality, production and facilities and equipment systems.
In its Form 483, FDA has said investigations initiated in response to written and oral complaints were not found to be adequate as the firm did not always identify the root cause of the complaint.
Out of 11, four were repeat observations, earlier pointed out by the agency in its 2017 inspection, while one observation dates back to a repeat of the 2015 inspection.
On February 15, Dr Reddy's share dipped by 22 percent. However, there was better news the next day, as the FDA lifted the warning letter for Dr Reddy's Duvvada Unit VII injectable facility.
In over 663 market complaints received over the last three years, Dr Reddy's classified almost 420 as "not substantiated".
In addition, the quality unit at the Bachupally was found to lack the responsibility and authority to assure all errors are fully investigated.
In other cases, the quality control unit was found to lack the responsibility and authority to reject all drug products and it did "not always immediately report OOS (out of specification) results".
The concerns over improper investigations were found to be "a repeat from the inspection conducted in 2017".
There were also concerns regarding inappropriate controls exercised over computer systems to ensure all data is reported and no data is omitted.
The facility also lacked adequate space for orderly placement of equipment and materials to prevent mix up between drug products, as also contamination. The Form 483 also highlighted that a batch of capsules had been rejected following reverse flow from a drain in the manufacturing area. Following this deviation, Dr Reddy's was cited for failing to take preventive action to ensure all drains throughout the facility have non-return valves (NRVs) installed to prevent back-siphonage installed in all drain pipes.
Dr Reddy's will have to respond to the observations with a preventive and corrective action plan in 15 days from the receipt.
Meanwhile, the company received a written communication from the FDA that the warning letter issued to its Duvvada Unit VII facility now stands lifted. This paves the way for exports from the unit to the US—the company's largest market.
Dr Reddy's said the regulator categorized the inspection as voluntary action initiated—a status granted to units considered compliant with good manufacturing practices.
The Duvvada site was included in the warning letter issued by the FDA in November 2015, along with two other active pharmaceutical ingredients (API) plants at Srikakulam in Andhra Pradesh and Miryalaguda in Telangana, for alleged violations in manufacturing standards.
The remediation was a long and painful process undertaken by the company.
Duvvada resolution is expected to give a huge fillip to the company, as around 20 percent of its future ANDA (abbreviated new drug applications) filings were made from this facility. Most of them are complex oncology injectables.


FDA raises concerns over Lupin's handling of OOS results at Goa plant

Last week, we had shared how following a warning letter issued to Lupin in 2017, an FDA Form 483 posted by the agency had highlighted recurring compliance issues at the Indian drug major's Goa facility.
In November 2017, Lupin had received a warning letter for its formulation manufacturing facilities in Goa and Indore (Pithampur Unit II). The observations of the inspections specifically highlighted Lupin's continued "failure to thoroughly review any unexplained discrepancy" as Lupin invalidated approximately 96 percent of all out-of-specification (OOS) results obtained at Pithampur and over 75 percent of them in Goa.
This week, the FDA posted the Form 483 this week, following the agency's 10-day inspection of the Goa site, which ended on February 8, 2019. Once again, the Form 483 highlights a failure to thoroughly review any unexplained discrepancy to meet regulatory specifications.
In addition, the FDA investigators found Lupin following manufacturing procedures to produce drugs (that have been sold on the US market since February 2012), which were not following the written procedures in the approved batch records.
The modified process was being documented in additional data entry pages, which were not part of the approved batch record, and an evaluation of the modified process revealed that the process had not been studied as part of the process validation.


Indoco's Form 483 reveals data integrity concerns

Indoco Remedies Limited's tablet manufacturing facility (Plant I) in Goa was another Indian company to be issued a Form 483 from the FDA.
Following a seven-day inspection in January, the FDA Form 483 reveals data-integrity concerns. The investigation "found that production and IPQA personnel purposely recorded values within established limits even though the actual values" were not within limits.
In addition, there were a lot of other discrepancies found in the manufacturing data recorded. In the quality control lab, FDA investigators also found that electronic analytical records contained unreported OOS results without investigations.
The original weight printouts were not available and analytical records did not include any documentation of the original analysis.
This inspection is a setback for Indoco which received a warning letter for its Goa plants II and III in 2017. In late 2018, the company had announced it had addressed the FDA concerns.


After warning letter, Alchymars gets placed on import alert

The compliance news out of Alchymars ICM SM Private Limited in India wasn't any better — the company was placed on import alert last week, after receiving a warning letter from the FDA following a September 2017 inspection in which the FDA had uncovered that the firm "was falsifying laboratory data".
During the inspection, the FDA investigator had found that an analyst reported far fewer colony-forming units (CFU) in a water sample than what was observed on the plate by the investigator.
The FDA raised serious concerns as Alchymars was using the water to manufacture APIs intended for use in sterile injectable dosage form drug products.
The FDA investigator also found damaged product contact surfaces and observed that the firm's quality unit did not thoroughly investigate customer complaints. The company received complaints about black spots in finished API and OOS results for moisture content. In each case, the company classified the complaint as "minor and unjustified" without a thorough review.
The FDA also raised objection with regard to the equipment washroom which "was found in a filthy condition" and that the firm failed to "provide personnel with adequate clean washing and toilet facilities".
In the warning letter, the FDA had highlighted that some of the observations were repeat deviations from a previous inspection conducted in February 2015. As Alchymars had failed to address FDA's concerns, the facility in Alathur (Tamil Nadu) was placed on import alert last week.
Alchymars is part of a group of companies and the factory is controlled by Trifarma in Italy, a company which was cited by the FDA for data-integrity violations in 2014.


After being put on import alert, Vipor Chemicals receives warning letter

The FDA also issued a warning letter to Vipor Chemicals in Baroda India as the quality unit of the firm had omitted the name and address of the original manufacturer of the API from the Certificate of Analysis it was issuing to its customers.
Vipor had been placed on import alert by the FDA on July 11, 2018.]
In one instance, the original API manufacturer was found to be Basic Pharma Life Science Private Limited, a firm the FDA had placed on import alert for refusing an FDA inspection in October 2017.
Vipor was also found to operate without a compliant procedure for batch manufacturing records as product personnel were recording manufacturing activities in personal notebooks. Once the data was recorded, production managers transcribe the data onto another batch manufacturing record (BMR), which was then "circulated to the production operators and supervisors for their signatures".
The investigators also observed rust on a filtration unit and mixing tank surfaces that come in contact with the API. Until the company corrects all deviations completely, and the FDA confirms its compliance with the CGMPs, the agency may withhold approval of any new applications or supplements listing Vipor as a drug manufacturer.
The PharmaCompass Newsletter – Sign Up, Stay Ahead
Feedback, help us to improve. Click here
Image Credit : FDA Regulatory Action in India by PharmaCompass is licensed under CC BY 2.0
" The article is based on the information available in public and which the author believes to be true. The author is not disseminating any information, which the author believes or knows, is confidential or in conflict with the privacy of any person. The views expressed or information supplied through this article is mere opinion and observation of the author. The author does not intend to defame, insult or, cause loss or damage to anyone, in any manner, through this article."
Read More