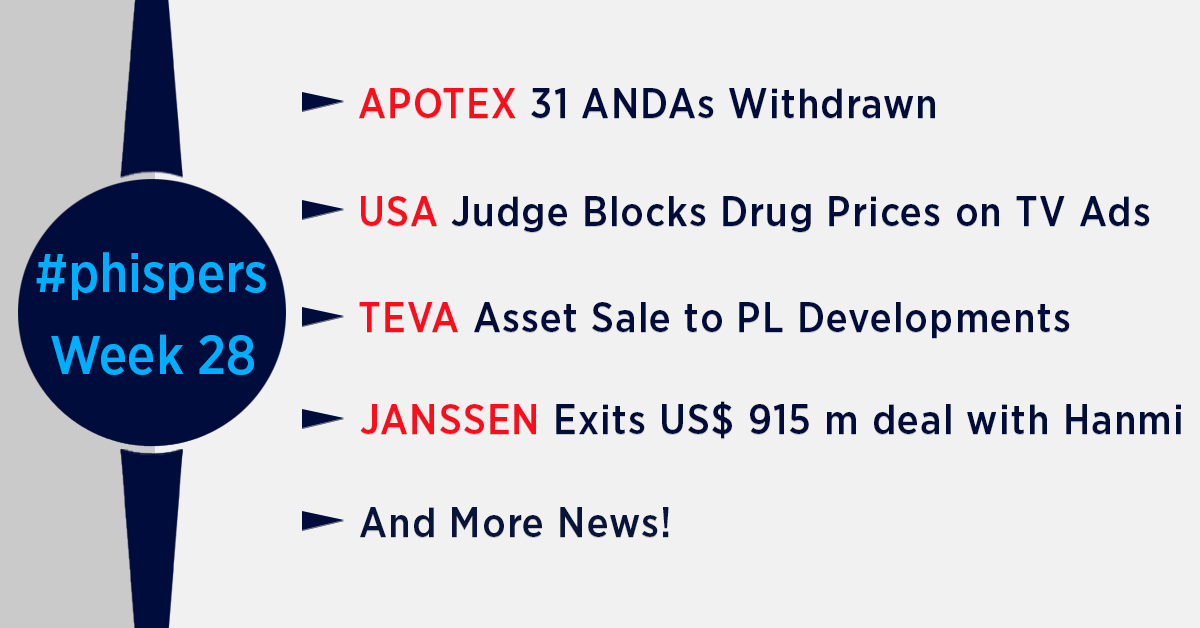 Manufacturing concerns at Apotex lead to withdrawal of 31 ANDAs; US working on executive order on drug prices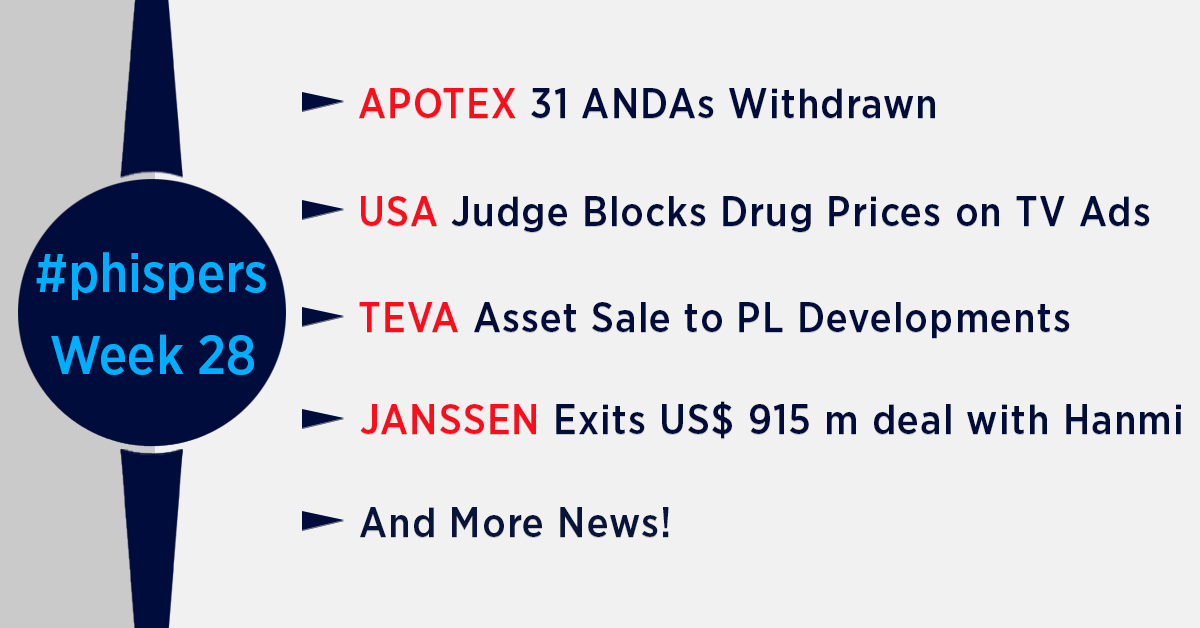 ×
This week in Phispers, we look at how the Trump administration is devising a system to allow the US to buy drug prices based on the lowest price paid in other countries.
A federal judge shot down the administration's rule that forces drug companies to include the list price of their medicine in advertisements.
J&J's Janssen unit has handed back the rights to a drug being developed by Korean drugmaker Hanmi Pharmaceutical.
A new study says cancer deaths cost US economy US$ 94 billion in lost earnings.
Roche has moved the deadline for its merger with Spark Therapeutics to April 30, 2020, in order to clear all concerns being raised by antitrust regulators.
While Israeli generic giant Teva sold off its US store-brand portfolio to PL Developments, the approval of 31 abbreviated new drug applications (ANDAs) belonging to Apotex have been withdrawn by the FDA due to manufacturing problems at its facilities in India.
And Jack Kachkar, the former chairman and CEO of Inyx Inc, got convicted for US$ 100 million loan fraud.



FDA cites manufacturing concerns at Apotex's India facilities, withdraws approval of 31 ANDAs
The US Food and Drug Administration (FDA) announced it is withdrawing the approval of 31 abbreviated new drug applications (ANDAs) held by Canadian generic major Apotex.
The agency cited manufacturing concerns at two Apotex facilities in India as the reason for the withdrawal as at least one of the facilities had been named in each of the applications. The two facilities — Apotex Private Research Limited and Apotex Pharmachem India Private Limited — have been in compliance trouble for some years now.
In January 2018, Apotex requested withdrawal of the ANDAs and recently waived its opportunity for a hearing.
In April 2018, Apotex Research Private Limited was placed on FDA's import alert. The action was the result of FDA's inspection at the finished pharmaceuticals manufacturing site located in Bengaluru (India) from November 6 to 17, 2017. The FDA warning letter revealed that Apotex's investigations into "out-of-specification (OOS) laboratory results and manufacturing deviations were found to be insufficient and did not include scientifically-supported conclusions".
FDA had also questioned the authority of the quality unit and said it has cited similar current good manufacturing practices (cGMP) violations and deviations at this and other facilities in Apotex's network. In the last six years, FDA has taken the following actions in response to cGMP violations and deviations at Apotex facilities:
1. FDA placed Apotex Pharmachem India Private Limited on import alert on April 1, 2014, and issued a warning letter on June 16, 2014, which cited failure to investigate and document OOS results.
2. FDA placed Apotex Research Private Limited on import alert on September 22, 2014, and issued a warning letter on January 30, 2015, which cited failure to follow written procedures applicable to the quality control unit.
Previously, at several regulatory meetings, FDA had communicated to the Apotex senior management the need for appropriate and global quality oversight. The FDA had mentioned that the repeated failures at multiple sites revealed management oversight and control over the manufacture of drugs was inadequate.
It has been over a year since Apotex founder Barry Sherman and his wife Honey were murdered in their Toronto home. In April, a Bloomberg news report had stated that the Canadian drugmaker is exploring a sale.
After the incident, members of the Sherman family have been managing the business while having a financial advisor on its board. Apotex is exploring a partial or full sale of its Canadian operations that could fetch around US$ 3 billion.
This week, the FDA also posted its warning letter to US generic drugmaker Akorn and its Form 483 issued to Dr Reddy's and Indoco.



US working on favored-nation clause to source drugs; judge shoots down 'drug price in ads'
plan
The President of United States Donald Trump has made bringing down prices of drugs a policy priority. In his latest move, Trump said his administration is devising a system to allow the US to buy drugs based on the lowest prices paid by other countries.
"We're working on right now a favored-nations clause,where we pay whatever the lowest nation's price is," Trump said last week.
Trump said an "executive order" was in the works. "Why should other nations like Canada — why should other nations pay much less than us? They've taken advantage of the system for a long time…"
Earlier, the Department of Health and Human Services had said that setting rates based on international prices would save the US government US$ 17.2 billion over five years.
Last year, Trump had talked of a proposal that would allow Medicare to set prices for drugs based on cheaper prices paid by other countries. Known as the International Pricing Index, those regulations are under review by the federal government.
The program Trump proposed in October 2018 would apply to drugs in Part B, the segment of Medicare that covers drugs given by a physician in a hospital or clinic.
Meanwhile, a federal judge shot down Trump administration's rule that forces drug companies to include the price of their medicines in advertisements. The judge said the administration is overstepping its authority with this rule.
Merck , Eli Lilly, Amgen and a trade group for advertisers had sued the US government last month to block the regulation, which would have required drug firms to include list prices of drugs in the ads.
"We are disappointed in the court's decision and will be working with the Department of Justice on next steps," Caitlin Oakley, a Department of Health and Human Services spokesperson, said.



Teva
sells its US store-brand portfolio to PL Developments
Israeli generic drug giant Teva Pharmaceutical Industries undertook a restructuring plan in December 2017 in order to overcome the huge debt burden it had undertaken to acquire Allergan's generic drug business in 2015. Over the last 18 months, Teva has been aggressively selling off manufacturing facilities to reduce its debt burden. Teva has targeted about 40 facilities and 14,000 jobs as part of a US$ 3 billion cost-cutting endeavor.
It's latest divestment is the sale of its US store-brand portfolio. PL Developments (PLD) has acquired Teva's US store-brand portfolio, including a new nicotine gum portfolio, more than 40 approved and pending ANDA (Abbreviated New Drug Application) offerings and a range of new OTC drug products.
Besides smoking cessation products, president of PLD Evan Singer said the Teva deal features analgesics, cough and cold remedies, first aid ointments and the first store-brand alternative for Abreva, the cold sore cream. In total, PLD purchased 41 products, including 14 awaiting FDA approval, including a nicotine patch.
"T­he acquisition significantly reinforces PLD position as the second largest packager and distributor of US store-brand drugs," the company said in a statement.
With this acquisition, PLD — a generic drugs manufacturer in Westbury — also takes control of Teva's Suffolk County factory. Singer said the 93,000-square-foot plant in Copiague is home to one of only three nicotine-gum manufacturing lines in the world to be certified by the US Food and Drug Administration. More than 80 people work at the factory, which PLD will keep open.
The two companies have not disclosed the purchase price.



Cancer deaths cost US economy US$ 94 billion in lost earnings, says study
A report by the American Cancer Society (ACS) researchers in JAMA Oncology said in 2015, cancer cost 8.7 million years of life among people aged 16 to 84 in the United States. Cancer is the second leading cause of death in the US and is expected to cause over 606,880 deaths in 2019.
These researchers have also estimated that cancer leads to US$ 94 billion in future lost earnings. The cancer deaths not only cut earning years short, they also reduce the workforce, leading to a big economic burden, the study said.
"Lost earnings for individuals ages 16 to 84 who died from cancer in 2015" could have been partially prevented through better detection and earlier intervention, the study said.
The study used recent data and estimated losses at both national level and state level. Kentucky had the highest amount of lost earnings at US$ 35.3 million per 100,000 people, researchers said.
"Our findings indicate large state variation in the economic burden of cancer and suggest the potential for substantial financial benefit through delivery of effective cancer prevention, screening, and treatment to minimize premature cancer mortality in all states," Farhad Islami, scientific director of surveillance research at the American Cancer Society and fellow researchers wrote in the study.
To reduce the impact on the economy while improving health outcomes, the authors of the study suggest "equitable access" to comprehensive cancer care. "All states could reduce the burden of cancer and associated geographic and other differences in the country," they said.



Janssen walks out of US$ 915 million deal with Korean drugmaker Hanmi
Johnson & Johnson's Janssen unit has handed back rights to a drug being developed by Korean drugmaker Hanmi Pharmaceutical, codenamed HM12525A.
Janssen licensed exclusive global rights (excluding Korea and China) to the experimental drug in November 2015 in a deal valued at US$ 915 million. The deal included a US$ 105 million non-refundable upfront payment. The remaining was in the form of potential milestone payments.
The drug is a novel biologic GLP-1/Glucagon dual receptor agonist being developed for weight loss and blood glucose control in certain patients with diabetes.
According to Hanmi, while two Phase II trials carried out by Janssen achieved the primary target of weight reduction, "its blood glucose control in obese patients accompanying diabetes fell short of Janssen's internal standards".
An official at the Korean drug company was quoted by the Korea Biomedical Review as saying: "In Phase II studies, the treatment showed excellent efficacy in reducing weight in obese people with or without diabetes. We will have an internal review on the matter and confirm our plan for development as soon as possible. We are aware that it is not easy to develop a new drug but will not stop challenging to commercialize Korea's first successful new drug in the overseas market."



Roche
-Spark's US$ 4.3 billion merger deadline now pushed to April 2020
In February this year, Roche and Spark Therapeutics had announced a definitive merger agreement wherein the former was to fully acquire the latter for a total transaction value of approximately US$ 4.3 billion.
The road to the merger of the two companies has been a rocky one with various delays pushing the agreement back four times.
According to a regulatory filing, the Swiss drugmaker has now moved its deadline for closing the Spark deal from January 31, 2020 to April 30, 2020. This is a precautionary move, meant to give the deal partners time to clear any hurdles that may come up as US and UK antitrust regulators review the companies' marriage.
Roche has said it remains "fully committed" to the deal and sees it closing this year. The change provides "additional time to clear the transaction".
The delay in the merger has happened due to the time-consuming US Federal Trade Commission (FTC) scrutiny into competition issues. Moreover, three US lawsuits challenging the deal are pending, alleging disclosure violations associated with the offer.
"Although closing this deal is taking longer than I had hoped, my excitement about our anticipated partnership has only increased," Roche chief executive Severin Schwan had written in a note to Spark employees.
In a note to Spark investors, Roche CEO Severin Schwan said the plan was still to close the merger in 2019 despite the new deadline.
"While we still expect this transaction to close in 2019, we want to ensure that we proactively identify and remove any potential future obstacles to achieving this outcome," he said. "Good things almost always take time, so as we work to bring this agreement to a close, I ask for your continued patience."



Former Inyx chairman convicted for fraud that led to collapse of Puerto Rico bank
Jack Kachkar, former chairman and CEO of Inyx Inc, a publicly-traded multinational drug company, has been convicted of financial fraud. The 56-year-old South Florida resident has been sentenced to 30-years imprisonment by a federal judge in Miami, followed by five years of supervised release.
Kachkar has been convicted for his role in a US$ 100 million international fraud scheme that led to the collapse of Westernbank, one of Puerto Rico's largest banks.
US District Judge Donald Graham also ordered Kachkar to pay US$ 103.5 million in restitution to the Federal Deposit Insurance Corporation (FDIC) as receiver for Westernbank.
During 2005 to 2007, when Kachkar served as chairman and CEO of Inyx Inc., he caused Westernbank to enter into a series of loan agreements in exchange for a security interest in the assets of Inyx and its subsidiaries.
The trial evidence showed that Kachkar orchestrated a scheme to defraud Westernbank by causing numerous Inyx employees to make tens of millions of dollars worth of fake customer invoices purportedly payable by customers in the UK, Sweden and elsewhere.
Kachkar used US$ 100 million worth of phony receivables as collateral to obtain loans that Inyx failed to repay.
The evidence showed that Kachkar diverted tens of millions of dollars for his own personal benefit, including for the purchase of a private jet, luxury homes (in Key Biscayne and Miami), luxury cars, luxury hotel stays, and extravagant jewelry and clothing expenditures.
Around June 2007, Westernbank declared the loan in default and ultimately suffered losses exceeding US$ 100 million on the Inyx loans. According to trial evidence, these losses later triggered a series of events leading to Westernbank's insolvency and ultimate collapse.
The PharmaCompass Newsletter – Sign Up, Stay Ahead
Feedback, help us to improve. Click here
Image Credit : #Phisper Infographic by SCORR MARKETING & PharmaCompass is licensed under CC BY 2.0
" The article is based on the information available in public and which the author believes to be true. The author is not disseminating any information, which the author believes or knows, is confidential or in conflict with the privacy of any person. The views expressed or information supplied through this article is mere opinion and observation of the author. The author does not intend to defame, insult or, cause loss or damage to anyone, in any manner, through this article."
Read More