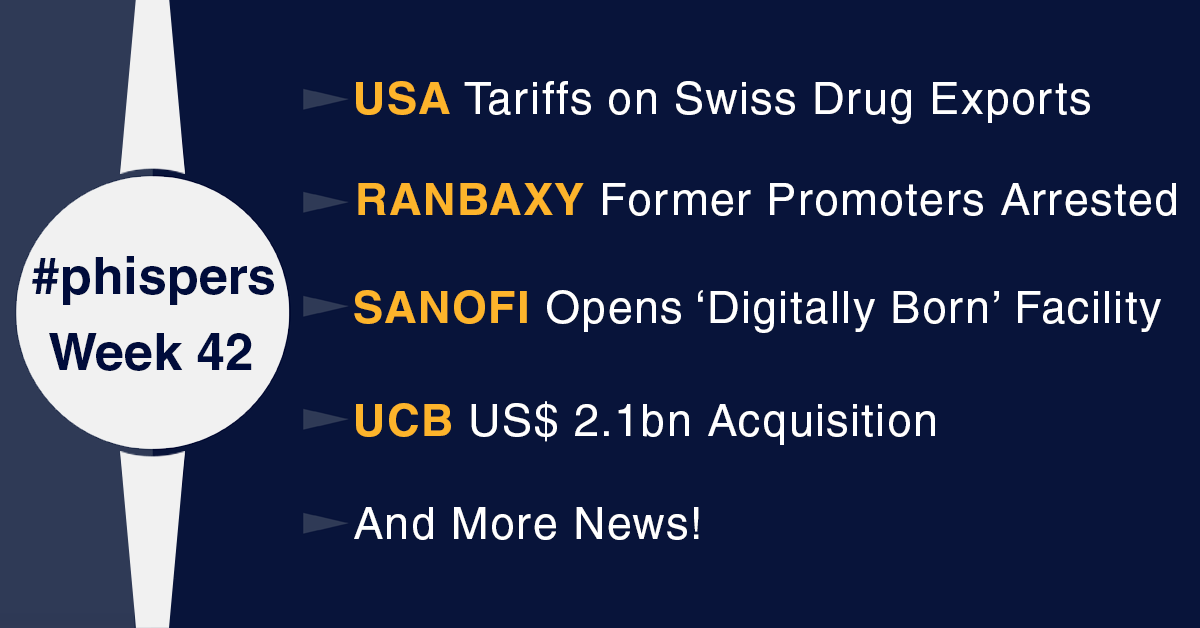 Former Ranbaxy promoters arrested; US plans tariffs on Swiss drug exports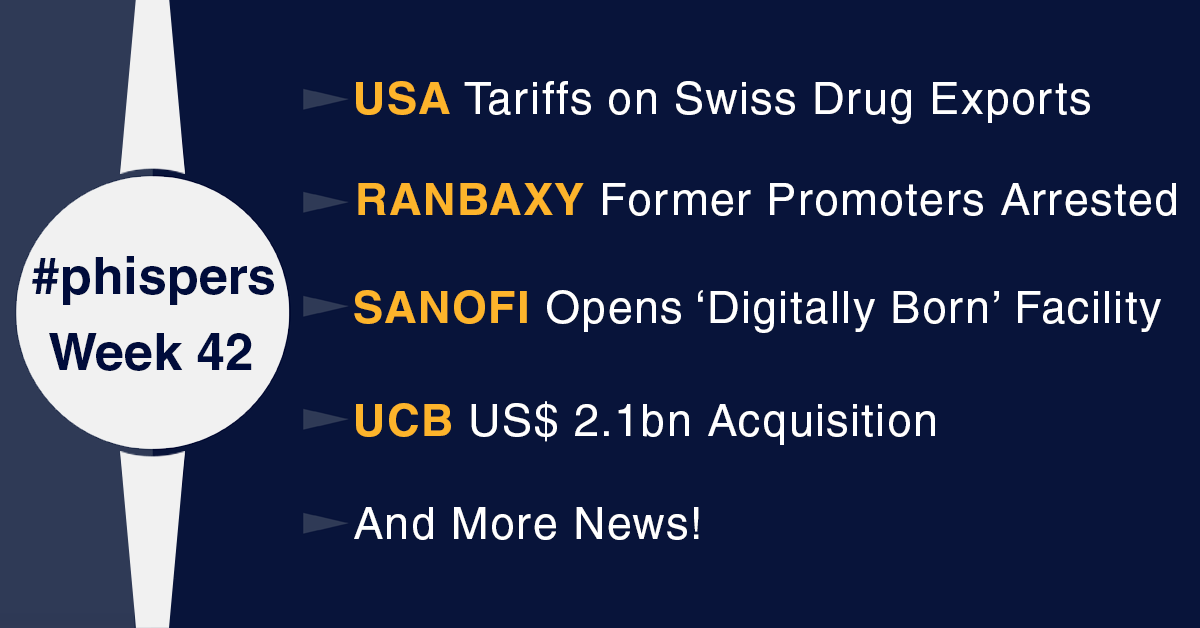 ×
This week, Phispers brings you news from India, where the former promoter-brothers of Ranbaxy — Malvinder and Shivinder Singh — got arrested for allegedly misappropriating funds of Religare Finvest Limited.
After waging a trade war with China, the US has now turned its attention on Switzerland, and plans to place tariffs on exports of pharmaceutical goods from there.
Brussels-based drugmaker UCB has agreed to acquire Massachusetts-based Ra Pharma for US$ 2.1 billion.
And Sanofi opened its first digitally-enabled, continuous manufacturing facility in Massachusetts.


Ranbaxy's Singh brothers arrested for misappropriating funds of Religare Finvest
Last week, former Fortis Healthcare promoter-brothers — Malvinder and Shivinder Singh — and three others were arrested for allegedly misappropriating funds of Religare Finvest Limited (RFL) and causing it losses of US$ 335.58 million (₹ 23.97 billion). They were then produced before a Delhi court and were sent to police custody for four days.
This week, there was news that a district court in Delhi has extended the police custody of the Singh brothers for two more days. The other three persons who have been taken into custody are Sunil Godhwani (former chairman and managing director of Religare Enterprises Limited or REL), Kavi Arora and Anil Saxena, who occupied important positions in REL and RFL.
The Ranbaxy brothers' sordid tale began over a decade back, when they decided to sell their stake in the Indian drug behemoth to Japanese drugmaker Daiichi Sankyo for US$ 2.4 billion. The sale took place in 2008, months before the US Food and Drug Administration (FDA) banned imports from two of Ranbaxy's Indian plants. That was the start of troubles for the duo, as Daiichi later took them to court for allegedly suppressing and misrepresenting facts at the time of sale. Daiichi sold Ranbaxy to Indian drug major Sun Pharma for US$ 3.2 billion in 2014. Last year, a Delhi High Court had allowed Daiichi Sankyo to recover US$ 551 million (₹ 35 billion) from Ranbaxy's Singh brothers.
Things took a turn for the worse, as in December last year, matters between the Singh brothers had got physical, and Malvinder released a video, alleging that his younger brother Shivinder had assaulted him.
In February this year, Fortis Healthcare had asked India's markets regulator — Securities and Exchange Board of India (SEBI) — to initiate legal proceedings, including arrest of the Singh brothers (its former promoters), to recover US$ 66.28 million (₹ 4.72 billion) from them and related entities. The Singhs were promoters of Fortis Healthcare and Fortis Hospitals.
The same month, India's Serious Fraud Investigation Office (SFIO) said the alleged funds diversion at Fortis Healthcare could add up to more than US$ 282 million (₹20 billion).
In August this year, the Enforcement Directorate (ED) under the government of India conducted raids at multiple premises owned by Malvinder and Shivinder Singh, along with raids on others connected with the brothers. The ED carried out the raids in connection with a money-laundering case, after an Enforcement Case Information Report (ECIR) was filed by the agency.


Disturbed by trade deficit, Trump administration plans tariffs on Swiss drug exports
So far, the US has largely focused on China, insofar as its trade war is concerned. Economists and politicians in both US and China have noted America's heavy reliance on China for raw pharmaceutical ingredients.
It seems the US now has turned its attention to Switzerland. A Swiss newspaper has reported that the Trump administration is considering placing tariffs on exports of pharmaceutical goods from Switzerland. The US government is reportedly disturbed by the US$ 18.9 billion trade deficit with Switzerland, which is mainly driven by pharmaceuticals.
In 2018, pharmaceuticals accounted for around 53 percent of goods exports from Switzerland to the US. According to the industry association Interpharma, the share of Switzerland's exports to the US has tripled since 1990 — from 8 percent to almost 24 percent.
The Swiss drug industry relies heavily on the American market — the US is the second most important market for the Swiss drug industry after the EU. The export of chemical-pharmaceutical products has been growing strongly in recent years. In 2018, it reached a new record. The US imported US$ 14 billion in pharmaceuticals in 2018, according to the US Trade Office of Representative.
"If Washington follows its words, it will hit the pharmaceutical industry hard," says the news report. While tariffs do not appear to be an immediate threat, they could potentially affect Swiss pharma giants — Novartis and Roche — and other manufacturers that produce drugs in Switzerland, like Merck and Biogen.
The news comes several months after Trump and Swiss President Ueli Maurer said they were keen on advancing a trade deal. There has been little progress since then.
Trump has previously used tariffs as a stick to expedite trade negotiations, notably threatening steep automotive levies on Canada as he sought to renegotiate the North American Free Trade Agreement.
Switzerland exported 11 percent of the world's finished drugs in 2017. The US imports 20 percent of all drugs worldwide.


UCB acquires Ra pharmaceuticals for US$ 2.1 billion
Brussels-based drugmaker UCB has agreed to acquire Massachusetts-based Ra Pharma for US$ 2.1 billion, according to a joint statement issued by the companies last week.
Essentially, UCB is going for Ra's lead drug — a C5 inhibitor called zilucoplan in Phase III for myasthenia gravis (MG). With this drug, UCB is looking to play rival to Alexion's Soliris.
However, Alexion has the market advantage, as its MG drug got approved nearly two years back — in late 2017. Yet, UCB feels confident about challenging Soliris.
"Ra Pharma is an excellent strategic fit addressing multiple areas of UCB's patient value growth strategy," UCB's Chief Executive Officer Jean-Christophe Tellier said.
Tellier added that the acquisition would generate six potential product launches in the next five years, strengthening the company's neurology and immunology franchises with late and early-stage pipeline projects.
The acquisition of the clinical-stage biopharmaceutical company, which was founded in 2008, is expected to contribute to UCB's core earnings per share and increase its revenue and net profit from 2024 onwards.


Sanofi opens first digitally-enabled, continuous manufacturing facility in US
French drugmaker Sanofi has opened its first digitally-enabled, continuous manufacturing facility in Framingham, Massachusetts, a company statement said.
"The new facility features leading-edge technology that connects the production process with research and development, paving the way for improved commercialization of important new medicines for patients," the statement added.
This would be one of the first digital manufacturing facilities in the world to use continuous, intensified biologics production technology. The Massachusetts facility will manufacture biologics for the specialty care portfolio.
The facility's advanced paperless and data-driven manufacturing technologies is expected to enable Sanofi to achieve higher levels of productivity, agility, and flexibility.
"We have been investing for some years to prepare for Sanofi's future. Our Framingham facility leads the way in delivering the next generation of biologics manufacturing, leveraging intensified, continuous processing in a fully integrated digitally powered facility," said Philippe Luscan, Executive Vice President, Global Industrial Affairs at Sanofi.
Framingham is the first 'digitally born' facility while similar digital transformations are introduced in other legacy plants. Beyond Framingham, Sanofi intends to move forward with digital transformation initiatives in Toronto (Canada), Suzano (Brazil), Waterford (Ireland), Sisteron (France), and Geel (Belgium).
Sanofi has invested over US$ 5.51 billion on production over the last six or seven years, much of it on pilot projects to prepare its manufacturing operations to produce drugs like Dupixent, its injected treatment for treating asthma and eczema that it developed with Regeneron.
The PharmaCompass Newsletter – Sign Up, Stay Ahead
Feedback, help us to improve. Click here
Image Credit : #Phisper Infographic by SCORR MARKETING & PharmaCompass is licensed under CC BY 2.0
" The article is based on the information available in public and which the author believes to be true. The author is not disseminating any information, which the author believes or knows, is confidential or in conflict with the privacy of any person. The views expressed or information supplied through this article is mere opinion and observation of the author. The author does not intend to defame, insult or, cause loss or damage to anyone, in any manner, through this article."
Read More