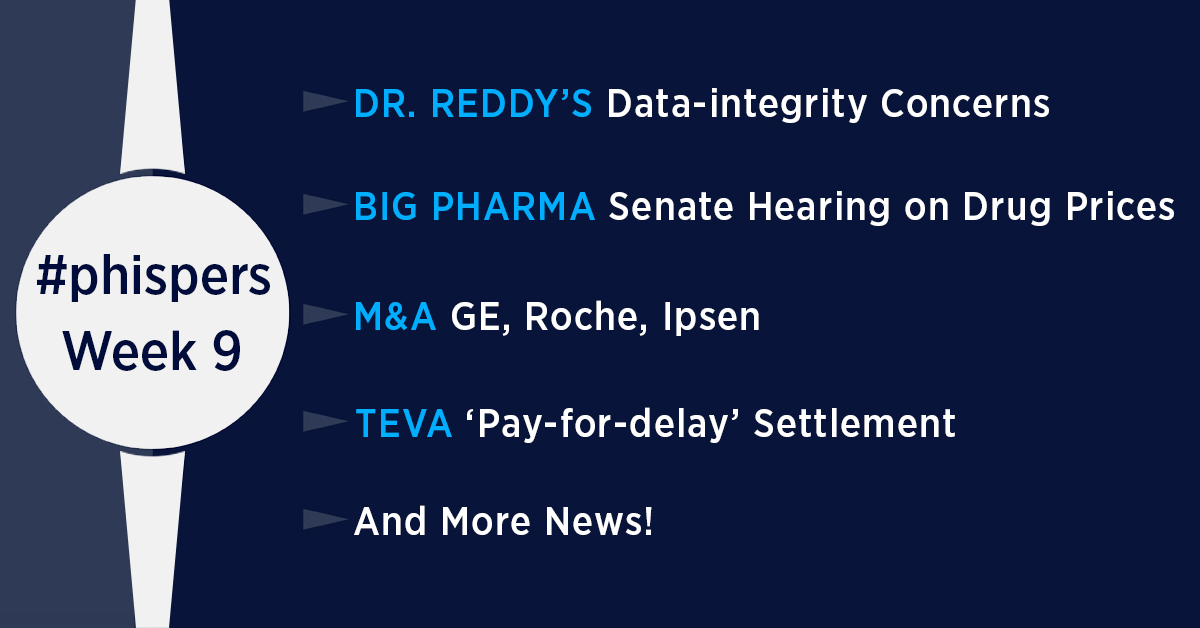 Data integrity concerns at Dr Reddy's; Roche, Ipsen make multi-billion dollar buys; Aceto files for bankruptcy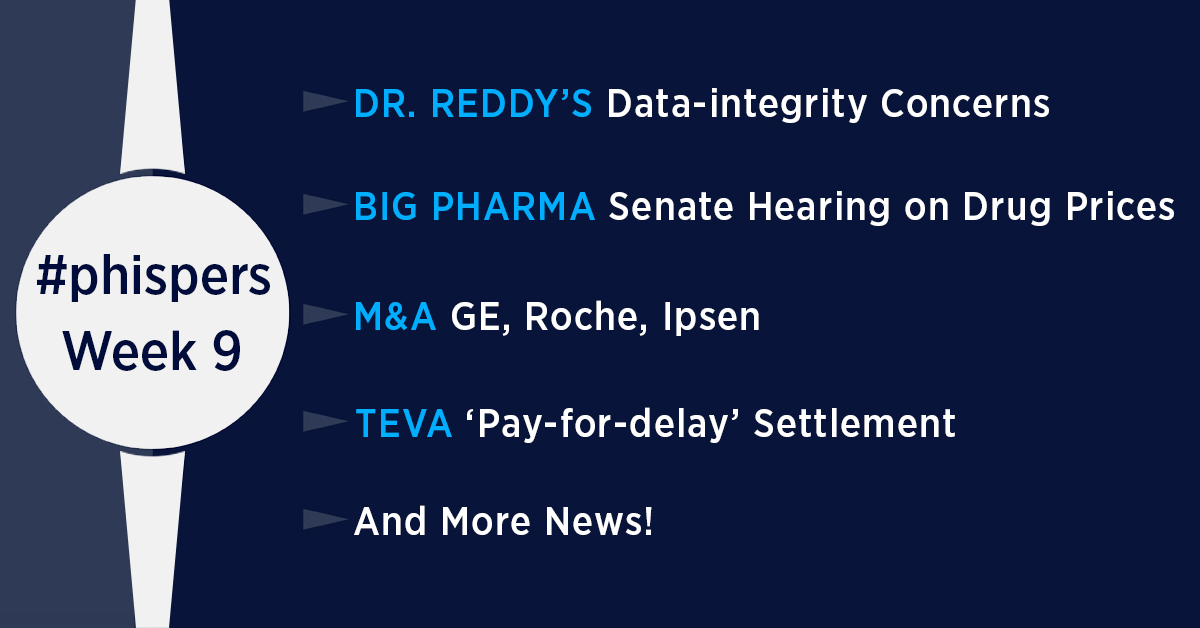 ×
The world of pharmaceuticals witnessed considerable M&A activity over the last week. GE sold off its biopharma business to Danaher Corporation for US$ 21 billion. Roche bought Spark Therapeutics for US$ 4.8 billion, and Ipsen struck a US$ 1.3 billion deal to buy Clementia Pharmaceuticals for its late-phase rare disease drug.
In the US, seven Big Pharma honchos were grilled by senators over skyrocketing drug prices.
The USFDA issued a safety alert for use of Pfizer's Xeljanz to treat rheumatoid arthritis. In generics, while Teva reached global 'pay-for-deal' settlement, Aceto filed for bankruptcy.
In India, two of its largest drugmakers — Dr Reddy's and Aurobindo Pharma — were caught in regulatory non-compliance. And Fortis Healthcare sort the arrest of the Singh brothers, former promoters of Ranbaxy.



Data integrity concerns at Dr Reddy's; problems of sterility assurance at Aurobindo
Indian drug majors continue to be in news for regulatory non-compliance. Last week, we reported on FDA issuing a Form 483 to Dr Reddy's finished formulation plant in Bachupally, Hyderabad, after its inspection. Last month, the Indian drugmaker's FTO-SEZ Unit I facility in Srikakulam was inspected (from January 7 to 15, 2019) and failure to properly investigate batch failures was cited as a concern once again.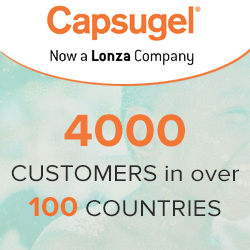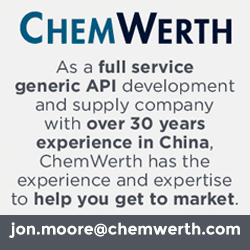 In a batch of tablets which failed because of higher impurities, the FDA investigators found that during process validation "no studies were conducted to evaluate uniformity of any impurities in the finished dosage".
Data integrity concerns also re-emerged as analytical equipment used for in-process testing of tablets was found to use common passwords and operators had the ability to change the time and date of the equipment.
Audit trails review procedures, which are used to determine the level of data sanctity in an organization, were found to be deficient. In one case, an audit trail for a particle size analyzer showed 19 records were created while the electronic data showed only one entry.
Aurobindo Pharma was another Indian drug maker in news for regulatory non-compliance. Last year, Aurobindo had pledged to resolve issues at a sterile manufacturing plant in India after an FDA inspection cited it for problems that could lead to contamination. Seems like it didn't do enough. FDA inspectors visited the key Aurobindo facility recently and found the same shortcomings.
The agency posted a Form 483 for the Unit IV facility in Pashamylaram, Hyderabad. It was issued post an inspection from December 3 to 14, 2018.
This was the second inspection of the facility carried out last year, the first one being in March. The plant is important to Aurobindo's US business. The company has projected it will generate about US$ 250 million in sales from that facility by the end of 2020.



Big pharma grilled by US senators on drug pricing; called 'morally repugnant'
On Tuesday, top executives from seven of the largest pharmaceutical companies — AbbVie, AstraZeneca, Bristol-Myers Squibb, Merck, Pfizer, J&J and Sanofi — testified before the Senate Finance Committee of the United States. The executives were grilled before the panel on America's skyrocketing drug prices.
The committee, led by Chuck Grassley, Senator for Iowa and Ron Wyden, Senator for Oregon, argued that prescription drug costs, which totaled more than US$ 333 billion in 2017, are too high and the pace of drug price increases is "unsustainable."
The committee, led by Grassley, had warned CEOs ahead of the hearing not to "try to blame everyone but themselves."
Wyden castigated Big Pharma as "morally repugnant" and accused the companies of operating in an "unacceptable" way. He felt the executives weren't being forthcoming about reducing list prices.
Taking the case of AbbVie's blockbuster arthritis drug Humira, whose list price has doubled since 2012, from about US$ 19,000 a year to US$ 38,000 — Wyden wanted to know whether the company makes money on drugs in Germany and other Westernized nations where patients pay, on average, 40 percent less than Americans.
"Yes, we do," AbbVie CEO Richard Gonzalez said.
If that's the case, Wyden said, "you can do the same thing in the United States."
"How is that not gouging the American consumer," he asked. "You are willing to sit by and hose the American consumer and give breaks to those overseas."
According to Senator Debbie Stabenow of Michigan "if Humira were a standalone company, it would be larger than many Fortune 500 conglomerates".
Congress and President Donald Trump's administration have made lowering drug prices one of their top priorities.
Merck's CEO Kenneth Frazier admitted that patients with no insurance are sometimes the ones who pay the list price. "The people who can least afford it are paying the most," Frazier said.
Predictably, drug companies placed blame on pharmacy benefit managers, who negotiate discounts with the manufacturers, for rising prescription drug costs. They also argued that any cuts to their high profits could impede research and development of new and innovative treatments.
Six of the seven CEOs said they support legislation to require "advance warnings" of price increases, similar to a law in California. The heads of AbbVie and AstraZeneca also said any fixes would require legislative action, as the entire system can't fix itself.



GE sells biopharma business to Danaher Corp for US$ 21 billion
The biggest M&A news this week was Danaher Corporation's definitive agreement with General Electric Company to acquire the biopharma business of GE Life Sciences for a cash purchase price of approximately US$ 21.4 billion.
Danahar was co-founded by billionaire Steven Rales, who co-produced Wes Anderson's latest animated movie Isle of Dogs. Though he walked away empty handed from Sunday night's Academy Awards, Rales emerged a winner the next day when Danaher acquired GE's biopharma business.
GE Biopharma is a leading provider of instruments, consumables, and software that support the research, discovery, process development and manufacturing workflows of biopharmaceutical drugs. The business comprises of process chromatography hardware and consumables, cell culture media, single-use technologies, development instrumentation and consumables, and service.
The GE Life Sciences unit will join Danaher's US$ 6.5 billion Life Sciences segment as a stand-alone business. The GE Biopharma unit is expected to generate annual revenue of about US$ 3.2 billion in 2019, with approximately 75 percent of these revenues considered recurring. The deal will see Danaher pay US$ 21 billion in cash, as well as assume certain GE pension liabilities.



Roche, Ipsen make multi-billion dollar buys; Morningstar speculates on future M&As
This week, Roche Holding AG agreed to pay US$ 4.8 billion to buy Spark Therapeutics Inc., a spin-off of Children's Hospital of Philadelphia. Back in 2013, the hospital had spun off this gene therapy company working on a new treatment for a rare form of blindness that the hospital's scientists had helped develop.
The hospital had invested US$ 50 million in Spark, making it the largest shareholder in the company. With the Roche buy, the 10.6 percent stake the hospital owns in Spark today will fetch it US$ 456 million. That's on top of the estimated US$ 285 million the foundation made in earlier share sales. Spark went public in January 2015 and its first drug, a gene therapy for blindness, was approved in December 2017.
The transaction is expected to close in the second quarter. The deal is another example of Big Pharma's interest in gene therapy. Last year, Novartis had bought AveXis for US$ 8.7 billion. In 2016, Pfizer bought private gene therapy firm Bamboo Therapeutics.
In other M&A news, Ipsen struck a US$ 1.3 billion (€1.1 billion) deal to buy Clementia Pharmaceuticals for its late-phase rare disease drug — palovarotene. Ipsen will make an upfront payment of US$ 1 billion to acquire this retinoic acid receptor gamma agonist ahead of a filing for FDA approval.
Ipsen will further pay US$ 263 million if FDA accepts a filing for approval of palovarotene in a second indication — multiple osteochondromas (a disorder characterized by the development of multiple benign tumours of the bone).
Meanwhile, Merck said it would buy drug developer Immune Design Corp for nearly US$ 300 million, to gain access to its immunotherapy programs. Immune Design's pipeline includes late-stage immunotherapy technologies such as Glaas And Zvex.
With the first two months of 2019 seeing high number of M&A deals, research firm Morningstar has come up with its breakdown of the top buyers looking for takeovers, as well as the top targets within the industry.
And 2019 is poised to see more mega-mergers, they say. For instance, lack of growth at Amgen and Gilead, coupled with healthy expected cash flows and fair financial health, gives them the desire and ammunition for large-scale deals. In fact, AbbVie, Amgen, and Gilead are present on both the acquirer and target lists, as they have significant growth issues but also compelling pipelines. In the case of AbbVie and Gilead, both are undervalued.
"We think Biogen could be a target for a number of firms, as its neurology focus, strong pipeline, and undervalued shares would make it a very large-scale tuck-in acquisition," Morningstar said.



FDA issues safety risk on Pfizer's Xeljanz, the most advertised product on TV
The US Food and Drug Administration (FDA) this week issued an alert on Pfizer's Xeljanz (tofacitinib). The agency said a safety clinical trial found an increased risk of blood clots in the lungs and death when a 10 mg twice daily dose of tofacitinib (Xeljanz, Xeljanz XR) was used in patients with rheumatoid arthritis (RA).
The agency has not approved this 10 mg twice daily dose for RA; this dose is only approved in the dosing regimen for patients with ulcerative colitis.
Last month, Pfizer's Xeljanz topped AbbVie's Humira in terms of its advertising spend on national television. According to real-time TV ad tracker iSpot.tv, Pfizer spent more than US$ 40 million on national TV time, which was US$ 6 million more than Humira's spend on the medium.
Meanwhile, a February 20 report published in Endpoints News mentioned that Pfizer has said RA patients taking a 10 mg dose of Xeljanz (tofacitinib) in an ongoing safety study are being moved to a 5 mg dose, "after the independent monitoring board determined that there was an imbalance in the rate of death between the 10 mg drug arm (twice daily) and both their 5 mg arm and a group taking a TNF inhibitor in the control group."
During the past seven years, Xeljanz has emerged as one of Pfizer's most important products —Xeljanz earned US$ 1.2 billion for Pfizer in the first nine months of 2018, up from US$ 935 million the year before, with markets for RA, psoriatic arthritis and ulcerative colitis, where the recommended dose is 10 mg.
FDA said "patients should not stop or change" the dose of tofacitinib without first talking to their healthcare professional, as doing so may worsen their condition.



FTC reaches global 'pay-for-delay' settlement with Teva; Aceto files for bankruptcy
In the US, the Federal Trade Commission (FTC) has reached a global settlement with Teva Pharmaceutical over charges that its agreements with rivals impeded consumer access to lower-priced generic drugs.
If approved by the various courts, the stipulated order will prohibit Teva from engaging in reverse-payment patent settlement agreements that impede consumer access to lower-priced generic drugs.
Known as pay-for-delay, such deals have long irked federal officials and lawmakers, and the FTC has been working to get tough on the arrangements in recent years. In 2015, the agency secured a massive US$ 1.2 billion settlement with Teva's Cephalon unit over delays to narcolepsy drug Provigil. Teva paid up the US$ 1.2 billion to the federal government, but now the government says that settlement didn't go far, and the parties returned with an expanded arrangement designed to keep Teva from working the same type of arrangement from another angle.
This time, Teva won't hand over any cash in the new settlement but will be barred from entering into the "two most pernicious and common forms of reverse payments," the FTC said, including commitments to not compete against authorized generics. The newer settlement also prohibits "side deals," or payments to generics companies around the time of a resolution of a patent case.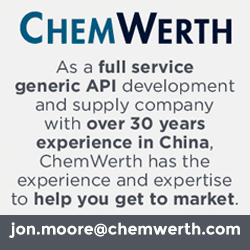 Meanwhile, Aceto Corporation has entered into a "stalking-horse" asset purchase agreement (an attempt by a bankrupt company to test the market for its assets) with an affiliate of New Mountain Capital, a growth-oriented investment firm with over US$ 20 billion in assets under management, to sell its chemicals business assets for gross proceeds of US$ 338 million in cash, plus the assumption of certain liabilities and subject to certain adjustments, on a cash-free and debt-free basis.
The sale will be conducted under the US Bankruptcy Code. Aceto also faces delisting of its stock from the Nasdaq stock market. Aceto was notified on Thursday by Nasdaq that "trading of the company's common stock…will be suspended at the opening of business on Monday, March 4." Aceto said it would appeal to the Nasdaq Listing Qualifications Hearing Panel to "stay the suspension of the company's common stock".



Fortis seeks arrest of Malvinder and Shivinder Singh, former Ranbaxy promoters
Last week, we updated you about on the ongoing battle between the estranged Singh brothers, former promoters of Ranbaxy. This week, there is more on the murky saga.
Fortis Healthcare announced recently that it has asked India's markets regulator — Securities and Exchange Board of India (SEBI) — to initiate legal proceedings, including arrest of the Singh brothers (its former promoters), to recover US$ 66.28 million (Rs 4.72 billion) from them and related entities. The Singhs were promoters of Fortis Healthcare and Fortis Hospitals.
In an application to SEBI for the recovery of the amount, Fortis Healthcare and Fortis Hospitals have asked for the invocation of Section 28 A of the Act to recover the amounts from Malvinder Mohan Singh, Shivinder Mohan Singh, RHC Holdings Private Limited, Shivi Holdings Private Limited, Malav Holdings Private Limited, Religare Finvest Limited, Best Healthcare Private Limited, Fern Healthcare Private Limited and Modland Wears Private Limited.
Fortis Healthcare has also asked SEBI for a personal hearing on the matter. The company is also awaiting SEBI approval on declassification of Singh brothers as promoters.
The PharmaCompass Newsletter – Sign Up, Stay Ahead
Feedback, help us to improve. Click here
Image Credit : #Phisper Infographic by SCORR MARKETING & PharmaCompass is licensed under CC BY 2.0
" The article is based on the information available in public and which the author believes to be true. The author is not disseminating any information, which the author believes or knows, is confidential or in conflict with the privacy of any person. The views expressed or information supplied through this article is mere opinion and observation of the author. The author does not intend to defame, insult or, cause loss or damage to anyone, in any manner, through this article."
Read More