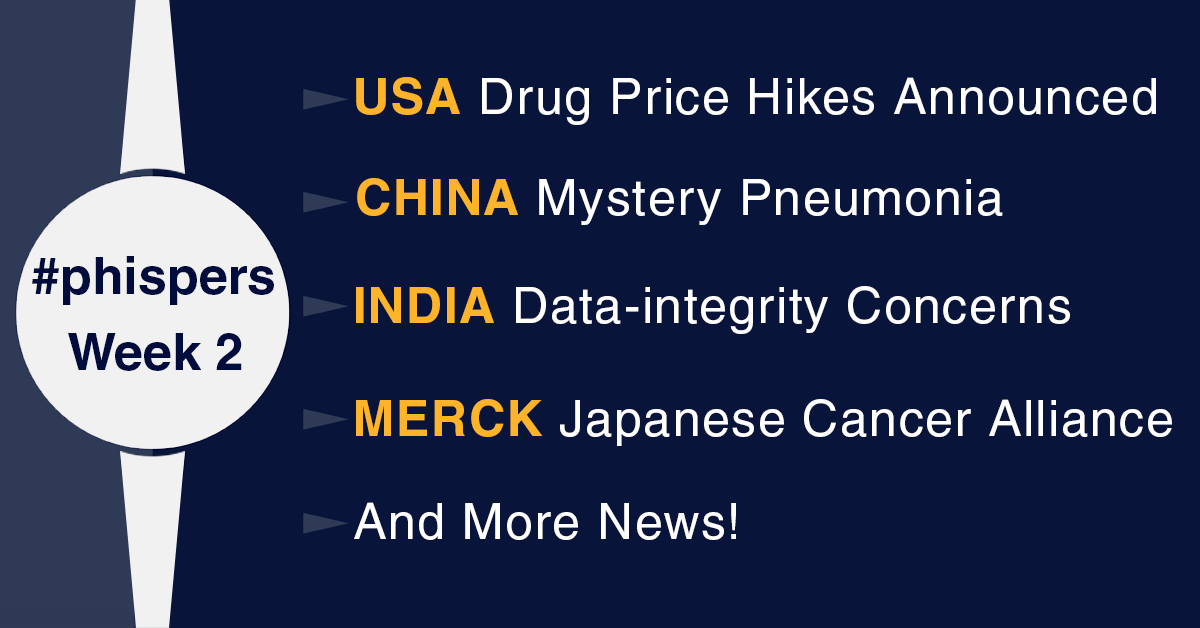 2020 begins with drug price increases in US and mysterious illness in China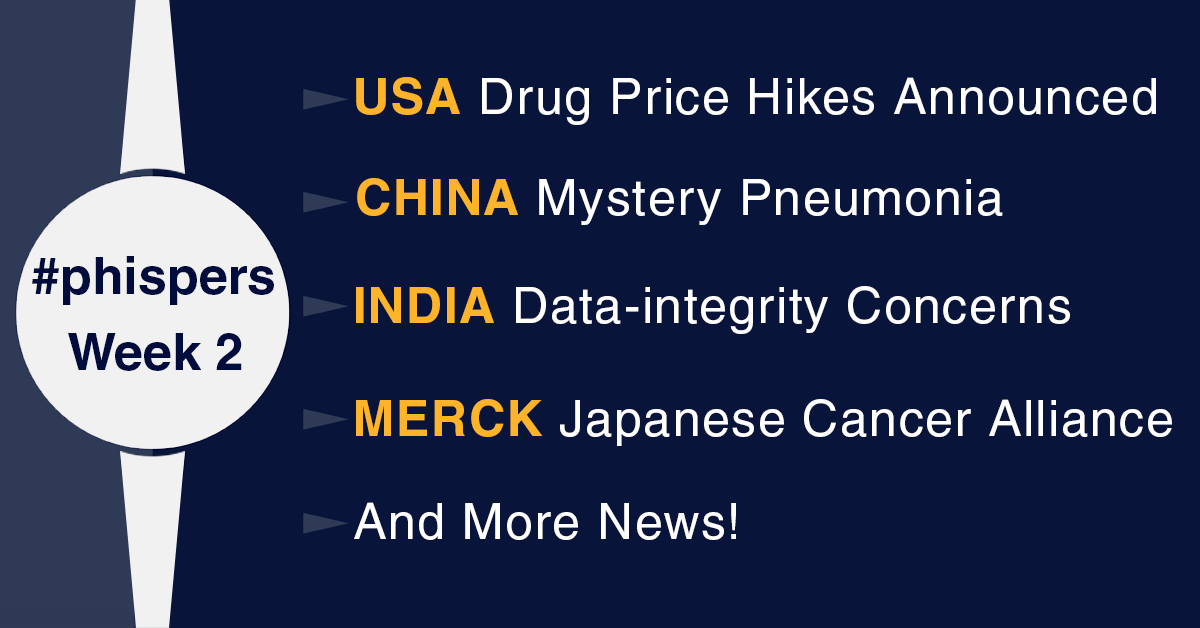 ×
This week in Phispers, we have news about pharmaceutical companies ushering in the new year with a hike in US list prices of over 440 drugs.
A peculiar respiratory illness, termed as 'mystery pneumonia' gripped the city of Wuhan in China, affecting 59 persons.
While Novo Nordisk came out with an offer to give free, one-time supply of insulin to diabetes patients in the US who are at risk of rationing the drug, Eli Lilly faced flak for not fulfilling its promise of making available its authorized generic of insulin — Lispro.
Merck announced an alliance with Japanese drugmakers Taiho and Astex to gain access to their small-molecule inhibitors, including the KRAS oncogene.
India's Alkem bought rights to acquire assets related to Dronabinol — a synthetic cannabinoid derivative — from AbbVie.
And FDA issued a warning letter to pharmaceutical formulation intermediates manufacturer GPT Pharmaceuticals over data integrity concerns.


Drugmakers ring in the new year with price hikes in US


Like most other years, drugmakers began the new year with price increases in the world's largest pharmaceutical market — the United States. According to a Reuters report, 445 drugs will cost more in 2020. According to healthcare research firm 3 Axis Advisors, nearly all the price increases are below 10 percent, with the median price rise at around 5 percent.
Among drugmakers that plan to hike US list prices are companies like Pfizer, Bristol-Myers Squibb, AbbVie, GlaxoSmithKline, Sanofi, Novartis, Merck and Allergan.
Since President Donald Trump had made bringing down drug prices a core pledge in his 2016 campaign, the soaring US prescription drug prices will be a key issue in the forthcoming presidential polls, wherein Trump runs for a re-election.
Pfizer will hike prices on more than 50 drugs. Its spokeswoman said the company plans to increase the list prices on around 27 percent of its portfolio in the US by an average of 5.6 percent. This includes Pfizer's cancer treatment Ibrance, which is on track to earn nearly US$ 5 billion in revenue this year, and rheumatoid arthritis drug Xeljanz.
GlaxoSmithKline said it will raise prices on more than 30 drugs, with price increases in the range of 1 to 5 percent. Sanofi said it will raise prices on around 10 of its drugs, with hikes ranging between 1 and 5 percent.
Similarly, Novartis raised prices on nearly 30 drugs including psoriasis treatment Cosentyx and multiple sclerosis medicine Gilenya. Merck raised prices on about 15 drugs by around 5 percent, including diabetes drugs Januvia and Janumet. The list price of Merck's top-selling cancer immunotherapy Keytruda, expected to bring in US$ 13 billion in 2019 sales, was pushed up 1.5 percent.
Allergan (which is being acquired by AbbVie for over US$ 60 billion), said it was raising prices of 25 drugs by 5 percent and of two other medicines by about 2 to 3 percent. AbbVie has raised the cost of rheumatoid arthritis treatment Humira, the world's top-selling medicine. And Teva raised prices on more than 15 drugs, in some cases by more than 6 percent. More price increases are expected to be announced later this week, Reuters said.


'Mystery pneumonia' in China likely to be due to new coronavirus strain, says WHO


In the city of Wuhan in China, 59 persons have been afflicted by a peculiar respiratory illness — termed as 'mystery pneumonia'. Eleven patients are currently critically ill.
According to the latest report published in the Wall Street Journal, Chinese scientists investigating the mystery illness have discovered a new strain of coronavirus, which was genetically sequenced from a sample from one patient and subsequently found in some of the others affected in the city of Wuhan. This new coronavirus belongs to the family of virus strains that produced SARS and MERS, the World Health Organization informed.
"Coronaviruses are a large family of viruses that range from the common cold to SARS. Some cause less-severe disease, some more severe. Some transmit easily from person to person, while others don't," the WHO statement said.
However, Chinese authorities haven't concluded that the strain is the underlying cause of sickness in all the patients who have been isolated in Wuhan since the infection first broke out in early December.
According to a statement from the Wuhan Municipal Health Commission, the symptoms of mysterious pneumonia include fever, abnormal findings in both lungs on chest X-rays, and in some cases difficulty in breathing.
The Wuhan Municipal Health Commission has ruled out more common causes of viral pneumonia such as influenza, avian influenza, and adenovirus infection.
Most of the cases have been traced to the South China Seafood City food market in the suburbs of sprawling Wuhan. The commission said the market has been disinfected.
Meanwhile, Hong Kong authorities have activated a newly created "serious response" level as fears spread about this mysterious infectious disease coming to the city from Wuhan, which is around 900 kilometers north of Hong Kong. Eight possible cases have been reported of a viral pneumonia in Hong Kong.
The serious response level indicates a moderate impact on Hong Kong's population of 7.5 million people. Hong Kong's health department also added a thermal imaging system at its airport to check the body temperature of arriving passengers.

After PharmaCompass' cannabinoids article, Alkem buys rights to D
ronabinol


Last month, we had carried an article on how the development of cannabinoids in the pharmaceutical industry has exploded over the past few years due to the gradual liberation of regulations worldwide that govern cannabis and its pharmaceutical derivatives for medicinal use. Our article had leveraged PharmaCompass' Technology Prospector tool to develop a map of the global development landscape of these drugs. Our article had said that the field of cannabinoids will witness a lot more development activity in the years to come.
Within weeks of carrying that article, there was news that Indian drugmaker Alkem Laboratories is set to acquire assets related to active pharmaceutical ingredient (API) Dronabinol from US-based AbbVie Inc for a cash consideration of US$ 10 million.
In a filing with stock exchanges, Alkem said the acquisition will help the company commercially leverage the assets relating to Dronabinol for the sale of both branded and generic drugs in the US.
The proposed acquisition includes Dronabinol assets such as domain names and trademarks related to a drug, Marinol, as well as logos, patents, designs, knowledge, technical and manufacturing instructions, inventory, manufacturing equipment and other items. Alkem expects to close the transaction by the end of the year.


FDA issues warning letter to Indian PFI manufacturer over data-integrity concerns


The US Food and Drug Administration (FDA) recently posted the warning letter of pharmaceutical formulation intermediates (PFIs) manufacturer — GPT Pharmaceuticals — on its website. The drugmaker had been placed on an import alert by the FDA in December 2019.
The company specializes in customized development and manufacturing of modified release pellets and direct compressible granules of various active pharmaceutical ingredients (APIs) including different combination blends in ready-to-fill and ready–to-compress forms.
FDA investigators had inspected the plant between June 24 and 28 last year, and had found numerous violations, including failure to ensure manufacturing standards and meeting established specifications for identity, strength, quality and purity.
Importantly, the inspection had revealed data-integrity concerns as the laboratory equipment lacked appropriate controls which allowed employees to delete, abort runs during high-performance liquid chromatography (HPLC) without documented investigations or adequate scientific justification.
GPT's employees were found using the service account login of Agilent, the manufacturer of the HPLC instruments, with full administrative privileges, to abort HPLC testing runs without being attributable to a specific individual.
The firm also received API from suppliers which failed quality specifications. The API was retested and released for use in production after passing results were obtained during retesting. The FDA raised concerns as the initial OOS (out of specification) results were disregarded without adequate scientific justification.
In addition, the firm's dedicated equipment was found to have visible rust, dents and scratches on product contact surfaces.
While disapproving the manufacturing standards at GPT Pharmaceuticals' Hyderabad plant, the FDA has given the company 15 working days to explain how it has improved manufacturing standards. It asked the company to provide its corrective and preventive action (CAPA) plan to implement routine, vigilant operations management oversight of facilities and equipment.
"Your firm failed to clean, maintain, and, as appropriate for the nature of the drug, sanitize and/or sterilize equipment and utensils at appropriate intervals to prevent malfunctions or contamination that would alter the safety, identity, strength, quality, or purity of the drug product beyond the official or other established requirements," the FDA said in the letter addressed to the company's managing director Ashok Adityan.
"Until you correct all violations completely and we confirm your compliance with CGMP, FDA may withhold approval of any new drug applications or supplements listing your firm as a drug manufacturer," the letter added,


Novo offers free, one-time supply of insulin; Lilly faces ire of US senators


In the US, the rising price of insulin — a life-saving, century-old drug used by diabetics — has been attracting fierce criticism from lawmakers and regulators. Over the last 10 years, the list price of insulin has increased by more than 250 percent.
Last year, insulin manufacturers Novo Nordisk, Sanofi and Eli Lilly were accused of excessively pricing their drugs, with reports of patients rationing their insulin, sometimes with fatal results.
Last week, Novo Nordisk said it would offer free, one-time supply of insulin to people in immediate need and at risk of rationing the medication. Novo said patients with prescription can get a free, one-time supply of up to three vials or two packs of pens of its insulin, after which they should find a longer-term solution from its other affordability offerings.
In September 2019, Novo had said US patients can buy three vials or two packs of pens of its analog insulins for US$ 99, following similar moves by rivals Sanofi and Eli Lilly.
However, its competitor, Eli Lilly came in for heavy criticism from senators Elizabeth Warren and Richard Blumenthal last month. In March 2019, Lilly had pledged to distribute an "authorized generic" that would cost 50 percent less than Humalog's price of US$ 300 per vial.
A spot check of nearly 400 pharmacies commissioned by the senators found that Lilly's authorized generic — known as Lispro — was only available in 17 percent of pharmacies across the US.
The Senate Democrats said the benefit to insulin consumers appeared to be minimal and accused Eli Lilly of a "broken promise."
"Its authorized generic, rather than expanding access to low-cost insulin, appears instead to be a public relations move intended to ease scrutiny on the rising price of insulin," the senators' survey concluded. According to the American Diabetes Association, around 7.4 million Americans with diabetes use some form of insulin.


Merck announces new cancer alliance with Japanese drug makers


This week, Merck & Co (which is known as MSD outside US and Canada) announced an alliance with Japanese drugmakers Taiho Pharmaceutical and Astex Pharmaceuticals (a wholly owned subsidiary of Otsuka Pharmaceutical).
The American drugmaker said it is willing to invest up to US$ 2.5 billion in order to gain access to small-molecule inhibitors against several drug targets, including the KRAS oncogene, from Taiho and Astex.
According to a statement, Taiho, Astex and Merck will combine preclinical candidates and their data "with knowledge and expertise from their respective research programs."
In exchange for giving Merck an exclusive global license to their small-molecule inhibitor candidates, Taiho and Astex will get US$ 50 million upfront, with the US$ 2.5 billion "contingent upon the achievement of preclinical, clinical, regulatory and sales milestones for multiple products arising from the agreement, as well as tiered royalties on sales."
"Merck will fund research and development and will be responsible for commercialization of products globally," the statement said. Taiho has retained co-commercialization rights in Japan and an option to promote in specific areas of South East Asia.
KRAS is short for the gene Kirsten rat sarcoma viral oncogene homolog, which makes a protein (KRAS protein) that is critical in promoting cell growth and survival in non-cancerous cells. Cancers driven by KRAS mutations are both common and deadly.
The year 2019 was a big one for KRAS, when several players — such as Amgen, Boehringer Ingelheim, Eli Lilly and Mirati — had reported progress in the field. For instance, Amgen had reported encouraging anti-tumor activity with its AMG 510 candidate, which targets a KRAS mutation known as G12C.
In September last year, Boehringer Ingelheim (BI) had licensed an MEK inhibitor from Indian drugmaker Lupin that it intends to pair with its lineup of KRAS inhibitors. BI had also entered into a partnership with MD Anderson Cancer Centre in the US for another KRAS inhibitor.
The PharmaCompass Newsletter – Sign Up, Stay Ahead
Feedback, help us to improve. Click here
Image Credit : #Phisper Infographic by SCORR MARKETING & PharmaCompass is licensed under CC BY 2.0
" The article is based on the information available in public and which the author believes to be true. The author is not disseminating any information, which the author believes or knows, is confidential or in conflict with the privacy of any person. The views expressed or information supplied through this article is mere opinion and observation of the author. The author does not intend to defame, insult or, cause loss or damage to anyone, in any manner, through this article."
Read More