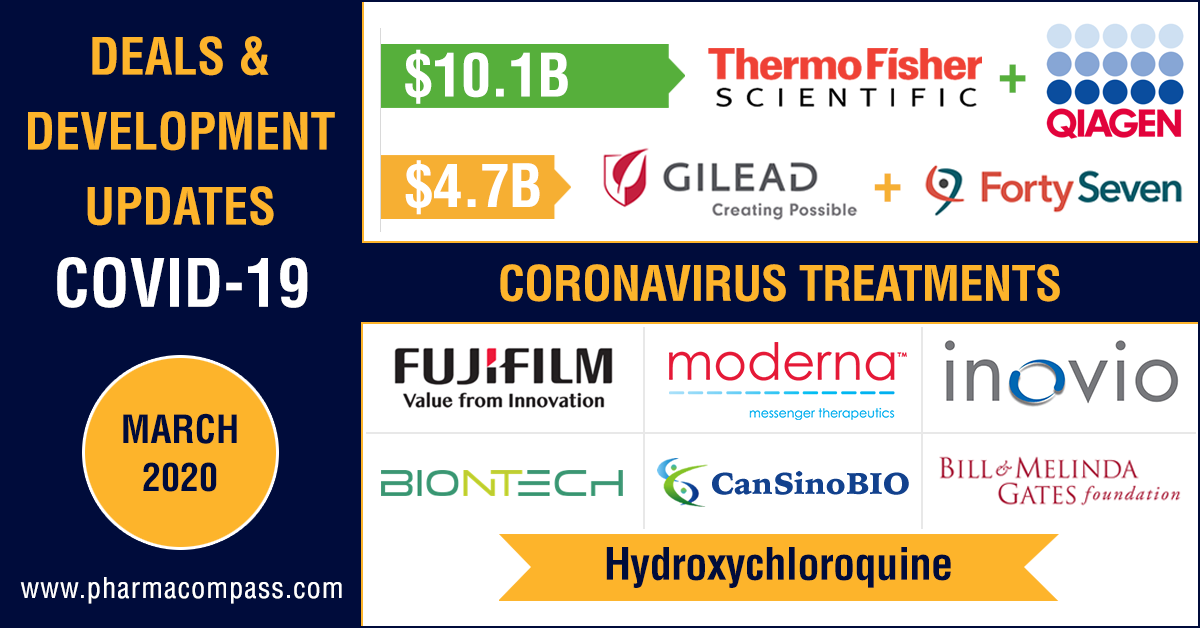 Pipeline Prospector March 2020: Deal Updates & Coronavirus Developments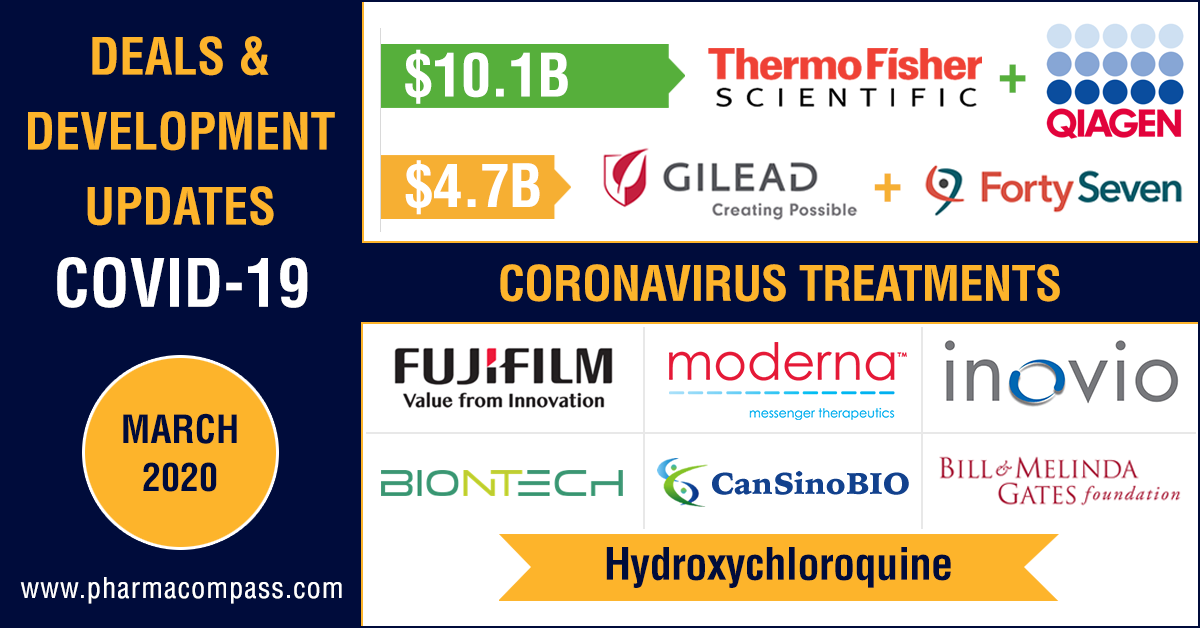 ×
In February, PharmaCompass and SCORR Marketing had announced the launch of the Pipeline Prospector, a free-access database of global drug development deals and updates designed for executives in the drug development industry.
While February was dominated by the single biggest health emergency in years brought about by the novel coronavirus (Covid-19), March witnessed the announcement of the biggest deals of the year.
Access the Pipeline Prospector Dashboard for All Deals & Development Updates

Thermo Fisher buys Qiagen for US$ 10.1 billion; Gilead picks up Forty Seven
When the novel coronavirus emerged out of China, Dutch test maker Qiagen got down to developing a test that detected the virus in bodily fluids and gave results in about one hour.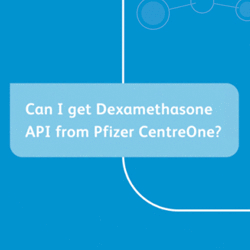 Last month, US laboratory equipment maker Thermo Fisher Scientific Inc —which also offers end-to-end research solutions for Covid-19 from pathogen detection and epidemiological studies to potential vaccine development — agreed to buy Qiagen NV for about US$ 10 billion (Euro 9 billion) in the biggest healthcare acquisition so far this year.
This was the largest purchase by Thermo Fisher after the company's US$ 13.6 billion acquisition of Life Technologies in 2014. Qiagen employs approximately 5,100 people at 35 locations in more than 25 countries.
Access the Pipeline Prospector Dashboard for All Deals & Development Updates

Gilead Sciences Inc, which has been in news for its coronavirus treatment remdesivir, said it would buy cancer biotech Forty Seven Inc for US$ 4.9 billion in cash. This acquisition added another experimental treatment that targets blood cancer to Gilead's portfolio of oncology drugs.
Through the acquisition, Gilead will have access to Forty Seven's lead drug, magrolimab, that targets CD47, a molecule often known as the "don't eat me signal". Cancer cells use that signal to avoid the immune system. The biotech has shown a 50 percent response rate from its lead drug magrolimab in Myelodysplastic syndrome and a 40 percent complete response rate in acute myeloid leukemia in small trials. Forty Seven also has programs in lymphoma and bladder, colorectal and ovarian cancers.
The deal is Gilead's largest acquisition since the company acquired Kite Pharma for US$ 11.9 billion in 2017. The deal is expected to complement the portfolio of Kite Pharma, and comes at a time when sales of Gilead's hepatitis C drugs have seen a steep fall.
Access the Pipeline Prospector Dashboard for All Deals & Development Updates

Trump promotes hydroxychloroquine; China supports favipiravir against Covid-19
Since the middle of March when the President of United States Donald Trump tweeted about hydroxychloroquine (HCQ) being a potential treatment for Covid-19, the pharmaceutical industry's focus has turned on HCQ, an anti-malarial drug which has been in use since the 1950s and is now used to treat a variety of autoimmune disorders.
Trump had tweeted: "HYDROXYCHLOROQUINE & AZITHROMYCIN, taken together, have a real chance to be one of the biggest game changers in the history of medicine. The FDA has moved mountains — Thank You! Hopefully they will BOTH (H works better with A, International Journal of Antimicrobial Agents) be put in use IMMEDIATELY. PEOPLE ARE DYING, MOVE FAST, and GOD BLESS EVERYONE!"
PharmaCompass reviewed the study quoted by Trump and our findings (read 'Hydroxychloroquine: Hype versus reality') suggest it was too early to term the combo as a game-changer.
Access the Pipeline Prospector Dashboard for All Deals & Development Updates

In a further setback, a report published by the Journal of Zhejiang University in China of a controlled clinical study revealed that patients who got treated by HCQ didn't fare any better than those who did not get the medicine.
The study, performed on 30 patients, found that on Day 7, Covid-19 nucleic acid of throat swabs was negative in 13 (86.7 percent) cases in the HCQ group and 14 (93.3 percent) cases in the control group. The median duration from hospitalization to virus nucleic acid negative conservation was 4 (1-9) days in HCQ group, which was comparable to that in the control group (1-4) days. The results of the study weren't statistically significant.
While many trials are still underway to assess the efficacy of HCQ and there is no conclusive evidence to support its use, the demand surge created with all the press coverage made pharmacies in the US run out of HCQ.
Access the Pipeline Prospector Dashboard for All Deals & Development Updates

This was followed by India, the key manufacturer of the active ingredient, to restrict HCQ exports and the US Food and Drug Administration (FDA) made an exception to a four-year old ban (due to concerns over product quality) placed on India's Ipca Labs to secure supplies.
In another disappointment, a randomized, controlled trial of AbbVie's treatment Kaletra (lopinavir-ritonavir) conducted on 199 patients found that patients who were given lopinavir-ritonavir did not have clinical improvement different from that of patients assigned to standard care. The median time to clinical improvement was 15 days in the lopinavir-ritonavir group, as compared to 16 days in the standard-care group.
Standard care comprised, as necessary, supplemental oxygen, non-invasive and invasive ventilation, antibiotic agents, vasopressor support, renal-replacement therapy, and extracorporeal membrane oxygenation (ECMO).
This trial was conducted at the Jin Yin-Tan Hospital, Wuhan, Hubei Province, China.
Access the Pipeline Prospector Dashboard for All Deals & Development Updates

Another antiviral, Favipiravir — a RdRP (RNA-dependent RNA polymerase) inhibitor which works as a broad spectrum antiviral agent that has been approved in Japan for novel or re-emergent influenza and it has also been used to treat Ebola patients in Guinea — received a vote of confidence in March when the director of China's National Center of Biotechnology Development announced that a clinical trial completed in China has demonstrated that favipiravir has good clinical efficacy against Covid-19.
However, South Korean health authorities announced they will not use the Japanese anti-influenza medication for treatment of Covid-19 due to doubts over its efficacy and potential side effects.
Covid-19 vaccine clinical trials begin
In March, US-based drugmaker Moderna announced it had dosed the first patient in a phase I study, evaluating its potential vaccine mRNA-1273 against Covid-19.
Moderna's technology uses messenger RNA, which carries genetic information from DNA to ribosomes to produce proteins, to carry a copy of the genetic sequence of the virus, which prompts the production of the antibodies to that virus.
The company succeeded in starting a clinical study for Covid-19 vaccine at record speed — in just 63 days from the date of sequence selection. The phase I study is being conducted by the National Institutes of Health and is expected to provide important data on the safety and immunogenicity of mRNA-1273. Immunogenicity means the ability of the vaccine to induce an immune response in participants. The open-label trial is expected to enroll 45 healthy adult volunteers between the ages 18 and 55 years over approximately six weeks.
Access the Pipeline Prospector Dashboard for All Deals & Development Updates

Germany's BioNTech, which also specializes in messenger RNA technology, announced it was entering into a strategic development and commercialization collaboration with Shanghai based Fosun Pharma. The companies will jointly conduct clinical trials of BNT162 in China and has Fosun Pharma paying BioNTech up to US$ 135 million in upfront and milestone payments.
China announced the start of human trials of its own coronavirus vaccine candidate — Ad5-nCoV — jointly developed by Cansino Biologics Inc and the Academy of Military Medical Sciences of China. The vaccine will undergo clinical trials in Wuhan, the epicenter for the pandemic that has spread to all corners of the globe.
Australia undertakes 4,000 healthcare worker clinical trial with BCG vaccine
A research publication highlighted that though Covid-19 had spread across countries, the impact of the disease was different in different geographies. While the differences could be due to cultural norms, mitigation efforts and health infrastructure, the researchers proposed that a possible explanation could be due to the different national policies with respect to Bacillus Calmette-Guerin (BCG) childhood vaccination. BCG vaccination has been reported to offer broad protection to respiratory infections.
Access the Pipeline Prospector Dashboard for All Deals & Development Updates

The publication compared large number of countries that followed the BCG vaccination policies with the morbidity and mortality for Covid-19 and found that countries without universal policies of BCG vaccination (such as Italy, Netherlands and USA) were more severely affected compared to countries with universal and long-standing BCG policies (such as Portugal).
The Murdoch Children's Research Institute in Melbourne, Australia, announced its infectious disease researchers are preparing to roll-out a multi-center randomized controlled clinical trial of the BCG vaccine against Covid-19. The trial aims to enroll 4,000 healthcare workers from hospitals around Australia. A similar 1,500 patient clinical trial has been started in Netherlands.
'The Covid-19 Therapeutics Accelerator' launched
March saw some other positive developments, with the Bill & Melinda Gates foundation announcing a US$ 125 million seed funding initiative in collaboration with Wellcome and the Mastercard Impact Fund to find a treatment.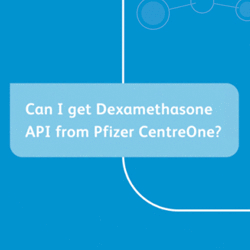 Christened 'The Covid-19 Therapeutics Accelerator,' the initiative is ready to start testing approved drugs, screening safe compounds, and assessing new molecules for activity against the novel coronavirus. Moreover, the Accelerator will contribute towards formulation development, scale-up, and regulatory activities throughout the drug development process.
Access the Pipeline Prospector Dashboard for All Deals & Development Updates

The Gates Foundation also issued a US$ 5 million grant to Inovio Pharmaceuticals to test and scale-up the production of Inovio's transdermal delivery device — Cellectra 3PSP — for the intradermal delivery of their proprietary coronavirus vaccine candidate INO-4800.
Inovio's vaccine goes into clinical trials next week and involves up to 40 healthy volunteers at two trial locations. Each trial participant will receive two doses four weeks apart, with data expected by late summer.
The trial is being funded by the Coalition for Epidemic Preparedness Innovations (CEPI), an Oslo-based international organization.
Access the Pipeline Prospector Dashboard for All Deals & Development Updates

Our view
The exponential growth rate of Covid-19 infections over the past quarter has brought the world economy to a grinding halt.
There have been limited breakthrough treatments so far, and during the coming weeks the world will anxiously wait to hear about the results from the controlled clinical trials of Gilead's lead drug against Covid-19 — remdesivir.
Access the Pipeline Prospector Dashboard for All Deals & Development Updates

There will also be results published from studies of other repurposed drugs which include HCQ. While we eagerly wait for a slowdown in the spread of Covid-19 infections as well as encouraging breakthroughs in treatments of the disease, a potential vaccine would be the ultimate game changer. However, we are still 12 to 18 months away from a vaccine to hit the market.
The focus on drug development is constantly evolving and the Pipeline Prospector, our free access database of global drug development deals and development updates, is designed to provide the insights necessary for professionals to drive their business forward.
Email us at support@pipelineprospector.com to learn more.
Access the Pipeline Prospector Dashboard for All Deals & Development Updates

The PharmaCompass Newsletter – Sign Up, Stay Ahead
Feedback, help us to improve. Click here
Image Credit : DEALS & DEVELOPMENT UPDATES COVID-19 by PharmaCompass is licensed under CC BY 2.0
" The article is based on the information available in public and which the author believes to be true. The author is not disseminating any information, which the author believes or knows, is confidential or in conflict with the privacy of any person. The views expressed or information supplied through this article is mere opinion and observation of the author. The author does not intend to defame, insult or, cause loss or damage to anyone, in any manner, through this article."
Read More