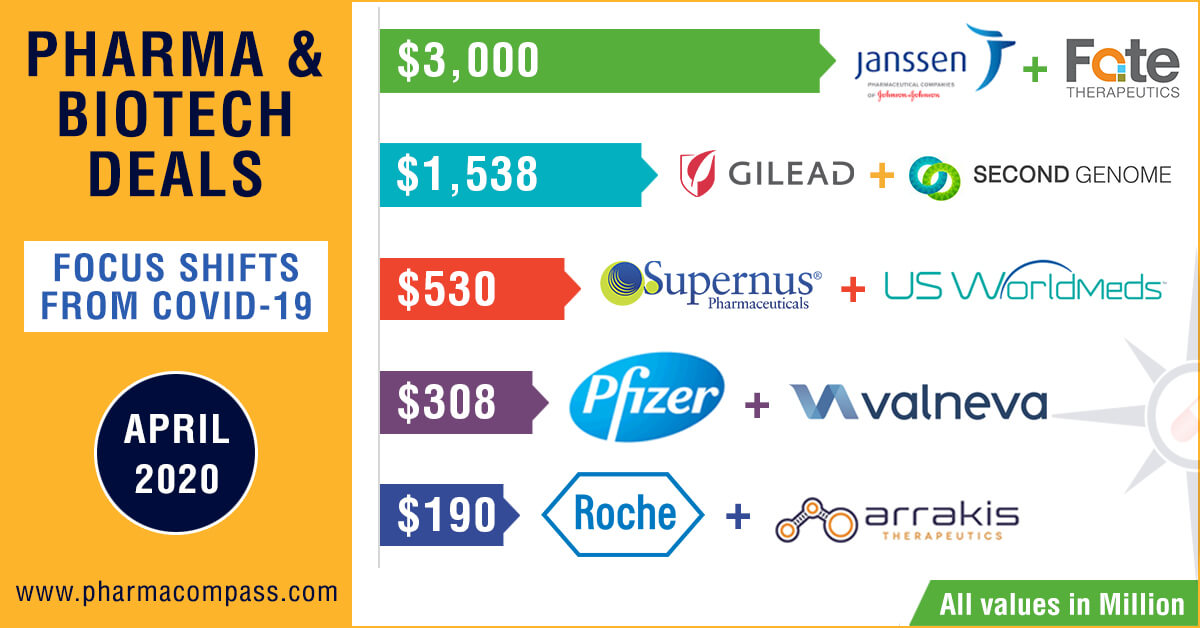 Pipeline Prospector April 2020: Pharma, biotech deals gain momentum; focus shifts from Covid-19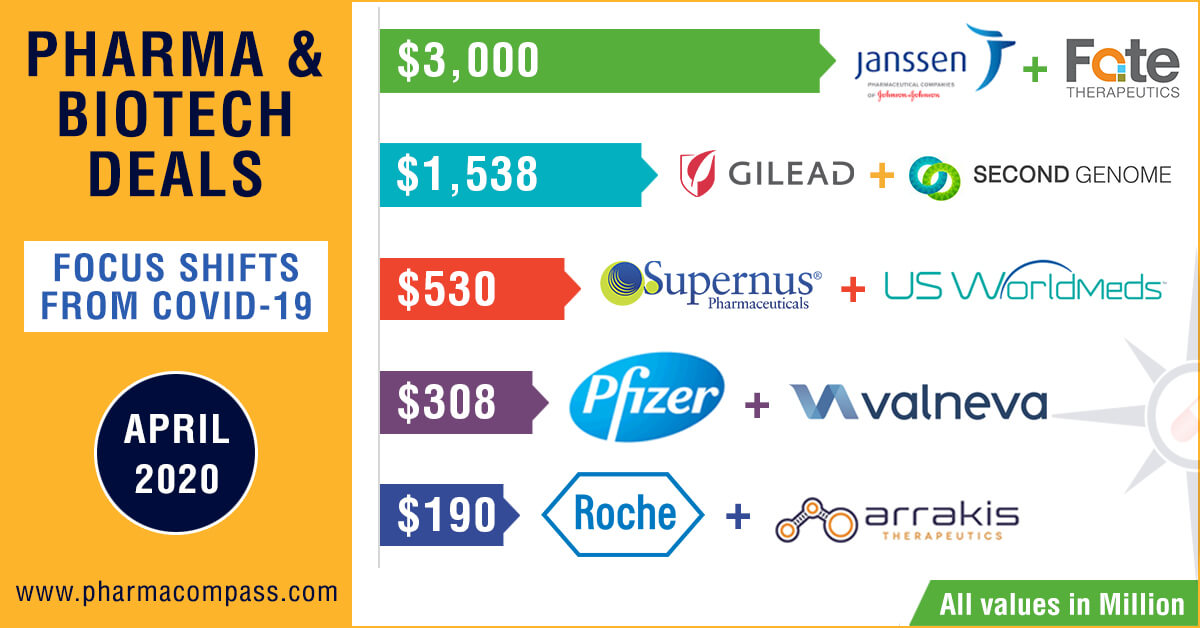 ×
As the world continued to battle the Covid-19 pandemic, global drug deals and development activities witnessed an uptick in April. Pipeline Prospector's review of deals revealed that major pharma companies have re-started forming partnerships and collaborations. And not all drugmakers are busy battling the novel coronavirus.
In April, major pharmaceutical companies like Pfizer, Johnson & Johnson, Gilead and Roche announced collaborations. There was also a flurry of dealmaking activity from key Japanese drugmakers — Kyowa Kirin, Daiichi Sankyo and Otsuka.
Access the Pipeline Prospector Dashboard for All Deals & Development Updates

During the month, Belgian drugmaker UCB Pharmaceuticals also announced it had successfully closed its US$ 2.3 billion acquisition of Ra Pharmaceuticals. On the other hand, delays by the US Federal Trade Commission (FTC) led Novartis and Aurobindo to walk away from their US$ 1 billion deal for parts of Sandoz's business.
But there were lesser known deals as well, such as the US-based Supernus Pharmaceuticals making the largest cash payout to acquire four products from US WorldMeds with applications in Parkinson's disease (PD). This was Supernus' way of expanding its central nervous system (CNS) portfolio. This week, we look at some of these lesser-known deals, but important deals.
Access the Pipeline Prospector Dashboard for All Deals & Development Updates

Supernus acquires US WorldMeds' CNS portfolio
Supernus Pharmaceuticals, a company focused on developing and commercialization of products for the treatment of central nervous system (CNS) diseases, which currently markets oxcarbazepine (Oxtellar XR) for epilepsy and topiramate (Trokendi XR) for epilepsy and migraine prevention, announced it will acquire privately-held biopharmaceutical company US WorldMeds' CNS portfolio.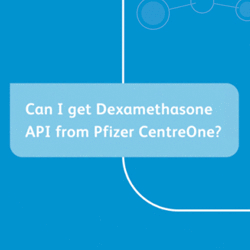 According to terms of the deal, Supernus will pay US$ 300 million upfront to acquire the assets and could pay an additional US$ 230 million if regulatory and commercial milestones are met.
The acquisition will give Supernus three established products in the US market. The products include: Apokyn – an injection to control body movements for people suffering from Parkinson's disease; Myobloc – an injection indicated for cervical dystonia and chronic sialorrhea in adults; and Xadago – an MAO-B inhibitor indicated as a daily adjunctive treatment to levodopa/carbidopa in patients with PD.
Access the Pipeline Prospector Dashboard for All Deals & Development Updates

According to Supernus' investor presentation, the US WorldMeds products covered in the deal accounted for US$ 150 million in 2019 revenue with the biggest being Apokyn, which generated US$ 118.9 million in sales last year.
The acquisition also includes, a late-stage Apomorphine Infusion Pump candidate designed for the continuous treatment of motor fluctuations in PD patients with unsatisfactory motor control. The launch of the Apomorphine Infusion Pump, if approved by the FDA, has an estimated potential peak annual revenue of US$ 100 to US$ 175 million.
Access the Pipeline Prospector Dashboard for All Deals & Development Updates

Roche partners with Arrakis; Janssen ties up with Fate Therapeutics; Gilead collaborates with Second Genome
Roche announced it would pay US$ 190 million as an upfront payment in cash to Arrakis Therapeutics, a biopharmaceutical company focused on the discovery of a new class of small molecule medicines that directly target the RNA.
Drug discovery is usually focused on identifying small molecules that bind to proteins. RNA, (carriers of the genetic instructions that make proteins in the first place) have been harder to target because it does not have the typical sites that bind to small molecules. By developing small molecules that bind to RNA, Arrakis aims to hit disease targets that had previously been considered "undruggable."
The strategic collaboration and licensing agreement will focus on the discovery of RNA-targeted small molecule (rSM) drugs against a broad set of targets across all of Roche's research and development areas.
Access the Pipeline Prospector Dashboard for All Deals & Development Updates

Under the terms of the agreement, Arrakis will lead discovery and research activities for each target to a defined point, at which time Roche will have the right to exclusively pursue further preclinical and clinical development.
Arrakis may also receive preclinical, clinical, commercial and sales milestone payments and royalties for any resulting products. The aggregate potential value of future payments to Arrakis exceeds several billion dollars, subject to regulatory approvals and other conditions being met.
Johnson & Johnson's Janssen Biotech announced a partnership with Fate Therapeutics to develop cell-based cancer immunotherapies derived from induced pluripotent stem cells (iPSCs). Janssen is making an upfront payment of US$ 50 million to Fate and also purchasing US$ 50 million of newly issued shares of the company. And Fate could receive US$ 1.8 billion in payments linked to achieving certain development and regulatory milestones. The announcement also mentioned up to another US$ 1.2 billion which is tied to achieving commercial milestones.
Access the Pipeline Prospector Dashboard for All Deals & Development Updates

Gilead paid US$ 38 million as an upfront payment to Second Genome, a San Francisco based biotech, focused on microbiome science, to enter into a four-year collaboration to utilize Second Genome's proprietary Microbiome Analytics Platform to identify biomarkers associated with clinical response in up to five of Gilead's pipeline compounds in inflammation, fibrosis and other diseases. As part of the deal, Second Genome will also identify potential new targets and drug candidates for the treatment of inflammatory bowel disease (IBD).
In addition to the upfront payment, Second Genome can receive up to approximately US$ 300 million in success-based preclinical, clinical, regulatory and commercial milestones for each of five target discovery programs as well as low double-digit royalties for any approved products.
Access the Pipeline Prospector Dashboard for All Deals & Development Updates

Valneva joins hands with Pfizer for Lyme disease vaccine
Valneva, a French specialty vaccine company, announced a collaboration with Pfizer to develop and commercialize Valneva's Lyme disease vaccine candidate, VLA 15, which is currently under Phase II clinical trials.
Lyme disease is a systemic infection caused by Borrelia bacteria transmitted to humans by infected Ixodes ticks. It is considered the most common vector borne illness in the Northern Hemisphere.
VLA15 is the only active Lyme disease vaccine program in clinical development today and, if approved, the vaccine could become the first on the market since SmithKline Beecham's (now GlaxoSmithKline) vaccine LYMErix was withdrawn in 2002.
Access the Pipeline Prospector Dashboard for All Deals & Development Updates

According to the terms of the deal, Valneva will receive an upfront cash payment of US$ 130 million and is eligible to receive another US$ 35 million in development milestones and US$ 143 million in early commercialization milestones. Valneva will fund 30 percent of all development costs through completion of the development program, and in return Pfizer will pay Valneva tiered royalties starting at 19 percent.
Valneva has completed patient enrollment and follow-up for two Phase 2 studies of its Lyme disease vaccine candidate, in more than 800 people. Valneva expects to report the first Phase 2 results in mid-2020. Under the terms of the agreement, Pfizer will lead late-stage development and have sole control over commercialization.
Access the Pipeline Prospector Dashboard for All Deals & Development Updates

Delays by FTC lead to nixing of US$ 1 billion Sandoz deal between Novartis, Aurobindo
In a statement, Novartis AG announced it had terminated its US$ 1 billion deal to sell the Sandoz US generic oral solids and dermatology businesses to Aurobindo Pharma USA Inc. The decision was taken mutually by Aurobindo Pharma USA Inc and Novartis.
According to the statement, the decision had to be taken because approval from the US Federal Trade Commission for the transaction was not obtained within the anticipated timelines.
Access the Pipeline Prospector Dashboard for All Deals & Development Updates

Had the deal been cleared, it would have created the second-largest generics player in the US. The deal was signed in September 2018, as part of Novartis CEO Vas Narasimhan's plan to focus on innovative medicines.
In 2019, increased antitrust scrutiny on biopharma deals became commonplace. Such scrutinies led to multiple delays in Roche's US$ 5.1 billion acquisition of Spark Therapeutics and forced Celgene to sell its blockbuster psoriasis drug Otezla to win clearance for its US$ 74 billion merger with Bristol Myers Squibb. It also derailed Illumina's proposed US$ 1.2 billion offer for smaller DNA sequencer player Pacific Biosciences.
Access the Pipeline Prospector Dashboard for All Deals & Development Updates

Japanese deals: Daiichi ties up with Ultragenyx; Otsuka partners Esperion
Japanese drug major, Daiichi Sankyo announced it had entered into a strategic partnership with Ultragenyx Pharmaceutical Inc for the non-exclusive use of Ultragenyx's proprietary adeno associated virus (AAV) based gene therapy manufacturing technology.
Daiichi Sankyo is currently doing discovery research for gene therapy drugs using AAV vectors, and in order to deliver gene therapy drugs to patients in the future, the company also believes it is essential to establish in-house manufacturing technology at an early stage. Ultragenyx has developed its own AAV production system using HeLa and HEK293 cells, which is considered valuable by Daiichi in terms of stable quality, high production efficiency, and mass production capability.
Under this agreement, Daiichi Sankyo will complete a technology transfer from Ultragenyx, and following this transfer, the Japanese drugmaker will expand its manufacturing capacity with the cooperation of Ultragenyx and with the intention of starting the manufacture of investigational drugs for AAV gene therapy by the mid-2020s.
Access the Pipeline Prospector Dashboard for All Deals & Development Updates

Daiichi Sankyo will make an upfront payment of US$ 200 million, which includes a US$ 75 million common stock purchase, to Ultragenyx at the time of this agreement as well as an additional payment of US$ 25 million at the time of the successful technology transfer and sales royalties of products manufactured by Ultragenyx's technology.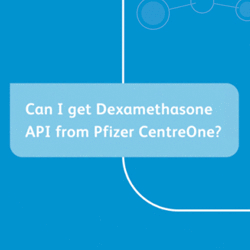 Otsuka Pharmaceutical announced it would partner with Esperion Therapeutics for the sole rights to develop and commercialize cholesterol tablets, Nexletol (bempedoic acid) and Nexlizet (bempedoic acid - ezetimibe) in Japan. Esperion will receive an upfront cash payment of US$ 60 million as well as up to an additional US$ 450 million in total development and sales milestones. The drugs were approved earlier this year in the EU and the US.
Kyowa Kirin partners MEI Pharma: Another Japanese drugmaker Kyowa Kirin announced it had expanded on its 2018 deal with MEI Pharma by entering into a global license, development and commercialization agreement to further develop and commercialize MEI's ME-401 — an oral, once-daily, investigational drug-candidate, selective for phosphatidylinositol 3-kinase delta, in clinical development for the treatment of B-cell malignancies. MEI and Kyowa Kirin will co-develop and co-promote ME-401 in the US on a 50-50 profit and cost sharing basis, with MEI booking all revenue from US sales. Kyowa Kirin has exclusive commercialization rights outside of the US.
David Urso, MEI Pharma's COO, said while the initial deal with Kyowa nabbed MEI US$ 10 million upfront and up to US$ 87.5 million in milestone payments, it has essentially folded into a larger agreement. As per the new terms, Kirin is all set to pay MEI Pharma US$ 100 million upfront and up to US$ 583 million subject to achievement of development, regulatory, and commercial goals, both within and outside the US, in milestone payments. In addition to the above mentioned US$ 682.5 million, MEI will also be eligible for royalties on any ex-US sales.
Access the Pipeline Prospector Dashboard for All Deals & Development Updates

Our view
While there was deal making activity in April, the single biggest development news was linked to the closely-watched Gilead experimental drug — remdesivir. Last month, a US government-run study of remdesivir showed that the medicine accelerates recovery from advanced Covid-19.
Since then the FDA issued an emergency use authorization for the drug. However, data from a clinical trial data indicates the drug is far from being a magic bullet against this health emergency.
Access the Pipeline Prospector Dashboard for All Deals & Development Updates

As the focus on drug development is constantly evolving, the Pipeline Prospector, our free access database of global drug development deals and development updates, is designed to provide the insights necessary for professionals to drive their business forward. Watch this space each month for more drug development deals and updates.
Email us at support@pipelineprospector.com to learn more.
Access the Pipeline Prospector Dashboard for All Deals & Development Updates

The PharmaCompass Newsletter – Sign Up, Stay Ahead
Feedback, help us to improve. Click here
Image Credit : Pharma & Biotech Deals - April 2020 by PharmaCompass is licensed under CC BY 2.0
" The article is based on the information available in public and which the author believes to be true. The author is not disseminating any information, which the author believes or knows, is confidential or in conflict with the privacy of any person. The views expressed or information supplied through this article is mere opinion and observation of the author. The author does not intend to defame, insult or, cause loss or damage to anyone, in any manner, through this article."
Read More