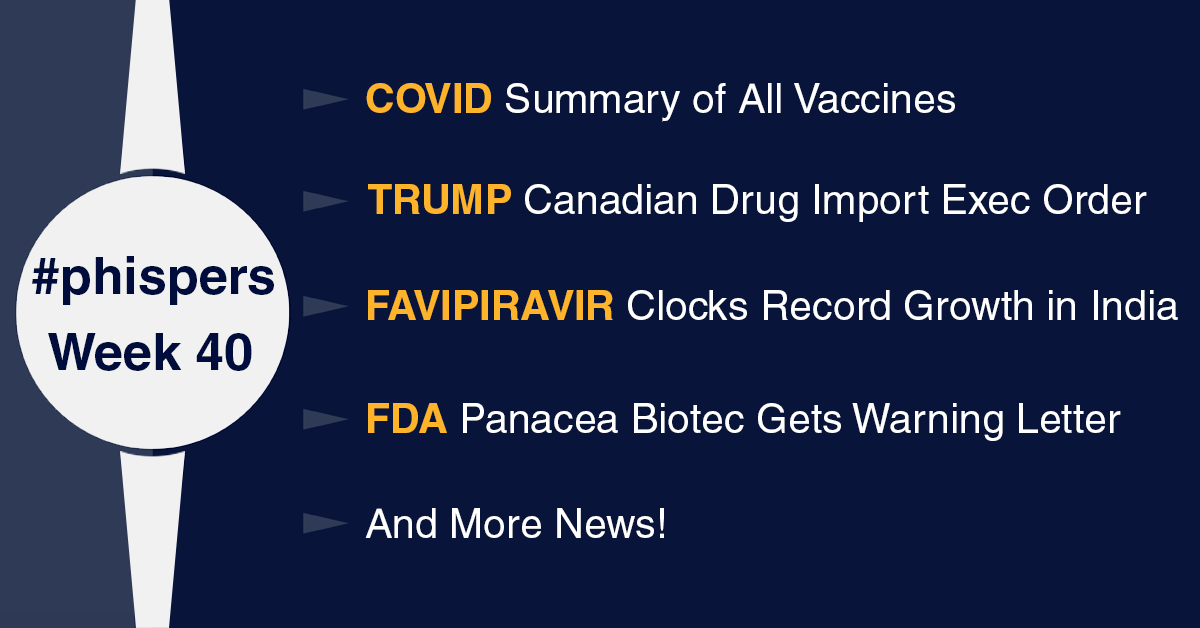 Nature releases summary of all vaccines under development; Panacea Biotec gets FDA warning letter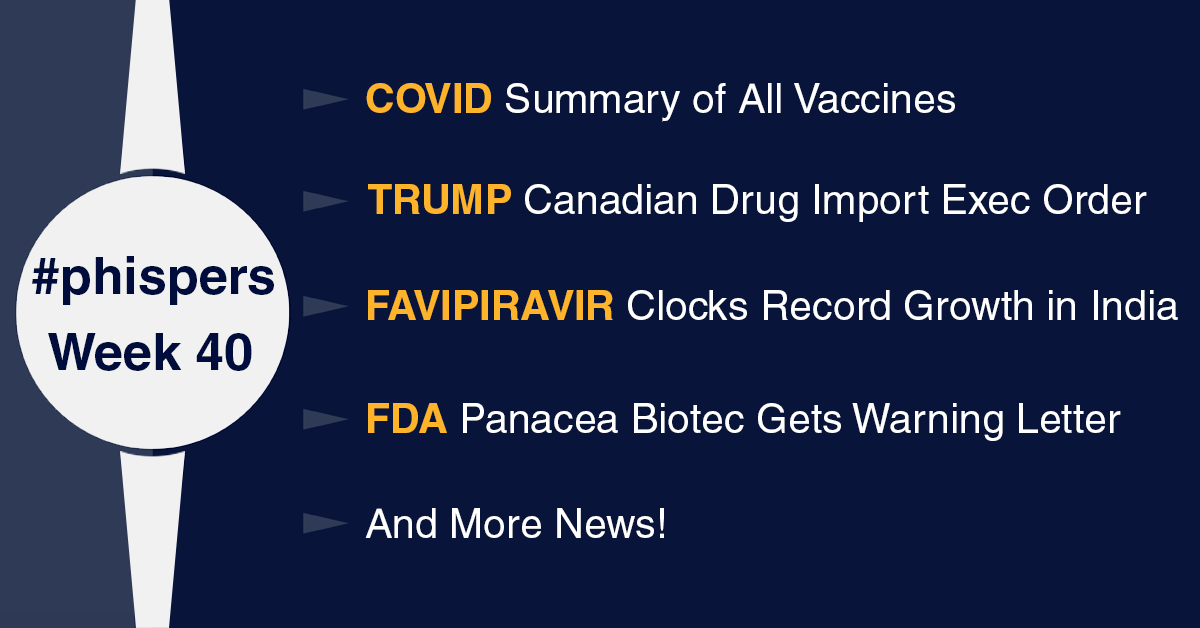 ×
This week, Phispers has plenty of news on vaccine development.
While Moderna said it can't apply for an EUA before November 25, Nature magazine released a summary of all vaccines under development, and European governments said they would pay claims above an agreed limit against AstraZeneca over side effects from its potential Covid vaccine.
China is likely to reach a capacity to produce 610 million doses by 2020-end, while Inovio said its vaccine has been put on hold by the USFDA.
In the US, the forthcoming polls are pushing President Donald Trump to issue more executive orders to address the contentious issue of drug prices and healthcare insurance.
He has signed an order that clears the way for US states and territories to import lower-cost prescription drugs from Canada.
Panacea Biotec received a warning letter from the USFDA post an inspection of its facility in Baddi (India) in February.
After reporting positive data for the use of favipiravir in Covid patients, Fujifilm plans to seek approval for the drug in Japan.
And India is working on a US$ 2 billion incentive scheme to boost the production of drugs.
Vaccine Update: Nature releases summary of all shots under development; China to reach 610 million capacity by year-end
The Nature magazine has released a summary of vaccines under development. The paper, which has been hailed as a great new paper on the vaccines by the scientific community, is unedited as of now. It is an early version with summary of all vaccines under development. "Nature is providing this early version of the typeset paper as a service to our authors and readers. The text and figures will undergo copyediting and a proof review before the paper is published in its final form," the magazine said. The 15-page PDF has information on different kinds of vaccines under development — such as DNA vaccines, RNA vaccines, replication inactive vectors and replication active vectors. "With nine vaccine candidates in Phase 3 trials already and encouraging data from many candidates in NHPs (non-human primates) and Phase 1, 2 or 1/2 trials, the situation can be described as cautiously positive," the paper said.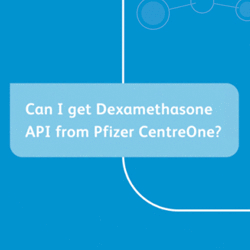 The author, Florian Krammer from the Department of Microbiology, Icahn School of Medicine at Mount Sinai, New York, also summarized the paper on Twitter by publishing 138 posts. His final post says "OK, somebody is going to ask which vaccine I would take. After seeing all the human data I would likely go with Pfizer or Novavax. But that might change, based on data coming up from Phase 3 trial. I am also kinda curious about Sanofi."
Europe to pay claims for side effects of Astra vaccine: European governments will pay claims above an agreed limit against AstraZeneca over side-effects from its potential Covid-19 vaccine, under different terms to a deal struck with Sanofi, an EU official told Reuters.
The deals reflect different strategies adopted by Sanofi and AstraZeneca, two of the world's top drugmakers, to protect themselves against liabilities incurred by them due to their vaccines aimed at ending the pandemic. Unexpected side-effects after a drug has been granted regulatory approval are rare. However, the speed at which a Covid-19 vaccine is being pursued increases the risks of unforeseen conditions.
The deal with AstraZeneca, which shifts some of the risks involved in the roll-out of a vaccine to taxpayers, was struck in August and its liability clauses have not previously been reported.
Under the AstraZeneca deal, EU countries have agreed to pay € 2.5 (US$ 2.92) per dose, while Sanofi has negotiated a price at around € 10 (US$ 11.75), the official said.
China expected to reach capacity of 610 million doses by year-end: Last week, China's National Health Commission said the country's annual production capacity of Covid-19 vaccines is expected to reach 610 million doses by end-2020.
Production capacity of the vaccines is forecast to reach 1 billion doses per year by 2021, Zheng Zhongwei, Director General of the Development Centre for Medical Science and Technology of the National Health Commission, said.
Inovio's vaccine put on hold: The US Food and Drug Administration (FDA) has notified Inovio, a biotechnology company, that it has additional questions about its planned Phase 2/3 trial of its Covid-19 vaccine candidate — INO-4800 — including its Cellectra 2000 delivery device to be used in the trial. Until Inovio satisfactorily addresses the FDA's questions, the drugmaker's Investigational New Drug Application (IND) for the Phase 2/3 trial will be on partial clinical hold. In a statement, the company has said it is actively working to address the agency's questions and plans to respond in October, after which the FDA will have up to 30 days to notify Inovio of its decision as to whether the trial may proceed or not.
J&J vaccine shows positive Phase 1/2a data: Johnson & Johnson has detailed the early stage data for its vaccine. Upon testing two dose levels either as a single dose or in a two-dose schedule spaced by 56 days, the scientists from Janssen (the J&J subsidiary developing its vaccine) reported that the low dose induced a similar immune response as the high dose.
The scientists said all other Covid-19 vaccines currently in development require two doses. But all vaccine makers that had seen a neutralizing antibody response on their candidate obtained it after a single dose.
Moderna not to seek EUA before Nov-end: American biotech firm Moderna said it will not seek an emergency use authorization (EUA) for its Covid-19 vaccine before November 25.
Moderna CEO Stephane Bancel told The Financial Times: "November 25 is the time we will have enough safety data to be able to put into an EUA file that we would send to the FDA, assuming that the safety data is good, i.e. a vaccine is deemed to be safe."
Trump signs executive orders to import drugs from Canada, cover people with health conditions
Weeks before the US Presidential elections, President Donald Trump has signed two executive orders implementing his "America First Healthcare Plan".
The first executive order, issued last week, is aimed at ensuring that Americans with pre-existing conditions retain healthcare coverage, even as Trump administration seeks to end the Affordable Care Act, or Obamacare, which protects the same right. The Affordable Care Act, passed in 2010, prohibited health insurers from denying coverage to Americans with known health conditions.
"Under my plan, 33 million Medicare beneficiaries will soon receive a card in the mail containing US$ 200 that they can use to help pay for prescription drugs," Trump said.
According to a Reuters report, Trump administration's planned distribution of US$ 200 benefit cards to Medicare recipients will take place over the next few months, with not all beneficiaries receiving one before the presidential election. The cards are likely to be discount cards for co-pays of prescription drugs.
Trump's discount cards to older Americans has left even his top officials scrambling to explain how it would all work — assuming it's even legal. Critics see it as an election year ploy to buy votes.
The second executive order sets out new rules, allowing US states and territories to import lower-cost prescription drugs from Canada. Interestingly, Trump's announcement came the same day counties in Florida began sending out vote-by-mail ballots.
For decades, Americans have been buying drugs from Canada for personal use—either by driving over the border, ordering medication on the internet or using storefronts that connect them to foreign pharmacies. Though the practice is illegal, the FDA has generally permitted purchases for individual use.
Trump said he expected an even deeper reduction in drug prices from an earlier executive order capping Medicare drug prices at the lowest level paid by other rich nations. However, critics say the executive orders carry little weight. They are being seen as an effort by Trump to boost his credibility before elections.
Meanwhile, Canadian Prime Minister Justin Trudeau has said while he is willing to entertain demands from the United States for Canadian medications, he would put the nation's needs first.
"Our priority will always be to ensure an adequate and safe supply for Canadians first and foremost," Trudeau said.
Panacea Biotec receives FDA warning letter for its site in Himachal Pradesh
Panacea Biotec, a generic drugs and vaccine manufacturer based in India, received a warning letter from the US Food and Drug Administration (FDA) following an inspection of its site located in Baddi (Himachal Pradesh, India).
During the 10-day inspection which occurred in February 2020, inspectors found that Panacea lacked data on microorganism identification from its aseptic processing operation. The firm rarely identified microbes recovered from its aseptic processing operation and in 2019, Panacea identified only one organism out of the 6,360 microorganisms isolated from the ISO 7 (Class 10,000) cleanroom area.
The lack of microbial identification data from environmental monitoring made the FDA conclude that the company lacked the basic information needed to evaluate the ongoing state of control of its aseptic manufacturing operations.
The warning letter highlights that routine characterization of recovered isolates provides vital data to promptly detect potential routes of contamination in aseptic operations and take action to prevent sterile drug contamination.
In addition, the inspectors found the pressure differential systems of the unit to be inadequate. Its standards for initiating investigations of pressure control issues were insufficient, the FDA warning letter said. This resulted in the agency questioning the controls of the HVAC systems used in the aseptic processing operations.
A suitable facility monitoring system is critical to maintaining appropriate air quality throughout all cleanrooms.
Based upon the nature of the violations identified, the FDA has strongly recommended engaging a consultant qualified to assist the firm in meeting current good manufacturing practices (CGMP) requirements.
Over the past three years, Panacea has received FDA approvals to supply the US market with products like the oncology drug Azacitadine injection, migraine treatment Rizatriptan Benzoate orally disintegrating tablets and Prasugrel tablets which are used for preventing blood clots in people with acute coronary syndrome.
Fujifilm to seek nod for Avigan in Japan; drug clocks record growth in India
Fujifilm's Avigan (favipiravir) has shown some positive results and was added to the list of drugs with proven efficacy against the novel coronavirus. In a phase 3 study of the flu drug in 156 coronavirus patients with non-severe pneumonia, those who received Avigan recovered in 11.9 days at the median, compared with 14.7 days for those who received a placebo. Investigators defined recovery as a negative Covid test and relief from symptoms.
Fujifilm started the study back in March this year. With these results, the company plans to seek approval in Japan, which may come in October.
Avigan is already approved in Japan to treat new or reemerging influenza. Fujifilm has signed a licensing deal with Dr Reddy's Laboratories and Global Response Aid to enable production for countries around the world.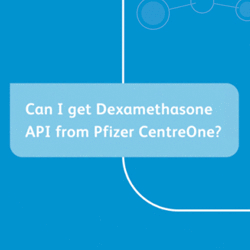 Meanwhile, favipiravir became the largest-selling drug in India in September, with locally made versions notching up sales of US$ 19 million (INR 1.4 billion).
In India, domestic brands of Favipiravir registered the fastest growth since their launch in June, according to data from market research firm IMS IQVIA and the All Indian Origin Chemists & Distributors (AIOCD).
Industry officials said Favipiravir is perhaps the first drug to cross the INR 1 billion (US$ 13.57 million) mark in two months. There are over 10 brands of the drug available in India, with Glenmark's brand leading in sales, followed by Cipla and Lupin.
India working on US$ 2 billion incentive scheme to boost production of drugs
The Indian government is working on a US$ 2 billion (INR 150 billion) production-linked incentive (PLI) scheme for the drug industry, a news report published in The Economic Times said. The scheme seeks to promote indigenous manufacturing of complex generics, biosimilars and high value-add medicines, and also intends to boost domestic drug production and cut dependence on imports.
The proposal will help India become self-reliant, both in API production and complex formulations, say experts. The proposal is likely to go before the Union Cabinet for approval soon, and will give financial incentives to eligible manufacturers on the sale of complex generic drugs and biopharmaceuticals.
India has a 20 percent share of the global generics market. However, the country is highly dependent on developed countries such as the United States, Germany, Sweden, Switzerland and the UK for import of finished formulations.
The PharmaCompass Newsletter – Sign Up, Stay Ahead
Feedback, help us to improve. Click here
Image Credit : #Phisper Infographic by SCORR MARKETING & PharmaCompass is licensed under CC BY 2.0
" The article is based on the information available in public and which the author believes to be true. The author is not disseminating any information, which the author believes or knows, is confidential or in conflict with the privacy of any person. The views expressed or information supplied through this article is mere opinion and observation of the author. The author does not intend to defame, insult or, cause loss or damage to anyone, in any manner, through this article."
Read More