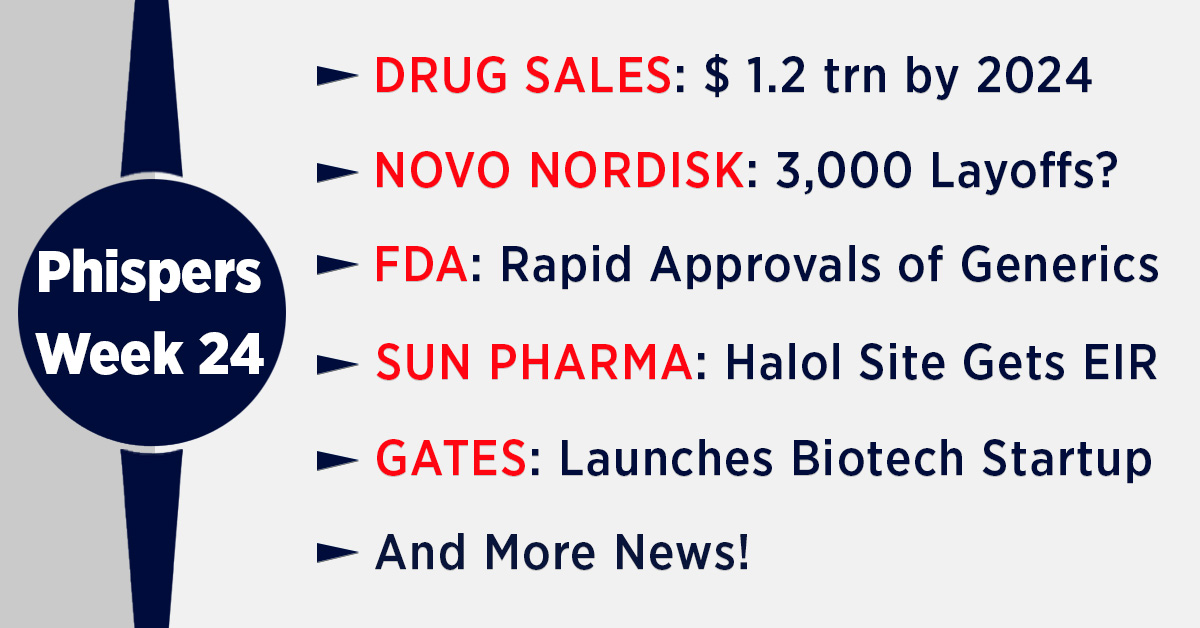 Global drug sales to hit US$ 1.2 trillion by 2024; Gates launches biotech startup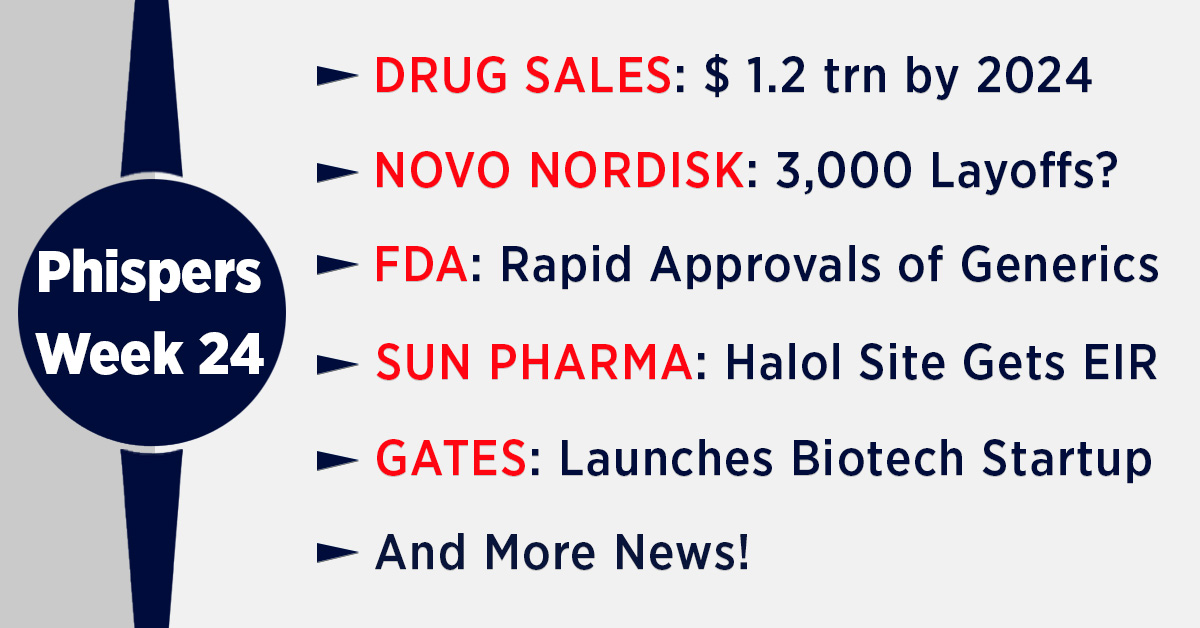 ×
This week in Phispers, we bring you the world drug forecasts and trends from Evaluate Pharma. There is news from Novo Nordisk as it plans to layoff 3,000 employees. The Bill & Melinda Gates Foundation started a 'biotech within charity' to develop new medicines and vaccines. There was another setback to Alzheimer's cure, as Eli Lilly and AstraZeneca scrapped late-stage trials of its experimental drug. And the USFDA cleared Sun Pharma's Halol (India) sit

e.



Prescription drug sales estimated at US$ 1.2 trillion by 2024, says Evaluate Pharma
Last week, Evaluate Pharma shared its World Drug Forecast for prescription drug sales until 2024. As per the forecast, prescription drug sales will reach US$ 1.2 trillion at a compounded annual growth rate (CAGR) of 6.4 percent until 2024. The growth will come from novel therapies that are expected to address key unmet needs, as well as from increasing access to medicines globally.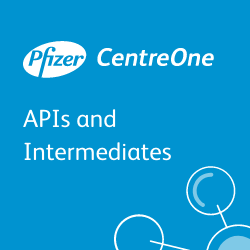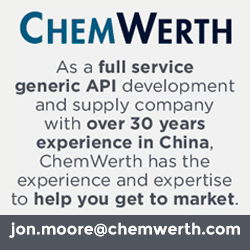 The leading prescription drug company, according to the report, will be Novartis with sales of US$ 53.2 billion in 2024, ahead of Pfizer and Roche, both of whom are closely competing for the second spot.
Things will change in the top 10 rankings, should Takeda complete its intended acquisition of Shire. The combined entity would be the 9th largest pharmaceutical company based on 2024 sales.
According to the report, Vertex's triple combination — VX-659 + tezacaftor + ivacaftor — is likely to be the most valuable project in the pharmaceutical industry pipeline.
On R&D spends, the report forecasts a CAGR of 3.1 percent until 2024, lower than the CAGR of 3.6 percent between 2010 and 2017. This signals that companies will be improving R&D efficiencies or less revenue will be directed towards replenishing pipelines. There are hopes that artificial intelligence and new clinical trial models could make drug development more efficient.
Humira is expected to retain its top selling slot until 2024, despite a de-growth of 3 percent over the next seven years.
Gene and cell therapies will also increasingly contribute to growth, building on the approval and launch of CAR-T therapies in 2017 and the launch of Luxturna (Spark Therapeutics), the first FDA approved gene therapy for vision loss, in 2018.
The orphan drugs sector is expected to outperform the market, almost doubling in size over 2018-2024 and peaking at US$ 262 billion in 2024, accounting for approximately 20 percent of prescription sales.



Novo planning to layoff 3,000; French drug makers turn to Boston
Uncertain and unpredictable markets are compelling Novo Nordisk to consider laying off 3,000 employees from its global workforce. The company is also planning to drop its long-term financial target.
According to sources quoted in a Danish business newspaper, Novo plans to unveil its cost-cutting package alongside its second quarter results, likely to be announced in August. The plan would include an adjustment of its growth forecast, which Novo puts at 5 percent as of last month. However, an analyst told FiercePharma that media reports "misrepresent the situation."
Novo has been feeling the pressure on drug pricing in the US, especially insofar as its bread and butter insulin products is concerned. The company acknowledged last month these pressures would cut its 2019 sales by 1 percent or 2 percent.
Meanwhile, Neuilly-sur-Seine (France)-headquartered drug maker Servier has opened a site in Kendall Square and staffed it with people from Biogen and the University of Massachusetts to find R&D and licensing opportunities.
News of Servier opening its office in Boston came after it stepped up its US strategy with a US$ 2.4 billion deal for Shire's oncology unit.
The Shire deal will give Servier an immediate commercial presence in the US. The Kendall Square office, which was in the works before the Shire deal was inked, will complement these assets by putting Servier in contact with an innovative drug R&D community.
Another French pharma company — Ipsen — will also relocate its US operations from New Jersey to Kendall Square.
The company announced the move on the last day of the BIO International Convention, promising to add 250 new jobs with the expansion of its Boston presence. The new jobs were part of a deal struck between Ipsen and the Massachusetts Life Science Center, which pledged US$ 1.2 million in state tax incentives to Ipsen.
Ipsen's current US headquarters are in Basking Ridge, New Jersey, where the company plans to maintain a core services center. The headquarters will transition to Cambridge over the next 12 months, the company said.



Gates Foundation builds its not-for-profit biotech startup for drugs and vaccines
The Bill and Melinda Gates Foundation has built a 'biotech within charity' over the last one year. This non-profit biotechnology company is based in Boston, and has a US$ 100 million budget. Its staff is targeted to grow to 100 people.
The Bill & Melinda Gates Medical Research Institute (MRI) will aim to develop new medicines and vaccines for malaria, tuberculosis and diarrhea, which together account for 2.6 million deaths a year globally, many of them in children.
To run the MRI, the foundation has picked Penny Heaton, a vaccine developer, who has been with the foundation since 2013 and has previously worked with Novartis.
Gates' MRI will do much of what a private drug company does — running clinical trials and making sure that there are regulatory approvals. In some cases, it will hold the regulatory ownership of a drug interacting with the FDA like any other drug company would.
Heaton said the idea for the new research institute was sparked by the realization that the development of tools for the targeted disease was really languishing.
"But then you turn and you looked at … TB, still 1.7 million deaths every year. You look at malaria, nearly 500,000 deaths every year. You look at enteric disease and while the rotavirus vaccines have done amazing things, we still have 500,000 deaths from enteric diseases every year in children under five," she noted. "And so we were thinking about: What can we do to start to accelerate finding solutions for these areas?"
Her plan is to break down silos by trying to leverage what fields like HIV vaccine research or the efforts to harness the immune system to fight cancers have discovered.



FDA approvals of generics continue at rapid pace; 496 ANDAs approved until May
With the release of monthly performance data for the month of May on Monday, the US Food and Drug Administration (FDA) said it has approved 496 abbreviated new drug applications (ANDAs) and tentatively approved another 114 ANDAs in fiscal 2018.
Those numbers are on par with the agency's fiscal 2017 performance. During the same period in 2017, the FDA granted full approval to 477 ANDAs and tentative approval to 119 applications.
In a first of its kind report, the FDA says the generic drugs approved in 2017 led to US$ 8.8 billion in cost savings during the calendar year, and US$ 11.8 billion in savings through February 2018.
On the other hand, in an email to staff on Thursday, Janet Woodcock, director of the FDA's Center for Drug Evaluation and Research (CDER), announced that the center's formal dispute resolution program is moving in response to an increase in disputes from generic drugmakers.
Specifically, Woodcock said the program will move from its current home within the Immediate Office of the Office of New Drugs (OND) to the Office of Executive Programs (OEP), allowing the program to be managed at the center level.
The reason for the move, Woodcock said, is that the program is used by both OND and the Office of Generic Drugs (OGD) and that the number of formal disputes raised by generic drugmakers is on the rise.
"In the last four years we have seen an increasing number of appeals within OGD as well. In fact, in 2017, the number of appeals reviewed in OGD exceed the number in OND for the first time," Woodcock said.



Another
Alzheimer
's setback as Lilly-AstraZeneca scrap drug trial
This week, AstraZeneca and Eli Lilly scrapped two late-stage trials of an experimental Alzheimer's drug — lanabecestat — that the two companies were co-developing. This is the latest blow in the long quest to find a breakthrough for the memory-robbing disorder.
At present, the treatments for Alzheimer's can alleviate symptoms, but don't slow the condition's underlying progression. There have been over 100 failures of experimental Alzheimer's drugs. Only last month, Johnson & Johnson stopped mid-stage trials testing of its beta secretase cleaving enzyme (BACE) inhibitor drug.
The brain disease has been tough for the pharma industry to crack because scientists don't fully understand what causes it.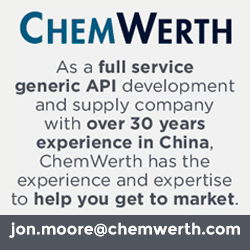 The decision, according to the two companies, was taken after an independent data-monitoring committee concluded that trials associated with lanabecestat wouldn't achieve their original goals. Lilly had bagged the drug four years ago in a pact with AstraZeneca.
Lanabecestat is a BACE inhibitor that blocks an enzyme involved in the production of a protein that creates brain plaques, considered a major cause of the disease.
According to the World Health Organization, 35.6 million people have dementia worldwide and this number is expected to double by 2030.
An AstraZeneca spokesman said the two will continue to jointly pursue an early-stage trial of another experimental Alzheimer's drug. On its own, Lilly has other Alzheimer's compounds in clinical trials too.



FDA clears Sun Pharma's Halol site, raises data-integrity concerns in Taiwan
Indian drug major Sun Pharmaceutical Industries received US FDA's establishment inspection report (EIR) for its Halol (Gujarat) plant. The report paves the way for fresh approvals for its products in the United States.
The inspection is now closed and issues raised in the December 2015 warning letter have been addressed, Sun Pharma said.
"This is an important development for Sun Pharma," Dilip Shanghvi, managing director at Sun Pharma, said in the statement. "We remain committed to following the highest levels of quality and 24x7 cGMP (good manufacturing practices) compliance at all our manufacturing facilities globally."
Sun Pharma's all niche future filings, including injectables, will come from this plant. The clearance paves the way for new approvals after four years.
Meanwhile, the FDA inspected the finished drugs manufacturing facility of Taiwan Biotech Company in September 2017 and issued a warning letter this week to the manufacturer of sterile over-the-counter products.
The warning letter states that the "reported level of environmental control is dubious" and the information shared by the firm "raises questions regarding the integrity of data generated by your firm."
These observations were an outcome of data integrity violations. When asked by the investigator to provide all deviations from environmental monitoring limits, the firm reported no results outside limits for over a year prior to the inspection date.
However, during the recent FDA inspection, several environmental monitoring samples were found to have significant growth, and these results had not been enumerated and recorded.
The PharmaCompass Newsletter – Sign Up, Stay Ahead
Feedback, help us to improve. Click here
Image Credit : #Phisper Infographic by SCORR MARKETING & PharmaCompass is licensed under CC BY 2.0
" The article is based on the information available in public and which the author believes to be true. The author is not disseminating any information, which the author believes or knows, is confidential or in conflict with the privacy of any person. The views expressed or information supplied through this article is mere opinion and observation of the author. The author does not intend to defame, insult or, cause loss or damage to anyone, in any manner, through this article."
Read More