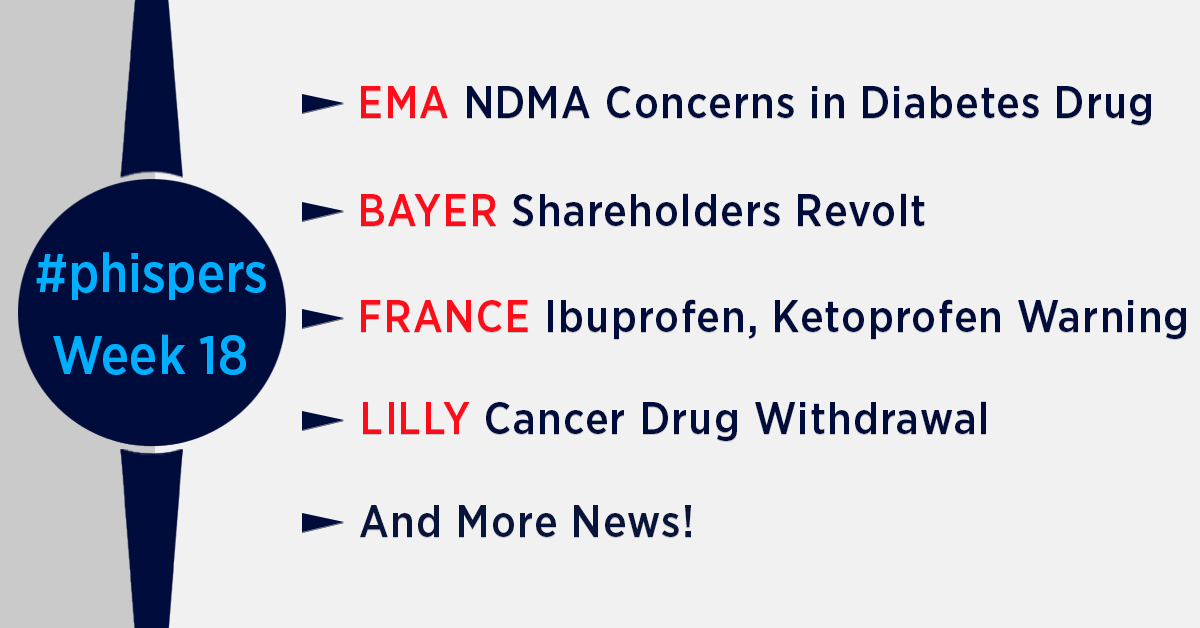 EMA raises NDMA impurity concerns in diabetes drug made by Hetero; shareholder revolt rocks Bayer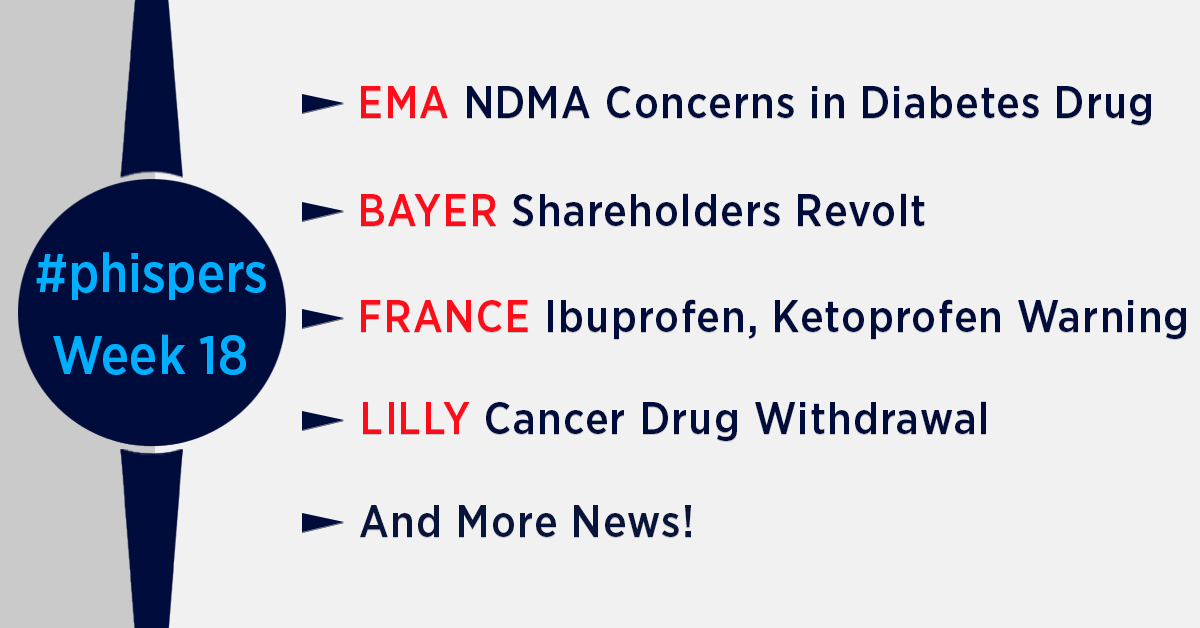 ×
This week, there is news on EMA telling companies using certain reagents to make diabetes drug — pioglitazone — to check their processes and rule out the presence of a nitrosamine impurity.
Bayer faced shareholder revolt for purchasing Monsanto, after its stock tanked 40 percent, since the purchase, due to lawsuits tied to a weedkiller.
French regulator ANSM has come out with a warning about the use of NSAIDs — ibuprofen and ketoprofen — in patients suffering from infectious diseases.
Eli Lilly withdraws cancer drug Lartruvo, which had won an accelerated approval, post results of an EMA study.
And Roche announced yet another extension of its offer to buy Spark for US$ 4.3 billion, as US authorities take more time to complete their reviews.



After sartans, EMA raises concerns over impurities in diabetes drug made by Hetero
The European Medicines Agency (EMA) is strengthening the monitoring of drug manufacturing. As a precaution, the EMA called on companies using certain reagents to manufacture pioglitazone, a diabetes drug, to test their products and check their processes in order to rule out the presence of nitrosamine impurities, in particular nitrosodimethylamine (NDMA).
This step follows the detection of low levels of NDMA in a few batches of pioglitazone manufactured by Hetero Labs in India.
In March, Hetero had announced a recall of 87 lots of losartan potassium tablets (25 mg, 50 mg and 100 mg). The recalled losartan potassium tablets contain the impurity NMBA (N-Nitroso-N-methyl-4-aminobutyric acid), which is a known animal and potential human carcinogen, FDA said. In April, Torrent and Teva had recalled losartan in the US due to the presence of NMBA manufactured by Hetero.
Earlier, EMA had conducted an EU-wide safety review, which had set legally-binding limits for nitrosamine impurities in sartan blood pressure medicines. EMA said it is working with national authorities and international partners to ensure manufacturers avoid or keep the presence of nitrosamine below the acceptable limits.
Meanwhile, the EMA's human medicines committee (CHMP) have recommended 13 medicines for approval at its April 2019 meeting. The committee recommended granting a marketing authorization for Sixmo (buprenorphine) as a substitute treatment for opioid dependence. Sixmo is an implant that releases low levels of buprenorphine into the patient's body for six months.
Moreover, two orphan medicines received a positive opinion from the CHMP. These were Esperoct (turoctocog alfa pegol), for the treatment and prophylaxis of bleeding in patients 12 years and above with haemophilia A (congenital factor VIII deficiency), and Ultomiris (ravulizumab), for the treatment of adult patients with paroxysmal nocturnal haemoglobinuria. The CHMP also adopted a positive opinion for Dovato (dolutegravir / lamivudine), for the treatment of HIV infection.



Bayer faces shareholder revolt over Monsanto buyout and weedkiller lawsuits
A popular weedkiller — Roundup — that fell into Bayer's lap when it bought out Monsanto in June 2018 for US$ 63 billion is wreaking havoc at the German drugs and chemicals giant. The company is facing a huge shareholder revolt as the purchase has put Bayer at risk from thousands of cancer lawsuits in the US tied to the weedkiller. Moreover, since the Bayer-Monsanto deal for Roundup closed in June last year, the Bayer stock has tanked 40 percent.
In an unprecedented rebuke, over 55 percent of voting shareholders did not endorse the actions of the management during the company's annual meet last week. The shareholders vented their anger over the stock price slump, and the risks associated with the lawsuits. About US$ 34 billion (Euros 30 billion) have been wiped off Bayer's market value since August.
The shareholders questioned the wisdom of this purchase when two US juries sided with men who claimed that glyphosate, the key ingredient in Roundup, caused them to develop cancer. However, Bayer is appealing both rulings. For now, the problem seems apocalyptic, as Bayer faces glyphosate lawsuits from roughly 13,400 US plaintiffs.
"Due to the continued negative development at Bayer, high legal risks and a massive share price slump, we refuse to ratify the management board and supervisory board's actions during the business year," Janne Werning, representing Germany's Union Investment, a top-20 shareholder, said in prepared remarks.
However, three of Bayer's largest German investors said Bayer's embattled management needs to stay at the helm to avoid further upheaval.
"A hasty replacement of the CEO would only increase the risk of a break-up and therefore can't be in the interest of long-term oriented investors such as Union Investment," said Werning.
According to a report published in Fortune, Baumann has nine months to prove he shouldn't be kicked out over the Monsanto acquisition.
"The scale of the litigation risks won't become clearer before next year, that's why we think it's fair and necessary to grant top management more time," Werning said.



French regulator warns of serious complications due to use of ibuprofen, ketoprofen
France's National Agency for the Safety of Medicines and Health Products (ANSM) has published a warning about the use of non-steroidal anti-inflammatory drugs (NSAIDs) in patients suffering from infectious diseases. The agency has studied nearly 20 years of real-world safety data on the use of two NSAIDs — ibuprofen and ketoprofen.
The two NSAIDs are used to treat fever and mild-to-moderate pain. Often patients and healthcare professionals also consider it for the management of symptoms caused by infections. The use of NSAIDs is associated with complications, such as severe bacterial skin conditions that can occur when the painkillers are given to people suffering from chickenpox. ANSM assessed these risks by reviewing adverse event reports dating back to 2000.
ANSM selected 337 cases of infectious complications linked to ibuprofen and a further 49 cases tied to ketoprofen for analysis. The selected cases included reports of infections of the skin and soft tissue, blood, pleuropulmonary and neurological systems and other parts of the body. Some of the infections led to patient deaths.
The complications were mainly associated with streptococcus and occurred after two to three days of treatment with NSAIDs. The NSAIDs were given by healthcare professionals or self-administered by patients to treat conditions including fever, insect bites and other benign inflammatory skin lesions and respiratory conditions. ANSM also found that people with chickenpox continue to take NSAIDs, despite them being contraindicated.



EMA tells Lilly to withdraw cancer drug that was awarded accelerated approval
Eli Lilly announced it has withdrawn Lartruvo (olaratumab) from the market for the treatment of advanced soft tissue sarcoma (STS). The company is establishing an Access Program for patients currently receiving the drug who may wish to continue.
Lilly's announcement came after EMA brought out results of its ANNOUNCE study last week. EMA concluded that Lartruvo (olaratumab) with doxorubicin does not prolong the lives of patients with soft tissue cancer more than doxorubicin alone. "The Agency is therefore recommending that the marketing authorization of the medicine be revoked," an EMA statement said.
In January 2019, when preliminary results of the ANNOUNCE study became available, the Agency recommended that no new patients should start treatment with the medicine. Having now assessed the full data from the study, the Agency has concluded that the benefit of Lartruvo in combination with doxorubicin is not confirmed. Regarding safety, the data did not show any new safety concerns.
Lartruvo was authorized in November 2016 to treat advanced soft tissue sarcoma, a rare and difficult-to-treat cancer. At the time of its approval, data on the effects of Lartruvo were limited because of the small number of patients included in the main study which supported its authorization. Therefore, Lartruvo was approved on the condition that the company carried out a study to confirm its benefits.
There is more bad news from Lilly. This week, the American drugmaker also dumped two mid-stage oncology drugs from its pipeline operations — CHK1 drug prexasertib (LY2606368) and its Phase II PI3k/mTOR inhibitor, LY3023414. Lilly plans to concentrate its oncology R&D on seven key programs that had better prospects.



Roche announces yet another extension of its offer to buy Spark for US$ 4.3 billion
Last week, Swiss drugmaker Roche announced yet another extension of its US$ 4.3 billion offer for gene therapy specialist Spark Therapeutics. The new extension is until June 3, and Roche said the reason behind the extension is the fact that the US authorities are taking longer than expected to complete their review.
Roche said all terms and conditions will remain unchanged during the extended period. Earlier this month, Roche had extended its offer until May 2, but said the Federal Trade Commission (FTC) needed even more time to complete its review.
Roche is buying Spark, which has one treatment against blindness on the market and others, such as a treatment for hemophilia A, in development. There is an industry-wide push into gene therapy, and Roche's rivals like Novartis and Pfizer are also focusing on this field.
"The review of the transaction is ongoing, and the parties are actively working with the government to facilitate that process," Roche said.
Roche still expects to wrap up the deal and begin work on integrating Spark's operations with its own in the first half of 2019. Spark faces several lawsuits in the US wherein its shareholders are challenging the sale to Roche, on grounds that it undervalues Spark's stock and is unfair to its shareholders.
The PharmaCompass Newsletter – Sign Up, Stay Ahead
Feedback, help us to improve. Click here
Image Credit : #Phisper Infographic by SCORR MARKETING & PharmaCompass is licensed under CC BY 2.0
" The article is based on the information available in public and which the author believes to be true. The author is not disseminating any information, which the author believes or knows, is confidential or in conflict with the privacy of any person. The views expressed or information supplied through this article is mere opinion and observation of the author. The author does not intend to defame, insult or, cause loss or damage to anyone, in any manner, through this article."
Read More