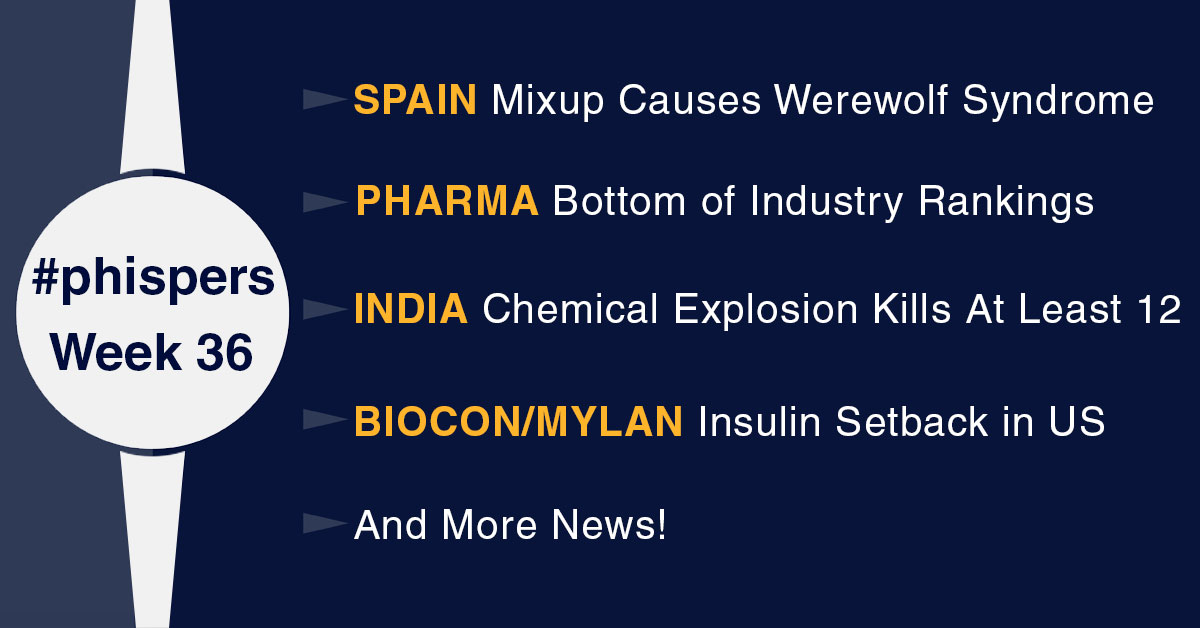 Drug mixup in Spain causes werewolf syndrome in children; explosion at plant in India kills 12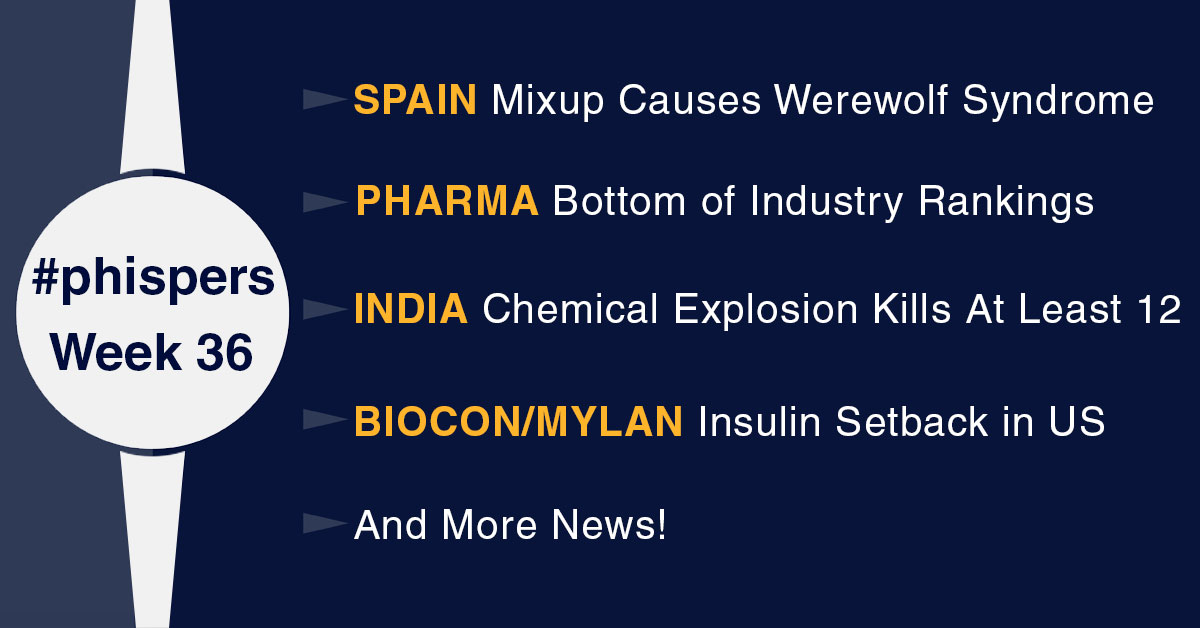 ×
This week Phispers brings news from Spain where at least 17 children developed werewolf syndrome due to a drug mix-up.
Another explosion took place at a chemical plant in India last week.
The chain explosion killed 12 and injured 58 people.
Last week, the drug industry in the US saw more patents being challenged, with Amgen challenging patents of Alexion's blood disorder treatment — Soliris and Novartis stepping up its challenge to Roche's multiple sclerosis franchise.
AbbVie's said it will cease to develop its experimental drug Rova-T after the treatment failed to show survival benefit in a late-stage trial for a type of lung cancer.
Biocon and Mylan got issued a second Complete Response Letter by the USFDA for their follow-on insulin glargine product referencing Lantus.
And a Gallup survey said the drug industry in the US is regarded most poorly by Americans.


Drug mixup in Spain causes
werewolf syndrome
in children
In Spain, at least 17 children developed a form of werewolf syndrome (a rare and curious condition that causes excessive hair growth) after they were given a wrong medication to treat heartburn. The drug the children were wrongly given was meant to stop hair loss.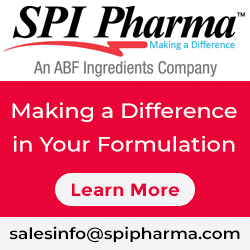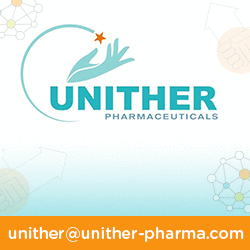 Spanish health authorities have blamed the packaging mix-up on Farma-Química Sur, a pharmaceutical company in the Malaga region of Spain
Spain's health minister, María Luisa Carcedo, said Farma-Química Surhad erroneously distributed to pharmacists minoxidil, a drug that helps fight baldness, that was labeled omeprazole, a drug that treats acid reflux.
The mislabeled medicine was recalled in July and the company was closed down until an investigation into the error is completed. "We have immobilized all the batches," Carcedo said.
The children who took the mislabeled medicine, some of them babies, began growing hair all over their bodies. The parents of these children plan to sue Farma-Química Sur. Some families have filed criminal lawsuits against the company.
Farma-Química Sur's inspection by the Spanish health authorities in June 2019 uncovered that the firm was importing active ingredients, without following proper procedures, from a Chinese supplier which had failed an EU GMP inspection in 2016. The firm's cleaning procedures were also found to be inadequate and there "was no active participation of management in the quality system".
Meanwhile, the Spanish dermatology association said the unwanted hair should start to fall out about three months after the children stop taking the drug.


Chain explosion at chemical factory in India kills at least 12, injures 58
Last week, we had reported on an explosion in the premises of Indian generic drug manufacturer — Nectar Lifesciences — in Saidpura, Punjab. Days after that incident, a chain explosion took place in a chemical plant in India that was far more devastating — it killed at least 12 workers and injured 58.
The chain explosions took place on August 31 at Rumit Chemsynth Private Limited, a chemical plant situated in the Dhule district of Maharashtra. The plant manufactures chemical intermediates used for making medicines.
A leaking chemical from a barrel reportedly triggered a fire which led to serial explosions in the factory at around 9:45 am. The presence of a number of nitrogen gas cylinders and barrels containing chemicals in the factory is said to have increased the severity of the blasts.
At least 100 workers were present in the factory at the time of the incident, a police officer said. Teams of fire brigade, police and State Disaster Response Force (SDRF) conducted the relief and rescue operations.
Maharashtra chief minister Devendra Fadnavis said the state government will provide compensation of about US$ 7,000 (INR 500,000) each to the families of the deceased.


Pharmaceutical industry most poorly regarded by Americans, says Gallup survey
The drug industry in the US has been touching new lows. According to Gallup's annual work and education survey, conducted from August 1 to 14, the pharmaceutical industry is now the most poorly regarded industry in Americans' eyes, ranking last on a list of 25 industries.
"The new low in the pharmaceutical industry's US image comes amid a range of criticisms of industry norms, from generating the highest drug costs in the world to spending massive amounts in lobbying politicians to the industry's role in the US opioid crisis," Gallup said.
The pharmaceutical industry has unseated the federal government as the lowest-rated industry this year, in terms of its net-positive score. From 2011 to 2018, the government had been last or tied for last. Americans' net ratings for the pharmaceutical industry have never been lower since Gallup first polled on industries in 2001.
Americans continue to give their highest ratings to the restaurant and computer industries, while the grocery industry and agriculture and farming also rank near the top of the list. Other industries that rank among the top half of the list include travel, accounting, automobile, retail, real estate, banking, electric and gas utilities, and sports.


AbbVie
writes off lung cancer drug acquired through US$ 5.8 billion acquisition
Last week, AbbVie Inc said it will cease to develop its experimental drug Rova-T after the treatment failed to show survival benefit in a late-stage trial for a type of lung cancer. The company said an independent data monitoring committee had recommended terminating the trial after an interim data analysis. AbbVie is testing treatments for more than 20 different types of cancer.
Rova-T is a drug-antibody combination that targets a protein called DLL3, found in over 80 percent of patients with small-cell lung cancer.
The drugmaker had acquired Rova-T through the US$ 5.8 billion acquisition of Stemcentrx in 2016.
AbbVie said it will now prioritize other development programs within its cancer pipeline. In June, AbbVie had said it would acquire Allergan Plc for about US$ 63 billion before its blockbuster arthritis treatment Humira loses US market exclusivity.


Biocon's insulin glargine suffers setback in US as FDA issues a second CRL
Only two weeks back, Biocon's insulin operations in Malaysia had won a certificate of good manufacturing practice from European Medicines Agency's Irish inspection authority and it had seemed like the Indian drugmaker had turned a corner in quality.
But the company announced over the weekend that the Mylan and Biocon combine have been issued a second Complete Response Letter (CRL) by the FDA for their follow-on insulin glargine product referencing Lantus.
Mayank Verma, the company's secretary and compliance officer, said in a letter to the National Stock Exchange of India, dated August 31, 2019: "The CRL has been issued pending completion of the Corrective And Preventive Actions…submitted to the US FDA in response to the observations made at the conclusion of the pre-approval inspection of our insulin manufacturing facility in Malaysia in June 2019."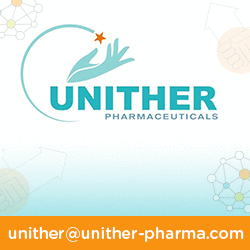 Verma added that the CRL did not note "outstanding scientific issues" with the application, and said that the CRL was not anticipated to have an impact on the company's planned launch timeline.
Back in June 2018, Biocon and Mylan had received a CRL following an earlier pre-approval inspection. In that case, the FDA asked for additional clinical data to support a request to manufacture the insulin injectors at the Malaysia facility instead of making it at a plant in Bangalore, India.
Prior to the initial CRL, the company had received a Form 483 from the FDA, inclusive of six observations, after an inspection of the Malaysia facility. Another inspection of the site in June and July 2019 had yielded another Form 483 with 12 observations.


A
week of three patent challenges in US; Mylan gets tentative nod for generic Alimta
There is lots of news pertaining to patent challenges in the US. First, Amgen Inc challenged patents of Alexion Pharmaceuticals Inc's blood disorder treatment — Soliris. Second, a judge ruled in favour of Regeneron and Sanofi in their long-drawn patent dispute with Amgen over its cholesterol drug Repatha. And third, Novartis AG stepped up its challenge to Roche's multiple sclerosis franchise.
In the Amgen versus Alexion case, the US patent office said it will review Alexion's patents on Soliris, the company's top-selling drug that accounted for nearly 82 percent of Alexion's total revenue in the latest quarter. Soliris is approved for four indications and brought in sales of US$ 980.8 million in the quarter ended June 30.
The Patent Trial and Appeal Board, an administrative court run by the US patent office, said it is instituting an inter partes review (IPR) on the patents.
The IPR is seeking to invalidate new patents covering the composition of the main ingredient of Soliris — eculizumab — its formulation, and its use to treat blood disorder known as proxysmal nocturnal hemoglobinuria (PNH).
The move deals a blow to Alexion's efforts to ward off competition for Soliris. However, Alexion said it will "vigorously defend" its patents and address the court's specific concerns in the IPR proceedings.
In the Amgen versus Regeneron-Sanofi case, the ruling from US District Judge Richard Andrews in Wilmington, Delaware, reversed a previous verdict, in a long-running lawsuit in which Amgen is seeking to stop Sanofi and Regeneron from selling their drug Praluent.
The previous verdict had found Amgen Inc's patents on its cholesterol drug Repatha to be valid. The reversal of that verdict is a victory for Regeneron and Sanofi that sell a rival drug Praluent.
Amgen said in a statement that it disagreed with aspects of the court's decision and will seek review by the appellate court.
Repatha had worldwide sales of US$ 152 million in the second quarter of 2019, while Regeneron reported Praluent sales of US$ 73.7 million for the period.
The third case involves Novartis AG which stepped up its challenge to Roche's multiple sclerosis (MS) franchise by highlighting study results for its drug — ofatumumab — which has shown potential in treating MS.
Novartis said ofatumumab, already approved as Arzerra to treat leukemia, reduced annual relapses better than Sanofi's Aubagio in two late-stage studies against relapsing forms of MS. Detailed study results are due at an MS conference in Sweden next month.
Novartis said it plans to start asking health authorities for approvals by the end of the year.
The company's real target with ofatumumab is Ocrevus, the US$ 2.4 billion-per-year MS blockbuster that Roche has said is its most successful drug launch ever.
Mylan's generic Alimta: Last week, the US Food and Drug Administration (FDA) granted Mylan NV tentative approval for its generic version of Eli Lilly's lung cancer drug — Alimta (pemetrexed). Usually, a tentative approval signals that the agency has signed off on the company's marketing application, but it cannot sell the medicine until the US patents have expired.
Lilly stands to lose US patent protection on Alimta in 2022. A chemotherapy drug, Alimta is Lilly's third biggest-selling drug that brought in revenues of US$ 577.8 million in the second-quarter of this year.
The PharmaCompass Newsletter – Sign Up, Stay Ahead
Feedback, help us to improve. Click here
Image Credit : #Phisper Infographic by SCORR MARKETING & PharmaCompass is licensed under CC BY 2.0
" The article is based on the information available in public and which the author believes to be true. The author is not disseminating any information, which the author believes or knows, is confidential or in conflict with the privacy of any person. The views expressed or information supplied through this article is mere opinion and observation of the author. The author does not intend to defame, insult or, cause loss or damage to anyone, in any manner, through this article."
Read More