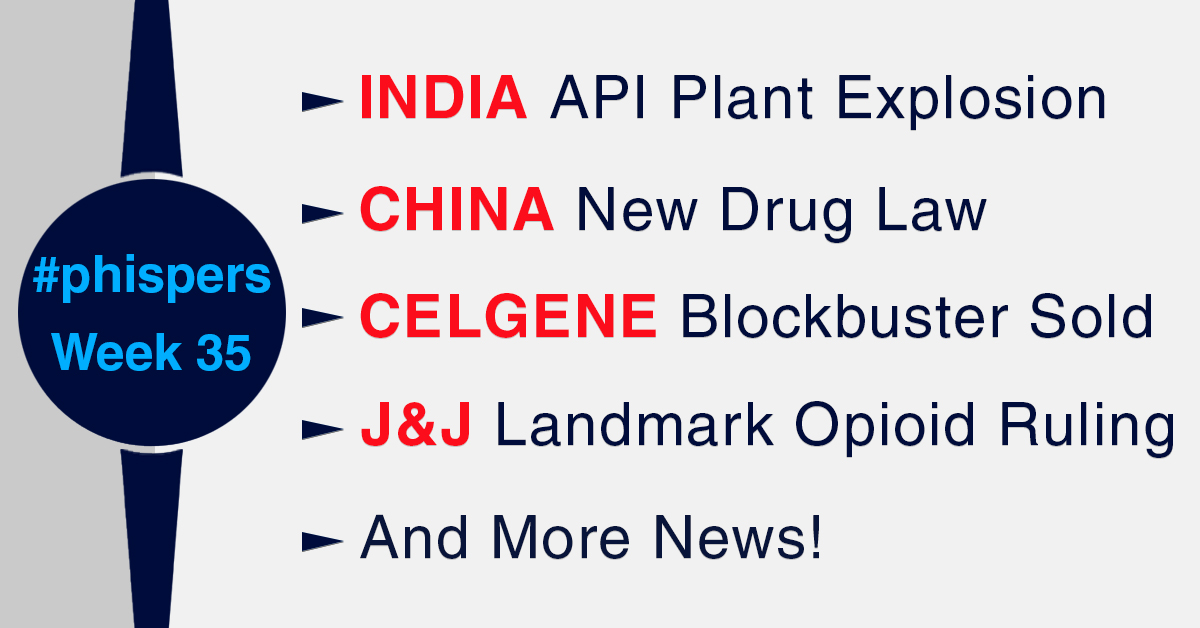 Explosion at Indian API manufacturer; New drug law in China; Amgen buys Celgene's blockbuster for US$ 13.4 billion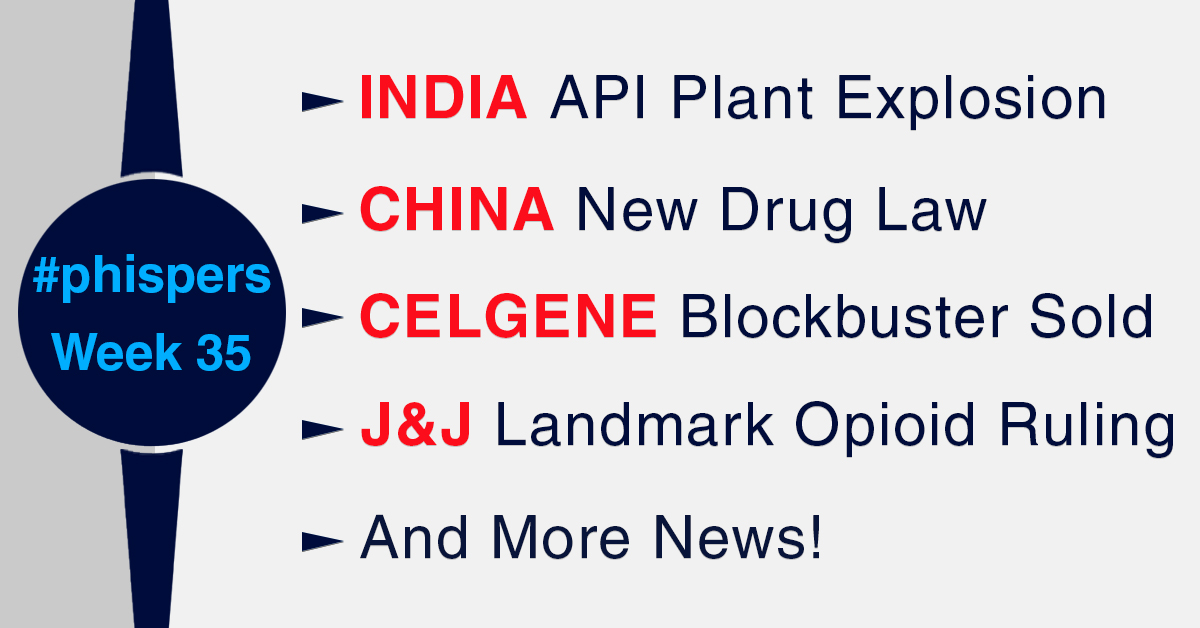 ×
This week, Celgene and BMS moved a step closer to their US$ 74 billion merger as Amgen agreed to buy Celgene's psoriasis drug Otezla for US$ 13.4 billion.
With this sale, Celgene is addressing the US competition regulator's concerns over the merger.
Novo Nordisk filed a lawsuit against Mylan in order to block its copycat Victoza.
An explosion at Indian API manufacturer Nectar LifeSciences' plant in Punjab injured 16 people.
In the US, a judge in Oklahoma ruled against Johnson & Johnson in the state's opioid lawsuit, forcing it to pay US$ 572 million.
And in China, a revised drug law seeks to reduce penalties on the sale and import of unapproved drugs, thereby giving patients access to cheaper generic drugs from other countries.


Celgene-BMS move closer to merger as Amgen buys Otezla for US$ 13.4 billion
In June this year, the Federal Trade Commission of the US had raised anti-competitive concerns over the US$ 74 billion merger of Bristol-Myers Squibb (BMS) with Celgene. The concerns included Otezla (apremilast), Celgene's psoriasis drug that had posted global sales of US$ 1.6 billion in 2018.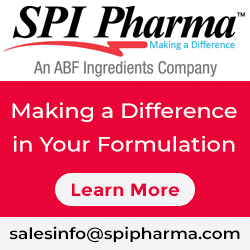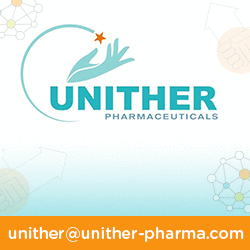 Celgene had decided to allay the concerns of the regulator by selling off Otezla. At the time, BMS had said it expects to complete the deal by 2019-end or by early-2020
Last week, we had reported that the US Food and Drug Administration (FDA) had approved Celgene's myelofibrosis drug Inrebic (fedratinib). While this drug approval should provide a boost to the mega-merger, this week, both Celgene and BMS moved even closer to their merger when Amgen announced it has entered into an agreement with Celgene to buy Otezla and certain related assets for US$ 13.4 billion in cash.
Amgen expects Otezla to post at least low double-digit sales growth, on average, over the next five years. It also believes that the acquisition of Otezla offers the company several benefits, as the drug is a strong strategic fit with Amgen's long-standing expertise in the treatment of psoriasis and inflammation.
This week, BMS said the sale of Otezla to Amgen is contingent on a consent decree with the FTC. If the consent is given, BMS expects the merger to occur by the end of 2019.
Otezla is currently approved for three indications in the US — the treatment of patients with moderate-to-severe plaque psoriasis who are candidates for phototherapy or systemic therapy; adult patients with active psoriatic arthritis; and adult patients with oral ulcers associated with Behçet's Disease (a rare disorder causing inflammation in blood vessels). Otezla is approved in more than 50 markets outside the US, including the European Union and Japan. In the US, the drug has patent exclusivity through at least 2028.


Explosion at Indian API manufacturer Nectar LifeSciences' plant injures 16
Last week, an explosion took place in the premises of Indian generic drug manufacturer — Nectar Lifesciences — in Saidpura, Punjab. At the time of the incident, 28 employees were present on the location.
So far, 16 people have been reported as injured, out of which five people have been critically injured with severe burns from the blast.The rescue operation began immediately after the incident and the injured were rushed to hospital.
Nectar Lifesciences is engaged in the production of generic drug products. The blast took place on the first floor of the plant that manufactures salts for multivitamin tablets.
An investigation into the incident is being carried out to know the exact cause of the incident. Until then, all operations at the unit have been ceased.
The intensity of the blast was such that a portion of the two-storey building collapsed. Interestingly, in June 2014, Nectar Lifesciences had been put on the block.


Novo files a lawsuit against Mylan in order to block its generic Victoza
In an attempt to block Mylan from marketing a generic version of its diabetes drug Victoza (liraglutide), Danish drugmaker Novo Nordisk has filed a lawsuit in a Delaware district court in the US against Mylan.
"We can confirm that Novo Nordisk has filed a lawsuit against Mylan for patent infringement of Victoza," the company said.
In 2018, Victoza posted US sales of US$ 2.7 billion and accounted for 16.2 percent of Novo Nordisk's revenue.
Victoza was first approved in the US in 2010 in adults with type 2 diabetes. On June 17, the FDA approved Victoza injection to lower blood glucose levels along with diet and exercise in children and adolescents aged 10 to 17 years with type 2 diabetes. The drug is a glucagon-like peptide-1 (GLP-1) receptor agonist, and is the first to be approved for this age group. The new approval was based on data from the global ELLIPSE Phase III clinical trial.
Although Victoza is certainly a big factor in the company's success, it has another GLP-1 agonist, Ozempic (semaglutide), which is growing significantly. Its sales for the first half of the year were US$ 568 million.


Oklahoma judge rules against J&J in landmark opioid case; levies US$ 572 million penalty
In the US, an Oklahoma judge ruled against Johnson & Johnson in the state's opioid lawsuit. The judgement, which came this week, orders J&J to pay a fine of US$ 572 million.
The case was the first to go to trial out of thousands of lawsuits filed against opioid makers and distributors.
The district judge Thad Balkman called the opioid crisis an "imminent danger and menace". According to the ruling, J&J and its subsidiary Janssen repeatedly downplayed the risks of addiction to opioids.
"Specifically, defendants caused an opioid crisis that's evidenced by increased rates of addiction, overdose deaths and neonatal abstinence syndrome," Balkman added.
J&J intends to appeal against the ruling. The company said the decision in the case is "flawed" and that the state had "failed to present evidence that the company's products or actions caused a public nuisance in Oklahoma."
Opioids were involved in almost 400,000 overdose deaths in the US from 1999 to 2017, according to the US Centers for Disease Control and Prevention. Since 2000, some 6,000 people in Oklahoma have died from opioid overdoses.
Nearly two dozen opioid manufacturers, drug distributors and retailers are now being sued by states, counties, cities and tribes across the nation for their roles in the opioid crisis. However, only J&J has been hauled up so far. Incidentally, J&J's drugs accounted for only about 1 percent of opioid sales in the state.
Earlier this year, Oklahoma sued two other drug manufacturers — Purdue Pharma and Teva Pharmaceuticals — in addition to J&J. But they both settled with the state earlier this year — Purdue for US$ 270 million, Teva for US$ 85 million — without admitting wrongdoing.
Meanwhile, Purdue Pharma (an OxyContin manufacturer) and its owners, the Sackler family, are reportedly seeking the bankruptcy route to settle the opioid cases against it.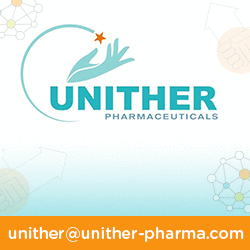 The company and its owners are in talks with state and local governments to resolve hundreds of lawsuits (being waged against it by states, cities, towns and tribes) in a deal valued at between US$ 10 billion and US$ 12 billion, according to a report published in the Wall Street Journal.
If the settlement is reached, Purdue will set a restructuring plan into motion by first declaring Chapter 11 bankruptcy (under the US Bankruptcy Code), and then transitioning into a trust made of court-appointed trustees. These trustees will then select a board of directors to run the day-to-day operations. The Sackler family, which has owned the company since it was founded in the 1950s, would cede ownership as part of the bankruptcy reorganization.


New drug law in China may open door for Indian generic drugmakers
From December this year, China will reduce the penalties for the sale and import of unapproved drugs. As a result of this new law, legal foreign drugs, including generic drugs from India, will not be treated as fake medicines in China.
Through this revised regulation, China hopes to give poor and critically ill patients the green light to get cheaper generic drugs from other countries.
China's top legislature, the Standing Committee of National People's Congress, passed the revised law this week to enhance management and supervision of the drug market following numerous fake drugs and vaccine cases that had triggered a call for stronger measures to ensure drug safety.
For years, Chinese patients and their relatives risked the threat of heavy criminal penalties in their hunt for affordable drugs.
The effectiveness of the new move would depend on the details of the new ruling. This revised drug law could help Indian generic medicines enter China. Due to the rigid regulations in China and the costs involved, so far no major Indian pharma company has managed to establish itself in China.
Some experts take the move as a sign that China is opening its market to cheap generic medicines, especially from India. There have been demands from India that China should open its pharmaceutical market to Indian drugs so that the US$ 57 billion trade deficit in about US$ 95.5 billion worth of bilateral total trade last year can be lowered.
The PharmaCompass Newsletter – Sign Up, Stay Ahead
Feedback, help us to improve. Click here
Image Credit : #Phisper Infographic by SCORR MARKETING & PharmaCompass is licensed under CC BY 2.0
" The article is based on the information available in public and which the author believes to be true. The author is not disseminating any information, which the author believes or knows, is confidential or in conflict with the privacy of any person. The views expressed or information supplied through this article is mere opinion and observation of the author. The author does not intend to defame, insult or, cause loss or damage to anyone, in any manner, through this article."
Read More