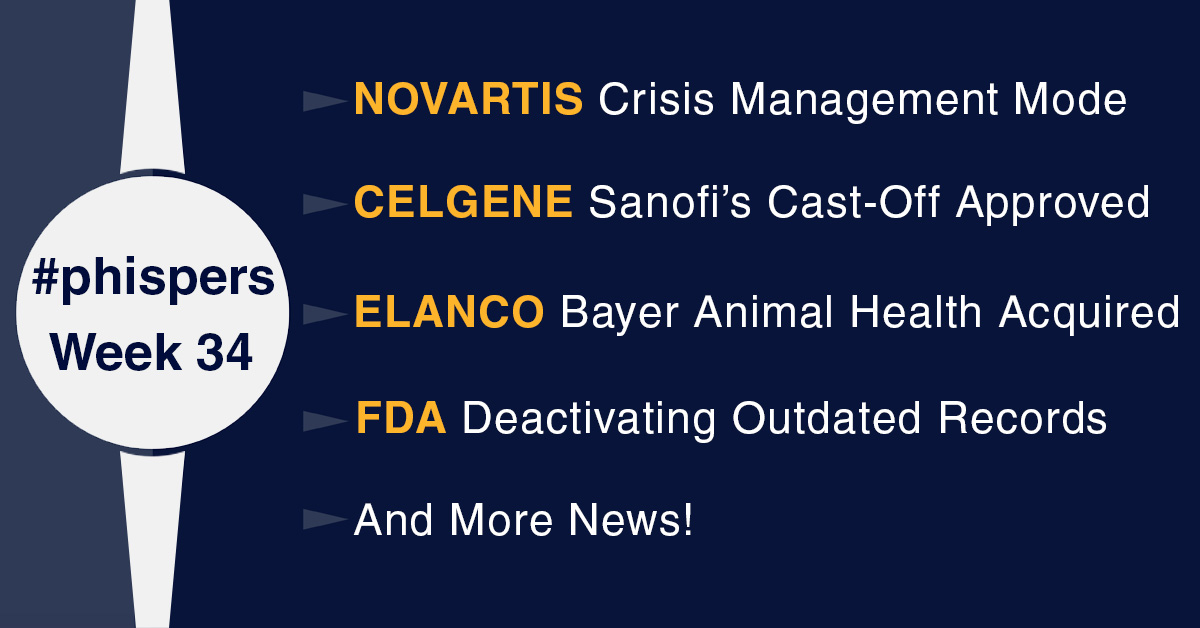 Novartis in crisis management mode; Elanco buys Bayer's animal health business for US$ 7.6 billion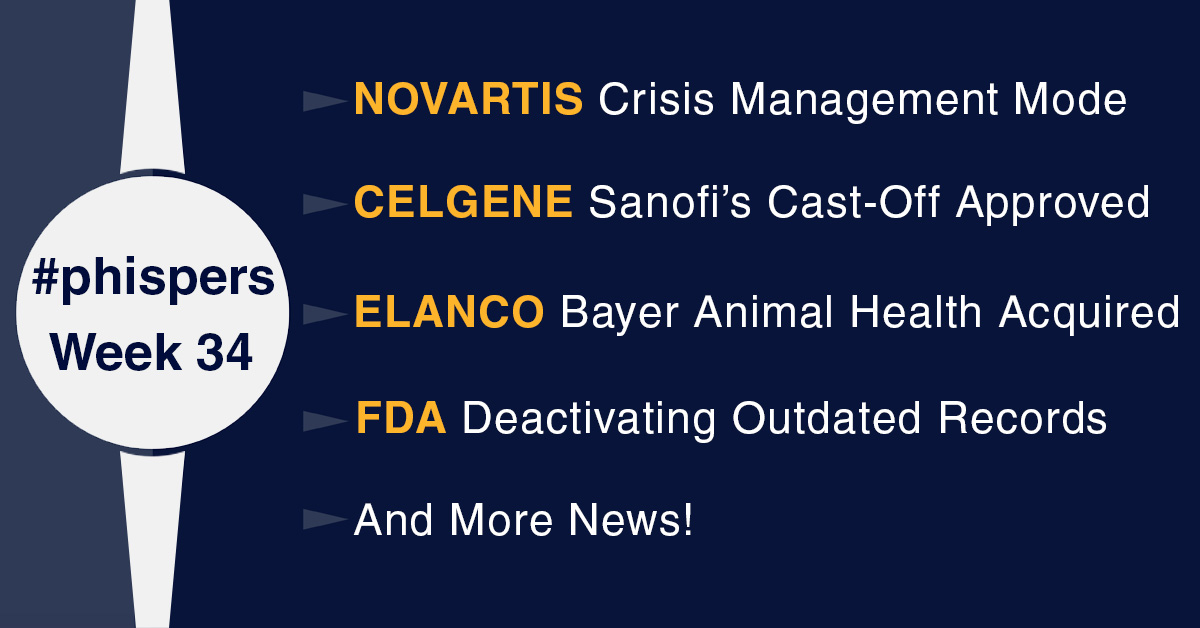 ×
This week, Phispers updates you on the data manipulation at Novartis for its gene therapy Zolgensma.
The Swiss drugmaker is now trying to restrict the damage it has caused to the company's image, with CEO Vas Narasimhan even admitting that the furor could have been handled better.
The USFDA approved five drugs last week, including Celgene's myelofibrosis drug Inrebic, Roche's cancer drug Rozlytrek and AbbVie's rheumatoid arthritis drug Rinvoq.
In the US, the House Committee on Oversight and Reform sent letters to Heritage Pharma, Mylan and Teva and renewed its 2014 request for furbishing details on the price rise of generics.
Elanco bought Bayer's animal health unit for US$ 7.6 billion.
AstraZeneca diabetes drug Farxiga showed promise in heart failure.
And the FDA said it would deactivate outdated drug listing records in its database.


Novartis in
crisis management
mode after data manipulation scandal
A fortnight back, we had carried an article on how the US Food and Drug Administration (FDA) had raised data accuracy issues with Novartis' recently approved gene therapy — Zolgensma.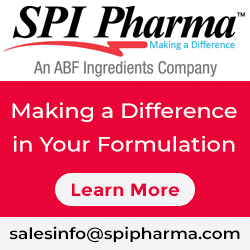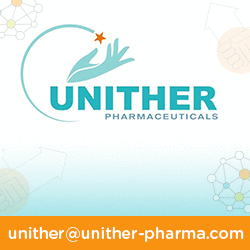 The drug was acquired by Novartis in April last year through the acquisition of Illinois-based AveXis Inc for US$ 8.7 billion.
Novartis has said it learned of the data manipulation on March 14 and alerted the FDA in June — about a month after the drug gained US approval. Post that, Novartis has come under fire from US lawmakers who said that the company should have told regulators about the data irregularities before the drug's approval in May, instead of waiting to conclude an internal investigation. The FDA is continuing to assess the situation, and has said that civil or criminal penalties are possible.
This week, Novartis CEO Vas Narasimhan said the company could have handled the furor surrounding its Zolgensma gene therapy better. Narasimhan said he is not perfect as a CEO and "we will all keep working on it." Narasimhan also said that a small number of AveXis scientists were departing the company, though he didn't identify any of them by name.
Though Novartis' AveXis has already fired its former chief scientific officer Brian Kaspar in connection with the Zolgensma data manipulation scandal, Kaspar's side of the story in now coming in the open. A lawyer says he did nothing wrong and is ready to defend his name as needed.
Kaspar and his brother Allan Kaspar's role has been taken over by Page Bouchard, a 10-year Novartis veteran. Allan had led research and development for AveXis.


Celgene wins FDA nod for Sanofi
's cast off drug;
Roche, Abbvie
bag drug approvals


Ahead of the Bristol-Myers Squibb-Celgene merger, the USFDA has signed off on Celgene's myelofibrosis drug Inrebic (fedratinib). The drug approval should provide a boost to both BMS and Celgene as they close their US$ 74 billion mega-merger.
BMS' Celgene takeover has been a bit of a roller coaster ride. In February, activist investor Starboard Value bought stake in BMS and speculation arose about Starboard's rising opposition to the deal. While some Revlimid patent wins have been a boost, a Federal Trade Commission-forced sale of blockbuster Otezla came as a setback to the mega-merger.
Inrebic — the once-daily oral drug — is the first new treatment in nearly a decade approved to treat myelofibrosis. The story of Inrebic's rise from the dead is a major success for Celgene, which picked up the drug as a part of a US$ 1.1 billion acquisition of Impact Biomedicines in January 2018. Before that, Inrebic had passed through multiple hands.
Fedratinib was a flop for Sanofi as patients began to develop a dangerous neurological condition tied to vitamin B deficiency called Wernicke's encephalopathy. As a result, the US Food and Drug Administration (USFDA) put a clinical hold on it in 2013 and Sanofi ultimately shelved the effort.
Executives at BMS have said the drug is among a group of potential blockbusters at Celgene. Inrebic was among 23 other drugs cleared by FDA so far this year. Five of those drugs were approved last week. During the same period, the agency had cleared 30 drugs in 2018.
The other drugs that were approved by the FDA last week were Roche's targeted cancer drug Rozlytrek and AbbVie's rheumatoid arthritis treatment Rinvoq. Rozlytrek will challenge Bayer's Vitrakvi in patients 12 and older with tough-to-treat NTRK fusion-positive tumors. But Roche has priced its drug at half the price of Vitrakvi.
Analysts have estimated AbbVie's Rinvoq drug to generate US$ 2.2 billion by 2024, making Rinvoq a critical launch for AbbVie as it cedes Humira sales to biosimilars in Europe and approaches its US patent cliff in 2023.
New antibiotic for bacterial pneumonia: The FDA has approved approved Xenleta (lefamulin) to treat adults with community-acquired bacterial pneumonia. Community-acquired pneumonia occurs when someone develops pneumonia in the community (not in a hospital). Pneumonia is a type of lung infection, and according to the Centers from Disease Control and Prevention, each year in the United States, about one million people are hospitalized with community-acquired pneumonia and 50,000 people die from the disease. The FDA granted the approval of Xenleta to Nabriva Therapeutics.


US oversight panel alleges Teva, Mylan, Heritage coordinated obstruction of price fixing investigation
In the US, the House Committee on Oversight and Reform has sent letters to Heritage Pharmaceuticals, Mylan NV, and Teva Pharmaceutical Industries, renewing a request made in 2014 about the companies' pricing of generic drugs.
With these letters, the oversight panel is also opening a probe into the companies' apparent coordinated obstruction of the investigation as revealed by a May 10, 2019 complaint filed by Connecticut and 43 other states.
They also requested information regarding the companies' apparent efforts to stonewall the 2014 investigation.
On May 10, 2019, Connecticut and 43 other states filed a complaint with troubling allegations of price fixing by Heritage, Mylan, Teva, and other drug manufacturers. According to the complaint, manufacturers coordinated to inflate the prices of several drugs that were the subject of Republican Elijan E. Cummins (who chairs the House Committee on Oversight and Reform) and Senator Bernie Sanders' 2014 investigation. The prices of some of these drugs had risen by as much as 8,281 percent between October 2013 and April 2014. Heritage, Mylan, and Teva executives allegedly played a central role in this scheme.
The executives of these companies also allegedly coordinated to obstruct the 2014 investigation. Connecticut officials obtained an email sent on October 3, 2014, from Heritage's outside counsel to then-Heritage CEO Jeffrey Glazer discussing how Teva, Mylan, and Heritage planned to coordinate their responses to the congressional requests. The Heritage representative wrote that "the consensus at this point is that the responses will be 'polite f-u' letters."


Elanco buys Bayer's animal health business for US$ 7.6 billion
Elanco Animal Health has bought Bayer's animal-health unit for US$ 7.6 billion, creating one of the biggest stand-alone veterinary-medicine companies in the world.
Elanco had been spun out from Eli Lilly. The company will finance the acquisition with a mix of cash and stock. Bayer will receive US$ 5.32 billion in cash and US$ 2.3 billion in Elanco Animal Health common shares. The transaction is expected to close in mid-2020.
Jeff Simmons, chief executive officer at Elanco, said the acquisition will create the second largest animal-health company. "We see this as a nice complement. The pet owner, the veterinarian and the farmer win in this transaction," he added,
Based in Greenfield, Indiana, Elanco expects the Bayer division to significantly bulk up its pet business at a time when the agricultural sector has turned more volatile. Last week, Elanco narrowed its sales guidance due to the outbreak of a deadly swine flu in Asia.
For Bayer, the sale will add to its kitty, helping it overcome the challenge posed by thousands of claims that Roundup (the weedkiller it gained in last year's Monsanto acquisition) causes cancer. Bayer is in discussions on a possible settlement in the case. But reaching a resolution could take months.


AstraZeneca diabetes drug Farxiga shows promise in heart failure
This week, AstraZeneca shared some good news on its diabetes drug — Farxiga. In a clinical trial, Farxiga helped stave off the risk of deadly heart attacks or disease progression in patients with a common form of heart failure.
The clinical trial could help win regulatory approval for its wider use. This also puts it ahead of rival (diabetes) medicines from players such as Eli Lilly and Boehringer Ingelheim. The other medicines are yet to show a benefit for heart failure patients.
Farxiga is one of AstraZeneca's top 10 drugs by sales. It is part of the SGLT2-inhibitor class of anti-diabetics that cause the kidneys to expel blood sugar from the body through urine.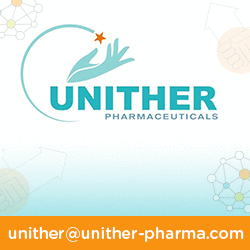 Around 40 percent of participants in the Farxiga trial suffered from type-2 diabetes. Diabetes is associated with a high risk of heart failure. Heart failure affects about 64 million people worldwide and half the patients die within five years of diagnosis, AstraZeneca said.
The results are welcome news for AstraZeneca after FDA declined to approve Farxiga for use as a supplement to insulin in adults with type-1 diabetes where insulin alone was not able to control blood sugar levels.
Analysts expect about US$ 2.6 billion in sales of the AstraZeneca drug by 2023. Expanded use of Farxiga in heart failure could add to those numbers.


FDA
to deactivate outdated, uncertified listing records in its
database
The FDA has taken steps to improve drug supply chain integrity and patient safety by announcing its intention to begin deactivating outdated drug listing records in its database
"FDA regulations require all drug manufacturers to register their manufacturing facilities and provide a list of all drugs they are actively manufacturing for commercial distribution in the US as one of the safeguards protecting our drug supply chain," FDA's acting commissioner Ned Sharpless said.
"While most companies are compliant, we have observed that some drug listings contain obsolete or inaccurate information," he added. While there hasn't been any public health consequence yet of these outdated listings, "inaccurate information has the potential to compromise the integrity of the FDA's database and the FDA's ability to make accurate and timely decisions to protect public health," Sharpless added.
In order to ensure that the FDA is with the most updated and complete information, the agency is putting companies on notice that these outdated records will be inactivated. Products with inactivated listings may not be legally marketed in the US until the company brings their records up to date.
The agency has found that tens of thousands of drug listing records have not been updated or certified in the past year.
Meanwhile, Lachman Consultants have put out an urgent statement on its website, asking companies to "take action now" to assure that their facility information, drug listing information, and manufacturing sites are correct.
The PharmaCompass Newsletter – Sign Up, Stay Ahead
Feedback, help us to improve. Click here
Image Credit : #Phisper Infographic by SCORR MARKETING & PharmaCompass is licensed under CC BY 2.0
" The article is based on the information available in public and which the author believes to be true. The author is not disseminating any information, which the author believes or knows, is confidential or in conflict with the privacy of any person. The views expressed or information supplied through this article is mere opinion and observation of the author. The author does not intend to defame, insult or, cause loss or damage to anyone, in any manner, through this article."
Read More