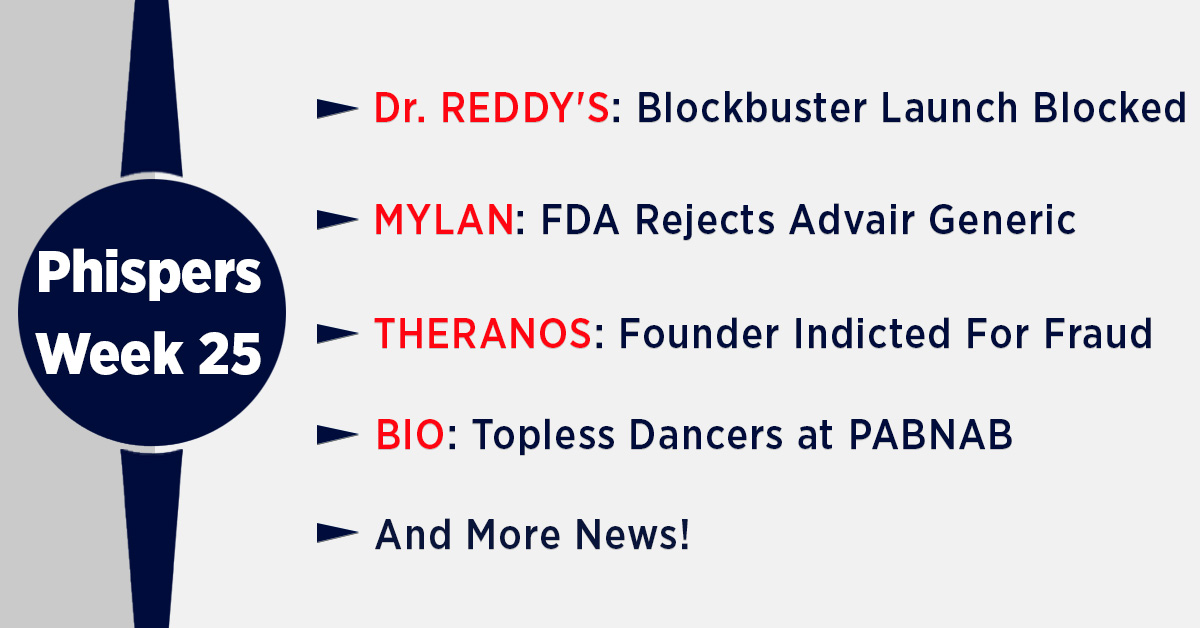 Dr. Reddy's restrained from rolling out generic opioid addiction drug; FDA rejects Mylan's Advair generic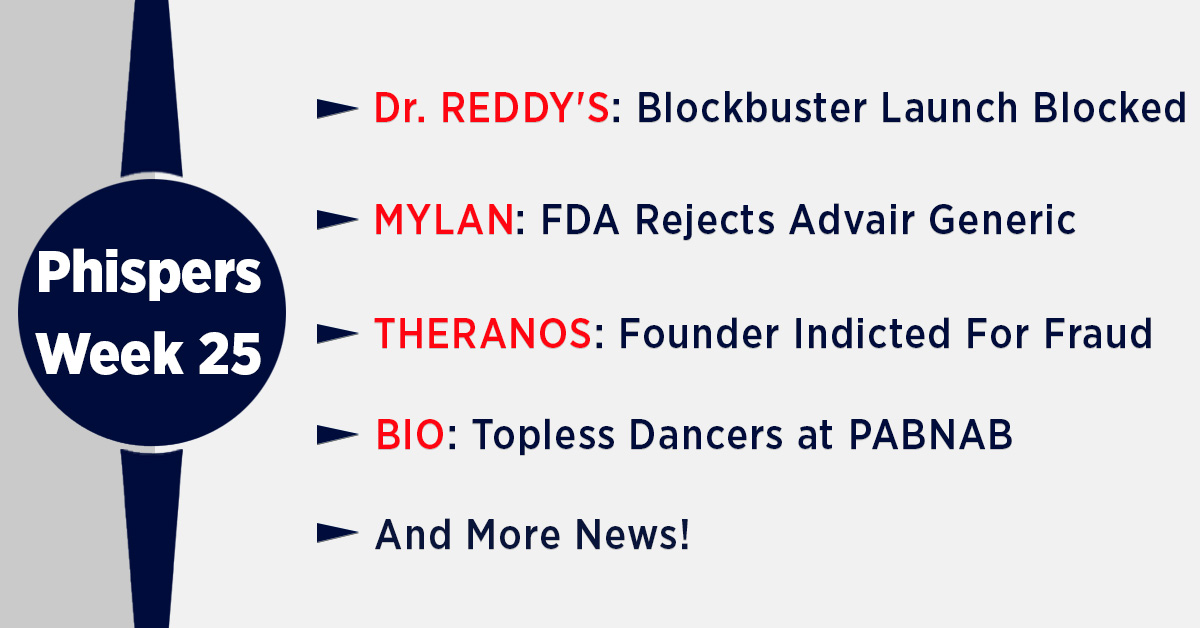 ×
This week in Phispers, there is news on Indian drugmaker Dr. Reddy's, which got an FDA nod for the generic version of Indivior's opioid addiction treatment — Suboxone. However, soon after the approval, a court order restrained it from rolling out the copycat drug. The FDA, once again, rejected the generic version of Mylan's Advair. Theranos, a privately-held health technology firm, once valued at US$ 9 billion, saw a scam that involved its founder and an ex-employee. Teva said it will discontinue a phase III trial of its migraine drug. A Bio Convention-related event in Boston drew condemnation from the pharma industry for its exploitation of female dancers. And Roche bought complete stake in Foundation Medicine.
Last week, Indian pharma major Dr. Reddy's Laboratories won a US Food and Drug Administration (FDA) approval for its generic version of Indivior's opioid addiction treatment — Suboxone — and also received a court order that restrained it from rolling out the copycat drug.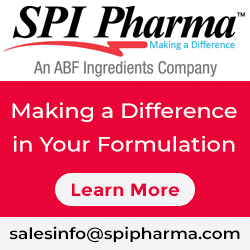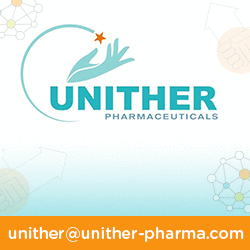 On June 14, the FDA approved the first generic versions of Suboxone (buprenorphine and naloxone) sublingual film (applied under the tongue) for the treatment of opioid dependence. Mylan Technologies Inc, a subsidiary of Mylan NV and Indian drugmaker Dr. Reddy's Laboratories, received the FDA approval to make the generic.
Suboxone is a sublingual film that is placed under the tongue to ease addiction cravings.
Indivior had filed patent infringement lawsuits against both Dr. Reddy's and Mylan. A district court in New Jersey granted Indivior a temporary restraining order that compels Dr. Reddy's (DRL) to immediately cease its launch activities related to Suboxone film.
A hearing in the case between Dr. Reddy's and Indivior is scheduled for June 28. Indivior will have to pay Dr. Reddy's US$ 18 million if the generics company comes up successful. Suboxone had once brought in US$ 2 billion in sales a year for Indivior.
Last month, Indivior had reached a settlement in the US with a group of companies over patent-infringement litigation related to its Suboxone opioid addiction treatment.
In September last year, Indivior and Monosol Rx, LLC had entered into a settlement agreement with Mylan, thereby resolving patent litigation related to Suboxone film.
Indivior has come under fire for its strategies to block generic competition to Suboxone. In 2016, it was sued by 35 states when it discontinued the original tablet version of the drug and pushed doctors to switch patients to the film strip.
Last week, the FDA Commissioner Scott Gottlieb had said in a statement that the FDA is taking new steps to advance the development of improved treatments for opioid use disorder, and to make sure these medicines are accessible to patients who need them.
After the Suboxone generic court order, there was more bad news Mylan had to contend with. The drugmaker was second time unlucky in getting US regulatory approval for its generic version of GlaxoSmithKline's blockbuster lung drug — Advair. Last week, the USFDA rejected the generic drug once more as it found "minor deficiencies" in the treatment.
The deficiencies in Mylan's generic Advair are to be relayed in a Complete Response Letter (CRL) on June 27, 2018. However, the damage may not be that much. "Because our Abbreviated New Drug Application has received a priority designation, our approval could be received prior to the standard 90-day time period following the date of our response to the Complete Response Letter," Mylan said in a statement.
It's not clear whether Mylan will be able to resolve the deficiencies and get approval this year. "Upon receipt of the official Complete Response Letter, we will determine what, if any, impact that it could have on our full year 2018 outlook," the company said.
The FDA has declined to approve several Advair generics in the past from drugmakers such as Novartis AG, Hikma Pharmaceuticals and Mylan.
Mylan was the first to get the FDA's cold shoulder for an Advair generic in March last year. Hikma and Vectura also faced dismissal in May. Earlier this year, Novartis' Sandoz was asked by the FDA to furbish more data on its Advair copycat.
Privately-held health technology firm Theranos witnessed a scam as its founder Elizabeth Holmes and former chief operating officer Ramesh "Sunny" Balwani were indicted in wire fraud schemes.
Holmes and Balwani allegedly perpetrated multi-million dollar schemes to defraud investors, and a separate scheme to defraud doctors and patients.
Theranos was once valued at US$ 9 billion. Holmes, 34, founded Theranos in 2003. Holmes was once lauded as the youngest self-made female billionaire. Balwani, 53, was employed at Theranos from September of 2009 through 2016.
Theranos has a stated mission to revolutionize medical laboratory testing through allegedly innovative methods for drawing blood, testing blood, and interpreting the resulting patient data.
According to the indictment, Holmes and Balwani used advertisements and solicitations to encourage and induce doctors and patients to use Theranos's blood testing laboratory services, even though the defendants knew Theranos was not capable of consistently producing accurate and reliable results for certain blood tests. In addition, the tests performed on Theranos technology were likely to contain inaccurate and unreliable results.
Three months back, the Securities and Exchange Commission had sued Holmes and Theranos for the "massive fraud" at the company. Both Holmes and Balwani surrendered last week and were released on US$ 500,000 bond each. If convicted, both would face up to 20 years in prison.
The Bio International Convention in Boston ended on a rather controversial note last week, with the Party at Bio Not Associated with Bio (better known as PABNAB) drawing condemnation for its scantily-clad female dancers. Some of the dancers had sponsor logos painted on their bodies.
Now in its 14th year, the extravagant PABNAB is in direct contrast to the Bio Convention, which is a networking event.
An attendee, Kate Strayer-Benton, provided photos of the PABNAB to the media and openly spoke against it. Director of strategy at Momenta Pharma, Strayer-Benton said the entertainment was "beyond tone-deaf."
Strayer-Bentone said the first thing she noticed were body-painted, topless dancers. "It felt like a line had so obviously been crossed," she said.
One of the three organizers of PABNAB, the C14 Consulting Group, defended the jamboree. CEO of C14 Martina Molsbergen said the party was "edgy and artsy" — and in line with what its sponsors have come to expect. She said C14 has received "very positive feedback from sponsors".
BIO executives took note. News reports said the committee on workforce development, diversity, and inclusion discussed the event on an emergency phone call last week and decided members who continue to sponsor the event would not be welcome in the trade group.
Ken Lisaius, BIO's senior vice present of communications, said the event conflicted with their principles. "We cannot stand for an event like that that is debasing and is frankly not consistent with our standards around inclusion," said John Maraganore, BIO chairman and CEO of Alnylam.
The event drew parallels from a JP Morgan conference held in 2016. In the LifeSci Advisors afterparty, a number of young female models were hired to escort guests. BioCentury president Karen Bernstein and SV Life Sciences Advisers managing partner Kate Bingham had written an open letter to the biopharma industry in 2016. The letter had sparked considerable outrage, with some 230 signatures from industry leaders.
Teva's fremanezumab — an investigational therapy for the preventive treatment of migraine— has been a linchpin of the Israeli drugmaker's growth plans. However, Teva has said it will discontinue the phase III trial of its treatment for chronic cluster headaches, after a futility analysis of the study revealed that the primary endpoint is unlikely to be met.
Teva said a late-stage program for fremanezumab failed in patients with chronic cluster headaches. Teva is abandoning that indication, but plans to push ahead with its study in episodic cluster headaches.
Moreover, there is trouble brewing at its active ingredient supplier Celltrion in South Korea. Earlier this year Teva officials had said fremanezumab might not be delayed by "limited" problems at the Celltrion plant where its API would be made.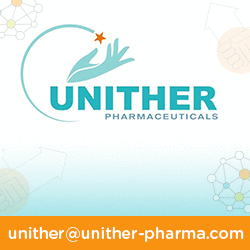 However, experts say the problems at Celltrion probably aren't as "limited". A drug manufacturing specialist told Leerink analysts that the FDA warnings issued to Celltrion likely extend beyond the plant's fill/finish operations. The Celltrion facility would be Teva's main API supplier for fremanezumab.
"The specialist believes that while the inspection that resulted in the Form 483 and Warning Letter was done only at the fill/finish part of the facility, many of the observations cited, particularly around data integrity, could be present at the API manufacturing part of the facility as well," the Leerink analysts said.
Last month, Teva had confirmed, that the US FDA had extended the goal date of the Biologics License Application (BLA) for fremanezumab. The Prescription Drug User Fee Act (PDUFA) action date for fremanezumab is currently set for September 16, 2018.
There is competition in migraine therapy. Amgen and Novartis have won the FDA nod for Aimovig, which has been priced quite aggressively. Analysts have estimated peak sales for Aimovig at about US$ 1.2 billion. Moreover, Eli Lilly's galcanezumab is under review at the FDA.
Celltrion, which received a complete response letter for its biosimilar of Roche's blockbuster cancer drug Herceptin (tied to a warning letter received this year), has already resubmitted its application for the candidate. Some time back, Celltrion had resubmitted its application for its biosimilar candidate of Rituxan.
Meanwhile, New Jersey is dangling the tax carrot before Teva. The state economic development group has laid out US$ 40 million in tax savings to tempt Teva into moving its US headquarters to a 345,000-square-foot space at 400 Interpace Parkway in Parsippany. The NJ Economic Development Authority is expecting Teva to bring in 843 jobs.




Roche
buys complete stake in Foundation Medicine by putting in US$ 2.4 billion
Roche threw its weight behind Foundation Medicine three years ago. And it seems like the R&D collaboration is bearing fruit. And now, Roche is investing US$ 2.4 billion more into the Cambridge, Massachusetts-based Foundation, thereby acquiring it completely.
In January 2015, Roche had acquired a majority stake in Foundation Medicine by paying a US$ 50 a share premium. Foundation Medicine is a personalized medicine company. Though Foundation Medicine does have an FDA-approved diagnostic called FoundationOne CDx, Roche is choosing to highlight its broader potential in comprehensive genomic profiling of cancers, which can both guide development of treatments and match patients with the appropriate therapies.
The buyout follows other acquisitions by Roche in the recent past, such as the acquisition of Flatiron, a tech-startup building an electronic health record system used by oncologists, in February this year. In December 2017, Roche had bought Ignyta for US$ 1.7 billion.
The PharmaCompass Newsletter – Sign Up, Stay Ahead
Feedback, help us to improve. Click here
Image Credit : #Phisper Infographic by SCORR MARKETING & PharmaCompass is licensed under CC BY 2.0
" The article is based on the information available in public and which the author believes to be true. The author is not disseminating any information, which the author believes or knows, is confidential or in conflict with the privacy of any person. The views expressed or information supplied through this article is mere opinion and observation of the author. The author does not intend to defame, insult or, cause loss or damage to anyone, in any manner, through this article."
Read More