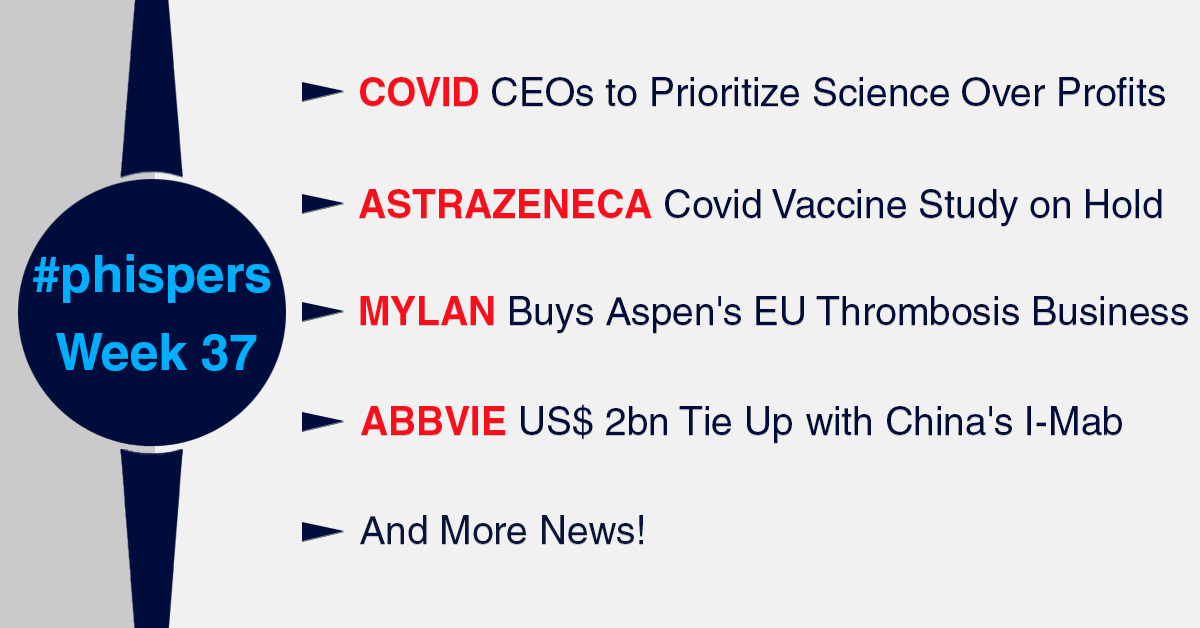 CEOs pledge to prioritize science for safe Covid vaccine; AstraZeneca-Oxford put phase 3 trials on hold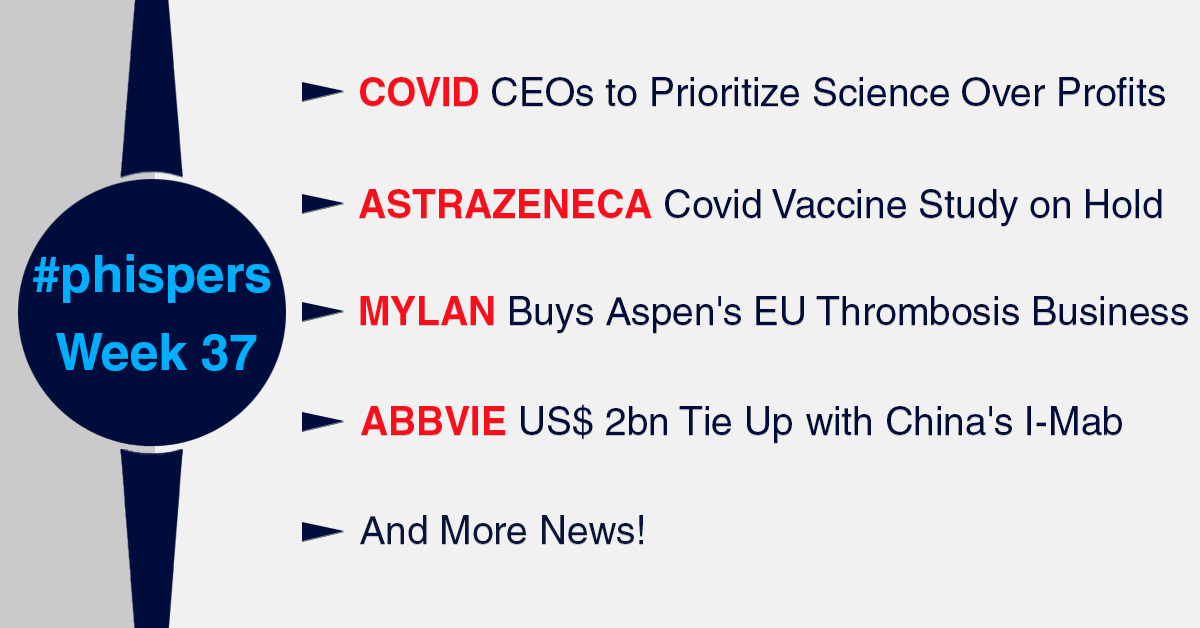 ×
This week, Phispers brings you crucial news on vaccine development to control the ongoing Covid-19 pandemic.
In the US, in a move that appears to undermine the rhetoric around launching a Covid-19 vaccine before the Presidential elections, CEOs of nine large drug companies have pledged to prioritize science, safety and efficacy by conducting a phase 3 clinical study before seeking approval or an EUA for their candidates.
In other big vaccine news, AstraZeneca and Oxford have put the Phase 3 trial of their lead vaccine candidate, AZD1222, on hold due to an adverse reaction in a participant in the UK.
Irish drugmaker Amarin lost a crucial patent appeal case in the US over generic competition to its fish oil based cardiovascular drug, Vascepa.
Five years after it signed a similar agreement with Mylan to market Arixtra in the US, South African drugmaker Aspen has now decided to sell the rights of its thrombosis business in Europe to Mylan.
And AbbVie tied up with Chinese biotech company I-Mab for the development of lemzoparlimab for cancer therapies.
Biopharma CEOs pledge to prioritize science over profits in race for Covid-19 vaccine
The US President Donald Trump may want to fast-track a vaccine before the country has its Presidential elections on November 3, but it appears he can't have his way with the Big Pharma.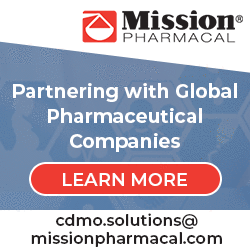 The CEOs of nine leading developers of Covid-19 vaccines have taken a pledge to file for FDA approval only after their vaccine candidates have demonstrated safety and efficacy in phase 3 trials.
The CEOs of nine companies — AstraZeneca, BioNTech, GlaxoSmithKline, Johnson & Johnson, Merck, Moderna, Novavax, Pfizer and Sanofi — have signed a joint pledge. One of the commitments is to "only submit for approval or emergency use authorization (EUA) after demonstrating safety and efficacy through a phase 3 clinical study that is designed and conducted to meet requirements of expert regulatory authorities such as FDA."
President Trump has repeatedly claimed that a vaccine could be available before November 3. The rhetoric has heightened fears that the Trump administration is politicizing the race to develop a vaccine for Covid-19. However, the nine CEOs have outlined a united commitment to uphold the integrity of the scientific process as they work towards potential global regulatory filings and approvals of the first Covid-19 vaccines.
Collectively, these nine companies have developed over 70 novel vaccines that have helped eradicate some of the most complex and deadly public health threats.
Last month, the FDA had granted an EUA to convalescent plasma therapy, sparking concerns about regulatory independence and the implications for Covid-19 vaccines in an election season.
Meanwhile, the FDA has set up vaccine safeguards to counter pressure from the Trump administration. A fortnight back, in a tweet, Trump had accused the FDA of impeding enrollment in clinical trials for coronavirus vaccines.
Last week, FDA Commissioner Stephen Hahn sent an email to the agency's 17,000 staff, promising that FDA would adhere to the science in a vaccine review.
In a tweet , Hahn said the agency would only approve a vaccine if it meets the agency's "high standards that Americans expect for safety and effectiveness," and said they will not cut corners to speed up the process.
Vaccine update: AstraZeneca-Oxford put Phase 3 study on hold due to adverse reaction in UK participant
A large, Phase 3 study testing a Covid-19 vaccine being developed by AstraZeneca and the University of Oxford at dozens of sites across the US has been put on hold due to a suspected serious adverse reaction in a participant in the United Kingdom.
According to a report published in The New York Times, a participant in the UK, who had been enrolled for Phase 2/3 trial, has been found to have transverse myelitis, an inflammatory syndrome that affects the spinal cord and can be caused by viral infections. "However, the timing of this diagnosis, and whether it was directly linked to AstraZeneca's vaccine, is unclear," the report said.
During a private conference call with investors, AstraZeneca's CEO, Pascal Soriot, is said to have confirmed that it was a woman in the United Kingdom who experienced the neurological symptoms consistent with transverse myelitis, but the diagnosis had not been confirmed. She was said to be improving and likely to be discharged from the hospital as early as this week.
Soriot also said that it had been confirmed that the participant was injected with the company's Covid-19 vaccine and not a placebo.
On its part, to the public AstraZeneca described it as a "routine" pause in the case of "an unexplained illness". A spokesperson for AstraZeneca said the company's "standard review process triggered a pause to vaccination to allow review of safety data."
The spokesperson also said the company is "working to expedite the review of the single event to minimize any potential impact on the trial timeline."
The AstraZeneca-Oxford University vaccine is seen as a strong contender among dozens being developed globally.
AstraZeneca began its Phase 3 trial in the US in late August, which involved some 30,000 participants in the US as well as in the UK, Brazil and South Africa. Phase 3 trials in vaccines often involve thousands of participants and can last several years.
Meanwhile, Serum Institute of India (SII), a vaccine drugmaker that has partnered with AstraZeneca to manufacture the Covid-19 vaccine candidate for India and low-and-middle income countries, has said that the trial of the vaccine candidate in India is ongoing and has not faced any issues. "We can't comment much on the UK trials… As far as Indian trials are concerned, it is continuing and we have faced no issues at all," the company said. However, the central drug regulator in India has sent a show cause notice to SII for not informing it about Astra-Oxford pausing the clinical trials of their vaccine candidate, AZD1222.
The Oxford vaccine uses an adenovirus that carries a gene for one of the proteins in SARS-CoV-2, the virus that causes Covid-19.
Sanofi's trials hardest hit: Such routine pauses in vaccine development are not uncommon and AstraZeneca isn't the only one to face a glitch. A new report by life science analytics firm, GlobalData, has said Sanofi's trials and attempts at getting new drugs and vaccines against the pandemic onto the market have been the hardest hit.
The French drugmaker has been "impacted by disrupted clinical trials and lagging vaccine development due to Covid-19." As of late August, six of Sanofi's clinical trials, which were being conducted in 31 countries, have been disrupted, with most of the disruptions being for mid-to-late-stage trials, and include two pivotal trials.
"Out of the six clinical trials disrupted by the Covid-19 pandemic, one is terminated, three are suspended, one trial stopped enrollment, and one is still planned," the report found.
Amarin loses crucial patent appeal case in US over generic competition to Vascepa
In December 2019, Amarin had received FDA approval for Vascepa, a drug that reduces cardiovascular risks. Vascepa is a type of omega-3 fatty acid, a fat found in fish oil. However, in March, Amarin lost a major patent battle in the Nevada district court against Hikma and Dr Reddy's. This opened the door for generic competition to Vascepa — Amarin's potential blockbuster. Amarin had then appealed against the decision.
In May this year, Hikma received FDA approval for its generic equivalent to Vascepa.
In June, Amarin struck a deal with Apotex, one of the generics companies that was not party to the patent case, to put off its Vascepa generic until 2029 if Amarin won its appeal. And last month, Dr Reddy's generic Vascepa also bagged the FDA nod.
Matters worsened for Amarin last week when the US Court of Appeals for the Federal Circuit upheld Nevada district court's ruling that patents protecting Amarin's Vascepa from generic challengers were invalid.
This ruling has dashed Amarin's hopes of Vascepa becoming a blockbuster cardiovascular drug. In a statement, Amarin's CEO, John Thero, said it will "vigorously pursue available remedies," which could include one last form of appeal. In August, Amarin had announced it would launch Vascepa in Europe. Amarin expects an EU regulatory decision in early 2021.
Mylan to acquire Aspen's thrombosis business in Europe for US$ 755 million
Five years back, PharmaCompass had carried an article on how Arixtra (fondaparinux) was an opportunity worth developing, based on a study published in the Journal of the American Medical Association (JAMA). It showed that patients who received Arixtra (an anticoagulant) and had experienced a certain type of heart attack had a lower risk of major bleeding events and death, both in the hospital and after six months, compared to patients who received low-molecular-weight heparin.
Prior to 2013, Arixtra belonged to GSK. It was sold to the South African company Aspen Global Incorporated in 2013. Due to Aspen's lack of sales representation in the US, the company was forced to enter into a US$ 300 million agreement with Mylan to sell Arixtra in the US. Through this agreement, Aspen had sold US commercialization, marketing and intellectual property rights of Arixtra injection and the authorized generic of Arixtra to Mylan.
This week, there is news that Aspen has also sold the rights of its thrombosis business in Europe to Mylan. The American drugmaker is acquiring the related intellectual property and commercialization rights of Aspen's thrombosis business in Europe for US$ 755 million (€ 641.9 million), subject to customary closing conditions and European regulatory clearances.
The transaction is expected to be completed before December 31 this year. Aspen's thrombosis portfolio consists of well-established injectable anticoagulants sold in Europe such as Arixtra, Fraxiparine, Mono-Embolex and Orgaran. These products had combined net sales of approximately US$ 273 million (€231 million) for a 12 month period which ended on June 30, 2020. Aspen will retain manufacturing and product supply responsibilities and will supply Mylan with finished products. Aspen has a fully vertically integrated supply chain predominantly located in Europe.
AbbeVie ties up with China's I-Mab for cancer therapies
AbbVie has signed a global collaboration agreement with Chinese biotech company I-Mab for the development and commercialization of lemzoparlimab, an anti-CD47 monoclonal antibody internally discovered and developed by I-Mab for the treatment of multiple cancers.
CD-47 acts as "a don't eat me signal" to macrophages of the immune system which has made it a potential therapeutic target in some cancers. This deal by AbbVie is being seen as a reaction to Gilead's acquisition of immuno-oncology firm Forty Seven for US$ 4.9 billion in March this year. Gilead's buyout has triggered a rush among Big Pharma to look for their own drug candidates that targets the CD47 gene.
The US drugmaker will pay I-Mab US$ 180 million in upfront payment to develop and sell lemzoparlimab. AbbVie will pay an additional US$ 1.74 billion in milestone payments for lemzoparlimab, though I-Mab will retain the rights to sell the drug in China.
In June, AbbVie had announced its collaboration with Danish biotech firm Genmab AS to co-develop and market cancer drugs. The tie-up with I-Mab is AbbVie's latest push to get into cancer therapies. The collaboration also allows for potential collaboration on future CD47-related therapeutic agents.
The two companies plan to work together in drug trials relating to multiple cancers. I-Mab develops treatments for immuno-oncology and autoimmune diseases.
The PharmaCompass Newsletter – Sign Up, Stay Ahead
Feedback, help us to improve. Click here
Image Credit : #Phisper Infographic by SCORR MARKETING & PharmaCompass is licensed under CC BY 2.0
" The article is based on the information available in public and which the author believes to be true. The author is not disseminating any information, which the author believes or knows, is confidential or in conflict with the privacy of any person. The views expressed or information supplied through this article is mere opinion and observation of the author. The author does not intend to defame, insult or, cause loss or damage to anyone, in any manner, through this article."
Read More