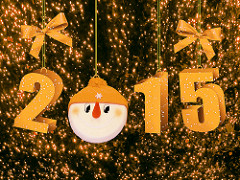 ×
2015 was a year of considerable change for the global pharmaceutical industry. From smart drugs to mergers and price-gouging, a lot changed in the world of drugs.

The year witnessed a major corporate reshuffle at Google. This led to the creation of Alphabet Inc. – an American multinational conglomerate created as the parent company of Google and several other companies that were previously owned by or tied to Google.

Alphabet now has several technology, life sciences, investment capital and research companies under its umbrella. For the pharma industry, the creation of Alphabet has signaled the coming together of drugs and technology.
Heralding an era of 'digitally-smart drugs'

With the birth of Alphabet, the digital revolution around smart drugs got a shot in the arm.
The FDA received an application for a pill that sends messages from the stomach to your smartphone with information that it has been ingested. It also approved the first 3-D printed drug. And the industry witnessed a tiny match-stick sized implant beat Merck's best-selling diabetes drugs.

Drug-device combinations are heralding a new era of medicine. The world's largest generic drug manufacturer Teva announced the acquisition of Gecko Health Innovations Inc., a privately-held company that develops software and product solutions to aid in compliance and adherence improvement in the management of respiratory diseases.

With Apple, Google and Microsoft entering the healthcare space and Teva buying digital assets to complement their existing drug portfolio, the boundaries between healthcare and the digital revolution will continue to blur.
The biggest year for M&As

2015 was also the biggest year for mergers and acquisitions in the pharma sector. Assuming that in the remaining two weeks no more deals are announced, the volume of global healthcare M&As reached a record US $ 677.5 billion, surpassing all historical highs.

The proposed mega-merger of Pfizer and Allergan announced at a valuation of US $ 160.0 billion stands as the second largest M&A transaction on record.

Deal making wasn't restricted to big pharma; even generics tried to strike deals, albeit unsuccessfully. Teva acquired Allergan's generics division for more than US $ 40 billion after finally giving up on Mylan (read: Why Mylan thinks Teva's shares are 'toilet paper'?) and Mylan failed in its hostile takeover of Perrigo.

However, not all deals were about 'wealth-care'. A unique healthcare alliance was struck between AstraZeneca and Sanofi, and the two agreed to share thousands of their proprietary chemical compounds.

This 'unusual deal' demonstrated the lengths to which pharmaceutical companies are willing to go to pursue new drugs as each company gave the other free access to 2,10,000 closely-guarded compounds. The companies can develop any of the shared compounds without any financial obligation to the other.

Apart from deal making, there was continued focus on the challenge posed by antibiotic resistance. The US declared it a national security priority, while the UK said it will become a US $ 100 trillion global healthcare challenge. And China started tracking rivers to monitor levels of antibiotics in the water.
Presidential polls, price-gouging and tax inversions in the US

While a PricewaterhouseCoopers report expects mergers to continue in 2016, in the US 'price-gouging' and 'exit-tax' have become hot topics in the run-up to the forthcoming Presidential elections.

Pfizer's decision to move its executive offices to Ireland (and thereby lower its tax rate) by merging with Allergan and the decision by 32-year-old hedge fund manager Martin Shkreli to increase the price of an AIDS medicine by 5,000 percent definitely have given politicians something to talk about. The Pfizer inversion and other such inversions are said to cost the American government billions in lost tax revenue
Pharma-man of the year

Twenty nine year-old healthcare investor, Vivek Ramaswamy, bought an old Alzheimer's drug that GlaxoSmithKline (GSK) had dropped for US $ 5 million. Six months later, without doing any clinical development, the drug resulted in the biggest biotech initial public offering (IPO) ever and got valued at over US $ 2 billion!
Since the July IPO, the story is intact as the stock is yet to lose its luster. (Read: Did a 29-year-old show GlaxoSmithKline that it made a billion dollar mistake?)
Our view
A forecast released by IMS Health estimates that by 2020, more of the world's population will have access to medicines than ever before with global spending on drugs reaching US $ 1.4 trillion – an increase of 29 to 32 percent from 2015.

Over 50 percent of the world's population will consume more than 1 dose per person per day of medicines by 2020, up from 33 percent in 2005. This will be driven primarily by countries like India, China, Brazil and Indonesia.

Clearly, this indicates a lot of work and business for everyone associated with the pharmaceutical industry. Moreover, digital will surely drive the future of healthcare.

PharmaCompass.com wishes all its reader a very happy and prosperous 2016.
The PharmaCompass Newsletter – Sign Up, Stay Ahead
Feedback, help us to improve. Click here
Image Credit : Feliz salida y entrada de Año ✩↗⁀↘‿↗✩↗⁀↘‿↗✩ by jacinta lluch valero is licensed under CC BY 2.0
" The article is based on the information available in public and which the author believes to be true. The author is not disseminating any information, which the author believes or knows, is confidential or in conflict with the privacy of any person. The views expressed or information supplied through this article is mere opinion and observation of the author. The author does not intend to defame, insult or, cause loss or damage to anyone, in any manner, through this article."
Read More