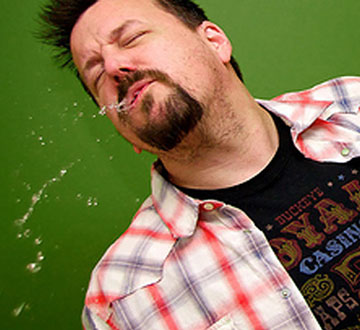 ×
29 year-old healthcare investor, Vivek Ramaswamy, bought an old Alzheimer's drug that GlaxoSmithKline (GSK) had dropped for $5 million. Six months later, without doing any clinical development at all, the drug resulted in the biggest biotech IPO ever (Initial Public Offering), two weeks ago and got valued at over $2 billion!
It's clear that either GSK, or Wall Street, have no idea what they are talking about.
Indian American, Vivek Ramaswamy left "hedge fund QVT in May 2014 to form what is essentially a shell company, Roivant Sciences. In October 2014, Roivant spins off a subsidiary Axovant Sciences".
Axovant then bought an Alzheimer's experimental drug for $5m in December from GSK, which had shelved the compound four years ago after testing it in 13 trials and 1,250 patients.
Is the world really crazy to trust a 29 year-old more than GSK?
The miracle drug
Setting aside allegations that the IPO was designed to favor Ramaswamy's hedge fund friends and family, the drug: 3-Phenylsulfonyl-8-(piperazin-1-yl) quinolone (also known as SB-742457 and RVT-101), failed to meet the desired endpoints in the several clinical trials that GSK ran.
However, there was one exception that when the drug is taken with widely used, Alzheimer's treatment, Aricept, it showed a slower decline in cognition than Aricept alone.
So what's the big deal?
Alzheimer's disease offers one of the most lucrative markets in the pharma business, with one analyst estimating the opportunity to be $20 billion. However, the drug research is also considered to be a "wild-goose chase" given the limited understanding of the disease's biology, which in turn makes clinical trials very expensive to run.
From 2002 to 2012, there was just a .04% success rate (or 99.6% failure rate) of Alzheimer's drugs meeting the standard.
It's all about the people!
Axovant has assembled a team, which includes Aricept developer, Lawrence Friedhoff (developer of the second-most widely used drug to treat Alzheimer's disease, Namenda) and Atul Pande (former head of the neurosciences unit of GSK that led the development of RVT-101).
Axovant's all-star team has taken on the responsibility to bring the drug to market and Wall Street valuation believes this will be possible.
Wall Street expectations aside, could Glaxo really be this wrong?
Drugs under clinical research constantly get picked up and dropped. Rejection is really no big deal since many molecules get rejected by the FDA in the first review only to be approved years later.
The list is surprisingly long for products, which got rejected before being approved and includes: thrice rejected Aveed (testosterone) by Endo Pharmaceuticals, weight loss pill Belviq (lorcaserin), almost approved "female Viagra" Flibanserin and many more.
In the case of the antibiotic oritavancin (Orbactiv), it took more than 20 years to come to market and involved four ownership changes before it got final approval.
The big question however is always whether the fate will be surreal like that of pirfenidone, or a horror story like Diapep277.
InterMune's pirfenidone, got rejected by the FDA in 2010 due to the drug's unconvincing efficacy at the time, only to be approved last year and get acquired by Roche for $8.5 billion.
Potential type I diabetes treatment DiaPep277 is however a horror story. Licensed to Sanofi by the originator, Peptor Ltd., it got returned by the French pharma giant two years later, only to generate Teva's interest.
Teva invested $170 million to fund further clinical trials. However, the drug underwent a series of changes in ownership and finally, when Hyperion acquired rights to the drug last year, for an amount that could have reached $570 million, they found that the clinical data had been falsified…
Hyperion subsequently cancelled the acquisition!
Wish to join the Axovant party?
It's clear that rejection of a drug at any stage is never the end of the road for that particular molecule since it can always emerge in a different format to get approval.
There is a significant shift, where a significant amount of clinical trial data is going to be made public by pharmaceutical companies. It may be worthwhile to adopt an Axovant model and move some resources from the lab bench to the computer screen!
The other reason to look for once-rejected drugs is that their valid patent life would be effectively shorter, when compared with 'first-time-through' products.
Axovant's success will benefit patients of Alzheimer's and certainly make GSK conduct a serious internal review on how they handle their drug development programs.
The PharmaCompass Newsletter – Sign Up, Stay Ahead
Feedback, help us to improve. Click here
Image Credit : 40+117 Sucka Punch! by bark is licensed under CC BY 2.0
" The article is based on the information available in public and which the author believes to be true. The author is not disseminating any information, which the author believes or knows, is confidential or in conflict with the privacy of any person. The views expressed or information supplied through this article is mere opinion and observation of the author. The author does not intend to defame, insult or, cause loss or damage to anyone, in any manner, through this article."