Top Pharma Companies & Drugs in 2022: Pfizer breaks US$ 100 bn barrier, AbbVie's Humira retains 2nd spot
Top Pharma Companies & Drugs in 2022: Pfizer breaks US$ 100 bn barrier, AbbVie's Humira retains 2nd spot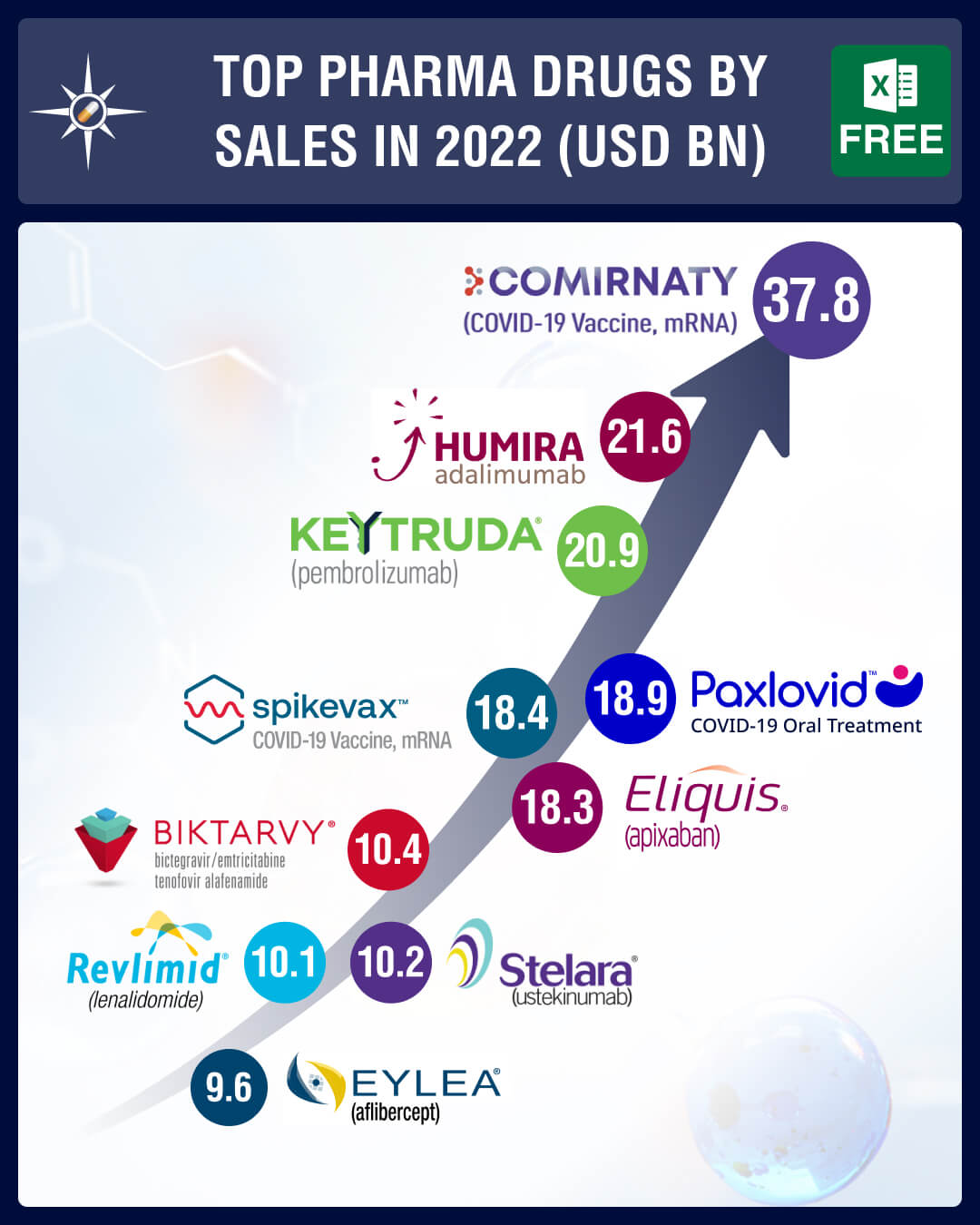 ×
In 2022, the pandemic continued to bring in a windfall for pharmaceutical companies manufacturing Covid-19 products, with Pfizer's total annual sales reaching a record high by surpassing US$ 100 billion for the first time.
AbbVie, despite not having any Covid products in its portfolio, maintained its second position due to the sales of its blockbuster drug Humira and other medicines. Johnson & Johnson held onto the third spot, while Merck experienced the most significant change, climbing to the fourth position from seventh place in the previous year. AstraZeneca also moved up a spot to the eighth position. On the other hand, Novartis (fifth), Roche (sixth), BMS (seventh) and Sanofi (ninth) slipped in the rankings, while GSK (tenth) retained its position. There were no new entries in the top 10 in terms of pharmaceutical sales.
View Our Interactive Dashboard on Top Drugs by Sales in 2022 (Free Excel Available)
Pfizer retains top position as Comirnaty, Paxlovid, together generate over US$ 56 billion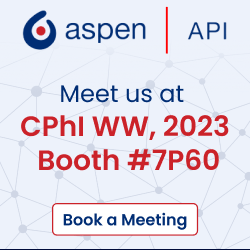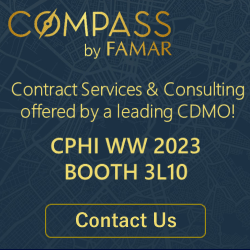 In 2022, Pfizer's Covid-19 products — vaccine Comirnaty and antiviral pill
Paxlovid
— generated
combined sales
of
US$ 56.7 billion
. With a haul of
US$ 37.8 billion
, Comirnaty comfortably maintained its position as the top-selling drug for a second year in a row. Paxlovid brought in
US$ 18.9 billion
in its first full year on the market, grabbing the number four spot.
Moderna's messenger RNA Covid vaccine Spikevax generated US$ 18.4 billion in revenues, emerging as the fifth largest drug by sales in 2022.
View Our Interactive Dashboard on Top Drugs by Sales in 2022 (Free Excel Available)
AbbVie's Humira, J&J's Stelara post impressive growth; BMS face revenue decline
AbbVie's cash cow Humira, the bestselling non-Covid product in biopharma history, achieved sales of US$ 21.24 billion (partner Eisai reported another US$ 370 million) in 2022. While Humira brought in approximately 37 percent of the company's total net revenues of US$ 58 billion in 2022, strong revenues from blood cancer drug Imbruvica, psoriasis treatment Skyrizi and rheumatoid arthritis med Rinvoq also contributed to AbbVie's strong performance.
J&J generated US$ 52.56 billion in 2022 revenues. Its pharmaceutical segment experienced an operational growth of 6.7 percent, driven by impressive performance of key drugs such as Stelara for inflammatory diseases and Darzalex for multiple myeloma. Stelara, which generated US$ 10.2 billion in overall sales last year (a growth of 6.9 percent), is expected to face generic competition in the US as its exclusivity is ending in 2023.
BMS' sales remained relatively unchanged even though its blockbuster multiple myeloma drug, Revlimid, experienced a 22 percent revenue decline due to generic competition. While Revlimid still generated sales of US$ 9.98 billion (partner BeiGene reported another US$ 80 million) in 2022, two other drugs, anticoagulant Eliquis and cancer drug Opdivo performed well. Eliquis generated US$ 11.8 billion in sales (partner Pfizer reported another US$ 6.5 billion), a 9.2 percent increase over 2021, while Opdivo achieved US$ 8.25 billion in sales (partner Ono Pharmaceuticals reported another US$ 1.05 billion). The drugmaker also introduced new products like Opdualag, Abecma and Reblozyl, which bolstered its overall sales.
View Our Interactive Dashboard on Top Drugs by Sales in 2022 (Free Excel Available)
Merck expands use of blockbuster Keytruda; oncology drugs boost Astra's revenue
Merck's blockbuster cancer drug Keytruda had a remarkable year, achieving a significant year-on-year growth of 22 percent and generating US$ 20.9 billion in 2022 sales. This success propelled Keytruda to the third position among the top-selling drugs. Keytruda's continuous expansion into new indications and treatment lines has solidified its position as a leading PD1 inhibitor, and is expected to maintain its momentum in 2023. Additionally, Merck's Covid-19 pill Lagevrio recorded impressive sales of US$ 5.7 billion in 2022. Overall, at US$ 52 billion, the drugmaker posted spectacular growth in sales of 22 percent.
AstraZeneca also experienced an impressive growth of 18 percent in 2022 to reach US$ 43 billion in revenue. The growth was primarily driven by the success of its cancer treatments, with blockbuster drugs like Tagrisso, Farxiga, Imfinzi, Lynparza playing a vital role. These drugs accounted for 35 percent of AstraZeneca's overall revenue.
View Our Interactive Dashboard on Top Drugs by Sales in 2022 (Free Excel Available)
Newer meds bolster Roche's growth; Sanofi thrives with Dupixent
In 2022, Roche experienced a sales growth of 2 percent at Constant Exchange Rate (CER) to reach CHF 45.55 billion (US$ 49.8 billion). The company's strong pharmaceutical sales were fueled by increasing demand for newer medicines, including Ocrevus (for multiple sclerosis), Hemlibra (for hemophilia A), Vabysmo (for eye conditions), Evrysdi (for spinal muscular atrophy) and cancer drug Tecentriq.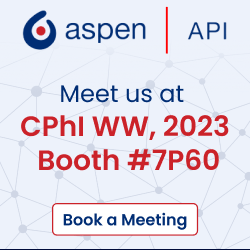 In 2022, Sanofi recorded global sales of €43 billion (US$ 47.1 billion), representing a 7 percent growth at CER. The French drugmaker's strong performance was driven by major drugs, particularly Dupixent and its vaccine franchise. Dupixent brought in impressive sales of €8.3 billion (US$ 9.1 billion), marking a significant 57 percent increase over the previous year. Originally approved by the FDA in 2017 for atopic dermatitis, Dupixent has expanded its applications to include moderate to severe asthma and eosinophilic esophagitis, contributing to its continued growth. Sanofi expects Dupixent to reach €10 billion (US$ 10.7 billion) in sales in the current year.
In July 2022, GlaxoSmithKline changed its name to GSK and demerged its consumer healthcare business to form Haleon, thereby becoming a fully focused biopharmaceutical company. The British drugmaker reported a modest 8 percent growth in revenue — at £29.32 billion (US$ 36.15 billion).
View Our Interactive Dashboard on Top Drugs by Sales in 2022 (Free Excel Available)
Our view
As the pandemic wanes, 2023 could be a year of transition for many drugmakers. Companies such as Pfizer, Moderna and AbbVie are implementing significant changes to their business strategies. Pfizer foresees a substantial decline in revenue, projecting a sharp drop of 33 percent with the reduced demand for its Covid-19 products. AbbVie, on the other hand, anticipates a decline in sales of its cash cow Humira due to increasing competition from biosimilars. These drugmakers are turning to innovative therapies, new indications, cost-cutting measures, acquisitions and partnerships to restrict the anticipated drop in revenues and ensure sustained growth.
Barring these drugmakers, several other big players shared positive growth in the first quarter of 2023. While analysts predict Keytruda and Dupixent to continue their strong growth, there is
optimism surrounding
diabetes and obesity drugs, with
Novo Nordisk
's
Wegovy
experiencing unprecedented demand. Eli Lilly is also
anticipating the US approval
of
Mounjaro
for obesity later this year. All in all, we anticipate more changes in our list of top companies and drugs for 2023!
The PharmaCompass Newsletter – Sign Up, Stay Ahead
Feedback, help us to improve. Click here
Image Credit : Annual Report 2022 by PharmaCompass license under CC BY 2.0
" The article is based on the information available in public and which the author believes to be true. The author is not disseminating any information, which the author believes or knows, is confidential or in conflict with the privacy of any person. The views expressed or information supplied through this article is mere opinion and observation of the author. The author does not intend to defame, insult or, cause loss or damage to anyone, in any manner, through this article."