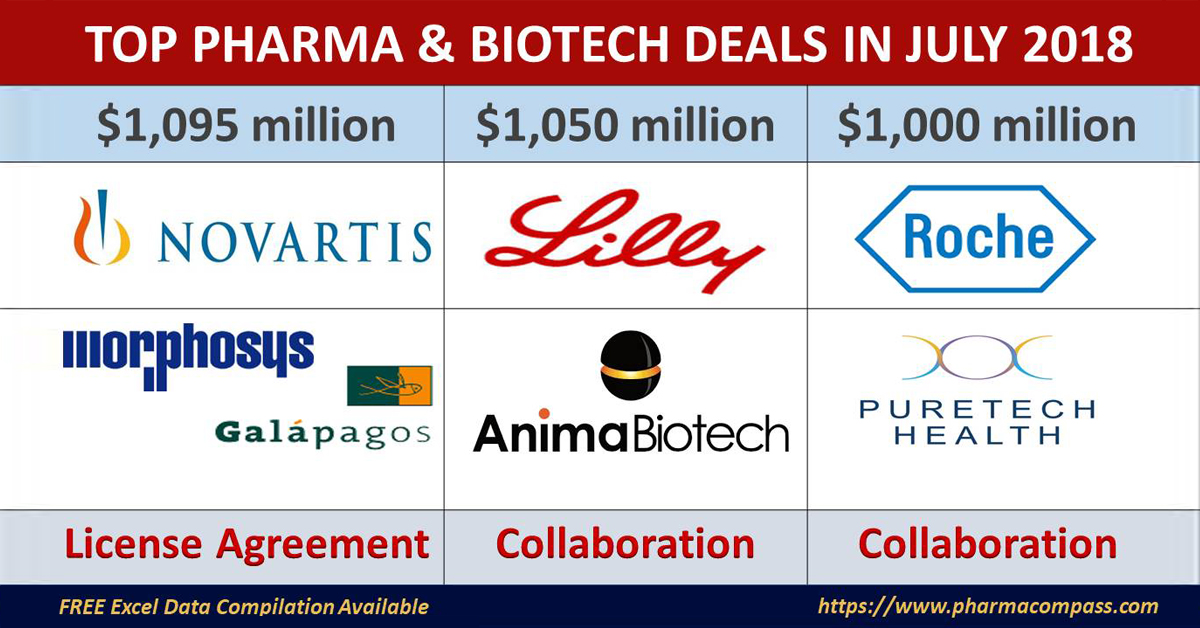 Top Pharma & Biotech Deals, Investments, M&As – July 2018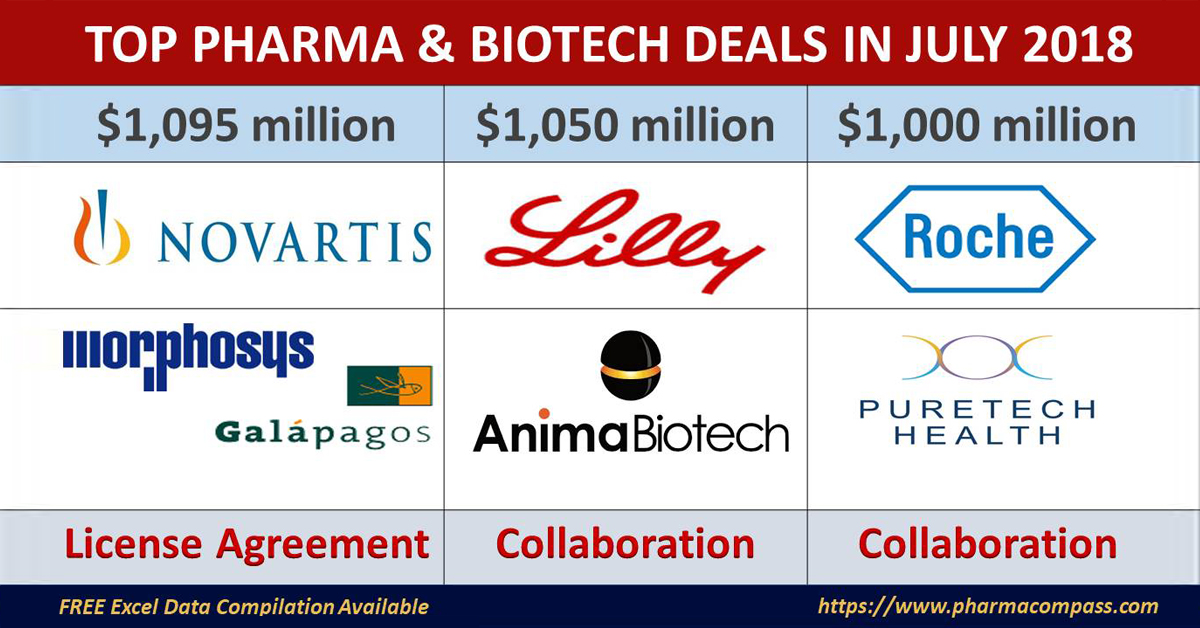 ×
July may not have seen any big-ticket deals — i.e. deals in excess of US$ 1 billion — in the pharma and biotech space. Yet, deal making remained robust last month as well.
Companies like Novartis, Roche, Lilly and Sanofi bolstered their R&D pipelines by striking deals which may result in billion-dollar payouts if they achieve their milestones.
However, major investments were announced in the manufacturing and contract services arena which indicate that pharma job creation could be heading back to the United States.
Click here to view the major deals in July 2018 (FREE Excel version available)



Trump's tax cuts make Pfizer announce major US manufacturing investment
Earlier this year, President Donald Trump announced a reduction in the US corporate tax rate from 35 percent to 21 percent. The tax cuts were designed to promote employment and grow manufacturing in the United States.
In January, Pfizer announced its plan to invest approximately US$ 5 billion in US-based capital projects as a result of the enactment of the Tax Cuts and Jobs Act.
Click here to view the major deals in July 2018 (FREE Excel version available)
Last month, weeks after agreeing to roll back its drug price increases, Pfizer announced it will make a US$ 465 million investment to build one of the most technically advanced sterile injectable pharmaceutical production facilities in the world in Portage, Michigan.
Known as Modular Aseptic Processing (MAP), the new, multi-story, 400,000-square-foot production facility will also create an estimated 450 new jobs over the next several years.
This investment will expand Pfizer's presence in Portage, located in Kalamazoo County, where the company currently employs more than 2,200 people and is one of its largest plants.
During the next six years, Pfizer expects to invest approximately US$ 1.1 billion in Kalamazoo County.
Click here to view the major deals in July 2018 (FREE Excel version available)
Rubius' IPO: Last month saw an uptick in IPO activity, and the biggest biotech IPO at Nasdaq so far in 2018 came from Cambridge, Massachusetts-based Rubius Therapeutics, as it raised a whopping US$ 277.3 million to support its approach of engineering red blood cells into off-the-shelf treatments for several diseases across multiple therapeutic areas.
The firm also announced that it had signed an agreement for the acquisition of a 135,000-square foot manufacturing facility located in Smithfield, Rhode Island. The company plans to invest up to US$ 95 million through 2020, and up to US$ 155 million in total over a period five years or more, and it expects to hire approximately 150 people at the facility.
Click here to view the major deals in July 2018 (FREE Excel version available)
Cambrex acquires Halo Pharma: US-based Cambrex Corporation, a leading manufacturer of small molecule innovator and generic active pharmaceutical ingredients (APIs), acquired Halo Pharma, a leading dosage form contract development and manufacturing organization (CDMO) for approximately US$ 425 million. Halo operates two facilities located in Whippany, New Jersey, USA and Montreal, Québec, Canada and is expected to generate over US$ 100 million in annual revenue in 2018.
With the acquisition of Halo, Cambrex will enter the growing finished dosage form CDMO market. Halo provides drug product development and commercial manufacturing services, specializing in oral solids, liquids, creams, sterile and non-sterile ointments. Halo's core competencies include developing and manufacturing highly complex and difficult to produce formulations, products for pediatric indications and controlled substances.
Click here to view the major deals in July 2018 (FREE Excel version available)
Catalent acquires Juniper: Also expanding its presence in the CDMO space was Catalent, which acquired Juniper Pharmaceuticals. While Catalent is a leading global provider of advanced delivery technologies and development solutions for drugs, biologics and consumer health products, Juniper is a company with two core businesses, the first being its Crinone (progesterone gel) franchise and the other a fee-for-service CDMO known as Juniper Pharma Services (JPS).
The transaction was valued at approximately US$ 139.6 million.
Click here to view the major deals in July 2018 (FREE Excel version available)



Novartis continues to bet big on dermatology
A month after Swiss drugmaker Novartis Pharmaceuticals Corporation announced it plans to spin off Alcon eye care business into a separately traded standalone company and buy back up to US$ 5 billion in stock, Novartis signed a licensing agreement with MorphoSys and Galapagos covering the development and commercialization of their investigational, fully human, IgG1 monoclonal antibody – MOR106.
MOR106 is directed against the target IL-17C that was generated in a collaboration between MorphoSys and Galapagos. IL-17C is believed to contribute significantly to atopic dermatitis (AD), a form of eczema and a severe dermatologic condition with high prevalence.
Click here to view the major deals in July 2018 (FREE Excel version available)
MOR106 will be an extension of Novartis' AD pipeline portfolio that includes oral ZPL389 that is currently in phase II clinical trials.
Atopic Dermatitis, a form of eczema, is a dermatologic disease that can cause intense itching and recurring lesions. AD affects approximately 8 percent of adults and 14 percent of children worldwide.
Novartis also has a blockbuster drug, Cosentyx (secukinumab), a human IgG1κ monoclonal antibody that binds to the protein interleukin-17A, and is marketed for the treatment of psoriasis, ankylosing spondylitis, and psoriatic arthritis. Cosentyx generated sales of over US$ 2 billion in 2017.
Click here to view the major deals in July 2018 (FREE Excel version available)
In addition to the funding of the current and future MOR106 program by Novartis, MorphoSys and Galapagos will jointly receive an upfront payment of Euro 95 million.
Pending achievement of certain developmental, regulatory, commercial and sales-based milestones, MorphoSys and Galapagos would jointly be eligible to receive significant milestone payments, potentially amounting to approximately Euro 850 million, in addition to tiered royalties on net commercial sales.
Under the terms of their agreement from 2008, Galapagos and MorphoSys will share all payments equally.
Click here to view the major deals in July 2018 (FREE Excel version available)



Roche strikes a deal to develop drugs using milk-derived exosomes
Milk naturally contains small lipid vesicles called exosomes that deliver biochemical packages from the mother to her offspring.
A research group led by Dr. Ramesh Gupta from the University of Louisville recently highlighted a new approach for improving therapeutic drug effectiveness by artificially packaging drugs in bovine milk-derived exosomes.
It is believed that milk exosomes represent a significant opportunity to potentially resolve the long-standing challenge of oral bioavailability of macromolecules and complex small molecules.
Milk-derived exosomes form the basis for PureTech's internally-developed technology to accomplish the task of oral transport of complex biological molecules. The technology is based on research conducted by PureTech Health and its academic collaborators, which including Dr. Ramesh Gupta.
Click here to view the major deals in July 2018 (FREE Excel version available)
PureTech Health announced that it has entered into a multiyear collaboration with Swiss drugmaker Roche, to advance PureTech's milk-derived exosome platform technology for the oral administration of Roche's antisense oligonucleotide platform.
Under the terms of the agreement, PureTech Health will receive up to $36 million, including upfront payments, research support, and early preclinical milestones. PureTech Health will be eligible to potentially receive development milestone payments of over $1 billion and additional sales milestones and royalties for an undisclosed number of products.
Click here to view the major deals in July 2018 (FREE Excel version available)



Lilly ties up with Anima Biotech for novel strategy against undruggable targets
Anima Biotech's Translation Control Therapeutics platform got a huge vote of confidence as it struck a deal with Eli Lilly that has the potential to exceed US$ 1 billion.
Anima Biotech is pioneering a new class of drugs that specifically control protein translation as a novel strategy against hard and undruggable targets.
The term 'undruggable' was coined to describe proteins that could not be targeted pharmacologically. However, companies such as Anima have made considerable progress to 'drug' many hard and undruggable targets.
The company claims that its novel platform enables for the first time to visualize and specifically control the synthesis of target proteins. By targeting the mechanisms that specifically regulate the process of mRNA translation, they can discover small molecules that either decrease or increase a target protein's production, enabling a new strategy and new hope against hard and undruggable targets.
Anima's platform was validated by its fast-growing pipeline programs in multiple therapeutic areas including fibrosis, viral infections, oncology and neuroscience.
The collaboration with Lilly is to discover and develop translation inhibitors for several target proteins using Anima's Translation Control Therapeutics platform. It is a multi-year deal set around undisclosed Lilly targets. Anima will use its platform to discover lead candidates that affect the translation of the Lilly targets. Lilly will then handle clinical development and commercialization.
Click here to view the major deals in July 2018 (FREE Excel version available)
Under the terms of the deal, Lilly is paying Anima US$ 30 million upfront and US$ 14 million in research funding. Anima is eligible for up to US$ 1.05 billion in development and commercial milestones. Anima is also entitled to tiered royalties on any products that result from the collaboration in the low to mid-single digits.



PTC broadens drug pipeline with gene therapy buy
Founded almost 20 years ago, PTC Therapeutics is focused on the discovery, development and commercialization of medicines for patients with rare disorders. With two drugs on the market including the contentious Emflaza (deflazacort), PTC announced last month that it had entered into an agreement to acquire Agilis Biotherapeutics, Inc., a biotechnology company advancing an innovative gene therapy platform for rare monogenic diseases that affect the central nervous system.
Click here to view the major deals in July 2018 (FREE Excel version available)
The lead gene therapy candidate, GT-AADC, has compelling clinical data in treating a rare central nervous system disorder which is an outcome of Aromatic L-Amino Acid Decarboxylase (AADC) Deficiency.
Under the terms of the merger agreement, PTC will pay an upfront consideration of US$ 50 million in cash and approximately US$ 150 million in PTC common stock. In addition to the upfront payments, potential future consideration includes US$ 60 million in development milestones to be paid over the next two years (including the acceptance of a biologics license application or BLA).
Additionally, the transaction includes up to US$ 535 million in success-based milestones in connection with regulatory approvals on the three most advanced programs and receipt of a priority review voucher, as well as tiered commercial milestones.
The priority review vouchers, which the FDA awards to companies that develop drugs for neglected diseases and rare pediatric disorders, ensure a speedier review from the FDA once a company files for approval. These vouchers have become valuable commodities themselves, having been bought and sold at prices topping US$ 100 million.
Click here to view the major deals in July 2018 (FREE Excel version available)



Sanofi buys into early-stage therapy for non-small cell lung cancer
Sanofi paid an upfront fee of US$ 50 million to develop and commercialize Revolution Medicines' targeted cancer therapies for patients with non-small cell lung cancer (NSCLC) and other types of cancers carrying certain mutations.
In a deal where Revolution Medicines could receive more than US$ 500 million in development and regulatory milestone payments, Sanofi will apply its expertise in oncology research and drug development to bring Revolution's lead candidate RMC-4630 to the market.
Click here to view the major deals in July 2018 (FREE Excel version available)
For a molecule which will only enter into human clinicals in the second half of this year, Sanofi's bet is on RMC-4630 fighting cancer in two separate ways.
First, the drug inhibits SHP2, a cellular enzyme in the protein tyrosine phosphatase family that plays a key role in several types of cancer. And second, the molecule has the "potential to stall — or even shrink — the tumor itself, and also neutralize the immune-suppressing environment in which the tumor thrives," Revolution's president and CEO Mark Goldsmith said in an interview with Endpoints News.
Click here to view the major deals in July 2018 (FREE Excel version available)



Our view
Although major investments were announced by companies based in the US and Europe, there has been a significant uptick in deal making by Chinese companies as well.
Chinese biotech companies ­Innovent Biologics and Ascletis Pharma applied to list on the Hong Kong Exchange. In its IPO, Ascletis, which makes anti-viral, cancer and liver disease drugs, was valued at US$ 2 billion. The IPOs are seen as a test for Hong Kong, which is seeking to establish itself as a financing center for the growing number of Chinese drug developers.
While it remains to be seen if Hong Kong can dislodge New York as the established center of biotech IPOs, with nine biotechs having so far filed for Hong Kong listings, and at least another four planning to follow suit, we hope you would keep following PharmaCompass' compilation of top pharma and biotech deals — PharmaFlow — to keep track of key happenings in this area.
Click here to view the major deals in July 2018 (FREE Excel version available)
The PharmaCompass Newsletter – Sign Up, Stay Ahead
Feedback, help us to improve. Click here
Image Credit : Top Pharma & Biotech Deals in July 2018 by PharmaCompass is licensed under CC BY 2.0
" The article is based on the information available in public and which the author believes to be true. The author is not disseminating any information, which the author believes or knows, is confidential or in conflict with the privacy of any person. The views expressed or information supplied through this article is mere opinion and observation of the author. The author does not intend to defame, insult or, cause loss or damage to anyone, in any manner, through this article."
Read More