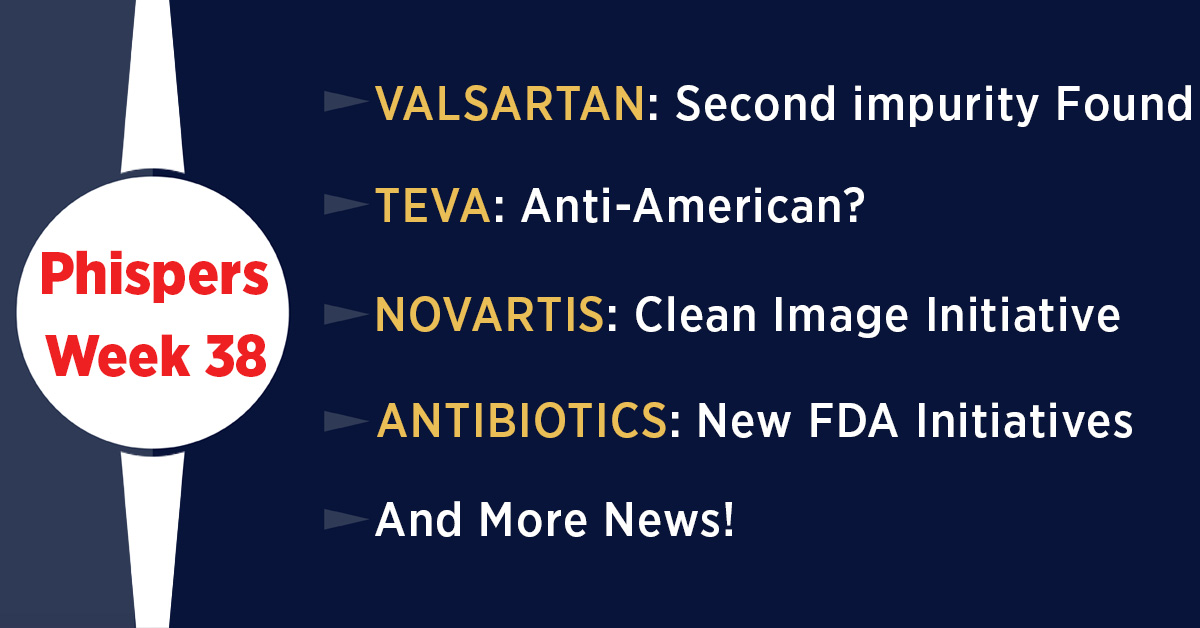 Novartis seeks to clean image, links employee bonuses to ethics; EMA, FDA probe new impurity in valsartan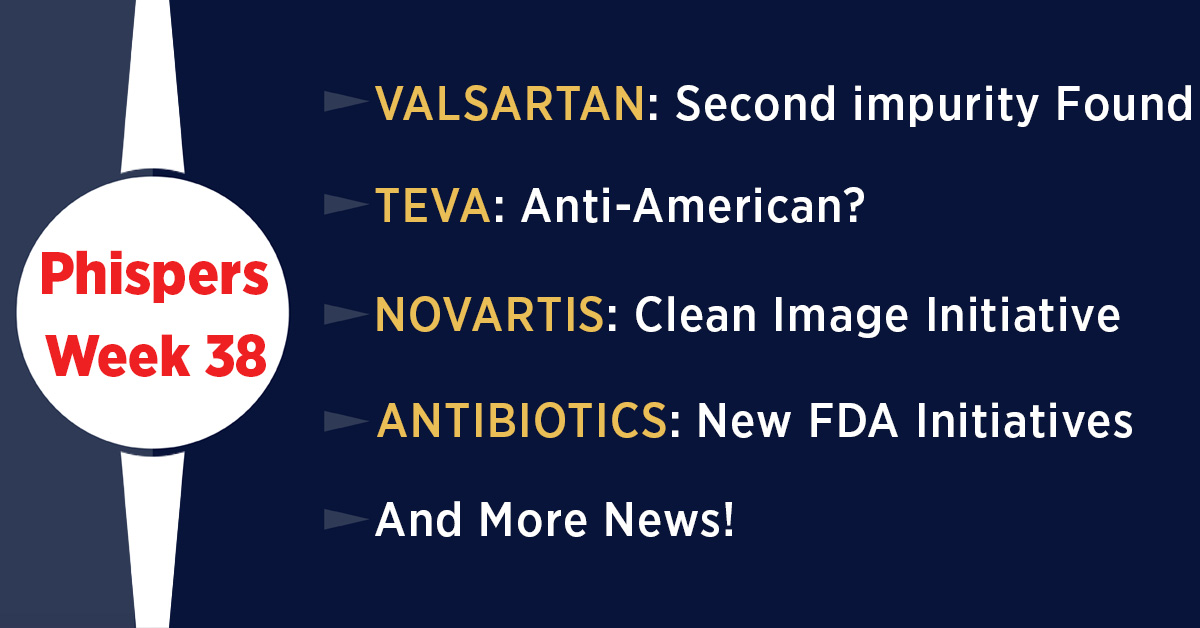 ×
This week, Phispers brings you the latest on the valsartan contamination. FDA and EMA have found the presence of an additional unexpected impurity in valsartan drug products. We also bring you the string of measures being undertaken by the FDA to tackle antibiotic resistance. Meanwhile, Allergan acquired a biotech startup — Bonti— which has a Botox candidate in trials. Sun Pharma won an FDA approval for its novel glaucoma drug. Teva finally won an FDA approval for its migraine drug, even as it got embroiled in a legal suit, filed by an employee, that alleges age-related discrimination and an anti-American bias. And Novartis sought to clean its image by linking employee bonuses to their ethics scorecard.



FDA, EMA report presence of new impurity in valsartan produced at Huahai
The valsartan contamination saga continues to rock the world of pharmaceuticals. In July this year, blood pressure drug valsartan, produced by China's Zhejiang Huahai Pharmaceutical Co. Ltd, was found to contain traces of N-nitrosodimethylamine (NDMA), a probable human carcinogen, due to a production change in 2012. The findings have prompted recalls in more than 50 countries.
The US Food and Drug Administration's (FDA) latest testing of products shows an additional unexpected impurity in three lots of Torrent Pharmaceuticals' recalled valsartan drug products.
This second impurity — N-Nitrosodiethylamine (NDEA) — is a known animal and suspected human carcinogen. These Torrent products were included in the company's recall on August 23, 2018.
NDEA has been detected in valsartan made by Huahai using its previous manufacturing process, before changes were introduced in 2012. Both NDEA and NDMA belong to the class of nitrosamines.
EMA is now assessing the impact of NDEA, in addition to assessing the impacts of NDMA. It is also looking for NDEA that had been detected in products produced before 2012.
"Data on levels of NDEA are currently very limited, and EMA will provide further information on whether its presence impacts the risk assessment once more information becomes available," EMA said in a statement.



Novartis seeks to clean image by linking employee bonuses to their ethics scorecard
Novartis has faced several bribery-related scandals, the most recent being the one involving US President Donald Trump's ex-attorney, Michael Cohen. But the Swiss drugmaker is clearly seeking to address the damage caused to its reputation by shortcomings in the past.
Novartis has said its employees will only get a bonus if they meet or exceed expectations for ethical behavior. Novartis said it began the scoring system in 2016, but details have not been widely reported. Company officials outlined the system this week on a call about its ethics efforts with analysts and journalists.
Its employees will now receive a 1, 2 or a 3 score on their values and behavior. Receiving a 2, which Novartis said denotes meeting expectations, or a 3, for "role model" behavior, would make them eligible for a bonus of up to 35 percent of their total compensation.
"Unless the sales representative scores a two or a three, they will not be eligible for their variable compensation," Samir Shah, Novartis's head of investor relations, said.
"That's how we've tried to make sure we've got the right balance between pay for performance and having the right behavior," he added.
Novartis recently hired a new ethics chief, Klaus Moosmayer (49), from Siemens. Moosmayer has spent more than a decade helping oversee the German engineering company's efforts to build its compliance system.
Back in 2016, Novartis was contending with a bribery probe in South Korea. Its practices in America, Turkey and China had also come up for questioning.
Novartis paid US$ 25 million to settle a US Securities and Exchange Commission (SEC) case that claimed the Swiss drug maker paid bribes to health professionals in China to increase sales during 2009 and 2013.
In February this year, PharmaCompass had reported how Novartis had got embroiled in a controversy regarding industrial scale bribery of senior politicians in Greece.



Teva finally wins approval for migraine drug; gets embroiled in employee suit
The FDA finally approved Teva Pharmaceutical Industries Ltd.'s migraine treatment — Ajovy — which the company has been counting on to lead a turnaround after three difficult years.
For months, FDA's approval for Teva's Ajovy had got delayed due to regulatory concerns over the manufacturing process at the South Korean plant of its development partner Celltrion. Ajovy (fremanezumab) was to be approved in June.
Beleaguered Teva has many woes to contend with, including the US$ 40.5 billion misguided debt it took on to purchase Allergan's generic drug business in 2016. Another woe emanates from the decline in sales of its best-selling drug Copaxone. This multiple sclerosis treatment faced first generic competition last year, and since then its sales have been on the decline.
According to analysts, Ajovy could reach sales of US$ 500 million annually by 2022. Ajovy also marks a feat for its Danish CEO Kare Schultz, who was brought in a year ago to restructure the company, particularly its costs.
Migraine is a large market — around 39 million Americans suffer from migraines, according to the Migraine Research Foundation. And Ajovy comes with an advantage as it needs to be administered only once in three months, in three consecutive injections. In comparison, Aimovig is a migraine treatment marketed by Amgen and Novartis (which has been available in the US since May) that needs to be given monthly.
Eli Lilly and Co is also developing a migraine treatment in the same new class of drugs, with the FDA expected to take action by September 27.
The company plans to start selling the drug in the US at US$ 575 per monthly dose and US$ 1,725 per quarterly dose making the wholesale price for Ajovy the same as Aimovig.
Meanwhile, a US district court found sufficient evidence that Teva's behavior leading up to the firing of an employee that filed suit against the company violated its own internal policies.
Teva is facing allegations of age-related discrimination, as well as allegations of being anti-American. Allegations of having an anti-American bias are rare.
The case has been filed by Stephen Middlebrooks, who joined Teva's Pennsylvania office in 2001 and rose on to become the senior director of facility management for a new North American division in late 2014.
But not before his Israeli manager asked him his age—57 at the time—and when he planned to retire, the lawsuit alleges. Two years later, after a string of negative performance reviews that Middlebrooks is now challenging, he was fired. He then decided to sue the company, alleging both age discrimination and anti-American bias.



FDA announces a string of measures to fight the menace of antibiotic resistance
The FDA has pulled out all stops to reduce antibiotic resistance (AMR). Last week, FDA Commissioner Scott Gottlieb announced the agency's 2019 Strategic Approach for Combating AMR. "This is an ongoing, agency-wide initiative to build on our past efforts, and to coordinate policy and external partnerships to help confront AMR," Gottlieb said in a speech at Pew Charitable Trusts last week.
Antimicrobial resistance — the ability of a microorganism (bacteria, virus, fungi, parasite) to resist the effects of a drug — is a serious, complex and costly public health problem.
According to the CDC, every year at least 2 million people in the United States alone develop serious infections caused by antimicrobial-resistant pathogens, and at least 23,000 people die as a direct result of these infections.
Gottlieb said FDA's strategy to deal with AMR is comprehensive, and brings all its centers to work together, via one platform. The strategy addresses four key areas.
First, FDA is facilitating product development to ensure a robust pipeline of safe and effective treatments that can combat resistant organisms.
Second, the agency is promoting antimicrobial stewardship. "Careful stewardship across human and animal health can help preserve the effectiveness of available treatments and may help slow the development of antimicrobial resistance," Gottlieb said.
Third, the FDA is supporting the development of tools for surveillance of antimicrobial use and for determining when pathogens develop resistance.
And finally, the agency is advancing scientific initiatives to help all stakeholders answer critical questions related to AMR.
FDA's Center for Drug Evaluation and Research (CDER) Office of Antimicrobial Products also issued a Request for Information (RFI) to solicit informal input from the public and private sectors to obtain external input into developing an annual list of regulatory science initiatives specific for antimicrobial products.
FDA has also brought into effect reimbursement reforms for antimicrobial treatments. These could include "a mix of milestone payments and subscription fees for developers of FDA-approved products with high economic and clinical value, targeted at multi-drug resistant organisms and linked to proven clinical outcomes," Gottlieb said.
Gottlieb also offered the idea of using a "subscription-based model" that could see hospitals paying a flat rate for access to a certain number of doses of a new antimicrobial.



Allergan defuses Botox threat through buyout; Sun wins approval for novel drug
Allergan is acquiring California-based Bonti, Inc., a privately held clinical-stage biotechnology startup, for US$ 195 million to defuse threat to its popular cosmetic prescription medicine — Botox. The startup was founded by former Allergan executives and focuses on creating a new botulinum neurotoxin.
Allergan will pick up global rights to Bonti's botulinum assets that are in development for cosmetic and therapeutic applications.
Bonti had raised series C venture capital funding of around US$ 15.5 million in January this year to push its botulinum neurotoxin serotype E (BoNT/E) candidate EB-001 through the end of an ongoing phase 2 trial and start a second phase 2 study.
EB-001 is being developed in two programs: EB-001A for "facial aesthetic" applications and scar reduction following surgery for skin cancer, and EB-001T for focal muscle pain.
Bonti's EB-001 acts in a similar way as Botox. However, it acts more quickly (within 24 hours) and its effects last for a lesser duration (about three to four weeks), compared to regular Botox, where the onset of action takes between three and seven days and the duration of its effect is for about three to four months.
Sun bags FDA approval for glaucoma treatment: India-headquartered Sun Pharmaceuticals has been working hard to shift its focus from generic to novel and specialty drugs.
Last week, its efforts bore fruit as it bagged FDA approval for a new treatment for glaucoma. The drug will be made at Sun's once-troubled Halol plant, indicating that Sun has resolved the problems with this unit. The FDA had issued a Form 483 to this plant in 2014, followed by a warning letter in 2015 for the API plant.
Sun said the FDA has granted approval to its SPARC biotech unit for Xelprostm (latanoprost ophthalmic emulsion) 0.005 percent for the reduction of elevated pressure in the eyes of patients with open-angle glaucoma or ocular hypertension. Sun in-licensed the drug from SPARC in 2015. This is a novel drug. This approval has come a month after Sun won approval of Cequa, a drug for dry eye disease.
The PharmaCompass Newsletter – Sign Up, Stay Ahead
Feedback, help us to improve. Click here
Image Credit : #Phisper Infographic by SCORR MARKETING & PharmaCompass is licensed under CC BY 2.0
" The article is based on the information available in public and which the author believes to be true. The author is not disseminating any information, which the author believes or knows, is confidential or in conflict with the privacy of any person. The views expressed or information supplied through this article is mere opinion and observation of the author. The author does not intend to defame, insult or, cause loss or damage to anyone, in any manner, through this article."
Read More