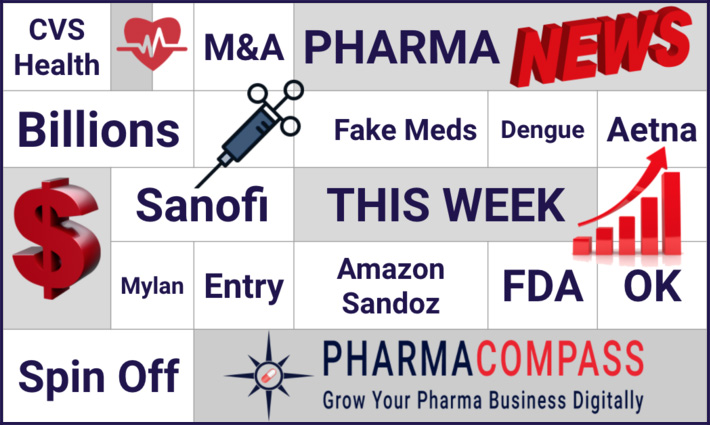 ×
This week, Phispers brings you news on the biggest M&A deal of 2017 — the acquisition of health insurer Aetna by pharmacy benefits manager CVS for US$ 69 billion. There is also news on a public health crisis in the Philippines, brought about by Sanofi's revelation that its dengue vaccine worsens the disease in people who had not been infected with the virus before. The WHO, on the other hand, said 10 percent of all drugs sold in low and middle-income countries are fake. And
Biocon
-Mylan finally got the US FDA approval for their Herceptin biosimilar



2017 gets its biggest M&A deal as
CVS buys Aetna; Amazon in talks with generic firms
Last month, PharmaCompass had reported on CVS eying health insurer Aetna, and how Amazon's entry into the pharmacy business in the US may be the trigger behind CVS and Aetna being in talks.
This week, CVS acquired Aetna for US$ 69 billion. Poised to be this year's largest corporate acquisition, the deal will combine America's largest pharmacy benefits managers (PBMs) and pharmacy operators with one of its oldest health insurers.
Aetna's business in the US ranges from employer healthcare to government plans. The blockbuster acquisition holds the potential to transform CVS' 9,700 pharmacy stores into community medical hubs for primary care and basic procedures.
The deal also seeks to tackle soaring healthcare spending through lower-cost medical services in pharmacies.
Earlier this year, a US federal judge had shot down Aetna's US$ 37 billion plan to acquire a smaller health insurance player in the US — Humana Inc. A bid to join hands with its peers Anthem Inc and Cigna Corp was also shot down.
Amazon has been trying to get into the US$ 412 billion pharmacy business in the US. According to recent news reports, Amazon has held preliminary talks with manufacturers of generic drugs about its potential entry into the pharmacy space.
Amazon has held high-level talks with Mylan and Sandoz, a unit of Novartis. The talks are reportedly over Amazon taking a role in drug purchasing. "Generics manufacturers are eager to establish a relationship with Amazon as part of 2018 business plans," CNBC quoted a source as saying.



Novartis to get rid of oral solids portion of its generics business in US
Generic makers have been hurt by several years of cut-throat pricing, with some drugmakers reportedly selling products at cost price. After Teva, which sold off businesses worth US$ 2.48 billion in September this year, it was Swiss drug maker Novartis' turn to act on the pricing pressures of the generic business. Novartis' Sandoz division is the third largest generic company after Teva and Mylan.
Last month, there was news about Novartis considering selling off its dermatology business, which is likely to be valued between US$ 1 billion and US$ 1.5 billion. And last week, in a meeting with analysts, Novartis' outgoing CEO Joseph Jimenez said the market for generic pills in the US has become so bad that the company is looking at options for that business, including a spinoff. Novartis' drug development chief Vas Narasimhan will take over as its CEO in February 2018.
Jimenez said Novartis still likes the generics business outside the US, where biosimilars have given Sandoz (its generics and biosimilars arm) a leading position. However, it is thinking about exiting the oral solids portion of its business in the US, as that market continues to go downhill. In the third quarter of this year, price competition resulted in a 13 percent decline in generic sales in the US for Novartis.



WHO
say
s 1 in 10 medicines
in low and middle-income countries are fake
The World Health Organization (WHO) has said as many as one in 10 medicines sold in low- and middle-income countries is either sub-standard or falsified. This costs the global health system US$ 30 billion per year.
"Substandard and falsified medicines particularly affect the most vulnerable communities," WHO Director-General Tedros Adhanom Ghebreyesus said. He urged countries to take "tangible action" to address the issue.
According to the WHO, antibiotics and antimalarial drugs account for more than one-third of all products reported to be fake or substandard. Fake versions of these drugs can lead to prolonged illness or even death, while substandard versions can lead to increased drug-resistance.
"Many of these products, like antibiotics, are vital for people's survival and wellbeing," Mariângela Simão, assistant director-general for access to medicines, vaccines and pharmaceuticals at WHO, said.
According to the University of Edinburgh, between 72,000 and 169,000 children die of pneumonia each year as a result of taking substandard and falsified medicines. However, a model developed by the London School of Hygiene and Tropical Medicine finds that such products lead to an additional 116,000 deaths from malaria each year in sub-Saharan Africa alone.



Sanofi's dengue vaccine found to make disease worse in first time cases
Last week, there was news of a public health crisis in the Philippines. In April this year, health officials in Philippines had launched an aggressive US$ 70 million dengue vaccination program covering both adults and children. The vaccine to be administered was the newly approved Dengvaxia from Sanofi Pasteur.
However, Sanofi said last week that there was a problem with this vaccine. Clinical data showed Dengvaxia could make the disease worse in people who had not previously been infected with the virus.
The Philippines government suspended a school-based immunization program after these revelations. However, by then over 733,000 children had already been immunized.
The WHO launched an emergency probe of the vaccine this week, warning countries against injecting anyone who hadn't been infected earlier. It hopes to conduct a full review by the year-end. The Philippines government has also ordered a probe into Sanofi's dengue vaccine.
Meanwhile, it has been a very bad week for the French drugmaker, especially insofar as vaccines were concerned. Sanofi also said it will terminate its late-stage program for a Clostridium difficile vaccine after investigators determined they were on a straight path to failure. Credit Suisse had estimated Sanofi's Clostridium difficile vaccine to be worth more than US$ 500 million a year in peak sales.



Biocon, Mylan weather the storm and get FDA approval for Herceptin biosimilar
A fortnight back, PharmaCompass had carried a report on India's Biocon receiving an EIR (establishment inspection closure) for its sterile injectables facility, inspected by the US FDA earlier this year. While some news reports had suggested that Biocon and Mylan have moved a step closer to getting an FDA nod for their biosimilar of Roche's blockbuster cancer drug — Herceptin, we took the view that there is no exact news on the biosimilars inspection, and the FDA nod may still be a while away.
We stand corrected. Late last week, the US FDA approved Mylan and Biocon's biosimilar for Herceptin. The biosimilar — trastuzumab — to be sold under the name Ogivri, is the first biosimilar approved in the US for the treatment of breast cancer or stomach cancer and the second biosimilar approved in the country for cancer treatment, the US FDA said in a release.
"The FDA continues to grow the number of biosimilar approvals, helping to promote competition that can lower health care costs. This is especially important when it comes to diseases like cancer, that have a high cost burden for patients," FDA Commissioner Scott Gottlieb said. "We're committed to taking new policy steps to advance our biosimilar pathway and promote more competition for biological drugs," he added.
Mylan and Biocon are exclusive partners on a broad portfolio of biosimilar and insulin products.
Mylan and Biocon's biosimilar for Herceptin is also under review by regulatory authorities in Australia, Canada, Europe and several other markets. It is already approved in 19 countries around the world, including India.
The PharmaCompass Newsletter – Sign Up, Stay Ahead
Feedback, help us to improve. Click here
Image Credit : Phisper Infographic by PharmaCompass is licensed under CC BY 2.0
" The article is based on the information available in public and which the author believes to be true. The author is not disseminating any information, which the author believes or knows, is confidential or in conflict with the privacy of any person. The views expressed or information supplied through this article is mere opinion and observation of the author. The author does not intend to defame, insult or, cause loss or damage to anyone, in any manner, through this article."
Read More