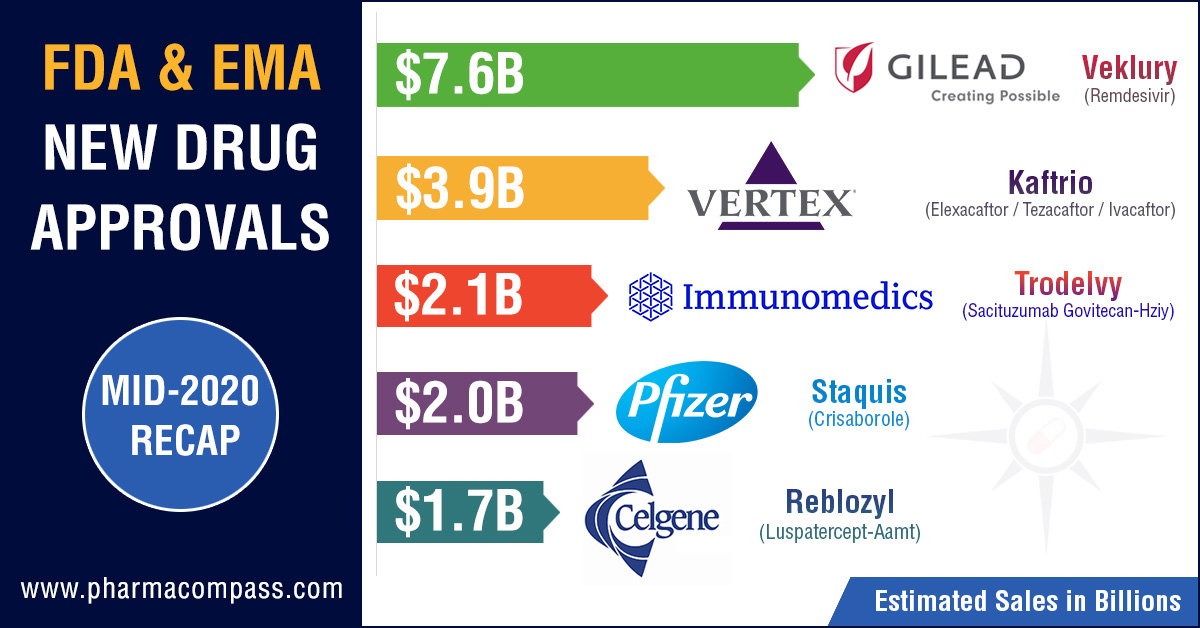 New Drug Approvals by FDA & EMA (Mid-2020 Recap)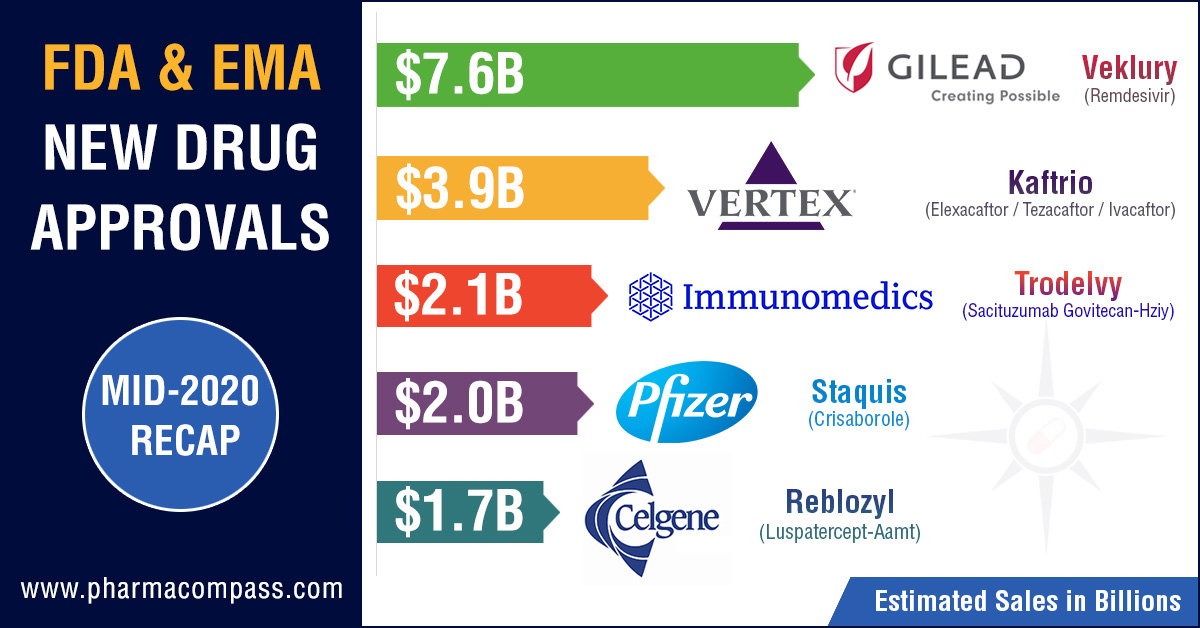 ×
In case you thought Covid-19 had slowed down US Food and Drug Administration's New Drug Approvals, you're in for a pleasant surprise — the FDA appears to be more active than ever before. By the end of June, the FDA had already approved 33 new drugs which put the approval activities within the ballpark of the past two years — 62 novel drugs were approved in 2018, while 54 were approved in 2019.
FDA's Center for Drug Evaluation and Research (CDER) approved 25 new molecular entities and new therapeutic biological products, of which almost half — 12 out of 25 — were oncology drugs, while the rest of the novel therapies were approved by the Center for Biologics Evaluation and Research.
The European Medical Agency (EMA) was also busy as the regulator issued a positive opinion for 41 drugs, of which 27 were classified as novel treatments.
View New Drug Approvals by June 2020 with Estimated Sales (Free Excel Available)

Conditional Approval for Gilead's Remdesivir
Gilead's Remdesivir has certainly been one of the most talked about drugs this year. While it is still under clinical evaluation, the FDA, EMA and the Japanese Ministry of Health, Labour and Welfare (MHLW) found ways of providing market access to this drug as a treatment against Covid-19.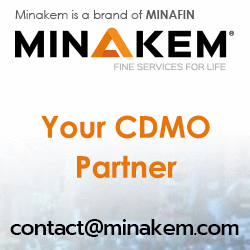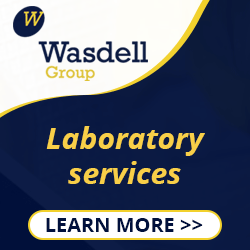 On May 1, 2020, based on the totality of scientific evidence available to the FDA, the agency issued an Emergency Use Authorization (EUA), as it believed that remdesivir may be effective in treating Covid-19 and that the known and potential benefits of remdesivir, when used to treat Covid-19, outweigh the known and potential risks of such products.
On June 25, 2020, EMA's Committee for Medicinal Products for Human Use (CHMP) adopted a positive opinion, recommending the granting of conditional marketing authorization for Veklury (remdesivir).
The demand for remdesivir is such that the US bought more than 500,000 doses, which is all of Gilead's production for July and 90 percent of production for August and September, leaving almost no stock of remdesivir for the UK and Europe.
In 127 poor or middle-income countries, Gilead is allowing generic drugmakers to supply remdesivir. It has signed non-exclusive voluntary licensing agreements with generic pharmaceutical manufacturers based in Egypt, India and Pakistan to further expand the supply of the antiviral drug.
View New Drug Approvals by June 2020 with Estimated Sales (Free Excel Available)

Vertex's Kaftrio bags EMA approval
Earlier this year, PharmaCompass published its compilation of the sales forecasts for the new drugs approved by the FDA in 2019. The list was led by Vertex's cystic fibrosis treatment — Trikafta — which is expected to have sales of US$ 3.935 billion by 2024.
Trikafta is a combination of ivacaftor, tezacaftor and elexacaftor and its stellar clinical data made the FDA approve the drug within three months of Vertex's application filing and five months before FDA's action date.
In June 2020, EMA's CHMP adopted a positive opinion, recommending the granting of a marketing authorization for Vertex's combination which will be marketed as Kaftrio.
EMA also adopted positive opinions on other drugs which were previously approved by the FDA in 2019, such as Novartis' Zolgensma and Piqray, Pfizer's Staquis and Daurismo among many others.
Immunomedic's antibody-drug conjugate (ADC) — Trodelvy (sacituzumab govitecan-hziy) — was approved by the FDA for the treatment of adult patients with metastatic triple-negative breast cancer who have received at least two prior therapies for metastatic disease. Trodelvy follows remdesivir in our list of FDA approved drugs in 2020 with the highest sales potential. The current forecast for Trodelvy sales is US$ 2.151 billion by 2026.
FDA's approval of Lundbeck's Vyepti (eptinezumab) and Biohaven's Nurtec ODT (rimegepant) for migraine headaches brought additional CGRP-targeted products to the market. It will be interesting to see how Nurtec ODT is accepted given it is a small molecule drug, which makes administration easier. It was recently promoted on social media by Khloe Kardashian.
View New Drug Approvals by June 2020 with Estimated Sales (Free Excel Available)
Covid-19 impacts drug launches
The pandemic has, however, started taking a toll on drug launches. One of the most anticipated drug approvals of the year, Bristol-Myers Squibb's multiple sclerosis (MS) treatment — Zeposia (ozanimod) — was approved in both the US and Europe. However, the launch of the drug would be delayed due to the coronavirus outbreak.
The drug was added to BMS's portfolio through its US$ 74 billion acquisition of Celgene last year. Its approval was one of the three conditions set for a potentially higher payout for Celgene investors.
Analysts have high hopes from ozanimod. Its average peak sales for 2024 have been predicted to be at US$ 1.62 billion by Cortellis, though the Covid-19 pandemic may weigh in there as well.
View New Drug Approvals by June 2020 with Estimated Sales (Free Excel Available)

First non-statin cholesterol drug bags FDA approval
This year also witnessed the first non-statin treatment to be cleared for sale in the US in nearly 20 years. The drug, bempedoic acid, is made by Esperion Therapeutics Inc. This cholesterol-lowering drug is aimed at helping millions of people who can't tolerate or don't get enough help from widely used statin pills like Lipitor and Crestor.
This new drug is to be used as an add-on treatment with statins. It lowers bad cholesterol or low-density lipoprotein (LDL) by inhibiting its synthesis in the liver. It targets patients with high cardiovascular risk.
Esperion also won approval of bempedoic acid in combination with ezetimibe, another cholesterol-lowering drug.
In January last year, Daiichi Sankyo Europe had entered into an exclusive licensing agreement with Esperion Therapeutics for Daiichi Sankyo Europe to market bempedoic acid and bempedoic acid/ezetimibe combination tablet in the European Economic Area and Switzerland.
View New Drug Approvals by June 2020 with Estimated Sales (Free Excel Available)

Approvals not granted to almost 20 drugs
There were setbacks too, and not everything rolled smoothly. This year, almost 20 drug approvals were not granted. Among the major setbacks were Bristol Myers Squibb and bluebird bio, Inc announcing that they have received a Refusal to File letter from the FDA regarding the Biologics License Application (BLA) for their CAR-T therapy, idecabtagene vicleucel (ide-cel), for patients with heavily pre-treated relapsed and refractory multiple myeloma, which was submitted in March 2020.
Upon preliminary review, the FDA determined that the Chemistry, Manufacturing and Control (CMC) module of the BLA requires further detail to complete the review. No additional clinical or non-clinical data have been requested or are required.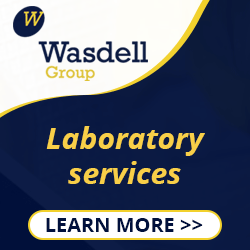 Two years after Intarcia Therapeutics received a CRL for its matchstick-sized, long-term drug implant for type 2 diabetes, the FDA issued a second CRL to the company for its ITCA-650 implant. The implant is designed to be a small, osmotic pump which can be slipped under the skin and deliver a continuous, six-month dose of the GLP-1 agonist exenatide.
The FDA also did not approve Intercept Pharmaceuticals' obeticholic acid to treat NASH (or nonalcoholic steatohepatitis, a liver condition in which the buildup of fat progressively scars the organ), as it wasn't convinced that its benefits outweighed the potential risks.
After acquiring Allergan for US$ 63 billion, one of the first drugs which AbbVie was expecting approval for was Abicipar pegol, their experimental DARPin therapy for patients with neovascular (wet) age-related macular degeneration (nAMD). However, FDA's review indicated the rate of intraocular inflammation observed following administration of Abicipar pegol 2mg/0.05 mL results in an unfavorable benefit-risk ratio in the treatment of wet AMD.
View New Drug Approvals by June 2020 with Estimated Sales (Free Excel Available)

Our view
While everyone's attention is on the Covid-19 pandemic, the industry is certainly busy working towards getting new drugs to market. At the halfway mark, the FDA and EMA seem to be on track to set approval records this year, since the number of drugs approved by June are almost twice the number that were approved at the same time last year.
However, it remains to be seen how companies adapt their sales and marketing strategies in a world where mobility is likely to get restricted and interpersonal contact is set to reduce dramatically.
View New Drug Approvals by June 2020 with Estimated Sales (Free Excel Available)

The PharmaCompass Newsletter – Sign Up, Stay Ahead
Feedback, help us to improve. Click here
Image Credit : FDA-&-EMA-New-Drug-Approvals by PharmaCompass is licensed under CC BY 2.0
" The article is based on the information available in public and which the author believes to be true. The author is not disseminating any information, which the author believes or knows, is confidential or in conflict with the privacy of any person. The views expressed or information supplied through this article is mere opinion and observation of the author. The author does not intend to defame, insult or, cause loss or damage to anyone, in any manner, through this article."
Read More