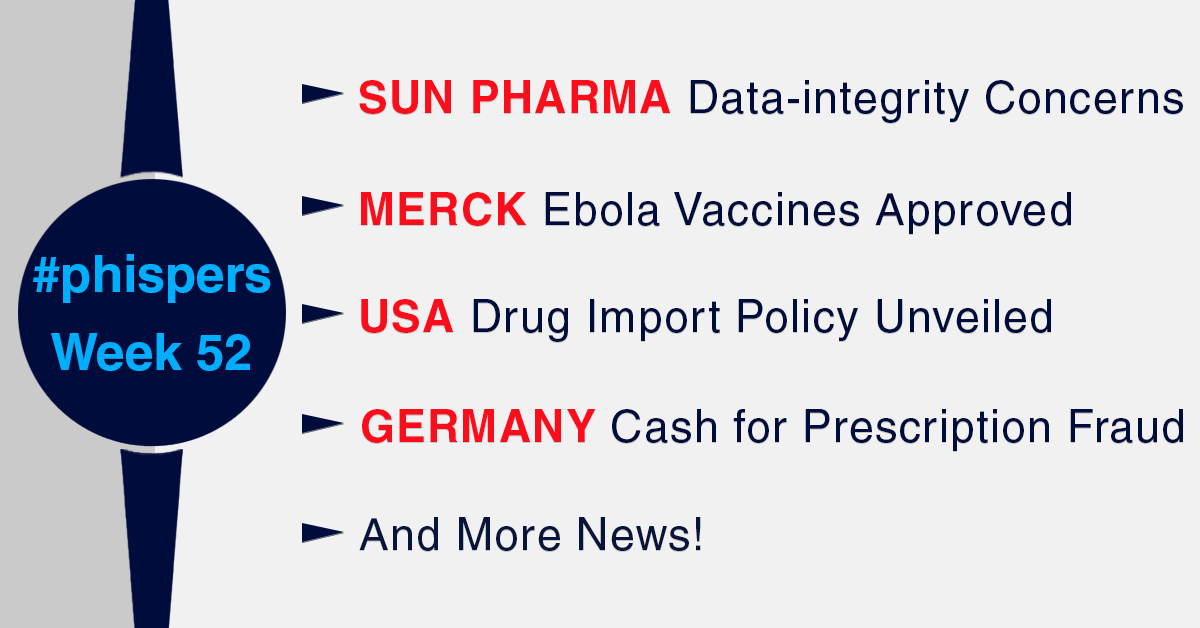 Data integrity concerns at Sun's Halol plant; Merck's Ebola vaccine bags FDA nod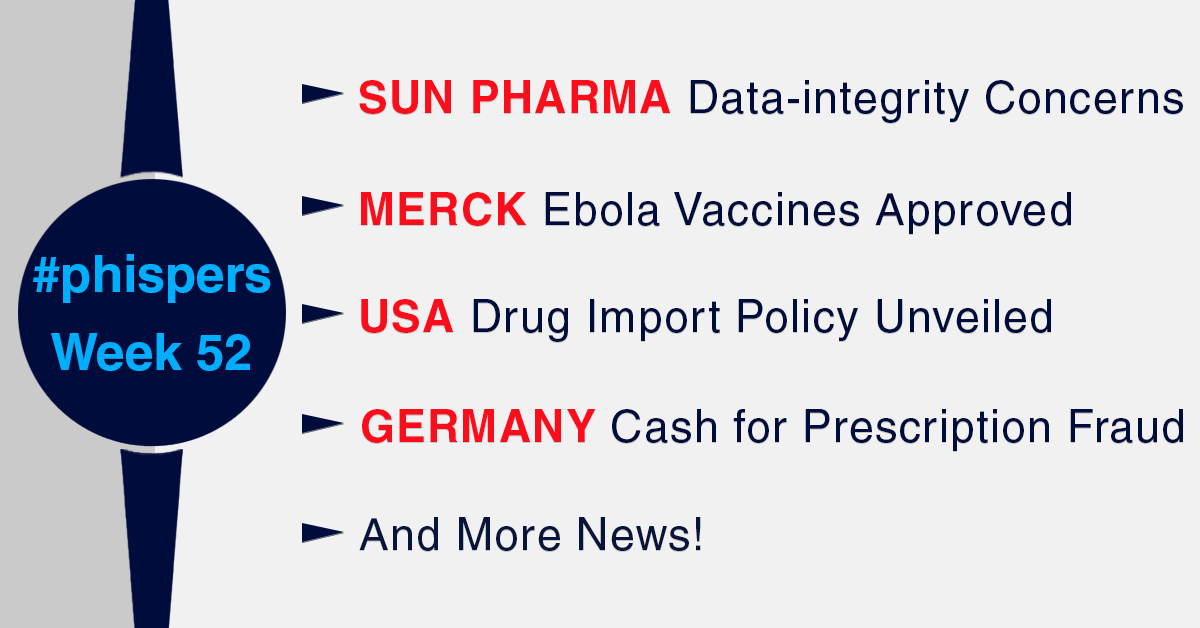 ×
This week, Phispers brings you news on Merck's vaccine for the deadly Ebola virus disease (EVD) — Ervebo — as it bagged FDA approval.
The US agency has warned against the use of opioids and certain other drugs in combination with popular nervous system drugs — such as Lyrica and Neurontin.
In Germany, the police raided several doctors and pharmacists for allegedly taking cash from a pharma company in return for prescribing its cancer drugs.
Trump administration released drafts of two policy documents that would facilitate import of cheaper drugs from other countries, including Canada.
After getting a clearance from market regulators in the US and Britain for its US$ 4.3 billion takeover of Spark Therapeutics, Roche struck a deal with Sarepta to bag ex-US rights to its investigational gene therapy to treat Duchenne muscular dystrophy (DMD).
And Sun Pharmaceutical got issued a Form 483 after a nine-day inspection of its Halol plant earlier this month which revealed data-integrity concerns.


Data-integrity concerns emerge at Sun Pharma
'
s Halol facility
In June 2018, Indian drug major Sun Pharmaceutical Industries Limited had received an establishment inspection report (EIR) from the FDA for its Halol plant, situated in the state of Gujarat in India. The report paved the way for fresh approvals for its products in the United States, and ended a multi-year struggle created by a December 2015 FDA warning letter.
The EIR resulted in the closure of the 2015 inspection and confirmed that issues raised in the December 2015 warning letter had been addressed. This came as a boon for Sun, for whom the US has always been a key market for expansion.
But the company's good run seems short-lived. Earlier this month, a nine-day inspection of Halol's finished pharmaceutical manufacturing operations revealed data-integrity concerns and also questioned the compliance of drug products produced at the site with established quality standards.
The Form 483 issued by the FDA following the inspection highlighted that Sun "failed to establish and implement controls which ensure data integrity" in the use of the environmental monitoring computerized system used in its microbiology laboratory for all samples including those that are used to establish a sterile manufacturing environment. The FDA investigators found a range of deficiencies in the system and highlighted that all users of the computer system had the ability to delete information to be printed on sample labels.
The FDA also had repeat observations from previous inspections, such as instructions a microbiology analyst must follow during the sampling process of critical operations. In the case of Sun's Halol plant, the instructions lacked sufficient details. This raised doubts that the sampling process was sufficiently robust and could detect potential microbiological contaminants, a critical requirement for sterile manufacturing operations.
During a walkthrough of the facility, the FDA investigators also raised data integrity concerns in raw material dispensing as container labels related to a raw material dispensed for tablet manufacturing were completed by an employee ahead of time. In addition, the employee (documented as the dispenser) did not dispense the raw material and was simply the verifier of the operation.
As is common with other FDA inspection observations, the source of out-of-specification (OOS) test results were not determined and manufactured batches were released to market.


Merck wins FDA approval for Ebola vaccine
Last week, the US Food and Drug Administration (FDA) approved drugmaker Merck & Co's Ebola vaccine Ervebo. This is the first FDA-authorized vaccine against the deadly virus.
Though cases of the Ebola virus disease (EVD) are extremely rare in the US, the FDA nod is a big win for Merck, which is known as MSD outside the United States and Canada. Last month, Merck had received approval from the European Commission to market Ervebo.
Anna Abram, FDA Deputy Commissioner for Policy, Legislation, and International Affairs termed Ervebo's approval as "an important step" in FDA's efforts to fight Ebola in close coordination with the US Department of Health and Human Services and the World Health Organization (WHO).
The vaccine, which is administered as a single-dose injection, will help prevent EVD caused by Zaire ebolavirus in patients aged 18 years and older, the regulator said in a statement.
The duration of protection conferred by Ervebo is unknown, and the vaccine also does not protect against other species of Ebola virus or Marburg virus.
During 2014 to 2016, Ervebo was used by the WHO and Democratic Republic of the Congo as an investigational vaccine to help reduce EVD outbreaks in few West African countries.
The Ebola virus, which causes hemorrhagic fever and spreads from person to person through direct contact with body fluids, has killed more than 2,100 people in Congo since the middle of the year, making it the second-largest Ebola outbreak in history.


Trump administration unveils draft policy to import drugs from other nations
Last week, Trump administration released two highly anticipated policy documents that would facilitate the importation of cheaper drugs from abroad. However, the policies represent early first steps towards that goal.
The drafts create two pathways for importation. One would let states, drug wholesalers, or pharmacies apply to import certain drugs from Canada, pending a sign-off from the Department of Health and Human Services (HHS). The second would let drugmakers import their own products sold in other countries. Both must still undergo a formal regulatory review, a process that can take months or even longer. But the administration insists it is moving as fast as the law permits.
HHS Secretary Alex Azar, who had earlier expressed concerns over the policy, now insists drug importation can be done safely. "We will not take steps that would put patients, or our drug supply, at risk," he said.
The policy move is being seen as a last-ditch bid by the Trump administration, which has had to abandoned most of its other big ideas to lower drug prices. Some ideas of the administration have also been struck down in court.
The idea is highly controversial and drugmakers, wholesalers, and pharmacist groups have spoken against it when it was first floated in July, saying it would put American patients at risk.
Former FDA commissioner Scott Gottlieb took to Twitter to castigate the policy without making any direct reference to it. In his tweet, he wrote: "Our closed drug system doesn't allow imports of unapproved foreign drugs for key historical reasons. We should not open up a side channel for foreign drugs."


After FTC, CMA nod for acquiring Spark, Roche strikes deal with Sarepta
Last week, Swiss drugmaker Roche said it plans to complete its US$ 4.3 billion takeover of US-based gene therapy specialist Spark Therapeutics after the Federal Trade Commission (FTC) in the US and Britain's Competition and Markets Authority (CMA) approved the deal without demanding any sale of assets.
Roche is buying Spark to expand in gene therapy and boost its hemophilia A portfolio. Following completion of the merger, Spark will become a wholly owned subsidiary of Roche.
Roche's existing drug Hemlibra will surpass US$ 1 billion sales in 2019. The regulatory authorities had feared Roche might sabotage Spark's hemophilia program to benefit Hemlibra, but later ruled that the deal would not hurt competition in hemophilia A treatment.
Hemophilia A, where patients lack a protein needed for blood clotting, has traditionally been one of the most expensive treatment areas, with traditional treatments running into millions of dollars annually.
Roche is upbeat on gene therapy. Immediately after the decision on Spark, Roche announced it is paying US$ 1.15 billion upfront for the ex-US rights to Sarepta Therapeutics' investigational gene therapy to treat Duchenne muscular dystrophy (DMD) — SRP-9001.
Roche will pay US$ 750 million in cash and US$ 400 million in equity upfront for the ex-US rights to SRP-9001
"This deal should increase confidence in Sarepta's entire DMD gene therapy program, remove any financing overhang, and allow Sarepta to retain control and flexibility," Cantor Fitzgerald analyst Alethia Young said in a note.
DMD is a rare degenerative neuromuscular disorder, which affects about one in 3,500 to 5,000 male births worldwide, causes severe progressive muscle loss and premature death.


FDA warns of breathing risks with commonly used nerve pain medicines
The FDA has warned that popular nervous system medications — known generically as gabapentin and pregabalin — can cause dangerous breathing problems when combined with opioids and certain other drugs.
The agency said it received nearly 50 reports of breathing problems linked to gabapentin and pregabalin between 2012 and 2017, including 12 deaths. Drugmakers are required to report such problems to the FDA, though it is voluntary for doctors and patients to do so.
The FDA said it will add new warnings to the packagings for Neurontin, Lyrica and generic versions of these medications, which are used to treat seizures, nerve pain, restless leg syndrome and other conditions.
The new labels will warn doctors against prescribing the drugs with other medications that can slow breathing, including opioid painkillers. The breathing risks also apply to elderly patients and those with existing lung problems.
Poison control centers have been receiving an increased number of calls involving the nerve drugs, which are often abused in combination with opioids, cocaine and marijuana.
While doctors, hospitals and other healthcare providers have scaled back their use of opioids amid the opioid epidemic in the US, the number of physicians prescribing gabapentin and pregabalin has increased, and so has the misuse of these medications.
Though the nerve drugs are not FDA-approved for conventional muscle and joint pain, doctors frequently prescribe them for those uses and other uses such as for the treatment of migraines and psychiatric conditions.


Police raid doctors, pharmacists in Germany over cash for prescription fraud
Germany saw the largest raid of its kind last week when hundreds of police officers searched the offices of doctors and pharmacists, suspected to be fraudsters who were taking cash from a pharma company named ZytoService in return for prescribing its cancer drugs.
Forty-seven properties were searched in the states of Hamburg, Schleswig-Holstein and Lower Saxony and 420 police officers and six state prosecutors took part in the raid.
Investigators say 14 people — nine doctors, three pharmacists and two pharmaceutical company managers — had allegedly set up an illegal business model that involved kickback payments of more than US$ 557,000 (€500,000), as well as bribes in the form of loans that did not require repayment and the use of luxury cars. No arrest warrants have been issued so far.
According to research undertaken by Die Zeit newspaper and the public broadcaster ARD, ZytoService bribed doctors to issue prescriptions for their infusions, causing significant losses for health insurers. ZytoService is a market leader for cancer drugs.
As a result of this fraud, TK, one of Germany's largest public health insurers, is reported to have lost US$ 9.5 million (€8.6 million) since 2017 through the prescriptions. Cancer treatment can cost up to US$ 110,957 (€100,000) in Germany, and doctors choose which specialist pharmacy they issue prescriptions for.
The PharmaCompass Newsletter – Sign Up, Stay Ahead
Feedback, help us to improve. Click here
Image Credit : #Phisper Infographic by SCORR MARKETING & PharmaCompass is licensed under CC BY 2.0
" The article is based on the information available in public and which the author believes to be true. The author is not disseminating any information, which the author believes or knows, is confidential or in conflict with the privacy of any person. The views expressed or information supplied through this article is mere opinion and observation of the author. The author does not intend to defame, insult or, cause loss or damage to anyone, in any manner, through this article."
Read More