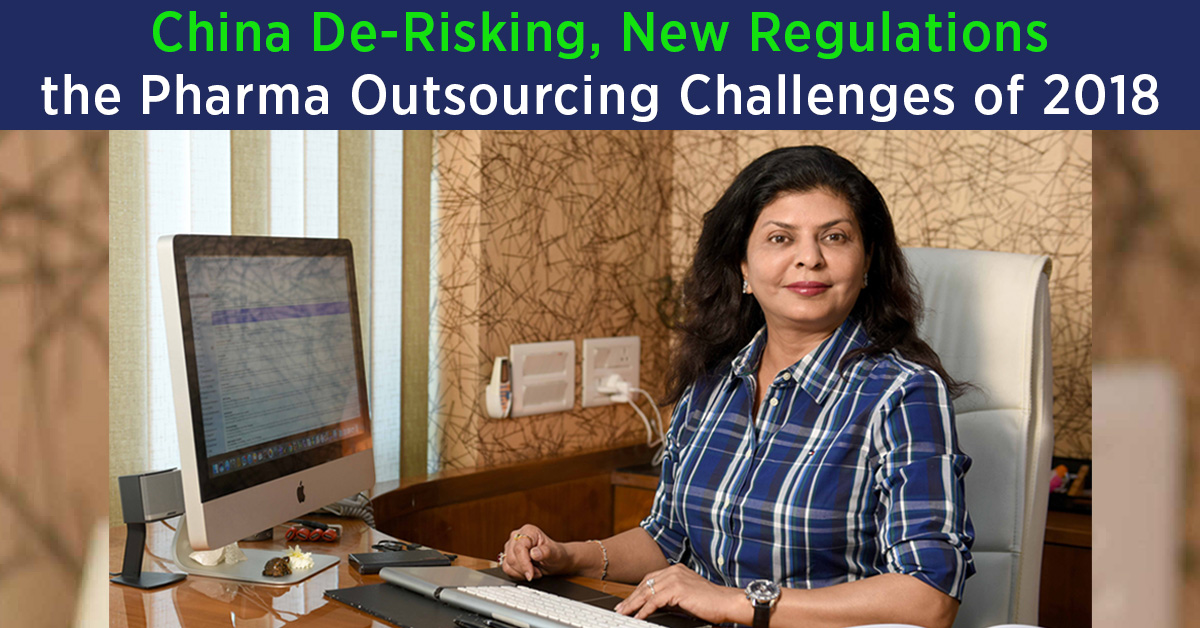 ×
Last year, we had interviewed Parul Oza, Managing Director of CRMO Pharmatech, to better understand ICH Q11, and the US Food and Drug Administration's adoption of the same.
The ICH Q11 are guidelines for the development and manufacture of drug substances (chemical entities and biotechnological/biological entities). These have been developed by the Geneva-headquartered International Council for Harmonisation of Technical Requirements for Pharmaceuticals for Human Use (ICH), and the process is recommended for adoption to the regulatory bodies of the European Union, Japan and the US.
CRMO Pharmatech is an Indian company based in Ahmedabad established with a vision to provide complete outsourcing solutions to the pharmaceutical industry.
This week, we speak to Oza about the challenges facing the API (active pharmaceutical ingredient) industry in 2018, how companies are reducing dependence on China, the new regulations changing the dynamics of the API industry and the key trends for 2018. Here are some excerpts from the interview:



In 2018, what according to you are the key challenges facing the API industry?
2018 is expected to be a transformative year for the API industry. Over the last two decades, China has become the central, global source of APIs and intermediates to the global pharmaceutical industry. That's beginning to change.
The prices of APIs and intermediates are moving up. Supply sustainability can no longer be taken for granted as the Chinese government clamps down on factories which fail to comply with environmental norms.
While the industry has been focused primarily on low-cost sourcing solutions, the absence of assured supply is something companies need to start preparing for as interrupted supply will lead to a loss of market share that companies may find difficult to regain.
Although India submits more than 50 percent of the drug master files (DMFs) for APIs to the US Food and Drug Administration (USFDA), almost all bulk APIs and key starting materials (building blocks) are being sourced from China.
In addition, concerns over GMP compliance continue to emerge out of India and China. While the number of non-compliances for API manufacturing were relatively low in 2017, we expect the USFDA to overcome its staffing challenges this year and increase its inspections in Asia.
Increased scrutiny of manufacturing operations coupled with USFDA/EU's agreement over mutual recognition of inspections will further separate the compliant factories from the non-compliant ones.
This year will also see the impact of two landmark regulations — new regulations on elemental impurities, and continued enforcement of ICH Q11.
The elemental impurity regulation focusses on the contamination of metals in products and this is often a direct result of the state of the equipment used by a factory. The ability to comply requires factories to invest capital where necessary.
The ICH Q11 guideline, on the other hand, mandates suppliers to have a far wider control of their manufacturing processes, and in some cases that of their starting material suppliers, than what was required in the previous years.
Together, these two regulations are going to put more pressure on suppliers to comply with the growing expectations of the regulators.



That's a lot of change. Let's now look at how the industry will adapt to these regulations. Let us start with China — finding manufacturing alternatives is not easy. What are the primary things companies must consider while looking for alternatives to Chinese suppliers?
Creating a manufacturing supply chain for APIs and key intermediates that does not depend on China, requires companies to carefully consider the following points:
• Cost competitiveness of the alternate supply source.
• Experience (of the new supplier) with chemistry to conduct the necessary synthesis.
• Availability of the existing production capacity at the factory, and at the desired scale.
• Capability of the supplier to maintain intellectual property protection and assure confidentiality.
• The prospective supplier's history of GMP inspection compliance (ICH Q7 compliance).
• Availability of capable regulatory affairs specialists who can support submissions of regulatory documentation.
• Infrastructure at the manufacturing site to assure environmental, health and safety compliance.
• Capacity adequacy and business continuity plans: The business should have the capital available to fund the project requirements. In addition, with an active M&A market in Europe and USA, a transfer of ownership in the middle of a project can result in a change of priorities on the ground.
• As new regulatory filings will be evaluated against ICH Q11, it is important that the starting materials are carefully chosen since upstream manufacturing can come under regulatory review.
• Skilled project managers to assure execution.
Finding partner companies is never easy and a trade off between the various points mentioned above is inevitable. However, companies have to be aware of the potential trade off which they are going to make. It is always better to find companies with a demonstrated commitment to API and intermediate manufacturing than to go in for a startup facility that still has much learning to do.
It also helps to engage the services of a project outsourcing specialist with deep domain knowledge of the industry, its players and the cultural issues involved. This way, projects are supported by a wider network of professionals and more information and expertise is made available on a continuous basis in this rapidly changing environment.
In some cases, specialists also provide an ability to aggregate demand which makes projects more interesting for suppliers.



Has the shift out of China started?
Yes, for advanced intermediates we are beginning to see companies looking for alternatives in India, Europe and the USA.
In this rapidly evolving environment, investments into new manufacturing sites and technologies are certainly providing the industry cost-effective, global alternatives.
New technologies, like continuous flow reactors are changing the way manufacturing is being approached. Continuous flow reactors not only improve the control on the manufacturing processes but also reduce the size and scale of the manufacturing facility required. This in turn significantly brings down the capital costs involved, improves safety at the site and reduces the burden on the environment.



Regulatory compliance is also a major area of concern today. What, according to you, are the major takeaways for the industry?
In view of a changing regulatory compliance landscape where ICH Q11 is increasing the emphasis on selection of key starting materials, new API supplier selection needs to meet the current requirements of global regulators.
Regulatory inspections are now beginning to focus a lot more on the ability to handle deviations and out-of-specification (OOS) issues. Therefore, it has become critical to ensure that the right organization is supporting the project which can handle deviations in a way that will address investigator's concerns during upcoming regulatory inspections.



How does CRMO help?
With over 30 years of industry experience, CRMO has developed an expertise in project outsourcing. We are now sharing our Project Outsourcing Guide to assist other companies in their project outsourcing journey.
Selecting the right strategic partner and having the right oversight to ensure that project costs and timelines are maintained without compromising on any quality or regulatory standards is imperative for all organizations looking for CMOs (contract manufacturing organizations).
At CRMO we also assist vendor QA functions with the required level of expertise to ensure consistent compliance and timely responsiveness to regulatory queries.
We also provide the necessary risk assessment services to ensure GMP and non-GMP starting materials are well selected. This way, we can keep projects on track through accurate forecasting and monitoring, and ensure timely delivery of products.
It is also imperative to facilitate clear and open communication channels which are key to a successful transfer or development of any product.
We prize our focus on confidentiality so that technology transfers occur seamlessly. And over time, we remain a trusted outsourcing partner for the industry.
For those interested in connecting directly with Parul, she can be contacted at parul@crmopharma.com
The PharmaCompass Newsletter – Sign Up, Stay Ahead
Feedback, help us to improve. Click here
Image Credit : Parul Oza by PharmaCompass is licensed under CC BY 2.0
" The article is based on the information available in public and which the author believes to be true. The author is not disseminating any information, which the author believes or knows, is confidential or in conflict with the privacy of any person. The views expressed or information supplied through this article is mere opinion and observation of the author. The author does not intend to defame, insult or, cause loss or damage to anyone, in any manner, through this article."