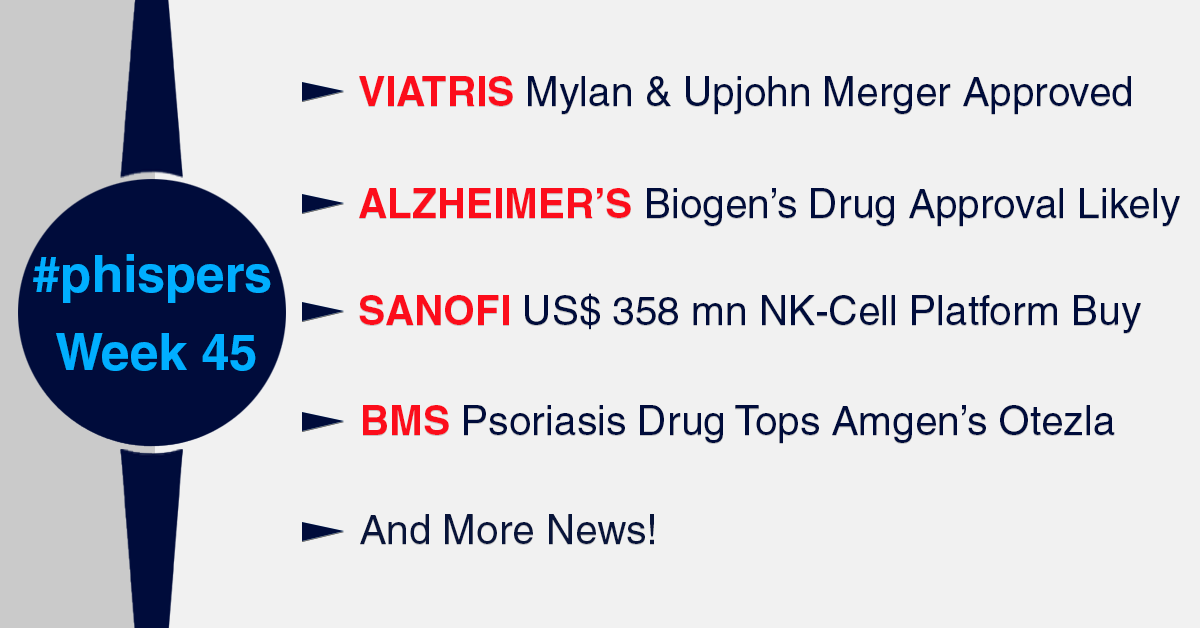 US approves merger of Pfizer's Upjohn with Mylan; Biogen may deliver first Alzheimer's drug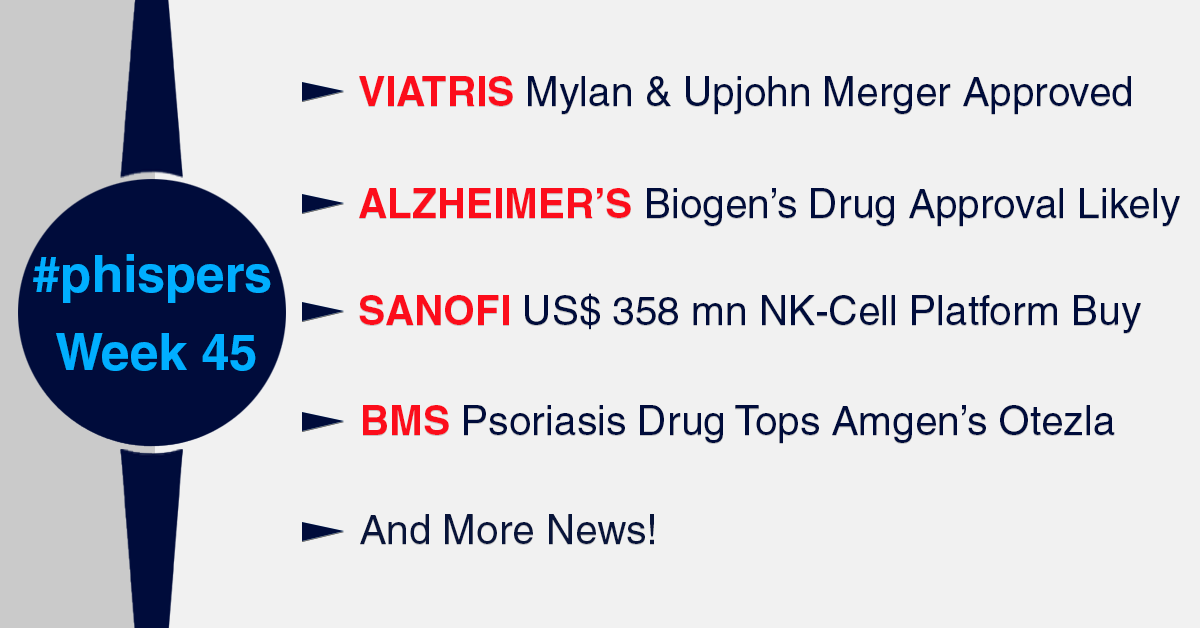 ×
This week, as the world awaits the outcome of the US Presidential elections, Phispers brings you pharma industry news, which after a long time does not pertain to Covid.
In the US, the FTC gave the nod to Mylan's acquisition of Pfizer's UpJohn after both the companies agreed to sell some assets.
After years of failures, there is likelihood of a drug winning the FDA nod to treat Alzheimer's disease, as Biogen's aducanumab comes up for review this week.
AstraZeneca has sold the rights for two of its hypertension drugs to a German drugmaker, while Sanofi has struck a deal to buy Kiadis Pharma.
In regulatory news, the FDA posted a warning letter issued to Indian drugmaker Shilpa Medicare for not complying with CGMP regulations.
And Bristol-Myers Squibb said its experimental drug – deucravacitinib – has demonstrated higher efficacy over Amgen's Otezla in a Phase 3 trial.
Amgen had acquired Otezla from Celgene last year for US$ 13.4 billion in cash.
US approves merger of Pfizer's Upjohn with Mylan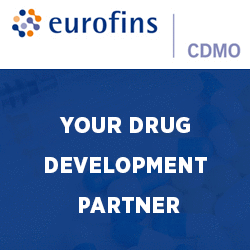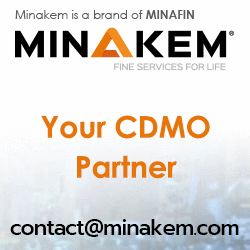 In July last year, generic drugmaker Mylan NV had announced its acquisition of Pfizer's Upjohn unit in a deal that would allow the drug behemoth to focus on making new medicines with higher sales-growth potential. However, the US Federal Trade Commission (FTC) had strong objections to the deal, alleging it would harm current and future competition in 10 generic drug markets. The FTC was particularly concerned about the merger's impact on other suppliers of various hypertension medications.
In order to win the FTC's nod for the deal, the two companies agreed to sell assets related to several Upjohn products, including spironolactone HCTZ tablets (used to treat high blood pressure and edema) as well as Mylan's eplerenone tablets (a high blood pressure drug). And this week, the FTC approved Mylan's proposed purchase of Pfizer's Upjohn. The new entity will be called Viatris. The European Union has already approved the transaction.
Biogen's drug could be first new Alzheimer's treatment in decades
Treatment for Alzheimer's disease has been the holy grail for the pharma industry for several years, with numerous failures and no success. This may soon be history as there is news that Biogen's aducanumab might become the first new treatment for the mind-wasting disease.
Last year, Biogen had abruptly ended clinical trials of aducanumab after early results showed it was not effective. However, last October, the company shocked many Alzheimer's experts when it said a new analysis showed aducanumab could help patients with early-stage disease. In July, Biogen filed for approval from the US Food and Drug Administration (FDA). This week, as the drug comes up for approval, there is news that the agency is under tremendous pressure to approve a treatment option for Alzheimer's patients.
In fact, the FDA has recused a member of an 11-person advisory committee set to review aducanumab on November 5, citing conflict of interest. Mayo Clinic neurologist David Knopman confirmed that he had been recused. In a paper, Knopman had flatly opposed an okay to the drug.
Astra sells rights of two BP drugs for US$ 400 million; Sanofi acquires Kiadis
British drugmaker AstraZeneca has said it will sell commercial rights for two of its drugs to German drugmaker Cheplapharm Arzneimittel GmbH for US$ 400 million in order to focus on newer medicines in new therapy areas. It will sell the rights to its heart failure and blood pressure medicines, Atacand and Atacand Plus.
The transaction, expected to close in the fourth quarter, will not impact its 2020 financial forecast, AstraZeneca said.
Meanwhile, Sanofi has struck a deal to buy Kiadis Pharma for US$ 358 million (€308 million). Amsterdam-headquartered Kiadis is focused on developing and commercializing therapeutic products in cell-based immunotherapy. Its proprietary next generation NK-cell technology platform and its drug pipeline complements Sanofi's existing therapeutic expertise. The takeover will give Sanofi full control of an off-the-shelf, natural killer cell platform it is already using in its efforts to enhance its multiple myeloma drug, Sarclisa.
FDA issues warning letter to Indian drugmaker for CGMP violations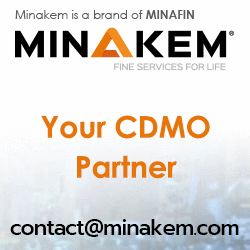 The US Food and Drug Administration (FDA) has issued a warning letter to Shilpa Medicare for violating current good manufacturing practice (CGMP) norms at its manufacturing plant in Telangana, India. The FDA said its inspectors found significant deviations from standard manufacturing practices at Shilpa's Unit-IV at Polepally village in Mahabubnagar district during their inspection in February this year.
Consumer complaints are a serious issue for drugmakers, particularly those companies that make sterile injectables. When a complaint comes in, companies are supposed to notify the FDA right away. Despite admitting that the equipment at its Telangana plant was faulty and could have produced improperly sealed injectable drugs, Shilpa Medicare released batches onto the market and didn't properly warn the FDA, investigators wrote in a warning letter posted online this week.
"Because your methods, facilities, or controls for manufacturing, processing, packing, or holding do not conform to CGMP, your drug products are adulterated," the FDA warning letter said.
BMS' deucravacitinib beats Amgen's Otezla in psoriasis study
In August 2019, Amgen had entered into an agreement with Celgene to acquire worldwide rights to Otezla (apremilast), the only oral, non-biologic treatment for psoriasis and psoriatic arthritis, and certain related assets and liabilities, for US$ 13.4 billion in cash.
Bristol-Myers Squibb and Celgene divested Otezla, the most popular oral treatment in the United States for moderate-to-severe psoriasis, in order to settle Federal Trade Commission (FTC) charges that BMS' proposed $74 billion acquisition of Celgene would violate federal antitrust laws and preserve BMS' incentive to continue developing its own oral product for treating moderate-to-severe psoriasis.
At the time, the FTC had said BMS had a pipeline product under development that was the most advanced oral treatment for moderate-to-severe psoriasis.
This week, it seems that Otezla may not prove to be as effective in treating psoriasis as there is news that Bristol-Myers Squibb announced its experimental drug deucravacitinib has demonstrated higher efficacy over Amgen's Otezla (apremilast) in a Phase 3 trial of patients with moderate-to-severe plaque psoriasis.
The randomized 666 patients with moderate-to-severe plaque psoriasis received deucravacitinib once daily, Otezla or a placebo.
The PharmaCompass Newsletter – Sign Up, Stay Ahead
Feedback, help us to improve. Click here
Image Credit : #Phisper Infographic by SCORR MARKETING & PharmaCompass is licensed under CC BY 2.0
" The article is based on the information available in public and which the author believes to be true. The author is not disseminating any information, which the author believes or knows, is confidential or in conflict with the privacy of any person. The views expressed or information supplied through this article is mere opinion and observation of the author. The author does not intend to defame, insult or, cause loss or damage to anyone, in any manner, through this article."
Read More