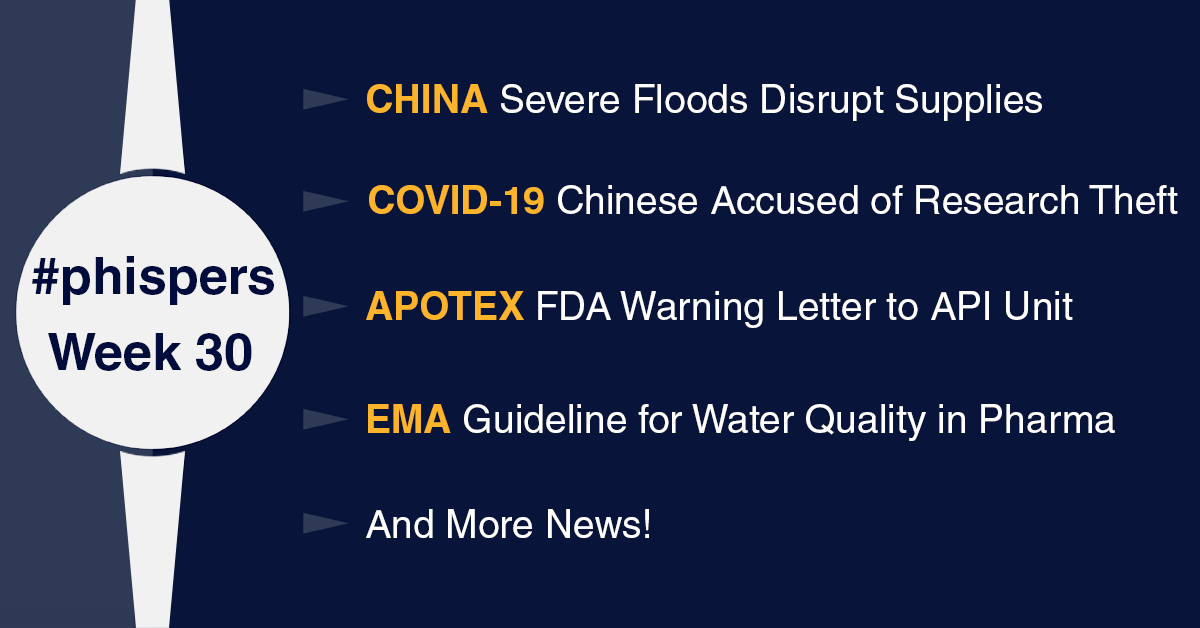 Supply chains in China disrupted by severe floods; US accuses two Chinese nationals of stealing Covid-19 research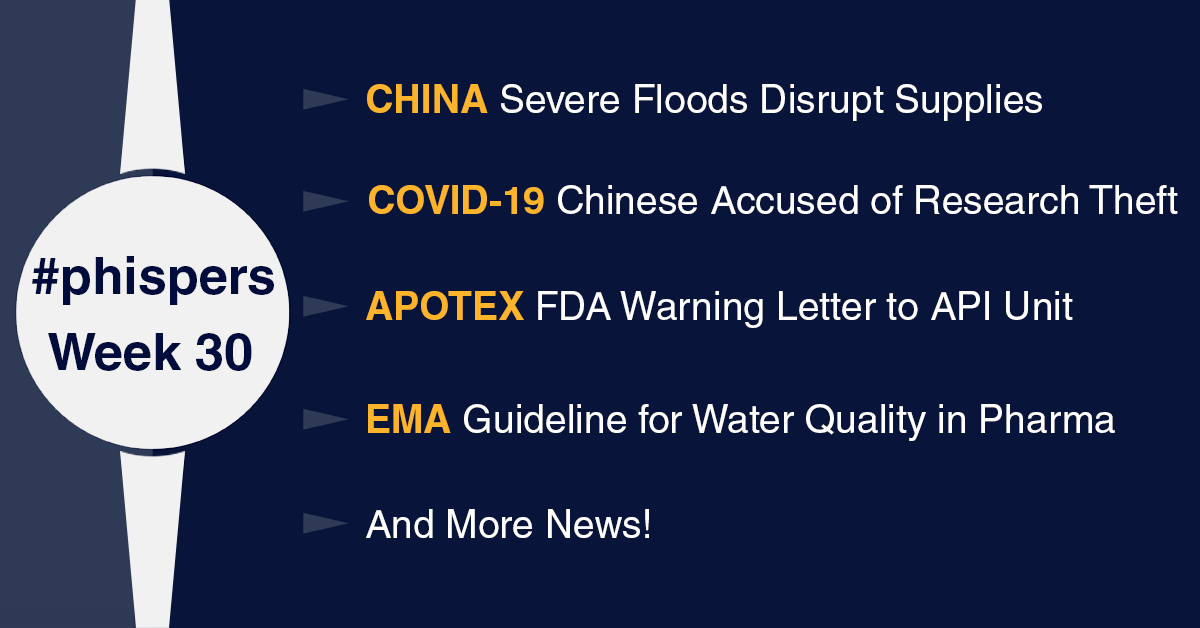 ×
This week, Phispers has lots of news on vaccine development for the novel coronavirus.
The Oxford vaccine showed positive immune responses and no serious side effects. Three investigational Covid vaccines entered phase 3 trials.
In non-Covid vaccine news, GSK entered into a US$ 294 million deal with CureVac to collaborate on the use of mRNA to prevent and treat infectious diseases.
China, which is experiencing floods due to torrential rains, found its supply chains disrupted, impacting export of PPEs to the US.
Sanofi is on the lookout for acquisition targets with a US$ 50 billion buyout budget at hand and is going ahead with plans to spin off its API unit.
FDA funded a global study of pharmaceutical quality management practices.
The agency also issued a warning letter to Canadian drugmaker Apotex's API facility in Mexico.
And EMA issued guidelines on quality of water for pharmaceutical use.
Flooding disrupts supply chains in China; to impact export of PPEs to US
China's economy swung back into the black in the second quarter of this year, after overcoming the wrath of the pandemic. But now, the country is facing the worst floods in more than 30 years due to torrential rains.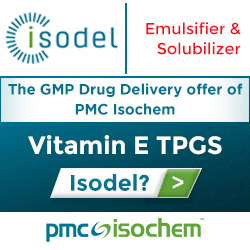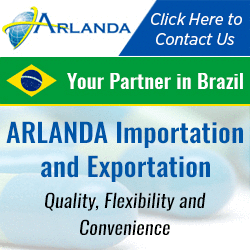 According to the Chinese government, floods have left 141 people dead or missing, destroyed at least 28,000 homes, affected at least 38 million people, and caused around US$ 8.6 billion in economic losses. As many as 33 rivers have reached record highs, while alerts have been issued for 433 rivers. With China on the highest flood alert, there are fears that the Three Gorges Dam (a hydroelectric gravity dam in the Hubei province that spans the Yangtze river) might overflow. If that were to happen, Wuhan (which was once the epicenter of the Covid-19 pandemic) would face a second calamity this year.
China's economy grew by 3.2 percent in the April to June period, as opposed to a deceleration of 6.8 percent in the previous quarter. But with continuous rains, economists have warned of an "imminent risk" from widespread floods that could impede the recovery.
The monsoon brings floods to China almost every year. But this year, not only is the flooding a lot worse, it is disrupting the global supply chains for various items, including personal protective equipment (PPE). It is impacting US supply chains for PPE, crucial to fighting the pandemic.
Xiantao, west of Wuhan, is China's biggest manufacturer of non-woven fabrics used in PPE production and a third of China's total exports of non-woven fabric products are from the city.
"It's just creating another major roadblock here in terms of PPE getting into the United States — it is the worst of times for it to happen but that's what we're dealing with right now," said Michael Einhorn, president of Dealmed, a US medical supply distributor that sources disposable lab coats and other products from Wuhan and nearby regions.
US accuses two Chinese nationals of stealing Covid-19 vaccine research
Amid rising tensions between US and China, the US Department of Justice (DOJ) has accused two Chinese nationals of seeking to steal Covid-19 vaccine research and hacking hundreds of companies in the US and abroad, including defense contractors.
According to the DOJ, Li Xiaoyu (aged 34) and Dong Jiazhi (aged 33) also targeted human rights activists in the US, China and Hong Kong.
According to assistant attorney general John Demers, Li and Dong acted in some instances "for their own personal gain" and in other instances for the benefit of China's Ministry of State Security.
US government officials said the suspects had earlier stolen information about other Chinese intelligence targets, and this year they shifted focus to trying to acquire coronavirus vaccine research.
"China has now taken its place, alongside Russia, Iran, and North Korea, in that shameful club of nations that provide a safe haven for cyber criminals," Demers said.
The DOJ said Li and Dong, who were classmates at an electrical engineering college in Chengdu, have been engaged in a computer hacking campaign for the past 10 years.
However, China's UK ambassador, Liu Xiaoming, rejected these claims and termed them as "groundless". He tweeted: "Such accusations constitute disrespect for Chinese scientists & their achievements; they could also undermine international cooperation on R&D. The world must strongly oppose and reject such groundless claims."
FDA issues warning letter to Apotex's API unit in Mexico
The manufacturing operations of Canadian generic drug maker, Apotex, continue to run into problems with the US Food and Drug Administration (FDA) as its API manufacturing facility in Mexico — Signa SA de CV — received a warning letter following an inspection from December 16 to 20, 2019.
The key concern highlighted by the FDA was that the facility undertook inadequate investigations into out-of-specification (OOS) test results. The FDA found that Signa failed to appropriately justify potential root causes, expand investigations to all potentially affected batches, and implement adequate corrective actions and preventive actions (CAPA).
The inspection uncovered that the Mexican facility had experienced several failures during the validation and production of an API and at least one of the finished API batches, from the validation studies, was released to the US market.
In another case, an OOS assay result during the release testing of a batch was obtained which had been retested. Apotex went on to invalidate the original OOS result and release the batch while indicating that a likely root cause was instability of the analytical balance due to the presence of too many analysts in the weighing room. However, the FDA found that there was no evidence that the presence of multiple analysts in the room affected the sensitivity of the analytical balance and therefore contributed to the OOS results.
As is the case with other warning letters issued to Apotex facilities across the world over the last five years, this warning letter too highlights cGMP deviations. The warning letter states, "these repeated failures at multiple sites demonstrate that management oversight and control over the manufacture of drugs is inadequate."
EMA issues guidelines on quality of water for pharma use
This week, the European Medicines Agency (EMA) issued a new guideline on the quality of water for pharmaceutical use that will replace its nearly two-decades-old guidance and position statement on water quality, when it takes effect in February 2021.
The adoption of the guideline follows a public consultation that kicked off in November 2018, with EMA making mostly minor changes to the guideline aside from revisions to the table listing minimum acceptable quality of water for manufacturing active substances.
"Different grades of water quality are required depending on the different pharmaceutical uses. Control of the quality of water, in particular the microbiological quality, is a major concern and the pharmaceutical industry devotes considerable resource to the development and maintenance of water purification systems," EMA said.
Within the guideline, EMA explains that the European Pharmacopoeia has set quality standards for three grades of water: water for injections (WFI), purified water and water for preparation of extracts. EMA also noted that potable water, while not covered by a pharmaceutical monograph, "is the prescribed source feed water for the production of pharmacopeial grade waters."
The guideline itself provides recommendations for the minimum acceptable quality of water to be utilized for different uses and applications, including the manufacture of sterile and non-sterile medicinal products, active substances and water used for cleaning and rinsing equipment and container/closures for medicinal products.
Sanofi goes scouting with US$ 50 billion buyout budget; API unit spinoff to continue
French drugmaker Sanofi is undeterred by the global pandemic and is not just studying potential acquisitions of US biotechnology companies, but also going ahead with its plans to spin off API production operations in Europe.
In terms of acquisitions, reports point out that it is looking at Principia Biopharma Inc, a clinical stage biopharmaceutical company. Sanofi is said to be working with advisers to study potential deals, sources told Bloomberg.
Sanofi's CEO Paul Hudson, who joined last year, is seeking to rejuvenate Sanofi by focusing on fast-growing areas where new medicines command high prices.
Sanofi is already in a partnership with Principia Biopharma to develop a treatment for central nervous system diseases. Principia Biopharma is developing a therapy called rilzabrutinib for the treatment of immune-system conditions. The drug is part of a class of medications known as BTK inhibitors, which are more commonly used to fight certain cancers.
It had been reported that Sanofi could have a US$ 50 billion war chest for these deals since its uncoupling from Regeneron.
In February, Sanofi had unveiled its intention to spin off its API production operations in Europe. Despite the pandemic, Sanofi is slated to begin preparations for its API spinoff by 2022. The spinoff is part of CEO Paul Hudson's plan to simplify the global drug giant.
In the fall, Sanofi will start preparing for a stock market listing of the new company by 2022. It is discussing the business with potential investors, including France's state investment bank.
The new company, expected to become the world's second largest producer of APIs by sales, will have 3,100 employees and projected revenues of US$ 1.15 billion (€1 billion) by 2022. It'll comprise of six Sanofi sites in France, Italy, Germany, Hungary and the UK. Sanofi plans to own about 30 percent of the new company.
Sanofi has said the new group will still be headquartered in France, and that Sanofi will retain a stake in the business and be its biggest customer.
FDA funds global study of pharmaceutical quality management practices
The US Food and Drug Administration (FDA) is funding a comprehensive study of pharmaceutical quality management practices throughout the world. The study intends to establish a global baseline for manufacturing quality management practices, and is being undertaken by Dun & Bradstreet and the University of St. Gallen (a research university situated in Switzerland).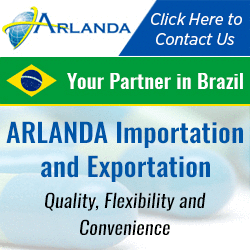 According to Dun & Bradstreet, the study will encourage advancement in the global standard for quality management maturity and improve production efficiency.
"Through active participation across the global pharmaceutical manufacturing community, we can collaborate to produce a knowledge base that characterizes the state of quality management practices," the Dun & Bradstreet website said. Moreover, companies will learn how their quality management practices compare to global baselines.
"Your customized report will clearly identify opportunities for your continual improvement," it adds. The study will close on October 30, 2020.
Vaccine update: Oxford shot evokes immune responses; GSK
enters
deal with CureVac
With over 150 investigational vaccines being tested across the world, there were lots of updates on vaccine development for the novel coronavirus. The biggest news came from the Oxford vaccine, which is being developed by AstraZeneca and Britain's University of Oxford.
According to trial results published in medical journal — The Lancet — the investigational vaccine prompted no serious side effects and elicited antibody and T-cell immune responses. The strongest response was seen in people who received two doses. The vaccine is being developed at an unprecedented speed.
Trials were carried out on 1,077 people. The study showed 90 percent of people developed neutralizing antibodies after one dose. Only 10 people were given two doses and all of them produced neutralizing antibodies.
Prof Andrew Pollard from the Oxford research group told the BBC: "We're really pleased with the results published today as we're seeing both neutralizing antibodies and T-cells." The UK has already ordered 100 million doses of the vaccine.
However, the vaccine did show some side-effects — 70 percent of people in the trial developed either fever or headache. The researchers said this could be managed with paracetamol.
More than 10,000 people will take part in phase 3 trials of the vaccine in the UK. The trial has also been expanded to other countries. There will be a large trial involving 30,000 people in the US, 2,000 in South Africa and 5,000 in Brazil.
The Oxford vaccine will be in India by November and will cost US$ 13.40 (Rs 1,000), Serum Institute of India, the Indian firm partnering with the UK researchers, has said. The vaccine — christened Covishield — is being manufactured in India even as it is undergoing clinical trials. The Serum Institute said it could take up to two years to inoculate all the people in India.
Three drugs in phase 3 trials: A vaccine being developed by Sinopharma, the leading vaccine producer in China, and G42 Healthcare based in Dubai became the world's first phase 3 clinical trial of a Covid-19 inactivated vaccine.
The trials formally began in the UAE last week when the first group of up to 15,000 registered volunteers received the vaccine at a medical center, Sheikh Khalifa Medical City, in Abu Dhabi.
Apart from the Oxford vaccine and the Sinopharm vaccine, a third vaccine also entered Phase 3 trials in Brazil, where volunteers received the first doses. The vaccine, developed by private Chinese pharmaceutical firm Sinovac Biotech, will be given to 9,000 health workers. The initial results are expected in three months.
GSK-CureVac deal: GlaxoSmithKline entered into a US$ 294 million (£234 million) deal with CureVac to collaborate on the use of mRNA to prevent and treat infectious diseases. The deal, which excludes CureVac's Covid-19 vaccine, allows GSK to source up to five clinical-phase mRNA-based vaccines and monoclonal antibodies.
GSK is paying US$ 132.22 million (£104 million) upfront and buying a 10 percent stake in CureVac for US$ 165.28 million (£130 million), along with a one-time reimbursable payment of US$ 33 million (£26 million) to reserve manufacturing capacity. GSK will also be shelling out US$ 352 million (£277 million) in development and regulatory milestones, plus royalties and up to US$ 418.28 million (£329 million) in success-based commercial payments.
EU negotiating advance purchase deals for Covid-19 vaccines: The European Union is negotiating advance purchase deals of potential Covid-19 vaccines with several drugmakers, such as Moderna, Sanofi and Johnson & Johnson, BioNtech and CureVac, a Reuters report said.
The talks follow a deal reached in June by four EU member states with AstraZeneca for the upfront purchase of 400 million doses of its potential Covid-19 vaccine, in principle available to all 27 EU nations. "We are in talk with several companies on possible Covid-19 vaccines," a spokesman for the Commission told Reuters, without giving details.
The PharmaCompass Newsletter – Sign Up, Stay Ahead
Feedback, help us to improve. Click here
Image Credit : #Phisper Infographic by SCORR MARKETING & PharmaCompass is licensed under CC BY 2.0
" The article is based on the information available in public and which the author believes to be true. The author is not disseminating any information, which the author believes or knows, is confidential or in conflict with the privacy of any person. The views expressed or information supplied through this article is mere opinion and observation of the author. The author does not intend to defame, insult or, cause loss or damage to anyone, in any manner, through this article."
Read More