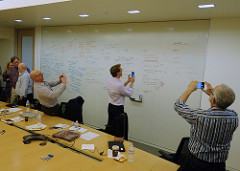 ×
Pharmaceutical Whispers (Phispers) this week covers record fines paid by Pfizer & GSK, the official adoption of ICH Q8, Q9 & Q10 guidelines by Canada, the impact of the Zika virus on the Rio Olympics, why the good days of the generic industry in the U.S. maybe coming to an end and a lot more.

Pricey fines for GSK and Pfizer
A long-running U.S. government investigation, of allegations that Pfizer-acquired Wyeth overcharged government Medicaid health programs for the heartburn drug Protonix (pantoprazole) was finally settled this week. Pfizer agreed in principle to pay $784.6 million.
However, the real winner from the settlement is most likely serial whistle blower, Dr. William LaCorte, one of the two whistle-blowers in the case. His successful whistleblowing against several pharmaceutical companies will make him receive an estimated $100 million once his share of Pfizer's fine gets deposited.
In another 'pay-for-delay' settlement, Britain's competition body fined GlaxoSmithKline (GSK), 37.6 million pounds ($54.42 million) for striking deals to delay the generic launch of its antidepressant Seroxat (Paroxetine). The generic companies involved, Merck KGaA and Actavis UK, were also fined, however, to a lesser extent. GSK is looking to appeal the decision.

Health Canada announces the official adoption of ICH Q8, Q9, Q10 guidelines
Good Manufacturing Practices (GMP) requires manufacturing companies to comply with the International Conference on Harmonization's (ICH) guideline Q7 -- "Good Manufacturing Practice Guide for Active Pharmaceutical Ingredients".
In order to further improve pharmaceutical quality standards, for many years now, guidelines have been published that outlined how Pharmaceutical Product Development (Q8), Quality Risk Management (Q9) and Pharmaceutical Quality System (Q10) should be approached.
While few countries have announced an official adoption of these guidelines, Health Canada took the lead last week and announced the adoption of the ICH guidance Q8, Q9 and Q10.
Up next should be an official FDA position on Quality Metrics.

Are the good days of the US generic industry coming to an end?
For many years now, the US generic drug industry has been a growth engine for the industry, especially in India and China. Are the good days about to end?
Dr. Janet Woodcock, Director of the FDA's Center for Drug Evaluation and Research, testified to the US Congress about the state of generic drug approvals.
With new funding under the Generic Drug User Fee Amendments (GDUFA), FDA claims accelerated approvals, plans to hire more than 1,000 new employees and eliminate the application backlog.
As more generic drugs enter the market, will profit margins erode and should generic drug makers start hedging their bets?

Boehringer's generics business misses sales target, Hikma's buying price goes down by $535 million
In July, 2015 Hikma Pharmaceuticals announced their acquisition of Boehringer's generic business, Roxane, in a deal valued at $1.18 billion. Last week, Hikma announced, that the acquisition price will be reduced by $535 million as Roxane's 2015 revenues missed expectations.
How will this announcement impact Sanofi's plans?
Sanofi is in discussions with Boehringer to swap their animal health unit, Merial for Boehringer's Consumer Health Division in a deal valued at 10 times that of Hikma's acquisition of Roxane!

Scandal hounds Sweden's Nobel Prize awarding Karolinska Institute
The vice-chancellor of the Nobel Prize for medicine awarding Karolinska Institute in Stockholm resigned, in the wake of an ever-widening scandal surrounding surgeon Paolo Macchiarini. "Macchiarini, a visiting professor at KI from 2010 until October 2015, led surgeries to implant artificial tracheae into several patients between 2011 and 2014. At the time, the operations were hailed as breakthroughs in regenerative medicine, but six of the eight recipients have since died."

Will the Zika virus let the Rio Olympics take place?
Mosquitos responsible for spreading the Zika virus have made headlines given the serious threat they pose to everyone headed for the Rio Olympics.
Scientists increasingly believe that Zika infection during pregnancy can pass from the mother to the fetus she carries. In some cases, it is believed the virus can attack the developing brain, causing the child to be born with an abnormally small head, a condition known as microcephaly.
As a result, the FDA has stopped blood collections from areas there the virus has spread, the Brazilian army is running house to house operations to kill the mosquitos and pharmaceutical companies along with the scientific community have been busy announcing their plans to treat Zika, a WHO declared global health emergency.
With athletes talking about withdrawing from the Rio Olympics, it remains to be seen how successful will health authorities be as they try and contain the biggest threat to the global healthcare system since Ebola last year.
The PharmaCompass Newsletter – Sign Up, Stay Ahead
Feedback, help us to improve. Click here
Image Credit : Reflections on the new Machine Age — technology, inequality and the economy by Steve Jurvetson is licensed under CC BY 2.0
" The article is based on the information available in public and which the author believes to be true. The author is not disseminating any information, which the author believes or knows, is confidential or in conflict with the privacy of any person. The views expressed or information supplied through this article is mere opinion and observation of the author. The author does not intend to defame, insult or, cause loss or damage to anyone, in any manner, through this article."
Read More