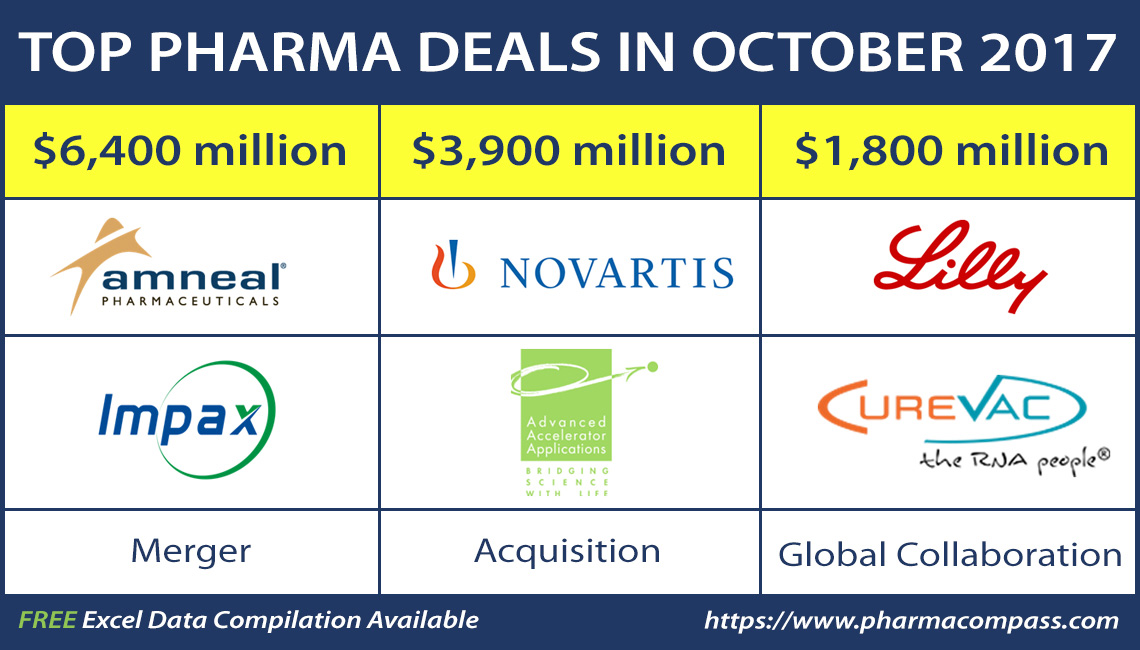 ×
In our continuous endeavor to share business intelligence that can help grow your pharmaceutical business, each month PharmaCompass brings you a roundup of deals and investments from across the globe through our column — PharmaFlow.
Though the third PharmaFlow is reaching you a tad bit late, we hope it provides you with an insight into the breakthrough technologies and business trends of the future.



Generic drug makers continue to drive deal making
While debt-laden Teva led the deals in September through its disinvestment efforts, the biggest pharma deal in October was also from the world of generics as Amneal decided to merge with Impax.
Click here to view the major deals in October 2017 (Excel version available) for FREE
With the intention to combat pricing pressure being faced by generic drug manufacturers, the all-stock Impax-Amneal deal will create the fifth-largest generics player in the US. Though Impax shareholders will own 25 percent of the new company, the merged entity will retain Amneal's name. The value of the deal was estimated at US$ 6.4 billion.
In a smaller deal, Lupin acquired Symbiomix Therapeutics for US$ 150 million to gain access to a women's healthcare drug brand Solosec, which received US Food and Drug Administration (USFDA) approval in September 2017.
Solosec contains the antibiotic secnidazole and is the first single-dose oral treatment for bacterial vaginosis, the most common vaginal infection in women aged 15 to 44 years, according to the Centers for Disease Control and Prevention.



Novartis bets big on radiopharmaceuticals
Novartis bolstered its oncology portfolio in a field it is familiar with — neuroendocrine tumors. The Swiss drugmaker entered into a memorandum of understanding with French radiopharmaceutical company Advanced Accelerator Applications (AAA).
Under the agreement, Novartis would make a cash offer for 100 percent of AAA's share capital that valued the company at US$ 3.9 billion.
Click here to view the major deals in October 2017 (Excel version available) for FREE
AAA develops, produces and commercializes molecular nuclear medicines including Lutathera — a therapy product for neuroendocrine tumors (NETs).
Based on the rare earth metal leutetium, radiopharmaceuticals (such as Lutathera) are unique medicinal formulations that contain radioisotopes used clinically for both diagnosis and therapy.
Lutathera was approved in Europe in September 2017 and is under review in the US with a Prescription Drug User Fee Act (PDUFA) date of January 26, 2018
AAA had sales of around US$ 129 million (Euro 109 million) in 2016.
Click here to view the major deals in October 2017 (Excel version available) for FREE




Will an orphan drug approved in Europe win FDA's okay?



It isn't uncommon for drugs which are approved for use outside the United States to get an approval from the FDA only years later.
Pitolisant, a treatment for narcolepsy (a rare, chronic, debilitating neurological disorder characterized by excessive daytime sleepiness) was approved in Europe last year. And biopharmaceutical company Harmony Biosciences acquired the exclusive rights to develop, register and market Pitolisant in the US from French company Bioprojet SCR.
Pitolisant is a selective histamine H3-receptor antagonist/inverse agonist that enhances the activity of histaminergic neurons (or neurons that have a wakefulness-related firing pattern). Approved in the European Union, the drug is distributed under the tradename Wakix. Currently no H3-receptor antagonist/inverse agonist has been approved by the US FDA.
Click here to view the major deals in October 2017 (Excel version available) for FREE
Harmony Biosciences, a member of the Paragon Biosciences corporate family, also announced it completed a US$ 270 million equity financing to facilitate this acquisition.



Eli Lilly teams up with CureVac for cancer vaccines
The field of oncology saw several other deals in October. The biggest deal was between Eli Lilly and Germany's CureVac. Eli Lilly entered into a US$ 1.8 billion deal with CureVac to develop and commercialize up to five potential cancer vaccine products based on CureVac's proprietary RNActive technology.
The technology uses messenger RNA (mRNA) to instruct the human immune system to target tumor neoantigens (or antigens to which the immune system has not previously been exposed) for a more robust anti-cancer immune response.
CureVac will receive an upfront payment of US$ 50 million and an equity investment of Euro 45 million (US$ 53 million). CureVac is also eligible to receive more than US$ 1.7 billion in development and commercialization milestones if all five vaccines are successfully developed, along with tiered royalties on product sales.
Click here to view the major deals in October 2017 (Excel version available) for FREE
On its part, Lilly is responsible for target identification, clinical development and commercialization while CureVac will undertake the mRNA design, formulation and manufacturing of clinical supply. CureVac also retains the option to co-promote the vaccine products in Germany.
In another deal focused on cancer therapy, Amgen announced a strategic collaboration with CytomX Therapeutics in the area of immuno-oncology.
The companies will jointly collaborate on CytomX's Probody antibody platform which drives precision biology by making antibodies bind selectively to tumors, and not to healthy tissues, in order to minimize toxicity and create safer, more effective cancer therapies.
While CytomX has announced various partnerships with major pharmaceutical companies in the recent past, the agreement with Amgen will focus on T-cell engaging bispecific against the Epidermal Growth Factor Receptor (EGFR), a highly validated oncology target expressed on multiple human cancer types.
Click here to view the major deals in October 2017 (Excel version available) for FREE
Amgen will make an upfront payment of US$ 40 million and purchase US$ 20 million worth of CytomX's common stock. CytomX will be eligible to receive up to US$ 455 million in development, regulatory and commercial milestones for the EGFR program.
Deals were also struck between Incyte and Macrogenics where Incyte gained exclusive, worldwide development and commercialization rights to an investigational monoclonal antibody that inhibits programmed cell death protein 1 (PD-1).
Anti-PD-1 therapy is becoming a mainstay of cancer treatment across multiple tumor types.
The month also saw Merck invest in KalVista's drug for diabetic macular edema while Takeda tied up with privately-held HemoShear Therapeutics for a drug discovery collaboration for liver diseases, including nonalcoholic steatohepatitis (NASH).
Click here to view the major deals in October 2017 (Excel version available) for FREE
Roche entered into a strategic collaboration with US-based Warp Drive Bio to deploy its proprietary 'Genome Mining Platform' to discover new antibiotics. Warp Drive's platform enables access to natural product drugs that have not been analyzed previously, owing to historical technology limitations.
Warp Drive will receive up to US$ 387 million in upfront fees and milestone payments.



Our view
A rapidly deteriorating business environment for generic drug makers had Teva's divestments lead the list of deals announced in September. And once again in October, we find the merger of two generic drug makers emerge as the largest deal of the month.
With recent news that Novartis' generic division Sandoz's oral solids business may be put on the block, we expect this trend to continue. And, we will see a significant shift in who will continue to manufacture generic medicines and how they will be distributed and sold.
Click here to view the major deals in October 2017 (Excel version available) for FREE
The PharmaCompass Newsletter – Sign Up, Stay Ahead
Feedback, help us to improve. Click here
Image Credit : TOP PHARMA DEALS IN OCTOBER 2017 by PharmaCompass is licensed under CC BY 2.0
" The article is based on the information available in public and which the author believes to be true. The author is not disseminating any information, which the author believes or knows, is confidential or in conflict with the privacy of any person. The views expressed or information supplied through this article is mere opinion and observation of the author. The author does not intend to defame, insult or, cause loss or damage to anyone, in any manner, through this article."
Read More