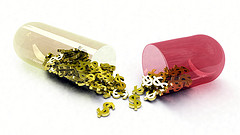 ×
Wouldn't it just be wonderful if there were opportunities to become the first generic on the market and not have to deal with patent litigation?
Using the PharmaCompass database, we ran a check for products which are currently on market, without generic competition, however have no patents listed in the FDA orange book.
FDA is required by law to publish approved drug products and this publication is commonly called the Orange Book.
While this may sound surprising, since almost all brand-name innovator drugs have patents listed in the Orange Book, we did find some multi-million dollar products without any patent listings.
The benefit of no patent listings
No patent listings on the FDA orange book prevent the opportunity for the brand manufacturer to use a legal provision that delays the launch of a generic version of the product by up to 30 months.
Lowered litigation costs, increased probability of an early entry to market combined with a higher share of a multi-million dollar market are all the elements of a dream product launch.
The opportunities certainly seem too good to be true and our analysis came up with an interesting list of products which we have shared below.
Lundbeck's Sabril, a perfect example
With almost $115 million in sales which grew at 35% in 2014, Lundbeck's Sabril (Vigabatrin) had its non-patent, market exclusivity granted, by the FDA, to a new chemical entity expire last year.
The product is still protected by some other marketing exclusities granted for new patient populations (expiry 2016) and pediatric patients (expiry 2017), Sabril presents a perfect example where generics can anticipate windfall profits. However, some generic companies are already started targeting the Sabril (Vigabatrin) opportunity based on our review of the export price data on PharmaCompass.
Lundbeck's Onfi & Northera
Interestingly Lundbeck has two other products, Onfi (Clobazam) and Northera (Droxidopa) also on the list. The exclusivity protection of Onfi is scheduled to expire next year and generic competition will be a setback for Lundbeck as Onfi brought in almost $150 million in sales in 2014, a 61% increase over 2013.
Droxidopa's exclusivity protection runs out much longer (2019) as the product only obtained approval last year. However, Lundbeck has great hopes for this drug as it paid $658 million to buy the drug as soon as it was approved.
Polidocanol's $500 million sales potential
Polidocanol, used in the treatment of spider (varicose) veins, was first approved in 2010 under the brand name Asclera. No patents were listed in the Orange Book and the market exclusivity on the product expired in March this year.
In 2013, a new formulation of Polidocanol was launched by U.K. based, BTG International, and they expect to achieve sales of $500 million with the product. However, this time there are patents listed in the Orange book!
Other examples
Diagnostic agents, like Dotarem (Gadoterate Meglumine), Choline C-11 and Lumason (Sulfur Hexafluoride Lipid Microspheres) are also examples of products which are covered by non-patent exclusivity protections. Dotarem, already approved in 70 countries, is used in magnetic resonance imaging (MRI) of the brain, spnine and associated tissues while Lumason helps physicians see the heart clearer when the ultrasound image is hard to see.
The generic launch of Apotex's Ferriprox (Deferiprone) in 2016 will be interesting since our database shows four potential challengers who have U.S. Drug Master Files submitted for the product. However, two of these four companies (Aarti Drugs & Emcure Pharmaceuticals) are on the U.S. FDA import alert list and hence banned from supporting a generic launch.
Glaxo's Potiga (Ezogabine) is Big Pharma's representative on our list. The drug, used to treat certain types of epilepsy, when launched was expected to have sales between $200-800 million. The current sales have however been well below expectations as the drug was found to be associated with risks of skin discoloration and eye abnormalities.
Uncommon business
There are some drugs on this list which are for uncommon diseases.
Carglumic Acid and Miltefosine both address orphan drug populations, however, they have also made recent headlines. Carglumic acid is the most expensive drug per prescription dispensed in the United States.
Miltefosine, on the other hand, got approval for tropical diseases which almost never occur in the country!
Knight Therapeutics, which got awarded the approval was not really depending on the sales of the product. Along with the product approval they received a Neglected Tropical Disease Priority Review Voucher.
The voucher reduces the review period of a new drug application from the standard 10 months to 6. Since blockbuster drugs make hundreds of millions of dollars in sales every month, a launch four months earlier could mean an extra few billion dollars in revenue.
Hence, it wasn't surprising when in November 2014, Gilead Sciences purchased the voucher from Knight for $125 million. The next priority review voucher was sold, two months ago, for an incredible $245 million dollars, generating a new multi-million dollar business of developing products for diseases which have almost no patients!
Our View
It is difficult to imagine that, with the stakes involved and the nature of the pharmaceutical business, there will be no litigation when a generic tries to take away market share from the innovator. However, a list of products with no patents in the Orange Book does give generics new opportunities to think about.
The PharmaCompass Newsletter – Sign Up, Stay Ahead
Feedback, help us to improve. Click here
Image Credit : Gold dollars by Bill David Brooks is licensed under CC BY 2.0
" The article is based on the information available in public and which the author believes to be true. The author is not disseminating any information, which the author believes or knows, is confidential or in conflict with the privacy of any person. The views expressed or information supplied through this article is mere opinion and observation of the author. The author does not intend to defame, insult or, cause loss or damage to anyone, in any manner, through this article."
Read More