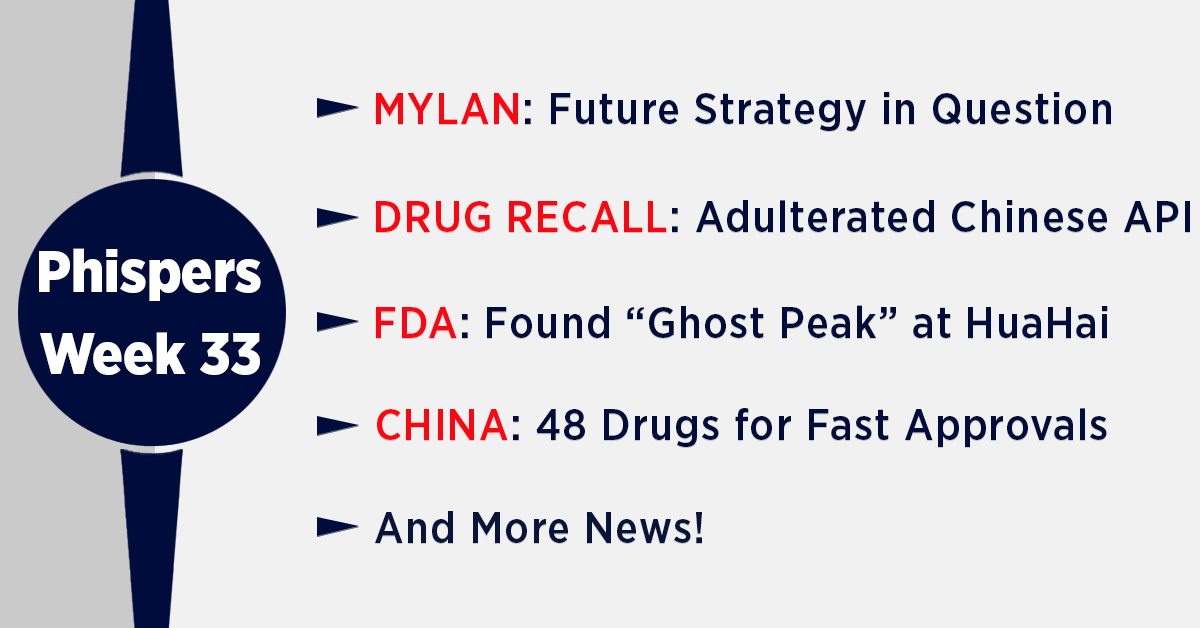 Headwinds at Mylan; Chinese API Adulteration Concerns Trigger Another US Drug Recall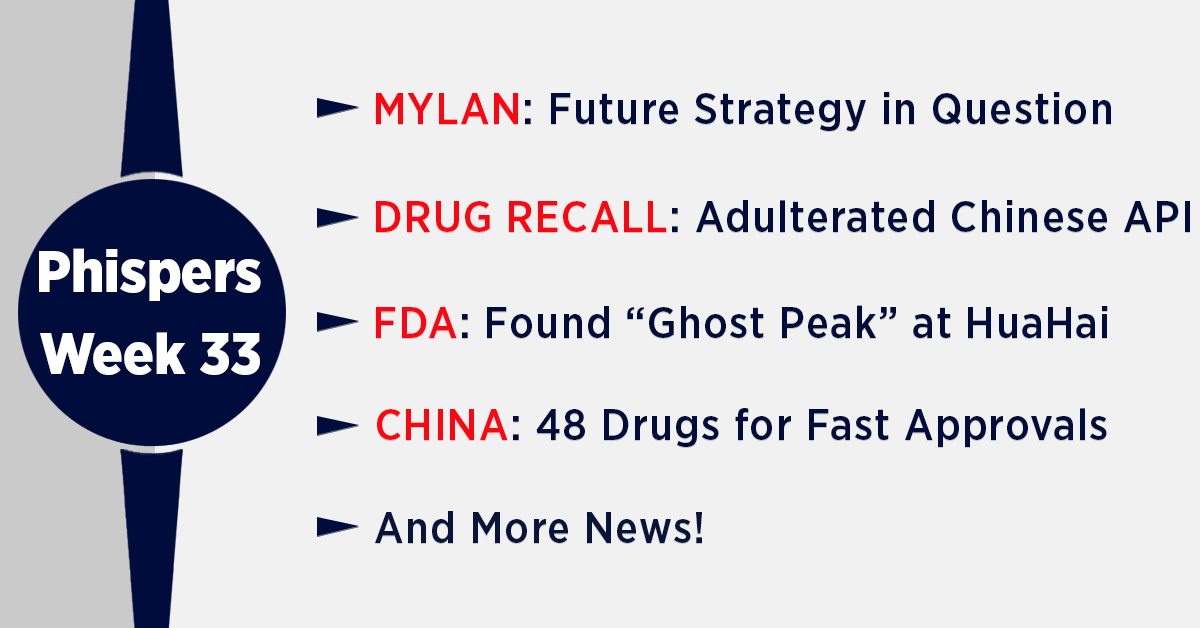 ×
This week in Phispers, we look at Mylan's US operations that declined 22 percent due to lower volumes. Moreover, quality concerns and supply chain tactics led to more headwinds at the American drug major. Two Form 483s redacted by the FDA post inspections at Zhejiang Huahai in 2016 and 2017 indicate that some red flags pertaining to the tainted valsartan API may have been ignored. A

Massachusetts-based company — Alnylam — has bagged a landmark FDA approval for the treatment of a rare disease using a new technique known as RNAi. China lists out 48 drugs that have been approved in the US, EU or Japan, and require lightning fast approvals in the country. And concerns over adulteration at another Chinese API firm — Sichuan Friendly— leads to voluntary recall of thyroid tablets.



Headwinds at Mylan: its US operations decline; future strategy comes into question
Last week, American generic drug major Mylan posted disappointing second-quarter results and also slashed its full-year guidance. During its earnings call, the company also announced it had formed a strategic review committee to look at every available option, given the fall in its US operations by 22 percent due to lower volumes on existing products.
Conventional thinking in the generic industry has been that companies should build a portfolio of complex and injectable drugs which are likely to be safer from competition.
However, Mylan's performance has disappointed on that front as well. For instance, "supply chain tactics" have capped market uptake of Mylan's Glatiramer acetate injection (a generic to Teva's blockbuster Copaxone) at 15 percent, although two substitutable products have been available on the market for nearly a year.
The firm said: "Ironically, our commodity products and core US business has met, if not exceeded, expectations. Our investments in complex products and biosimilars, on the other hand, have disappointed in the near term."
Similarly, Mylan's blockbuster, EpiPen, which made news last year over its outrageous price increases, continues to face supply issues. Mylan's manufacturing partner, Pfizer, continues to experience interruptions in the production of the EpiPen and "supplies to Mylan are inconsistent and inadequate in meeting global demand".
Mylan's troubles go deeper, as quality concerns have emerged at its manufacturing site in Morgantown, West Virginia. In April, the FDA completed an inspection of Mylan's main manufacturing site in Morgantown and the Form 483 highlighted serious quality concerns ranging from the lack of oversight by the quality unit to cross contamination concerns.
In another case, according to a list of laboratory investigations generated during the inspection, 4,279 out of 25,432 investigations were not closed by quality assurance (QA) prior to batch release. Of these open investigations, 1,945 investigations were for in-process results that were out of specification.
Mylan announced that it has undertaken a restructuring and remediation program in Morgantown during the second quarter of 2018. The program, which includes a discontinuation of a number of products, is aimed at reducing complexity at the facility.
In April, Mylan had also announced layoffs of about 15 percent of its workforce at its Morgantown plant. The firm said the plant "needed to be rightsized to be less complex" for continued operations. The layoffs involved 400 people.
While Mylan's CEO Heather Bresch didn't specify what alternatives the company is pursuing for the business because the investors were too fixated on US results, the company did mention that more than 60 percent of Mylan's revenues come from outside of the US. It will be interesting to see how Mylan's strategic review committee addresses the situation — by focusing on the US, or markets outside of it.



Concerns over adulteration at Chinese API firm leads to another recall in US
While the valsartan drug recall dominated headlines, Westminster Pharmaceuticals in the United States announced a voluntary recall of levothyroxine and liothyronine (thyroid tablets) due to risk of adulteration.
The FDA site says "these products are being recalled as a precaution because they were manufactured using active pharmaceutical ingredients that were sourced prior to the FDA's Import Alert of Sichuan Friendly Pharmaceutical Co, Ltd, which as a result of a 2017 inspection were found to have deficiencies with Current Good Manufacturing Practices (cGMP)."
Last month, the FDA posted the warning letter issued to Sichuan Friendly Pharmaceutical following an October 2017 inspection of the API manufacturer.
In the warning letter, the FDA raised concerns as the "firm failed to conduct residual solvent testing" on the API supplied by the company. It also "failed to conduct adequate cleaning validation studies" to demonstrate that its cleaning procedures for "non-dedicated production equipment are suitable to prevent cross-contamination".
The firm was also found to use a "non-validated Excel spreadsheet to calculate assay results" to support product release and stability testing. During the investigation, the FDA investigator "found that this spreadsheet lacked password protection and contained unlocked calculation formulas which were incorrect."
Sichuan Friendly's quality control manager acknowledged that the formula in the spreadsheet used to calculate assay results was incorrect. Because of these incorrect formulas, multiple certificates of analysis (COA) contained inaccurate data.
The firm was placed on FDA's import alert list on March 22, 2018.



FDA had found "ghost peak" in HuaHai's API a year before valsartan recall
Last week, the US Food and Drug Administration (FDA) released two Form 483s issued to China-based Zhejiang Huahai Pharmaceuticals in November 2016 and May 2017.
It seems that the FDA released the Form 483s due to frequent requests received recently under the US Freedom of Information Act.
As you are aware, Zhejiang Huahai, a Chinese drug manufacturer, has been at the center of the EU and US recalls of valsartan due to the presence of the carcinogenic impurity N-nitrosodimethylamine (NDMA) in the company's API which has been supplied to major generic drug producers across the world. The presence of NDMA was unexpected and is thought to be related to changes in the way the API was manufactured.
While the November 2016 inspection at the company's site in Linhai also focused on its finished dosage manufacturing operations, the May 2017 inspection was specifically looking at API manufacturing.
The May 2017 inspection had three observations in the Form 483. While it raised concerns over anomalies in the analytical testing, which were not investigated, the investigator Massoud Motamed did find an unidentified peak in the liquid chromatography-mass spectrometry (LC-MS) chromatogram which the firm explained as a "ghost peak" that appeared from time to time in some chromatograms.
In another observation, which related to invalidation of out-of-specification results without adequate scientific justification, when asked to explain the unknown "ghost peak" observed in Huahai's API, the firm attributed the cause to a "lab error".
Since the Form 483s are redacted by the FDA, it is not possible to ascertain if the product being investigated was valsartan or not.
The European Medicines Agency (EMA) announced last week that valsartan API manufactured by Zhejiang Tianyu Pharmaceutical also had NDMA detected in it although the levels were much lower as compared to what was seen in the API from Zhejiang Huahai, which triggered a recall of several valsartan medicines in July.
The other update on the valsartan impurity case is that a unit of India's Hetero Drugs has joined the group of companies which announced valsartan recalls in the US.
The notice from the FDA said Hetero was found to be using a similar manufacturing process as China's Zhejiang Huahai for valsartan.



Alnylam's RNAi breakthrough drug gets FDA nod
Last week, the US FDA approved a landmark rare disease treatment that is the first to rely on a Nobel-prize-winning technique known as RNA interference or RNAi, which silences disease-causing genes.
The FDA approval for the drug — patisiran — is being seen as a major accomplishment for Cambridge, Massachusetts-based Alnylam, which will be marketing the drug under the brand name Onpattro. Alnylam has been working to bring an RNAi-based therapy to market for more than a decade.
However, the nod for patisiran is a relatively narrow one, as its only indication is for neuropathy, or nerve damage.
Unlike the EMA's initial opinion, the FDA's press release announcing the approval made no mention of Onpattro's possible effect on heart damage, which is also a common symptom of the disease, known as hereditary transthyretin amyloidosis, or hATTR.
"Until today, there were no approved medications to treat these patients in the United States," Alnylam CEO John Maraganore said: "We do look forward to working with the FDA to expand the Onpattro label in the future."
A gung-ho Maraganore has been setting the stage for a rapid global rollout of patisiran. The annual average list price for patisiran will be US$ 450,000.
Alnylam said it plans to establish a value-based reimbursement model for the drug with "major health insurers". It essentially plans to issue a money-back guarantee if the drug doesn't work for someone as well as it did in clinical trials.
Alnylam has three other late-stage RNAi-based drug candidates in the pipeline — givosiran for porphyria, inclisiran to treat high cholesterol, and fitusiran for hemophilia.
Once Alnylam launches Onpattro, the company itself won't be manufacturing it. Agilent Technologies will be supplying it for the next five years.



China lists out 48 drugs approved overseas that need lightning fast approvals
China has taken another step to ensure novel drugs already approved overseas are available in the country faster.
Eight months after the Chinese drug administration rolled out its new priority review pathway, its Center for Drug Evaluation (CDE) has unveiled a list of 48 drugs approved in the US, EU or Japan that are urgently needed in China. As long as the companies can provide evidence that the drug works equally well across races, they can immediately apply for marketing approval with the data they have, and will be eligible for priority review.
In a recent report, the CDE, which falls under the China FDA, concluded that they took an average of 59 working days to process an NDA once it's accepted for priority review.
Cancer drugs make up a quarter of the 48 drugs in the list, with Roche/Chugai's ALK inhibitor alectinib hydrochloride (Alecensa) and Merck's PD-1 star pembrolizumab (Keytruda) topping the list.
Amgen's denosumab, which was first approved in Europe as Prolia in 2010, is the oldest drug in this subset; whereas enasidenib mesylate (Idhifa), a new AML therapy developed by Celgene and Agios, got its approval only a year ago.
While putting the list together, regulators said they have given special consideration to new treatments for rare conditions, as well as drugs that target serious, life threatening diseases with no effective therapies currently available.
Other drugs include Spark's gene therapy Luxturna, Biogen's SMA drug Spinraza, and Alexion's Soliris — all considered groundbreaking at the time of their first approval.
The PharmaCompass Newsletter – Sign Up, Stay Ahead
Feedback, help us to improve. Click here
Image Credit : #Phisper Infographic by SCORR MARKETING & PharmaCompass is licensed under CC BY 2.0
" The article is based on the information available in public and which the author believes to be true. The author is not disseminating any information, which the author believes or knows, is confidential or in conflict with the privacy of any person. The views expressed or information supplied through this article is mere opinion and observation of the author. The author does not intend to defame, insult or, cause loss or damage to anyone, in any manner, through this article."
Read More