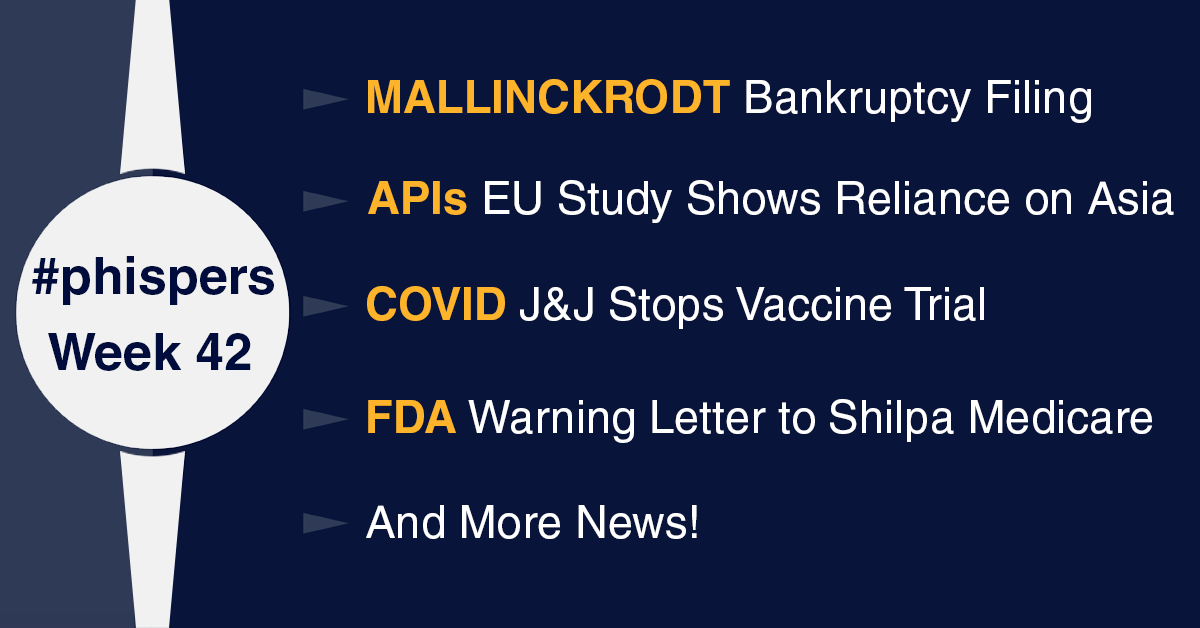 European Study highlights reliance on Asia for APIs; Mallinckrodt files for bankruptcy in US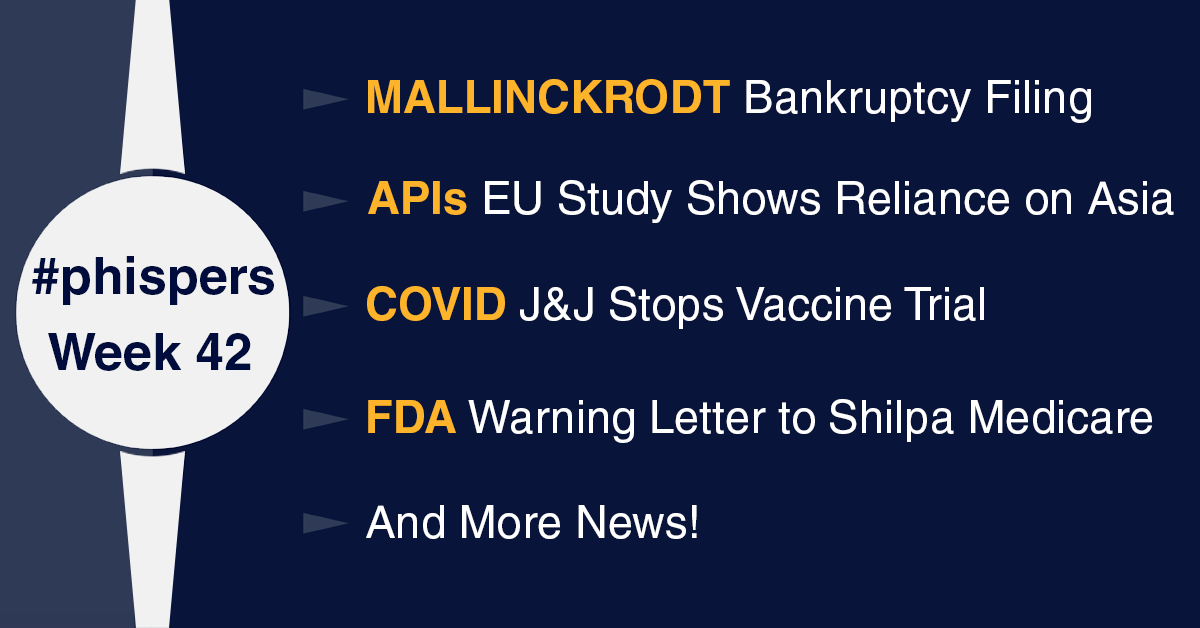 ×
This week, along with updates on the ongoing pandemic, Phispers brings you news on the opioid epidemic cases in the US, and on regulatory issues being faced by drug companies across the world.
Among opioid litigations in the US, the biggest news came from Mallinckrodt as it filed for Chapter 11 bankruptcy.
J&J decided to make an additional US$ 1 billion contribution to settle lawsuits that allege it fueled the opioid epidemic.
After AstraZeneca, J&J became the second major company to pause a late-stage trial of its Covid-19 vaccine due to an unexplained illness in one of the participants.
A study undertaken by a German generics body highlighted Europe's reliance on India and China for APIs, based on CEP filings.
The USFDA issued a warning letter to Indian drugmaker Shilpa Medicare.
And Sami Anwar, a researcher who raked in millions by running a drug trial racket in the US, was sentenced to 28 years in prison.
Opioid cases: Mallinckrodt files for bankruptcy; J&J contributes US$ 1 billion more to settle cases
Irish drugmaker Mallinckrodt is the latest opioid producer in the US to file for Chapter 11 bankruptcy under the country's Bankruptcy Code. Last year, Purdue Pharma and Insys Therapeutics had adopted the same route. Shares of Mallinckrodt tumbled a whopping 31.2 percent in trading post this announcement.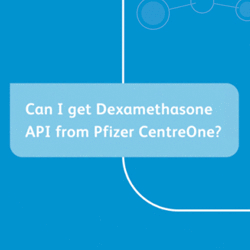 Mallinckrodt once sold more opioids in the US than any other drugmaker. It now faces hundreds of opioid lawsuits and owes hundreds of millions in payments, as per a recent ruling in the US.
The company listed both assets and liabilities in the range of US$ 1 billion to US$ 10 billion in the bankruptcy filing. According to critics, filing for bankruptcy protection has become a common tactic for companies implicated in the opioid epidemic since it freezes litigation.
Rumors that Mallinckrodt would file for bankruptcy have been doing the rounds for months. In February, the drugmaker had agreed to a settlement with most of its litigants. However, in subsequent court filings and statements, the company said a ruling in March this year had jeopardized its ability to pay off the opioid settlement, warning in June that they may "have no option but to take drastic and painful measures, up to and including the prospect of bankruptcy."
Meanwhile, this week, Johnson & Johnson said it will contribute up to US$ 1 billion more to a potential settlement of lawsuits alleging that the company had fueled the US opioid epidemic. This brings its total payment to US$ 5 billion.
In October last year, J&J had agreed to a US$ 4 billion settlement framework negotiated with a group of state attorneys general.
In the US, over 3,000 lawsuits have been filed against drugmakers for engaging in deceptive marketing that promoted the use of addictive painkillers, fueling the opioid epidemic that has resulted in more than 450,000 overdose deaths since 1999.
European Study highlights reliance on Asia for APIs based on CEP filings
A study undertaken by a German generics lobby — Pro Generika — has found that two-thirds of generic drug ingredients used in their drugs are now made in Asia. The study reiterates fears over Europe's dependency on Asia, and how it could lead to bottlenecks and shortages.
India and China play a vital role in this, as together they hold more than 80 percent of all CEPs (Certificate of Suitability of Monographs of the European Pharmacopoeia) in the whole of Asia.
Upon closer examination, it becomes clear that companies with API authorizations in Asia are all located in the same few regions or provinces of India and China. Almost 90 percent of the CEPs in India are in just four states: Telangana, Maharashtra, Gujarat, and Karnataka, while a similar picture emerges in China. Almost three quarters of the CEPs can be found in just five provinces in the east of the People's Republic (Zhejiang, Shandong, Jiangsu, Hebei, and Hubei).
The report states that in 2000, the database recorded 589 CEPs, of which 59 percent were held in Europe and only 31 percent were held in Asia. In 2020, this ratio has reversed — 63 percent of CEPs are now held in Asia while only 33 percent are still held in Europe.
The vast majority of pharmaceuticals required in Germany on a daily basis is covered by generics. In 2019, generics provided roughly 80 percent of pharmaceuticals needed, a comparatively steep increase considering in 2010 it was just under 69 percent. Generic APIs are, therefore, fundamental to patient care as well as to the supply of pharmaceuticals in Germany.
A top EU official said last week that the industry needs to diversify supplies to avoid shortages as worries grow about Asia's dominance of the generic ingredients market.
EU Industry Commissioner Thierry Breton said the crisis had laid bare how some countries were using the supply of drugs as "a new kind of diplomacy" and said it was important to focus on which critical drugs needed to be made in Europe rather than re-locating the entire supply chain.
Covid Updates: J&J stops vaccine trial as participant falls ill; EU pays US$ 1.2 billion for remdesivir supply
After AstraZeneca-Oxford last month, this week Johnson & Johnson paused the late-stage clinical trial of its Covid-19 vaccine due to an unexplained illness in one participant.
Both AstraZeneca and J&J use similar technology for their vaccines. AstraZeneca's trial continues to remain on pause in the US.
J&J said the illness of the participant was being reviewed by an independent data and safety monitoring board as well as its own clinical and safety team. The data board is required to submit its findings to the US Food and Drug Administration (FDA) before the study can be restarted.
Mathai Mammen, head of research and development at J&J's drugs business, said the company informed the safety board about the ill trial participant on Sunday. He said because the study is blinded, the company did not yet know if the ill person had been given the vaccine or a placebo.
"This could be a second case of adenoviral vaccine to spur safety concerns," said Olga Smolentseva, an analyst at Bryan, Garnier & Co.
Meanwhile, J&J raised its annual profit forecast for the second time this year in its quarterly results, announced this week. This was aided by growth in its largest unit — pharmaceuticals.
In the third quarter, J&J's sales rose to US$ 21.08 billion from US$ 20.73 billion. Sales of cancer drug Darzalex rose 43.7 percent to US$ 1.10 billion. Sales of Imbruvica, which J&J jointly owns with AbbVie Inc, as well as Crohn's disease drug Stelara, grew in the double-digits, bringing in US$ 1.03 billion and US$ 1.95 billion, respectively.
EU to pay US$ 1.2 billion for six-months of remdesivir supply: The European Union has agreed to pay over €1 billion (US$ 1.2 billion) to Gilead for a six-month supply of its antiviral drug, remdesivir, shortly before the publication of the final results of the biggest trial of the Covid-19 medication.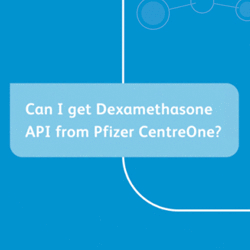 The deal was agreed amid shortages in EU states, which might have hastened the decision before definitive results on remdesivir come out. The EU will allow its 27 member states and 10 partner countries, including Britain, to order up to 500,000 remdesivir courses over the next six months.
Covid-19 reinfection: In the US, a 25-year-old man became the first person to contract coronavirus twice, with the second infection being 'more severe'. This is the fifth case of reinfection reported worldwide.
The resident of Washoe County, Nevada, who had no known immune disorders or history of significant underlying conditions, required hospital treatment on testing positive for Covid-19 for the second time. Though he has recovered, the case raises further questions about the prospect of developing protective immunity against coronavirus.
Regulatory roundup: FDA warning letter to Shilpa Medicare; WHO notice of concern for Panexcell
The US Food and Drug Administration has issued a warning letter to Indian drugmaker Shilpa Medicare. The letter has been issued to the company's Jadcherla formulations facility in Telangana.
"The company has received a warning letter on October 9, 2020 through email from the United States Food and Drug Administration (USFDA) for its Jadcherla facility, Telangana," Shilpa Medicare said in exchange filing on Saturday, October 10, 2020.
However, the company said it believes that the warning letter will have minimum impact on disruption of supplies and the existing revenues from operations of this facility.
"The company will be engaging with the agency and are fully committed in resolving this issue at the earliest. The company is also committed in maintaining the highest standards of compliances and quality manufacturing across all its facilities," it said.
WHO concern for Panexcell: The World Health Organization (WHO) has issued a Notice of Concern to India-based Panexcell Clinical Lab Private Limited, a contract research organization (CRO).
The Notice of Concern relates to the implementation status of Good Clinical Practices (GCP) standards at Panexcell Clinical Lab, and it raises concerns on the CRO's quality management system and corresponding reliability in how the company carried out its bioequivalence studies.
The company also failed to ensure the robust implementation and oversight of a quality management system to ensure that systematic procedures are in place to exclude any possible data manipulation or misrepresentation of data.
The Notice of Concern is applied when concerns are identified about a site's compliance with specified standards, such as good manufacturing practices, good laboratory practices and good clinical practices.
Sami Anwar gets 28 years in prison: A Richland (California) researcher — Sami Anwar — who had raked in millions of dollars gathering drug trial data at his sites was sentenced to 28 years in prison.
For six years, Anwar collected millions of dollars from drug companies and sponsors while claiming to be testing medicines for various studies. In reality, Anwar — who operated Mid-Columbia Research and Zain Research — dumped the medications and told his employees to falsify records.
And when study participants were given the actual experimental drugs, Anwar kept incomplete journals on the drugs' safety and efficacy records while also failing to accurately report what was really happening with the patients.
Anwar's fraudulent human clinical research also left a trail of victims. A three-year-old girl was left permanently scarred after she was enrolled in a scabies study for a new cream medication. Her real problem was eczema. Another man died while serving as a test subject in not one, but two different clinical trials at the same time.
The studies covered a broad spectrum of ailments, diseases, and other conditions, including cholesterol, diabetes, heart disease, liver and fibrosis cirrhosis, opioid addiction, rheumatoid arthritis, asthma and bipolar disorder.
Anwar made close to US$ 6 million on faked drug research data. "The extent of the fraud is astounding," noted Judge Edward Shea. Anwar and his company Mid-Columbia Research were both convicted on 47 felony counts last year.
More than a dozen staffers helped tell the story to the jury. They alleged that Anwar routinely used fear and intimidation to try and stop his employees from working with the feds.
In addition to the 28-year prison sentence, Anwar was also ordered to pay US$ 1,890,550.10 in restitution to the companies he victimized, forfeit US$ 5,648,786.69 in illicit revenue and hand over US$ 24,300 for a special penalty assessment.
The PharmaCompass Newsletter – Sign Up, Stay Ahead
Feedback, help us to improve. Click here
Image Credit : #Phisper Infographic by SCORR MARKETING & PharmaCompass is licensed under CC BY 2.0
" The article is based on the information available in public and which the author believes to be true. The author is not disseminating any information, which the author believes or knows, is confidential or in conflict with the privacy of any person. The views expressed or information supplied through this article is mere opinion and observation of the author. The author does not intend to defame, insult or, cause loss or damage to anyone, in any manner, through this article."
Read More