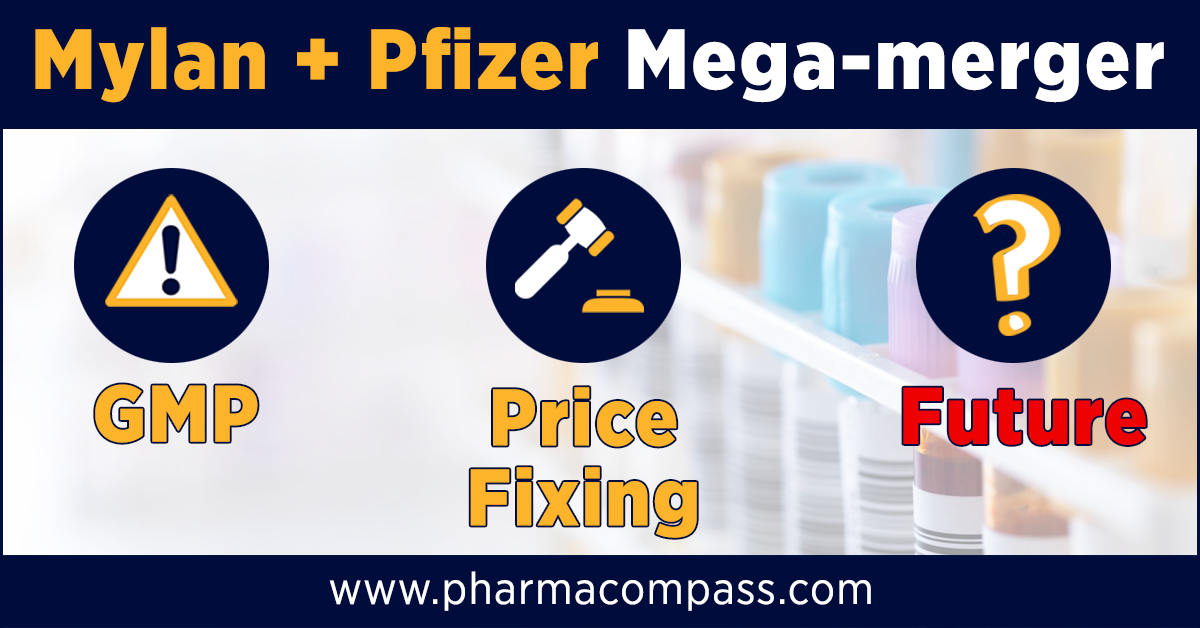 Compliance to determine the success of Mylan's merger with Pfizer's Upjohn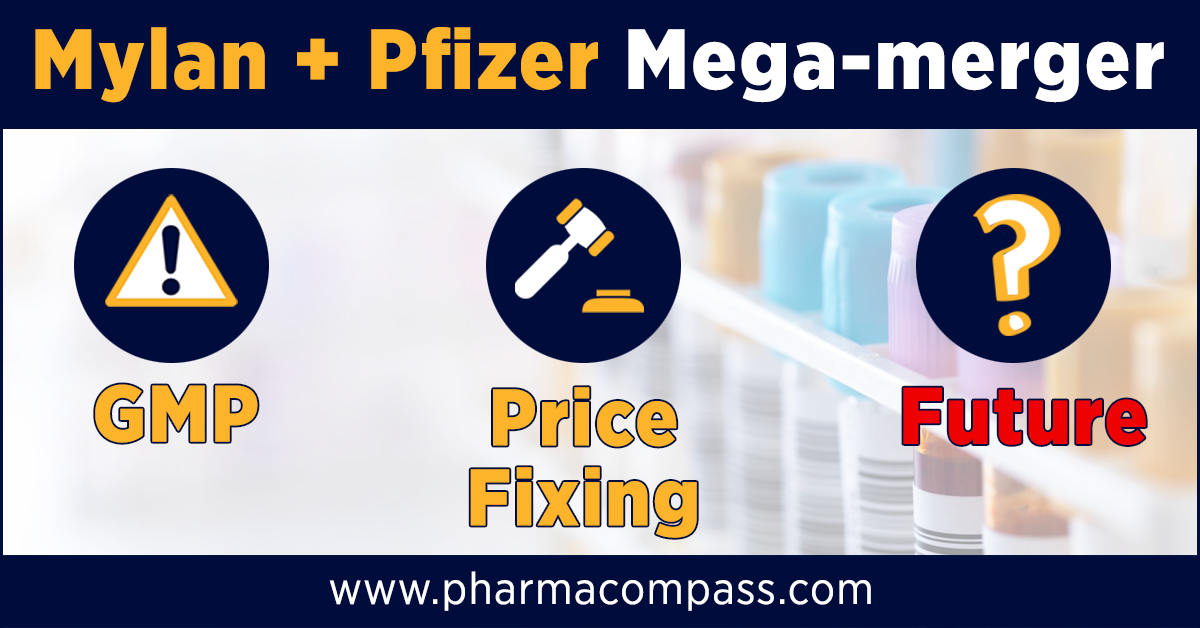 ×
This week, Mylan and Pfizer announced the merger of Upjohn, Pfizer's off-patent branded and generic established medicines business with Mylan, to create a yet to be named new global pharmaceutical company.
The new company is expected to have 2020 revenues between US$ 19 and US$ 20 billion. What's of even more significance is the fact that the new entity could outpace Teva to become the largest generic company in the world, in term of revenues.
Under the terms of the agreement, Pfizer's shareholders would own 57 percent of the combined new company, and Mylan's shareholders would own 43 percent.
The new company will be led by Mylan's current chairman Robert J. Coury, who will serve as its executive chairman. Michael Goettler, who is currently the group president, will serve as the new company's chief executive officer (CEO). And Mylan's current president Rajiv Malik will continue to serve at the same post. Heather Bresch, Mylan's current CEO, will retire from Mylan upon the close of this transaction.


Mylan was worth four times as much four years ago
While the future of this amalgamation remains to be seen, it's incredible how things have changed over the last four years. In 2015, Mylan had rejected a buyout offer from Teva at US$ 82 per share, which was a mix of approximately 50 percent cash and 50 percent in Teva stock, saying it was grossly undervalued. At the time, when Mylan's executive chairman Coury had rejected Teva's deal, he had written a 3,000 word letter saying that financially Teva's offer did not even come close to qualifying as a proposal worth pursuing (the starting point of discussion for Mylan was a value in excess of US$ 100 per share).
Mylan was internally known to refer to Teva's stock as "toilet paper" which did eventually get a junk rating.
As luck would have it, Mylan's stock too has tanked significantly since Teva made that offer in 2015. This week, when Mylan announced its deal with Pfizer, Mylan's shares were trading at around US$ 20 per share.



Mylan's failed endeavors to become a leading consolidator in generics



At the time of rejecting Teva's offer, Mylan had launched its own hostile bid to acquire Perrigo. That turned out unsuccessful, and Mylan's stock value started to drop.
After Mylan failed to acquire Perrigo, Mylan's CEO Heather Bresch had said when asked what she would do if Pfizer's established products business became available: "We absolutely would look at it." She further went on to say that as in the past, Mylan was seeking to become a leading consolidator in the generics drug industry.
The year 2015 was a tough year for Mylan. It had acquired nine injectable plants from Agila in 2013. Within four months of Mylan announcing its US$ 1.6 billion acquisition, a US Food and Drug Administration (FDA) inspection found problems in the manufacturing operations at an Agila plant in Bengaluru (India) and issued it a warning letter. Mylan continued with the acquisition and the deal was closed in December 2013.
The acquisition ran into more trouble with the FDA in 2015, when Mylan received another warning letter, which indicated that the problems had expanded to two other plants. The Bengaluru plant (cited in 2013) was not able to address the concerns of the FDA inspectors and had also been included in the warning letter.
By December 2015, Mylan sent claims to Strides Shasun, the former owner of Agila Specialties, seeking compensation towards remedial measures it had initiated at the three Indian manufacturing facilities.


And then came its EpiPen price-gouging faux pas
A year later, things started deteriorating even further as the firm faced much flak for raising the price of its blockbuster product — the life-saving epinephrine auto-injector EpiPen. During questioning by the House's Oversight Committee, CEO Bresch's ethics were questioned and her US$ 19 million pay package was also in the spotlight.
Following this, the Mylan president Rajiv Malik, who leads all global commercial and operational activities at the company, was personally named as a defendant in a lawsuit that had pointed allegations against Mylan for taking part in an alleged generic price-fixing scheme.


Deteriorating quality compliance standards
Post that, compliance became a key concern as its facilities in the United States and India were cited for data-integrity issues. Mylan also ran into additional problems over its manufacturing of valsartan, a commonly used blood pressure medicine that was found to contain cancer-causing impurities and had to be recalled.
Meanwhile, Mylan's EpiPen manufacturing partner — Pfizer — was battling its own quality problems and received a request from the US Attorney for Southern District of New York to provide documents as part of a probe into quality control issues at Meridian Medical Technologies for a failure to investigate "serious" problems associated with an unspecified number of patient deaths.
In 2017, Pfizer's Meridian unit (that manufactures EpiPens for Mylan) had received a warning letter from the FDA, in which the agency said Meridian had failed to thoroughly investigate product failures, including EpiPen products that were associated with patient deaths and severe illnesses. The quality challenges have also led to continued shortages of the life saving device.
By August last year, as Mylan continued to post disappointing results and slashed its full-year guidance, the company said it has formed a strategic review committee to look at every available option, given the fall in its US operations by 22 percent due to lower volumes on existing products.



Pfizer's ordeals with compliance issues at its generic units



When it comes to data-integrity issues at its generic drug businesses, Pfizer's side of the story is equally sordid. Even today, it is far from its goal of becoming a major player in generics.
In 2012, the firm announced a joint venture with China's Hisun Pharmaceuticals, an API manufacturer founded in 1956. The Hisun-Pfizer joint venture, similar to its deal with Mylan signed this week, gave the firm a portfolio that included branded generic drugs in therapeutic areas such as infectious diseases, cardiovascular diseases and mental health.
In 2015, Hisun ran into serious trouble with the FDA as data-integrity concerns emerged which resulted in the FDA issuing an import alert to its API factory. After a year of rumors swirling that Pfizer would exit the joint venture, it finally sold its 49 percent equity in late 2017.
In February 2015, a few months before Hisun got placed on FDA's import alert list, Pfizer's Global Established Pharmaceutical (GEP) Business announced a US$ 17 billion acquisition of Hospira. When the deal was struck, Pfizer was aware of Hospira's manufacturing record as the company was issued FDA warning letters in four out of seven continents (Europe, North America, Asia and Australia).
The executives of Pfizer had assured investors and regulators that they would quickly resolve issues at the plants. However, the problems persisted and in a 2017 earnings call, Pfizer's CEO at the time Ian Read had said, "Within our Essential Health portfolio, we have been experiencing supply shortages with some products. The shortages are primarily for products from the legacy Hospira portfolio and are largely driven by capacity constraints and technical issues".
One operation that continued to bother the company was a facility in McPherson, Kansas. In 2017, Pfizer's fill/finish manufacturing facility in McPherson received a warning letter from the FDA. The manufacturing problems at the McPherson plant also derailed the launch of a generic version of Teva's Copaxone, which was being developed by Sandoz and Momenta. The drug was being finished at the McPherson plant, which was slapped the FDA warning letter.
In January 2019, Pfizer went on to announce that two manufacturing sites in India, which were part of the Hospira acquisition, will cease manufacturing operations. At the time of the announcement, the sites located near Chennai (Irungattukottai) and Aurangabad employed 1,700 people.
The FDA warning letter for the operations at the Irungattukottai site stated that the agency had found the site's microbiology laboratory was inaccurately reporting test results.



Our view



Against an industry backdrop of lowering prices and increased competitiveness, mega-mergers drawn out in boardrooms have visions of an industry transformation with manufacturing and compliance coming across as mundane necessities.
Post this deal, and also Pfizer's previously announced consumer deal with GSK , it is clear that the big pharma giant is shifting its focus to become a "smaller, more focused, science-based company with a singular focus on innovative pharma".
However, Pfizer's endeavor to build a global generic powerhouse needs to be seen in light of Daiichi's disastrous Indian adventure with its failed acquisition of Ranbaxy, Teva's failure in Mexico with Rimsa and the more recent walk out of its acquisition of Akorn by Fresenius Kabi over data-integrity concerns. These instances indicate that manufacturing compliance has become critical to the success of these deals.
Moreover, we also need to take note of Pfizer's failed attempts to turnaround Hospira facilities, Mylan's own stumbles with Agila, coupled with the ongoing compliance problems at Mylan's US facility in Morgantown and Pfizer's facility which manufactures the EpiPen. Given these instances, it would be safe to conclude that manufacturing compliance will play a pivotal role in deciding the outcome of the Mylan-Pfizer deal.
The PharmaCompass Newsletter – Sign Up, Stay Ahead
Feedback, help us to improve. Click here
Image Credit : Mylan + Pfizer Mega-merger by PharmaCompass is licensed under CC BY 2.0
" The article is based on the information available in public and which the author believes to be true. The author is not disseminating any information, which the author believes or knows, is confidential or in conflict with the privacy of any person. The views expressed or information supplied through this article is mere opinion and observation of the author. The author does not intend to defame, insult or, cause loss or damage to anyone, in any manner, through this article."
Read More