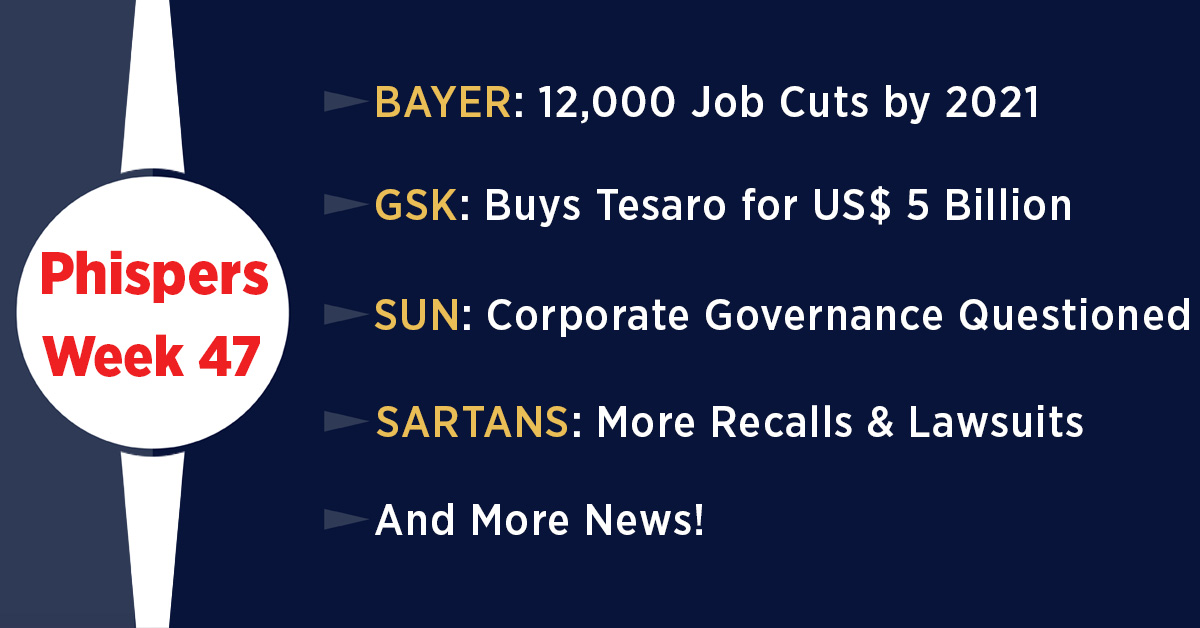 Bayer to cut 12,000 jobs; GSK buys cancer drugmaker Tesaro for US$ 5 billion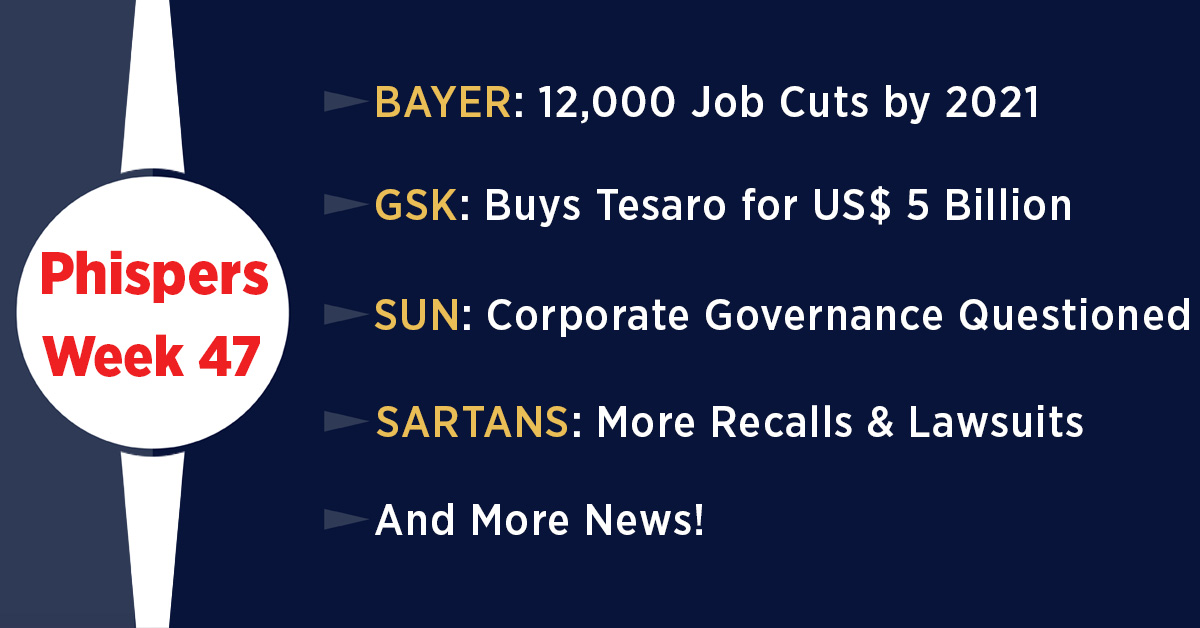 ×
This week, Phispers has news on German drug major Bayer, which has drawn out a revamp plan that includes plans to slash 12,000 jobs worldwide and restructuring of its R&D business.
British drug major GSK vaulted into the commercial oncology market with the acquisition of Tesaro for US$ 5.1 billion.
India's Sun Pharma was in news for corporate governance issues, with reports that the financial markets regulator may reopen an insider trading probe against the company.
Meanwhile, sartans continued to make headlines with Walmart and three other companies getting sued in the US.
And a study found that generic drug prices in the US were 'strongly predictive of drug shortages'.



Bayer reveals plans to slash 12,000 jobs; over 1,000 employees protest
German drug major Bayer is pushing ahead with plans of a worldwide revamp that includes retrenching 12,000 employees the world over. Importantly, it plans to restructure its drug R&D business and cut 900 research staffers, with another 350 jobs likely to be slashed at a plant in Wuppertal (Germany).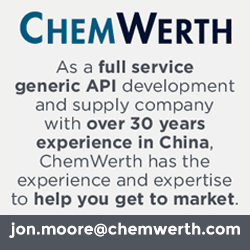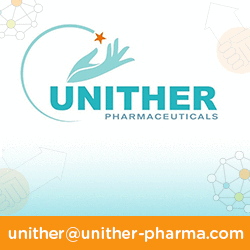 The management is preparing to strike off 12,000 people between now and the end of 2021. And German employees are expected to bear a "significant part" of the job losses, the company said,
The 12,000 jobs represent just under a tenth of Bayer's current worldwide workforce. It operates in 79 countries.
The changes in R&D have reportedly been in the works for months. However, there is no word on which projects are threatened.
The emphasis in drug R&D will shift now, reducing in-house work while looking to external partners to carry out more load. "With the measures we are taking now, we will manage to raise the performance and profitability of Bayer in a sustainable manner," the company's CEO Werner Baumann said.
The decision is intended to strengthen Bayer's "core life science businesses" and "to enhance productivity and innovation while significantly improving competitiveness," the company said.
For the consumer health division, Bayer plans to get rid of sun-care line (Coppertone) and foot care products (Dr. Scholl's), which "have more favorable development potential outside of Bayer."
Meanwhile, over 1,000 employees of Bayer protested at the company's site in Wuppertal, in western Germany this week. At least 350 of the 12,000 jobs are set to be taken from Bayer's biotechnology hub in Wuppertal, where the company canceled plans for a new plant to produce Factor VIII, a blood-clotting protein, despite the fact that the project was nearing completion.
Bayer also plans to sell off consumer products and exit the animal health business following its acquisition of Monsanto, which faces challenges of its own due to a blizzard of lawsuits.



GSK makes big oncology play, buys Tesaro for US$ 5 billion
British drug major GlaxoSmithKline has struck a deal to acquire Tesaro, the maker of the ovarian cancer drug Zejula, for US$ 5.1 billion in cash. The acquisition will vault GSK into the commercial oncology market.
"The acquisition of Tesaro will strengthen our pharmaceuticals business by accelerating the build of our oncology pipeline and commercial footprint, along with providing access to new scientific capabilities," Emma Walmsley, Glaxo's chief executive, said in a statement.
The deal fits into a framework outlined in July by Hal Barron, the acclaimed pharma veteran who took over as GSK's head of R&D in early 2018. He believes that Zejula will prove effective in a larger percentage of cancer patients. Barron also sees value in two experimental drugs Tesaro is testing that harness the immune system to attack cancer, an area that Barron has said will be important to GSK.
Drugs like Zejula, known as PARP inhibitors, work by blocking a process that cells use to repair their DNA. In cancer cells that have already witnessed damage to their DNA-repair mechanisms, such drugs can dramatically slow down tumor growth.
"We are optimistic that Zejula will demonstrate benefit in patients with ovarian cancer beyond those who are BRCA-positive as front-line treatment," Barron said.



Sun's corporate governance in question, stock in free fall
Indian drug major Sun Pharmaceutical Industries has been in news over corporate governance issues. The company has seen its investors concerned, with the company stock touching new lows. On Monday, the stock ended 7.55 percent lower.
Sun's stock have been falling since November 27 when a WhatsApp forward leaked details of brokerage Macquarie's report containing allegations of corporate governance improprieties.
A PTI report said that India's financial markets regulator — the Securities and Exchange Board of India (SEBI) — is likely to reopen its probe into an insider trading case against Sun Pharma and alleged lapses by some of its promoters and other entities in raising funds overseas. A whistleblower, according to the report, approached SEBI with a document alleging irregularities at the company.
However, Sun Pharma's managing director Dilip Shanghvi said the company had received no intimation from SEBI on the matter. He also announced steps to soothe investor concerns in a conference call.
Sun Pharma said it was open to engaging new audit firms for subsidiaries and discontinuing domestic sales through a related party (that had been questioned), in a bid to allay investor concerns. The firm said it was open to making changes wherever matters were not in shareholders' interest.
Shanghvi also said the company will work towards re-establishing credibility and corporate governance by reviewing some past decisions, such as a US$ 250 million loan to employees and others and a possible buyout of a domestic company classified as a related party.
Shanghvi said his firm is committed to the highest level of corporate governance. "The underlying theme of the note is to project serious corporate governance issues at Sun Pharma," he said. "We follow a high level of corporate governance which is expected from a global company of our size."



Sartan case: Aurobindo, Walmart sued; Teva recalls drugs made with Mylan's API
There is more to report on the sartan case. In the US, litigation over the tainted blood pressure medications continued to grow with a class-action lawsuit filed in Florida against Walmart and three drug companies — Indian drugmaker Aurobindo Pharma, US drugmaker ScieGen Pharmaceuticals and distributor Westminster Pharmaceuticals.
The class action suit has been filed against the four over the sale of irbesartan since the drug contained the impurity, N-nitrosodiethylamine (NDEA).
In October, the FDA had reported that Aurobindo was recalling 22 batches of its irbesartan API because it was found to contain NDEA. Days later, ScieGen and its distributor Westminster initiated a nationwide voluntary recall to the consumer level of all lots of unexpired irbesartan tablets because they had been made with the Aurobindo API and then shipped to Walmart.
The Florida litigation is just one in the growing list of lawsuits filed since the global recall of a host of high blood pressure drugs began this summer when both the FDA and regulators in Europe learned that the valsartan API made by China's Zhejiang Huahai Pharmaceuticals contained NDEA and NDMA (N-Nitrosodimethylamine) impurities.
Last week, Mylan and Teva Pharmaceuticals began recalling valsartan products after Mylan reported that the NDEA impurity was found in some of the API made at one of its Indian plants and Teva had used that API to manufacture its products. Teva said it is recalling to the patient level all lots, 49 in all, of its valsartan products in the US. They include its amlodipine and valsartan combination tablets and amlodipine, valsartan and hydrochlorothiazide combination tablets.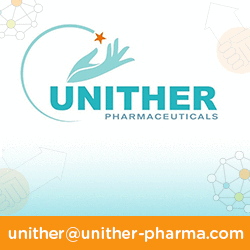 The FDA said there is very little risk of the impurities causing problems and no adverse reactions have been seen. Yet, they continue to ask drugmakers to pull their products off the market when impurities are detected. There are still lots of blood pressure medications that have been unaffected by the recalls.
FDA is alerting patients and healthcare professionals to Teva's voluntary recall of valsartan-containing products manufactured using API from Mylan, which voluntarily recalled valsartan-containing products on November 20.
Mylan NV said on Tuesday it was expanding a nationwide recall of blood pressure medicine valsartan, recalling 104 additional lots "out of an abundance of caution" after the valsartan-containing products were found to contain traces of a probable cancer-causing impurity.



Study finds generic drug prices were "strongly predictive of drug shortages"
A study published in Value in Health journal has found that generic drug prices were "strongly predictive of drug shortages".
However, competition and market size were not associated with the likelihood of a shortage, the authors from Harvard's Program on Regulation, Therapeutics, And Law (PORTAL) and the University of Utah said in their study.
The study of commonly used outpatient generic drugs from 2008 to 2014 found that the prevalence of shortages decreased from a peak in 2011-2012 to less than 4 percent of the overall sample by the end of 2014.
"From 1.3 billion prescription claims, a cohort of 1114 generic drugs was identified. Low-priced generic drugs were at a higher risk for drug shortages compared with medium- and high-priced generic drugs," the study said.
So why are higher-priced generics less likely to experience a shortage? According to Chintan Dave, one of the authors of the study: "First, manufacturers may prioritize the continued production of more profitable products (assuming profitability is directly correlated with drug price, which it should be for generic products). Another hypothesis is that smaller profit margins may force manufacturers to cut corners in ways that compromise production quality, predisposing these products to further regulatory scrutiny and subsequent product disruptions."
More complicated formulations such as extended release capsules and solutions were also more likely to experience a shortage, Dave said, adding that this is "possibly due to a more complicated manufacturing process (requiring more complex supply chains)."
Recently, the FDA had said that there has been an increase in drug shortages. Combining data from FDA archives and the IQVIA national sales database, one FDA researcher found ongoing shortages have become more prevalent over the last year or so.
The PharmaCompass Newsletter – Sign Up, Stay Ahead
Feedback, help us to improve. Click here
Image Credit : #Phisper Infographic by SCORR MARKETING & PharmaCompass is licensed under CC BY 2.0
" The article is based on the information available in public and which the author believes to be true. The author is not disseminating any information, which the author believes or knows, is confidential or in conflict with the privacy of any person. The views expressed or information supplied through this article is mere opinion and observation of the author. The author does not intend to defame, insult or, cause loss or damage to anyone, in any manner, through this article."
Read More