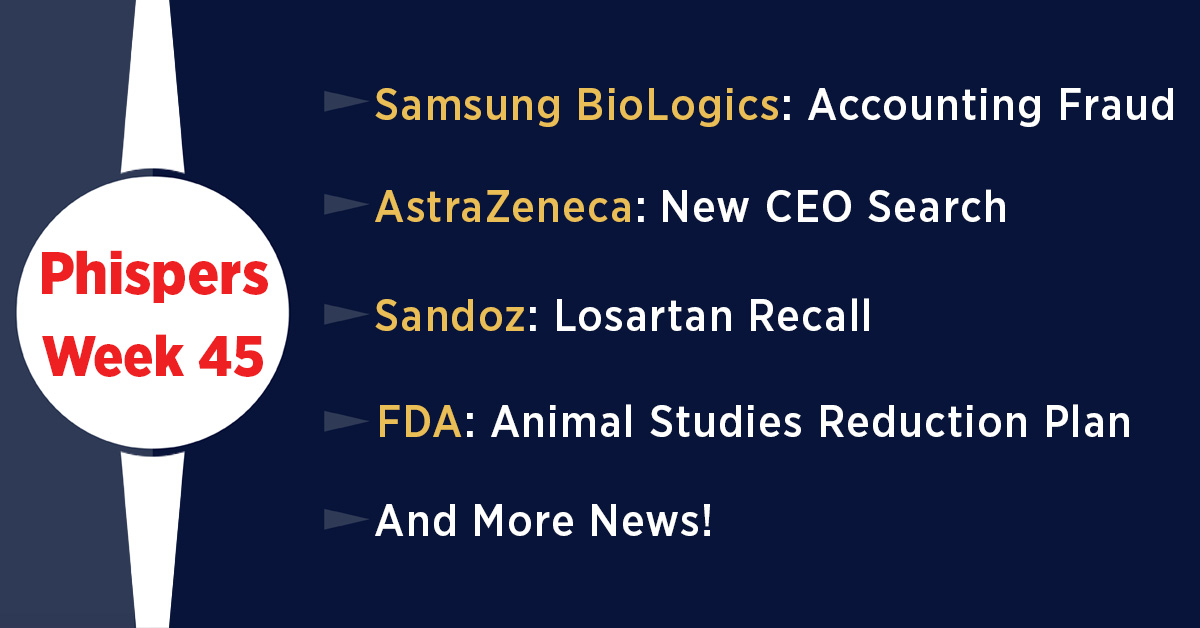 AstraZeneca fails big trial, begins search for CEO; Sandoz recalls losartan in the US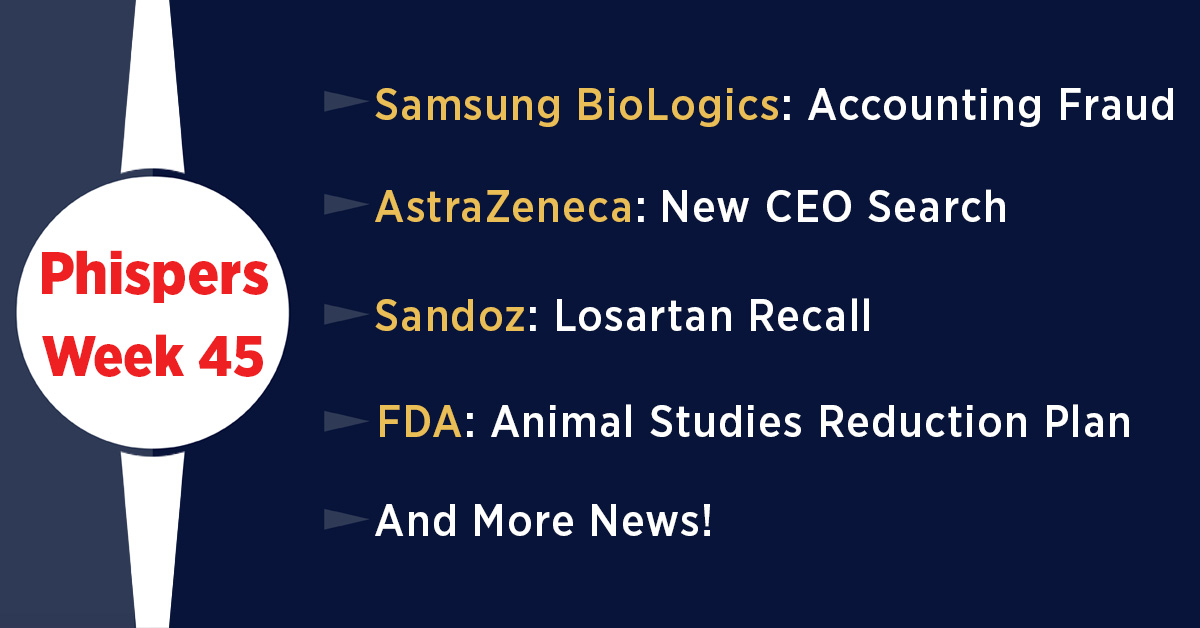 ×
This week, Phispers brings you news on Samsung Biologics, which was recently indicted for intentionally breaching accounting rules and inflating the company's value ahead of its 2016 stock exchange listing by South Korea's top financial regulator.
The sartan saga continued as Sandoz recalled a lot of losartan in the US that contained the NDEA impurity.
The FDA published FAQs on the sartan episodes on its website.
Meanwhile, AstraZeneca received a setback as its checkpoint inhibitor Imfinzi failed the big (phase III) Mystic trial.
Arena Pharmaceuticals sold rights to develop and sell its pulmonary arterial hypertension (PAH) treatment — Ralinepag — to United Therapeutics Corp for US$ 1.2 billion.
Google and Novartis discontinued work on its glucose-monitoring smart lens. And FDA explored ways to reduce animal studies to develop veterinary drugs.



Korean regulator says Samsung BioLogics intentionally breached accounting rules
Last week, South Korea's top financial regulator said Samsung BioLogics Co Ltd intentionally breached accounting rules and inflated the company's value ahead of its 2016 stock exchange listing. The IPO had raised US$ 2 billion. The regulator fined Samsung Biologics US$ 7 million (8 billion won) and recommended the company dismiss its CEO.
Samsung BioLogics is now facing a potential criminal investigation and delisting. Kim Yong-beom, vice chairman of the Financial Services Commission, said trading of Samsung BioLogics shares would be suspended following the decision and that the stock exchange would review the validity of its listing.
The regulatory review emanates from Samsung BioLogics' sudden profits in 2015 after years of losses. Samsung BioLogics reported a net profit of 1.9 trillion won (US$ 1.68 billion) that year, after changing the method used to calculate the value of Samsung Bioepis, which is a joint venture with the US-based Biogen Inc.
Kim said no company has been delisted on accounting issues in South Korea so far.
The case threatens to be another scar for Samsung, the country's biggest chaebol. Earlier this year, Y. Lee, vice chairman of Samsung Electronics Co, was jailed for bribery. He was later released as his jail term was suspended.
Through a statement that's also posted on its website, Samsung BioLogics expressed regret over the financial regulator's ruling, saying it was confident that the company didn't violate accounting standards. Samsung BioLogics said it will file an administrative lawsuit against the decision.
The country's financial watchdog began auditing Samsung BioLogics last year after several lawmakers and a civic group accused the company of improperly changing its Bioepis unit to an affiliate status — a move they said inflated the company's value ahead of the IPO.



Sandoz recalls losartan with NDEA impurity; FDA publishes Q&As on sartan saga
After months of discovering probable cancer-causing impurities in sartan APIs manufactured by China's Zhejiang Huahai Pharmaceutical, tainted drugs continue to show up in the US. The latest company to spring up in the saga is Sandoz.
Last week, the US Food and Drug Administration (FDA) and Sandoz announced that the Novartis unit is recalling one lot of losartan that was manufactured by its Lek Pharmaceuticals unit in Ljubljana, Slovenia, because its contains N-nitrosodiethylamine (NDEA), a suspected carcinogen. NDEA and N-Nitrosodimethylamine (NDMA) are two probable human carcinogens.
The Huahai episode has led to recalls across countries of sartan APIs. Regulatory agencies across the world continue to test other "sartan" products including candesartan, irbesartan, losartan and Olmesartan for cancer-causing impurities.
Meanwhile, the FDA has posted Q&As on impurities found in certain generic angiotensin II receptor blocker (ARB) products. ARBs include 'sartan' drugs, such as candesartan, eprosartan, irbesartan, losartan, olmesartan, telmisartan, and valsartan. ARBs are commonly used to treat high blood pressure and heart failure.
"The FDA has identified factors in manufacturing processes that may contribute to the formation of NDMA and NDEA. As part of our investigation, we are working to ensure that other manufacturing conditions do not contribute to NDMA, NDEA, or related impurities in finished drug products," the agency said.



AstraZeneca fails big trial for Imfinzi; signs deal with Sobi and begins search for CEO
There is lots of news on AstraZeneca this week. Let's begin with its big setback. Last year, the company had chosen to be patient after initial data showed its checkpoint inhibitor Imfinzi combined with its in-house CTLA-4 drug failed to meet the primary endpoint of progression-free survival in a pivotal lung cancer trial. Last week, that faith let it down as the immunotherapy also failed to improve the overall survival rate in the keenly watched Phase III Mystic lung cancer trial.
The trial tested Imfinzi both as a monotherapy and in combination with another checkpoint inhibitor, tremelimumab, against chemotherapy in treatment-naive patients with stage IV non-small cell lung cancer (NSCLC). According to the company, the combination performed worse than Imfinzi alone for the overall survival endpoint.
Meanwhile, the company took another step to refocus on priority drugs by selling US rights to a treatment for infant lung infections (Synagis) to Swedish Orphan Biovitrum, popularly known as Sobi, for an upfront fee of US$ 1.5 billion.
Around 130 AstraZeneca staff will be transferred to Sobi, which takes over the marketing of Synagis in the US. The acquisition is being seen as a significant commercial boost for rare diseases specialist Sobi, as this will give the Swedish company a substantially increased US footprint, while also expanding its business in immunology.
AstraZeneca will receive US$ 1 billion in cash and US$ 500 million in Sobi shares, equal to a stake of 8 percent in the Swedish group.
There was more from AstraZeneca, as talk about the exit of CEO Pascal Soriot gathered momentum.
The Sunday Times reported that AstraZeneca has begun succession planning following shareholder pressure as the drug behemoth works towards achieving a turnaround. The company is also looking for someone to succeed chief financial officer Marc Dunoyer.
According to the newspaper, Mene Pangalos and Ruud Dobber seem to be in the running for the top job. Dobber heads the commercial team in North America for AstraZeneca, while Pangalos is one of its top scientists in charge of R&D.



Arena signs deal with United Therapeutics; Sanofi gets positive EMA opinion on rare disease drug
There was lots of activity in the field of new drug development. Last week, Arena Pharmaceuticals Inc sold rights to develop and sell its pulmonary arterial hypertension (PAH) treatment — Ralinepag — to United Therapeutics Corp for US$ 1.2 billion.
The money, according to Arena Pharma, will help it prepare for the eventual launch of its bowel disorder drugs. The deal involves an upfront payment of US$ 800 million, and US$ 400 million in milestones.
United Therapeutics is a great partner for Ralinepag since it has substantial exposure to the PAH space. With its wide range of dosage options, Ralinepag could be used to treat several types of patients. It could, in fact, become a first-line treatment over some of the company's existing treatments.
"The size and structure of the deal would put this company in a completely different trajectory as we develop etrasimod and olorinab," Arena's chief executive officer Amit Munshi said. Etrasimod is Arena's experimental treatment for ulcerative colitis, while olorinab is being tested in a mid-stage trial as a treatment for pain associated with inflammatory bowel disease.
This is the second PAH agreement United Therapeutics has signed in recent months. In September, it struck a deal with Mannkind Corp to develop and sell dry powder treprostinil, an experimental treatment for the same condition.
Meanwhile, the European Medicines Agency's Committee for Medicinal Products for Human Use (CHMP) has adopted a positive scientific opinion of fexinidazole, the first all-oral treatment for sleeping sickness.
This approval is a result of clinical trials led by DNDi, a non-profit research and development organization, and an application submitted by Sanofi. The decision paves the way for the distribution of fexinidazole in endemic countries in 2019.
Sleeping sickness, or human African trypanosomiasis (HAT), is usually fatal. Transmitted by the bite of a tsetse fly, it causes neuropsychiatric symptoms; including aggression, psychosis, and a debilitating disruption of sleep patterns that have given this neglected disease its name. About 65 million people in sub-Saharan Africa are at risk.
Fexinidazole is the first all-oral treatment that works both for the early stage of the disease as well as the second stage of the disease in which the parasites have crossed the blood-brain barrier, causing patients to suffer from neuropsychiatric symptoms.



Google, Novartis halt work on glucose monitoring smart lens
Alphabet's life sciences division Verily and Novartis' eye-care subsidiary Alcon are discontinuing their work on the glucose monitoring 'smart lens' device the two companies had been attempting to build since 2014. This information was given out through a post by Verily's chief technical officer Brian Otis on the company's website last week.
When the partnership was announced, the idea was to develop two types of contact lenses. One would be used by diabetic patients to continuously monitor their glucose levels by measuring the tear fluid in their eyes. The other would be for people with presbyopia, those who become farsighted with age.
While Verily's work on the lens addressing farsightedness will continue, Otis' post explained that they were unable to demonstrate enough consistency in their measurements showing a correlation between blood glucose concentrations and tear glucose.
"For example, we found that interference from biomolecules in tears resulted in challenges in obtaining accurate glucose readings from the small quantities of glucose in the tear film," the post said. "In addition, our clinical studies have demonstrated challenges in achieving the steady state conditions necessary for reliable tear glucose readings."
Alcon and Verily will also continue to work together on developing a smart intra-ocular lens to improve sight after cataract surgery.
"We're looking forward to the next phase of development on our other two smart lens programs with Verily, where we are applying our significant technical learnings and achievements to prevalent conditions in ophthalmology," an Alcon spokesman said.

Pharma companies that develop veterinary medicines have to carry out trials of their experimental drugs on dogs, which often leads to death of the animals involved.
Last week, FDA said it plans to study a new model that will result in fewer animal deaths, and put about two dozen beagles up for adoption.
The FDA study will examine anti-parasitic medicine for dogs — such as a dewormer — and will test it for effectiveness by taking a blood sample, FDA Commissioner Scott Gottlieb said in a statement. That would be far less gruesome than the current practice, in which dogs are killed and dissected to check their gastrointestinal tract.
The agency plans to use data generated from the tests to establish a benchmark for how drugs are absorbed in dogs' blood, potentially allowing makers of animal drugs to use models instead of experiments on live dogs that sometimes include euthanization.
The FDA has been exploring ways to reduce reliance on animal studies. In January, it started the Animal Welfare Council after terminating a nicotine study in which four squirrel monkeys died.
The FDA's modeling test will be run in 27 beagles, according to a white paper describing the plan.
"The dogs will receive regular veterinary care, including vaccinations and other preventive care, so that they remain happy, well-socialized and healthy," Gottlieb said in the statement. "At the conclusion of the study, the dogs will be retired for adoption as pets."
The agency estimated that the new modeling "will likely result in saving more than three-quarters of the animals otherwise required". In a two to five year period, that equates to approximately several hundred animals, the FDA added.
In 2016, about 60,000 dogs were used in human and veterinary research and testing in the US, according to the US Department of Agriculture.
The PharmaCompass Newsletter – Sign Up, Stay Ahead
Feedback, help us to improve. Click here
Image Credit : #Phisper Infographic by SCORR MARKETING & PharmaCompass is licensed under CC BY 2.0
" The article is based on the information available in public and which the author believes to be true. The author is not disseminating any information, which the author believes or knows, is confidential or in conflict with the privacy of any person. The views expressed or information supplied through this article is mere opinion and observation of the author. The author does not intend to defame, insult or, cause loss or damage to anyone, in any manner, through this article."
Read More