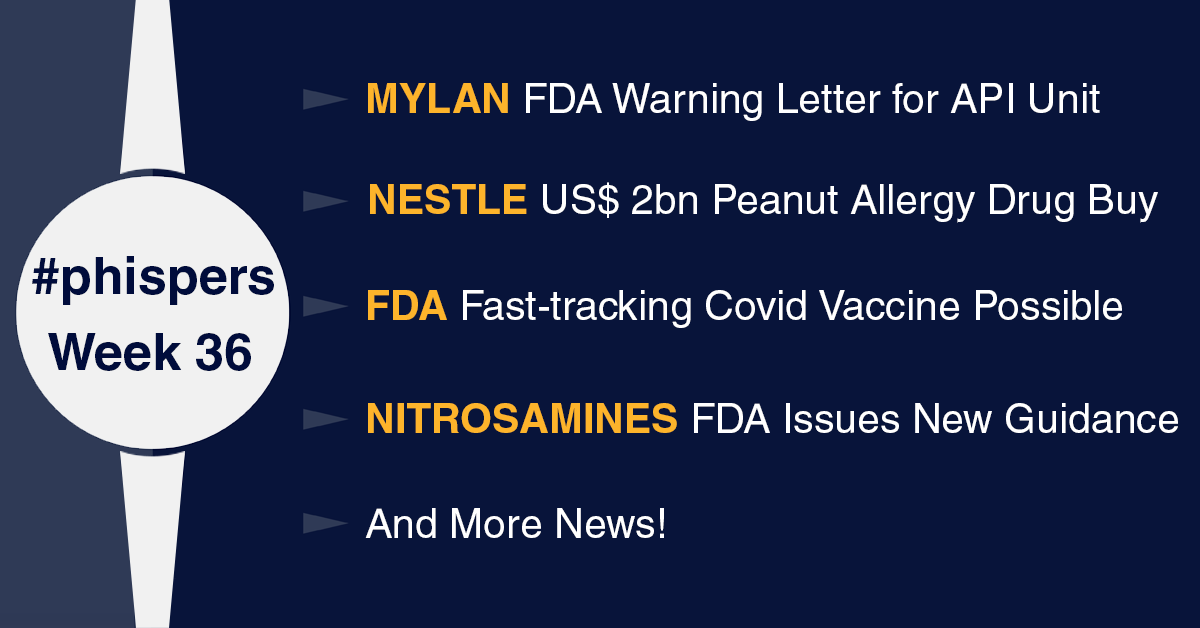 Another Mylan unit gets FDA warning letter; US may fast-track Covid-19 vaccine, says FDA chief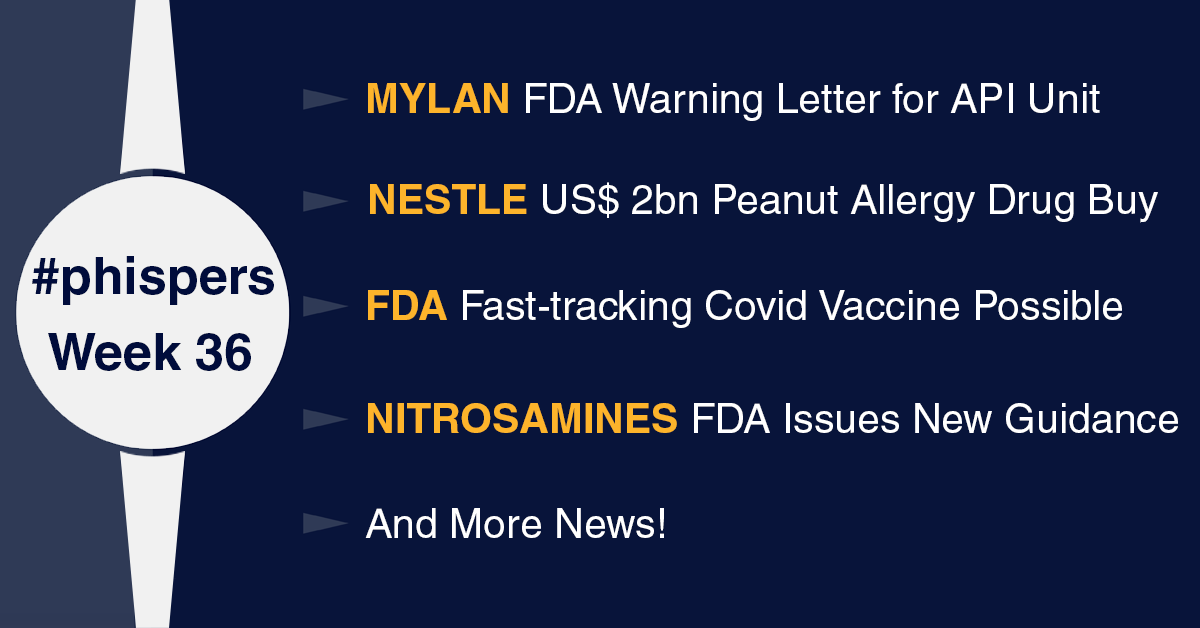 ×
This week, Phispers brings you news on Nestle as it bought peanut allergy treatment maker Aimmune Therapeutics for US$ 2 billion.
Mylan saw another one of its plants in India receive a warning letter for inadequate management of recovered solvents.
After last week's faux pas over interpretation of a Mayo Clinic study on convalescent plasma, FDA removed some key PR personnel.
The FDA chief also said that the agency is willing to fast-track a Covid-19 vaccine before its clinical trials are complete, if determined appropriate.
FDA expanded the EUA for remdesivir to include all hospitalized Covid patients.
In vaccine updates, there is news that Sanofi's CEO, Paul Hudson, has expressed renewed confidence over the company's Covid-19 vaccine candidate being developed along with GSK.
The vaccine goes into clinical trials this week.
AstraZeneca said its vaccine candidate for Covid-19 has moved into US Phase 3 clinical trials across all adult age groups.
And FDA provided guidance for detecting and preventing nitrosamine impurities in drugs.
Nestle buys peanut allergy treatment maker Aimmune Therapeutics for US$ 2 billion
Nestle, the multinational food and drink processing conglomerate, is buying peanut allergy treatment maker Aimmune Therapeutics for US$ 2 billion. With this acquisition, the Swiss company — which is known for its KitKat chocolate bars and instant coffee — hopes to expand its fast-growing health science business.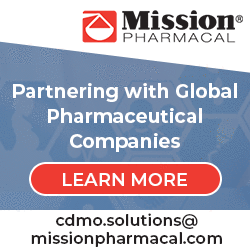 Nestle is paying a hefty premium to buy Aimmune — it is paying US$ 34.5 per share, 174 percent more than the California-based biopharmaceutical firm's closing price on Friday.
In 2011, Nestle had decided to open a new area of business between food and pharma by setting up Nestle Health Science. Nestle already has a 25.6 percent in Aimmune.
Aimmune's Palforzia, the first and only FDA-approved treatment for peanut allergy, expands a food allergy portfolio under its health science umbrella currently focused on nutrition.
"Aimmune has US$ 261 million in cash and US$ 134 million in debt. With our prior investment of US$ 473 million in Aimmune, we'll be making a cash payment of just under US$ 2 billion," Nestle Health Science's head, Greg Behar, said.
Nestle estimates that up to 240 million people worldwide suffer from food allergies. With peanut allergy being the most common, Palforzia has sales potential of US$ 1 billion, Behar said.
Contamination concerns continue to haunt Mylan as another unit gets warning letter
In November last year, American drugmaker Mylan had received a warning letter from the US Food and Drug Administration (FDA) for its Unit 8 API manufacturing facility (in Kandivalasa, Andhra Pradesh) due to the presence of cancer-causing nitrosamine impurities. Mylan had not anticipated the presence of nitrosamine impurities in its assessment of the valsartan API manufacturing process.
The warning letter also highlighted that Mylan was supplied solvents that were contaminated with nitrosamines from multiple contract manufacturers (CMOs). Mylan's investigations had also determined that the contamination was from recovered solvents which contained more than 40 times the limit set by Mylan. Even after Mylan suspended the use of recovered solvents from CMOs and began relying on in-house solvent recovery, the solvents were found to contain nitrosamine impurities.
In August 2019, Lantech Pharmaceuticals Limited, a CMO that undertakes contract solvent recovery for valsartan API manufacturing operations, was issued a warning letter by the FDA. The letter to Lantech Pharmaceuticals said its processing methods left open the chance of cross-contamination of solvents. The company had been put on import alert in June 2019. Mylan had also tied its own contamination back to tainted solvents, telling the FDA that contract manufacturers had sent contaminated batches.
This week, FDA issued a warning letter to another Mylan API manufacturing site in India — Unit 7, situated in the Sangareddy district in Telangana. The site was inspected from February 24 to 28, 2020.
Once again, this Mylan site was cited for inadequate management of recovered solvents. This unit has been certified by the Indian drug authority to produce 29 different APIs.
During the inspection in February, FDA inspectors found inadequate cleaning records for non-dedicated bulk storage tanks. According to the agency, this provided limited assurances about the unit's non-dedicated equipment, and that it "would not contribute to cross-contamination or carry-over of residual impurities."
The warning letter mentions that some recovered solvents used at the site were processed by CMOs and highlights that one CMO used by Mylan for solvent recovery was added to FDA's import alert list and was also issued a warning letter.
In addition to the lack of cleaning records, FDA investigators found the cleaning validation and verification program for non-dedicated manufacturing and storage equipment to be inadequate. The methods were not adequately validated to ensure they were capable of detecting and appropriately quantifying impurities.
The warning letter states: "An inadequate scope of impurity analysis, in combination of non-dedicated equipment, lack of cleaning records, and introduction of elevated unknown impurities, increase the risk potential for API and API intermediate cross-contamination."
While the FDA has asked Mylan to provide detailed plans to ensure it improves its manufacturing operations, thereby reducing its cross contamination risk, going by the nature of the deviations, the agency has strongly recommended that Mylan engage a consultant qualified to evaluate its API operations to assist the firm in meeting the current good manufacturing practices requirements.
FDA chief under pressure to fast-track Covid-19 vaccine; removes key PR personnel
Last week, we had reported on how the US Food and Drug Administration (FDA) had got embroiled in electoral politics. The agency had granted an emergency use authorization (EUA) to convalescent plasma therapy and FDA's commissioner, Stephan Hahn, had misinterpreted some data regarding a study undertaken by the Mayo Clinic.
This week, there are more updates to that story. In an interview, Hahn said he is willing to fast-track a coronavirus vaccine before clinical trials are complete if it is determined to be "appropriate." However, he stressed that politics would play no part in such a move. "This is going to be a science, medicine, data decision," he told Financial Times.
In a tweet, Hahn also mentioned that in order to reinforce the transparency of FDA's data review process, the agency will organize meetings with an independent group of experts to review data of various vaccine candidates and advise the agency.
He also indicated that he is willing to fast-track a vaccine. "It is up to the sponsor [vaccine developer] to apply for authorization or approval, and we make an adjudication of their application," Hahn said. "If they do that before the end of Phase 3, we may find that appropriate. We may find that inappropriate, we will make a determination."
He also noted that an EUA could be given for people in certain groups. "Our emergency use authorization is not the same as a full approval," Hahn said."The legal, medical and scientific standard for that is that the benefit outweighs the risk in a public health emergency."
Health experts have voiced concerns that the Trump administration could move too quickly on treatment options for Covid-19, in light of the forthcoming US presidential elections.
Meanwhile, earlier this week, the FDA has removed two senior public relations employees, one of whom advised the agency against unrestrained promotion of convalescent blood plasma as a treatment for Covid-19.
The US Department of Health and Human Services terminated the contract for Wayne L Pines, a PR consultant to the FDA. Pines reportedly advised Hahn to apologize for making misleading claims about the therapeutic benefits of convalescent plasma therapy for Covid-19.
The other PR employee who was removed — Emily Miller — had been on the job for less than two weeks. "Effective immediately, Emily Miller will no longer serve the FDA as the assistant commissioner for media affairs and will no longer be the official spokesperson for the Agency," Hahn wrote in an email.
Miller played a lead role in defending Hahn after he misrepresented data regarding the use of blood plasma from recovered Covid-19 patients.
Before joining the FDA, Miller had no experience in health or medicine. Colleagues said Miller was a bad fit. "She couldn't even pronounce convalescent plasma," said one health official. It's unclear whether Miller will leave the administration altogether or be reassigned elsewhere.
On Wednesday, Hahn told staff that John "Wolf" Wagner, who served as FDA's associate commissioner for external affairs for two months, will take a new role in the office of the HHS assistant secretary for preparedness and response.
Vaccine update: Astra's shot moves into Phase 3; Sanofi sees positive data
British drugmaker AstraZeneca has said its Covid-19 vaccine candidate — AZD1222 — has moved into US Phase 3 clinical trials across all adult age groups.
The US trial is funded by the Biomedical Advanced Development Authority (BARDA). Trial centers across the US are recruiting up to 30,000 adults aged 18 years and above from diverse racial, ethnic and geographic groups who are healthy or have stable underlying medical conditions, including those living with HIV, and those who are at increased risk of infection from the SARS-CoV-2 virus. Centers outside the US are included based on predicted transmission rates of the virus, and sites in Peru and Chile plan to initiate recruitment shortly.
In anticipation of the US granting fast-track approvals to Covid-19 vaccines, AstraZeneca has also expanded its agreement with cell therapy firm Oxford Biomedica to mass-produce its potential vaccine, a Reuters news report said.
Sanofi-GSK to start clinical trials soon: Last week, Sanofi's CEO, Paul Hudson, expressed renewed confidence over the company's Covid-19 vaccine candidate being developed along with GSK. The candidate is set to start clinical trials sometime this week.
"The early data is saying that we're on the right track and that we have a vaccine," Hudson told Reuters on Friday. "Our confidence has increased. We have work to do like everybody on manufacturing in large volumes. But we will have one, maybe two vaccines next year."
The French drugmaker has also negotiated to supply vaccines to the UK and had plans to provide up to 300 million vaccines to the European Union as well. However, those talks have hit a snag, as the bloc is not planning to offer full protection from civil liability lawsuits.
Sanofi is developing a second Covid-19 vaccine candidate along with Translate Bio, using mRNA technology. A few days ago, an SEC filing from Translate Bio said early testing of that candidate induced an immune response in primates, showing "high neutralizing titers that are comparable to the upper range of those observed in infected humans," inducing "TH1-biased T cell responses."
FDA expands emergency use of remdesivir to include all hospitalized Covid patients
Last week, the US Food and Drug Administration broadened the scope of the existing emergency use authorization (EUA) for Gilead Inc's remdesivir to include treatment of all hospitalized adult and pediatric patients with suspected or laboratory-confirmed Covid-19, irrespective of the severity of the disease.
The drug was authorized in May for use in patients with a severe form of the illness, after trial data showed the antiviral drug helped shorten hospital recovery time.
Based on the agency's ongoing review of the EUA, the FDA has determined that it is reasonable to believe that remdesivir may be effective for the treatment of suspected or laboratory-confirmed Covid-19 in all hospitalized adult and pediatric patients. The agency's review has also concluded that the known and potential benefits of remdesivir outweigh the known and potential risks for these uses.
That study found that moderately ill patients treated with the antiviral drug for up to five days had significantly higher odds of improvement in certain areas, such as whether they needed supplemental oxygen, compared to patients given standard treatment.
But the importance of that benefit was uncertain, Gilead said, due to continued questions about how best to measure patient outcomes other than survival. FDA said in a press release that remdesivir may be effective in treating the disease and the potential benefits outweigh the risks.
FDA provides guidance for detecting, preventing nitrosamine impurities in drugs
Over the last two years, nitrosamine impurities in drugs used to treat hypertension (sartans), diabetes (metformin) and acidity (ranitidine) have hogged headlines. In 2018, several companies had to voluntarily recall losartan due to the detection of trace amounts of nitrosamine impurities, NDEA (N-Nitrosodiethylamine) and NDMA /(N-Nitrosodimethylamine).
While nitrosamines are common in water and foods, nitrosamine impurities may increase the risk of cancer if people are exposed to them above acceptable levels and over long periods of time.
This week, the US Food and Drug Administration (FDA) issued its guidance — Control of Nitrosamine Impurities in Human Drugs — for immediate implementation. This guidance recommends steps, including a comprehensive risk assessment strategy and other actions that manufacturers can take in order to reduce or prevent the presence of nitrosamine impurities in their drugs.
"The FDA has been working, in collaboration with regulatory counterparts around the world, to find and remove drugs with unacceptable nitrosamine impurities from the US drug supply. As we do so, we're also taking proactive efforts to help ensure that in the future, drugs can be free from unsafe levels of these impurities from the start of production," the FDA said in a statement.
According to the agency, there are many reasons why these impurities might appear in some drugs. The source of these impurities can be related to the drug's manufacturing process, the materials used in manufacturing, the drugs' chemical structure, or even the conditions in which drugs are stored or packaged. "Under FDA's oversight, manufacturers are responsible for mitigating these impurities," the statement said.
The PharmaCompass Newsletter – Sign Up, Stay Ahead
Feedback, help us to improve. Click here
Image Credit : #Phisper Infographic by SCORR MARKETING & PharmaCompass is licensed under CC BY 2.0
" The article is based on the information available in public and which the author believes to be true. The author is not disseminating any information, which the author believes or knows, is confidential or in conflict with the privacy of any person. The views expressed or information supplied through this article is mere opinion and observation of the author. The author does not intend to defame, insult or, cause loss or damage to anyone, in any manner, through this article."
Read More