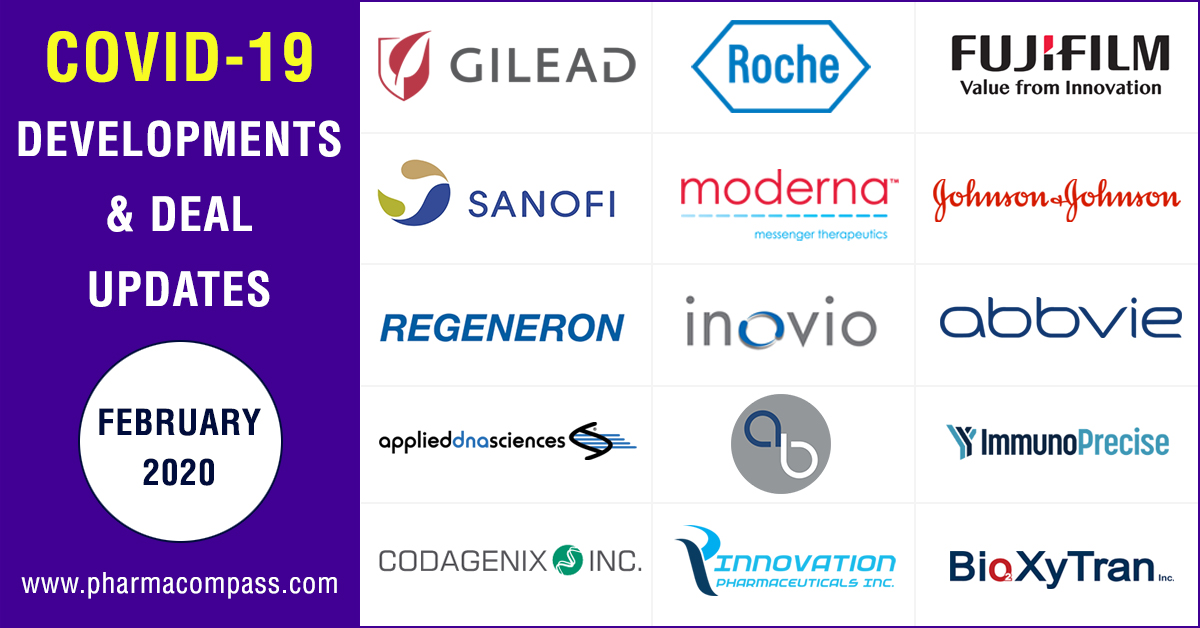 Pipeline Prospector Feb 2020: Coronavirus Developments & Deal Updates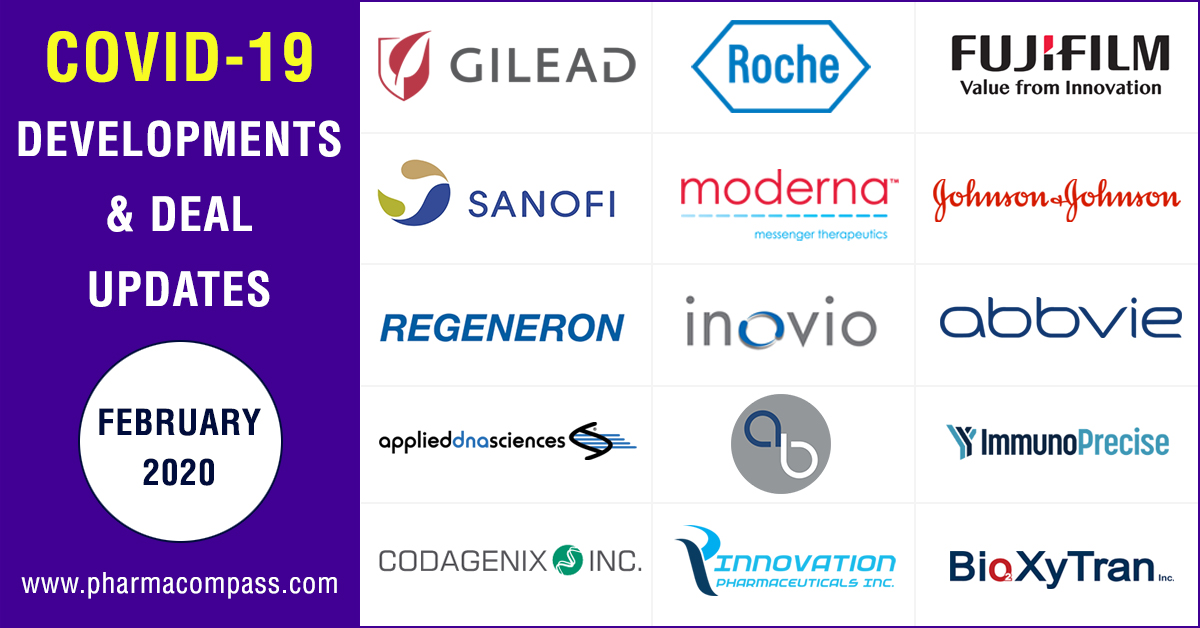 ×
In February, PharmaCompass and SCORR Marketing had announced the launch of the Pipeline Prospector, a free-access database of global drug development deals and updates designed for executives in the drug development industry.
While our recap of January had focused on the major deals announced in the pharma and biotech world, February was dominated by the single biggest health emergency in years — the novel coronavirus (Covid-19).
Although the industry is striving to make antiviral medicines available in months and a vaccine available by next year that can effectively target the infection caused by the novel coronavirus, since the end of January we have seen some of the biopharma industry's biggest names as well as small startups announce steps they are undertaking to combat the disease.
Access the Pipeline Prospector Dashboard for All Deals & Development Updates

Fujifilm, Zhejiang Hisun Pharmaceutical's Favipiravir
The Chinese National Medical Products Administration also approved the clinical trial to test the influenza drug Favipiravir, manufactured by Zhejiang Hisun Pharmaceutical, for pneumonia caused by the new coronavirus in an upcoming clinical trial being conducted in Shenzhen.
Favipiravir is a RdRP (RNA-dependent RNA polymerase) inhibitor which works as a broad spectrum antiviral agent that has been approved in Japan for novel or re-emergent influenza and it has also been used to treat Ebola patients in Guinea.
On February 22, Japan's Health Minister Katsunobu Kato said his ministry would recommend favipiravir (sold as Avigan in Japan), developed by Fujifilm-owned Toyama Chemical, for use as a coronavirus treatment after test dosages appeared effective in mild and asymptomatic cases in at least two medical institutions.
Access the Pipeline Prospector Dashboard for All Deals & Development Updates

This week, the director of China's National Center of Biotechnology Development announced that a clinical trial completed in China has demonstrated that favipiravir has good clinical efficacy against Covid-19.
However, South Korean health authorities announced they will not use the Japanese anti-influenza medication for treatment of Covid-19 due to doubts over its efficacy and potential side effects.
Gilead's remdesivir
Gilead Sciences Inc announced it had started two late-stage studies with its experimental antiviral drug — remdesivir — to test it in patients with severe and moderate cases of the illness caused by the coronavirus.
Remdesivir, Gilead's experimental anti-viral treatment, had shown some positive results in a patient in the US with worsening symptoms of a confirmed Covid-19 infection. Remdesivir appeared effective as a throat swab tested negative for the virus just a few days after receiving the infusion, and no adverse events were reported.
However, a paper subsequently published, without peer review, revealed that some hospitalized patients showed signs of worsening in the second week after illness onset. Wall Street analysts in a note to investors wrote that they "see a less than 50/50 possibility that the drug is ultimately proven effective".
Access the Pipeline Prospector Dashboard for All Deals & Development Updates

Remdesivir is an investigational antiviral drug that was being developed to combat the Ebola virus, and is not currently approved for any indication globally. However, some patients with Covid-19 have received intravenous remdesivir for compassionate use outside of a clinical trial setting.
In China, multiple clinical trials of investigational therapeutics have been implemented, including two controlled, randomized Phase III trials which are underway at the China-Japan Friendship Hospital. Gilead said these two new studies expand the drug's research that are under way in China's Hubei province led by the China-Japan Friendship Hospital and in the United States led by the National Institute of Allergy and Infectious Diseases.
While results from such studies are bound to take months, the virology institute in Wuhan has applied for a patent on this experimental Gilead drug.
Access the Pipeline Prospector Dashboard for All Deals & Development Updates

80-year-old malaria drug chloroquine
Chinese scientists also reported that remdesivir and chloroquine, an 80-year-old malaria drug, were found to be highly effective in laboratory settings to thwart the novel coronavirus. There are several trials underway at Chinese facilities, some in combination with other agents like remdesivir. While the virology institute in Wuhan said the two drugs' efficacies on humans required further clinical tests, no company has currently announced an active development program for this age-old treatment against Covid-19.
Chloroquine, which has been taken for many decades as an antimalarial, has a number of common side effects which include muscle problems, loss of appetite and diarrhea. Some of its more serious side effects include problems with vision, muscle damage, seizures etc.
Although Chloroquine features on the WHO's List of Essential Medicines, its efficacy and safety against the novel coronavirus will need to be established as it is possible to do more harm with a rushed treatment.
Access the Pipeline Prospector Dashboard for All Deals & Development Updates

Roche's tocilizumab
China approved Swiss drugmaker Roche's Actemra (tocilizumab), a biologic drug approved in 2010 in the United States for rheumatoid arthritis (RA), for patients who develop severe complications from Covid-19.
Tocilizumab suppresses overreactions of the immune system and helps inhibit a deadly medical condition called a cytokine storm — an overproduction of immune cells that damage healthy tissues -- which is also one of the main causes of death for critically ill Covid-19 patients.
Last month, the Red Cross Society of China donated more than 30,000 injection solutions to help patients in Wuhan and around 270 severely ill patients were being treated with tocilizumab.
Access the Pipeline Prospector Dashboard for All Deals & Development Updates

In February, Israel-based Enlivex Therapeutics Limited, a clinical-stage immunotherapy company, announced it is initiating a plan to increase its manufacturing capacity of Allocetra, an experimental therapy being investigated for treatment of patients with organ failure associated with sepsis, a syndrome whose lethal pathophysiology (cytokine storm followed by organ failure) is similar to that of the coronavirus (Covid-19).
Enlivex had announced its plan to initiate two clinical studies this year: (i) a Phase II/III clinical trial for sepsis later in the year; and (ii) a Phase II/III for the prevention of GvHD (graft versus host disease) in patients who undergo bone-marrow transplantations. The manufacturing capacity of Allocetra was initially planned to match the expected recruitment rate of patients in those two clinical trials.
Access the Pipeline Prospector Dashboard for All Deals & Development Updates

Vaccines
February also saw companies like Sanofi and Johnson & Johnson (J&J) announce they were joining forces with a US Health and Human Services Department — BARDA (Biomedical Advanced Research and Development Authority) — to develop vaccines for Covid-19.
Sanofi will be investigating an advanced pre-clinical SARS vaccine it was working on in the early 2000s as a potential treatment for the novel coronavirus. Sanofi SA and its partner Regeneron Pharmaceuticals Inc also announced that they had started a clinical trial of their rheumatoid arthritis drug Kevzara as another potential treatment option.
On February 24, Moderna, a Massachusetts-headquartered biotechnology firm, confirmed the shipment of its first batch of mRNA-1273 in a planned Phase I open-label, dose-ranging trial study, to evaluate the safety and reactogenicity of a two-dose vaccination schedule of mRNA-1273, given 28 days apart, across three doses in healthy adults in the United States. Manufacture of this batch was funded by the Coalition for Epidemic Preparedness Innovations (CEPI). CEPI agreed to fund the manufacturing of a 2019-nCoV vaccine that uses Moderna's proprietary messenger RNA (mRNA) platform and this week Moderna announced that the first patient had been dosed with the vaccine.
Access the Pipeline Prospector Dashboard for All Deals & Development Updates

GlaxoSmithKline and CEPI also said they would work to accelerate the creation of a vaccine. The project will rely on GSK's adjuvant system, designed to enhance the body's immune response and create a stronger and longer lasting protection against the infection. However, developing a preventive and confirming that it is safe and useful in humans could take 12 to 18 months.
US-based biotech company Inovio Pharmaceuticals and its partner Beijing Advaccine Biotechnology announced they were developing a 'DNA vaccine' called INO-4800. This nucleic acid-based vaccine is currently in preclinical trials and involves directly injecting genetic material into a person to trigger a strong immune response.
Other companies which announced they would be working on vaccines for the novel coronavirus were Applied DNA Sciences, ImmunoPrecise Antibodies and Codagenix.
Other developments
There are several other known antiviral drugs under evaluation in China, such as oseltamivir (better known as Tamiflu), AbbVie Inc's HIV combination therapy lopinavir and ritonavir (sold as brand drug Kaletra) and Johnson & Johnson's darunavir (sold under brand name Prezista). Meanwhile, Johnson and Johnson has revealed that there is no evidence to support the use of darunavir for the treatment of COVID-19. With multiple clinical trials underway it remains to be seen if all these are desperate long shots or if they can become effective treatments against this novel coronavirus.
Innovation Pharmaceuticals announced it was exploring Brilacidin as a potential treatment for Covid-19. According to the company, Brilacidin has already demonstrated widespread antibacterial, anti-inflammatory and immunomodulatory properties in multiple FDA clinical trials.
Access the Pipeline Prospector Dashboard for All Deals & Development Updates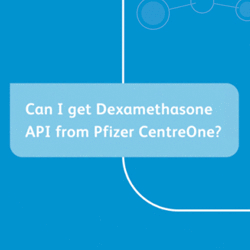 Bioxytran announced it is exploring partnering with international drug companies to develop its lead product BXT-25, originally formulated to treat hypoxia, to circulate oxygen in the bodies of patients suffering from the later stages of Covid-19. According to the company, most late-stage coronavirus patients develop acute respiratory distress syndrome (ARDS), characterized by low blood oxygen levels due to fluid build up. They also asserted that the only treatment for ARDS is oxygen therapy along with ventilator support.
A drug candidate developed by APEIRON Biologics named APN01 is being tested in China in a phase one pilot trial as a treatment for Covid-19 coordinated by Angalpharma and dMed Pharmaceutical. The APN01 drug candidate, formulated to treat lung and respiratory distress syndromes, builds on a previous discovery that ACE2 protein is the key receptor for the SARS virus.
Academic institutions have also been active as Emory University's non-profit biotechnology company, Drug Innovation Ventures at Emory (DRIVE), launched a GoFundMe campaign to raise money for testing its antiviral drug candidate – EIDD-2801 — which has shown potential therapeutic effects against Covid-19.
Our view
Covid-19, which was first detected in December in Wuhan, China, has already sickened more than 200,000 people worldwide and killed over 9,000. The exponential growth rate of the infections with limited breakthrough treatments in sight indicate a long development road ahead for the industry.
The novel coronavirus has a mortality rate that ranges between 1 to 4 percent, which pales in comparison to the Ebola virus that killed 50 percent of the people infected by it. In fact, 53 percent of the people who took one of the lead treatments against Covid-19 -- Gilead's remdesivir — had died during the Ebola study.
On the other hand, Merck & Co won FDA approval for its Ebola vaccine last year but the company isn't currently working on developing a vaccine against this novel coronavirus. Merck's reasoning is that if the virus is as bad as everyone fears it to be, then almost everyone will need to be immunized. However, as everyone does not get seriously ill, giving a vaccine to healthy people requires a comprehensive safety assessment which will be a long process.
Access the Pipeline Prospector Dashboard for All Deals & Development Updates

As Julie Gerberding, who was director of the Centers for Disease Control and Prevention during the SARS outbreak and is now Merck's chief patient officer, told Bloomberg: "We have never made a vaccine for the world."
The focus on drug development is constantly evolving and the Pipeline Prospector, our free access database of global drug development deals and development updates, is designed to provide the insights necessary for professionals to drive their business forward.
Email us at support@pipelineprospector.com to learn more.
Access the Pipeline Prospector Dashboard for All Deals & Development Updates

The PharmaCompass Newsletter – Sign Up, Stay Ahead
Feedback, help us to improve. Click here
Image Credit : Covid 19 Developments & Deal Updates by PharmaCompass is licensed under CC BY 2.0
" The article is based on the information available in public and which the author believes to be true. The author is not disseminating any information, which the author believes or knows, is confidential or in conflict with the privacy of any person. The views expressed or information supplied through this article is mere opinion and observation of the author. The author does not intend to defame, insult or, cause loss or damage to anyone, in any manner, through this article."
Read More