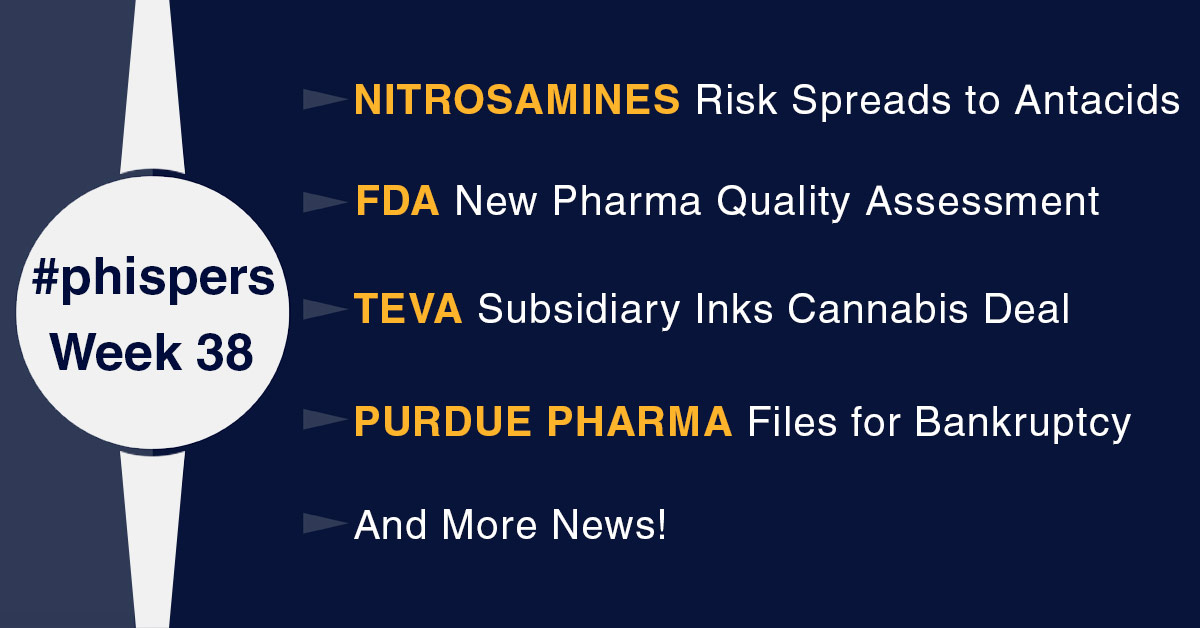 Teva subsidiary inks cannabis deal; After sartans, nitrosamine impurities' scare spreads to antacids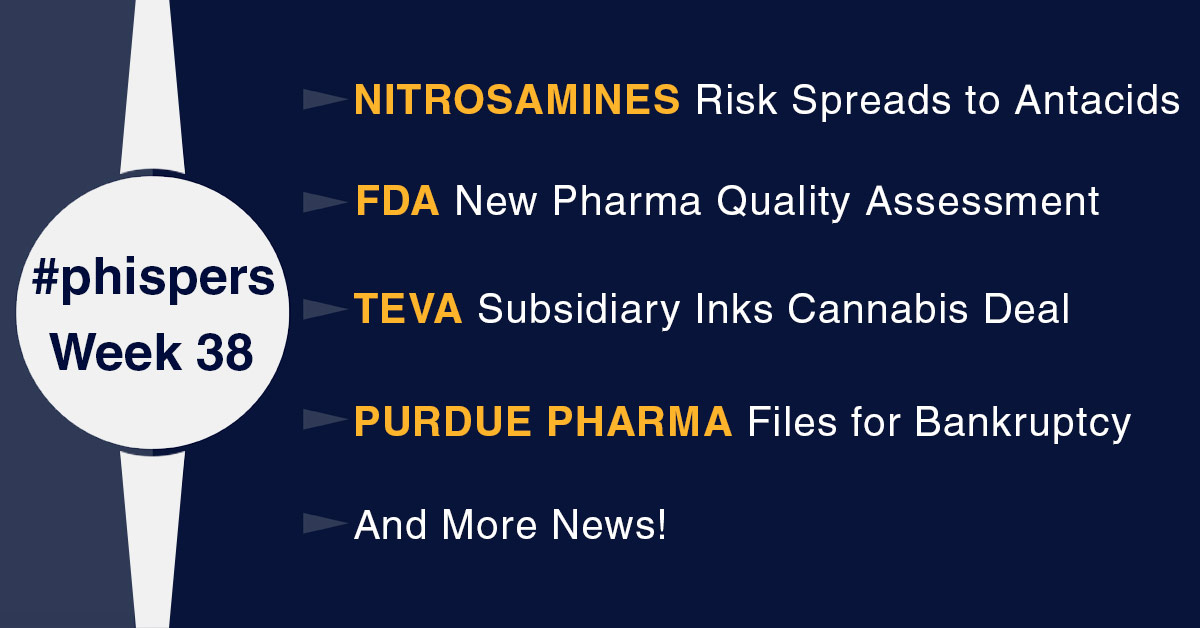 ×
This week, Phispers brings you an update on nitrosamine impurities that had played havoc across the world last year.
The FDA found one such impurity in antacid ranitidine.
Teva subsidiary — Salomon, Levin, Elstein — signed a deal with medical cannabis company Canndoc to distribute its products to its pharma customers. Denmark's Lundbeck agreed to buy Alder BioPharmaceuticals for US$ 2 billion, hoping to reap huge profits from its potential blockbuster migraine drug — eptinezumab.
Purdue Pharma filed for bankruptcy and announced a US$ 10 billion plan to settle lawsuits that accuse its prescription painkiller — OxyContin — of fueling the deadly opioids crisis.
Biogen scrapped two late-stage Alzheimer's trials. Sanofi exited its diabetes pact with Lexicon.
FDA explained its new pharmaceutical quality assessment system, known as KASA.
And a prostate drug — Terazosin — has shown promise against Parkinson's disease.


Threat of carcinogenic impurities spreads from blood pressure drugs to antacid pills
Last year, nitrosamine impurities in blood pressure medicines (sartans) played havoc across the world. Last week, a nitrosamine impurity was back to haunt the world of pharmaceuticals, when the US Food and Drug Administration (FDA) learnt that some ranitidine medicines, including the commonly known brand-name drug Zantac, contain a nitrosamine impurity called N-nitrosodimethylamine (NDMA) at low levels.
Ranitidine is an over-the-counter (OTC) and prescription drug that decreases the amount of acid created by the stomach. Apparently, the levels of NDMA detected in ranitidine were quite low, lower than the levels found in the blood pressure medications that were recalled.
While the FDA is evaluating whether the low levels of NDMA in ranitidine pose a risk to patients, Novartis' Sandoz unit announced that it was halting worldwide distribution of its generic versions of Zantac. Generic versions of Zantac have been recalled in Europe and Canada as well.
Germany's Federal Institute for Drugs and Medical Devices issued a statement informing patients about the withdrawal of ranitidine containing products produced by the API sourced from India's Saraca Laboratories Limited.
NDMA is classified as a probable human carcinogen (a substance that could cause cancer) based on results from laboratory tests. NDMA is a known environmental contaminant and is found in water and foods, including meats, dairy products, and vegetables.
Last year, in the case of blood pressure and heart failure medicines known as Angiotensin II Receptor Blockers (ARBs), the FDA had recommended numerous recalls as it had discovered unacceptable levels of nitrosamines.
Meanwhile, European Medicines Agency (EMA) is to start a review of ranitidine medicines at the request of the European Commission. EMA is evaluating the data to assess whether patients using ranitidine are at any risk from NDMA and will provide information about this as soon as it is available.


Teva subsidiary inks cannabis deal; Lundbeck picks up Alder for US$ 2 billion
A subsidiary of Israeli drugmaker Teva Pharmaceuticals has signed a deal with medical cannabis company — Canndoc — to distribute its GMP products to pharma customers, including hospitals, health maintenance organizations (HMOs) and all pharmacies in Israel. Canndoc is a subsidiary of publicly traded company InterCure.
The Teva subsidiary — Salomon, Levin, Elstein (SLE) — will not only distribute Canndoc's products in Israel, but also "provide logistics capability for exporting Canndoc's products to countries that support regulations for the sale and distribution of cannabis products for medical use," as soon as local regulations allow for it.
As the cannabis industry advances, more big pharma companies are likely to ink deals with cannabis firms, or even make their own forays into the space.
"The agreement brings together our well-established pharmaceutical distribution network with Canndoc's high quality medical cannabis industry presence and market leadership," SLE CEO Aviad Bossi said in a statement.
As of 2018, there were 400 active and completed clinical trials on cannabidiol (CBD) alone, according to Visual Capitalist. The only Big Pharma participating in those trials was French drugmaker Sanofi, which had 38 active or completed clinical trials as of June 2018.
Lundbeck buys Alder: Danish drug major Lundbeck has agreed to buy Alder BioPharmaceuticals for US$ 2 billion. Alder develops preventive treatments for migraine in adults and the deal hopes to bring in huge profits from a potential blockbuster migraine drug — eptinezumab — for Lundbeck.
Alder's board unanimously approved a takeover pitched at a 79 percent premium to Friday's share price close. The move comes as Lundbeck, which specializes in treatments for illnesses such as Alzheimer's and depression, is under pressure from patent expirations and competition from generics.
It submitted a license application for its eptinezumab antibody to the FDA in February.
Lundbeck expects the drug, used in intravenous infusion therapy, to be launched in the US in the first half of 2020.
According to reports, the price of US$ 2 billion appears high given that Alder's eptinezumab is set to be the fourth to market behind other, more patient-friendly options, and more convenient oral drugs could soon be coming. Even if all goes well, it will be long before the acquisition pays off.


FDA explains new pharmaceutical quality assessment system
The US Food and Drug Administration (FDA) is developing a new and more standardized system — to be known as the Knowledge-aided Assessment & Structured Application (KASA) — as part of its work to improve and modernize the quality assessment of the drug applications.
In an article authored by officials from FDA's Center for Drug Evaluation and Research, published in the latest issue of the International Journal of Pharmaceutics, the authors describe KASA as a new system that captures and manages information in a structured format about the inherent risk and control approaches for product design, manufacturing and facilities.
The system is meant to help the FDA address challenges related to its quality assessments. The authors note that when a quality assessor currently reviews a regulatory application, "it is not possible to easily locate historical data about similar products, processes, or the facilities. Such a practice has significantly reduced the efficiency of the regulatory assessment and increased the likelihood of inconsistencies. Further, in particularly urgent cases, the FDA may not have readily available up-to-date information to provide timely, thorough, and complete responses, hindering FDA's regulatory oversight."
But with KASA, certain rules and algorithms will be able to estimate the initial inherent product and manufacturing risks.
"After the assessor enters information in the system based on the application, a failure modes, effects and criticality analysis (FMECA) approach is employed. This is used to objectively and quantitatively assess and rank risks associated with the failure modes of drug product design and manufacturing. These are the risks that have the greatest chance of causing product and manufacturing failure or unexpected harm to the patient," FDA officials explain.
KASA will also help with risk controls related to product design and manufacturing.


Purdue Pharma files for bankruptcy; announces US$ 10 billion plan to settle lawsuits
American drugmaker Purdue Pharma has filed for bankruptcy and announced a US$ 10 billion plan to settle thousands of lawsuits that accuse its prescription painkiller, OxyContin, of fueling the deadly opioids crisis.
Owned by the billionaire Sackler family, Purdue Pharma faces more than 2,000 lawsuits in the US that includes actions from nearly all states and many local governments. These lawsuits allege that Purdue falsely promoted OxyContin by downplaying the risk of addiction.
The Chapter 11 bankruptcy filing made in New York on Sunday is designed to halt the lawsuits. If approved by a judge, the deal would end the lawsuits against the company and the Sackler family. The proposal has the support of 24 state attorneys general and five territories.
Under the proposed settlement, the Sacklers will hand the firm's assets over to a trust. It will operate a reformed company, whose board will be selected by the claimants and approved by the bankruptcy court. Money generated by the new firm could be used for drug treatment.
The opioid crisis claimed the lives of nearly 400,000 people between 1999 and 2017. The settlement is worth less than the US$ 12 billion originally envisaged. The bankruptcy court will decide how the money is allocated among the states, cities and counties.
The Sacklers have agreed to contribute at least US$ 3 billion as part of the settlement, from funds generated by selling Purdue's UK-based subsidiary Mundipharma. Their contribution became a sticking point during the discussions.


Biogen scraps two late-stage Alzheimer's trials; Sanofi exits diabetes pact with Lexicon
After scrapping Phase III trials for aducanumab in patients with mild cognitive impairment due to Alzheimer's disease and mild Alzheimer's disease dementia in March this year, Biogen Inc and Eisai Company Limited said last week they are abandoning two late-stage trials for their Alzheimer's treatment — elenbecestat.
The companies said the decision to abandon elenbecestat was based on the results of a review conducted by a data safety monitoring board, which recommended discontinuing the trials as benefits from the treatment did not outweigh its risks.
"This was widely expected by the investment community, including ourselves, and amounts to a further step in the unwinding of Biogen's expensive, painful and ultimately fruitless investment in Alzheimer's disease drug development," SVB Leerink analyst Geoffrey Porges said.
Elenbecestat belongs to a class of drugs called beta amyloid cleaving enzyme (BACE) inhibitors, which act by inhibiting the production of amyloid beta — a protein believed to be a major cause of Alzheimer's disease. However, drugmakers such as Amgen Inc and Novartis AG, Eli Lilly and Co and AstraZeneca Plc have abandoned some of their BACE inhibitor trials earlier.
Sanofi exits pact with Lexicon: Sanofi is set to exit its diabetes pact with Lexicon Pharmaceuticals by paying the company US$ 260 million.
The dissolution of the alliance follows the generation of mixed clinical data on Zynquista in Type 1 diabetics that failed to persuade the FDA to approve this dual SGLT1-SGLT2 inhibitor.
Sanofi will pay 80 percent of the exit fee upfront, while the remaining 20 percent will be split between two installments payable within six and 12 months of the settlement.
The FDA issued a complete response letter for Zynquista (sotagliflozin) to Sanofi in March. Months later, Sanofi revealed the drug had failed to live up to its expectations in chronic kidney disease patients, spurring its decision to terminate its collaboration with Lexicon.


Terazosin, a prostrate drug, shows promise against Parkinson's disease
An international team of scientists have found a medicine that is used to treat enlarged prostates — Terazosin — to be a powerful medicine against Parkinson's disease. Parkinson's disease is a progressive condition affecting the brain, for which there is currently no cure.
Terazosin helps ease benign prostatic hyperplasia (BPH) by relaxing the muscles of the bladder and prostate. The scientists have found that it also has a beneficial action on the brain cells damaged by Parkinson's. In fact, they say the drug might slow Parkinson's progression — something that is currently not possible.
The scientists studied thousands of patients with both BPH and Parkinson's disease. Their findings, published in The Journal of Clinical Investigation, suggest the alpha-blocker drug protects brain cells from destruction.
Existing Parkinson's treatments can help with some of the symptoms but can't slow or reverse the loss of neurons that occurs with the disease. Terazosin may help by activating an enzyme called PGK1 to prevent this brain cell death, the researchers said.
The trials, which will take a few years, will compare the drug with a placebo to make sure it is safe and effective in Parkinson's.
The PharmaCompass Newsletter – Sign Up, Stay Ahead
Feedback, help us to improve. Click here
Image Credit : #Phisper Infographic by SCORR MARKETING & PharmaCompass is licensed under CC BY 2.0
" The article is based on the information available in public and which the author believes to be true. The author is not disseminating any information, which the author believes or knows, is confidential or in conflict with the privacy of any person. The views expressed or information supplied through this article is mere opinion and observation of the author. The author does not intend to defame, insult or, cause loss or damage to anyone, in any manner, through this article."
Read More