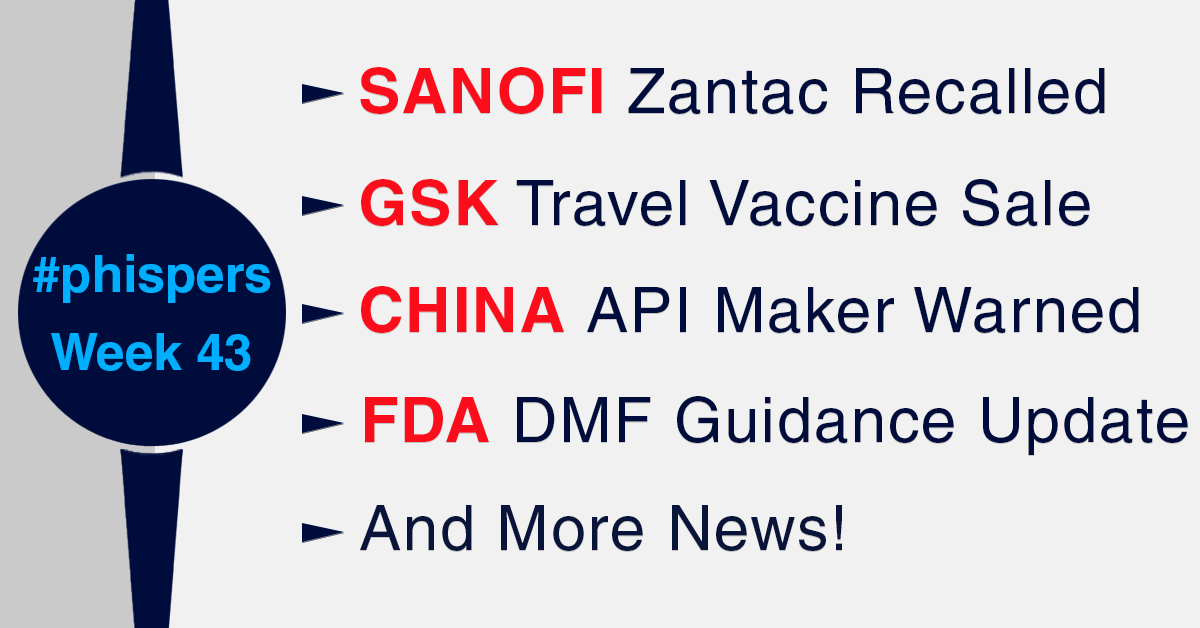 Sanofi pulls Zantac from US, Canada; FDA slams Chinese API manufacturer; DMF guidance update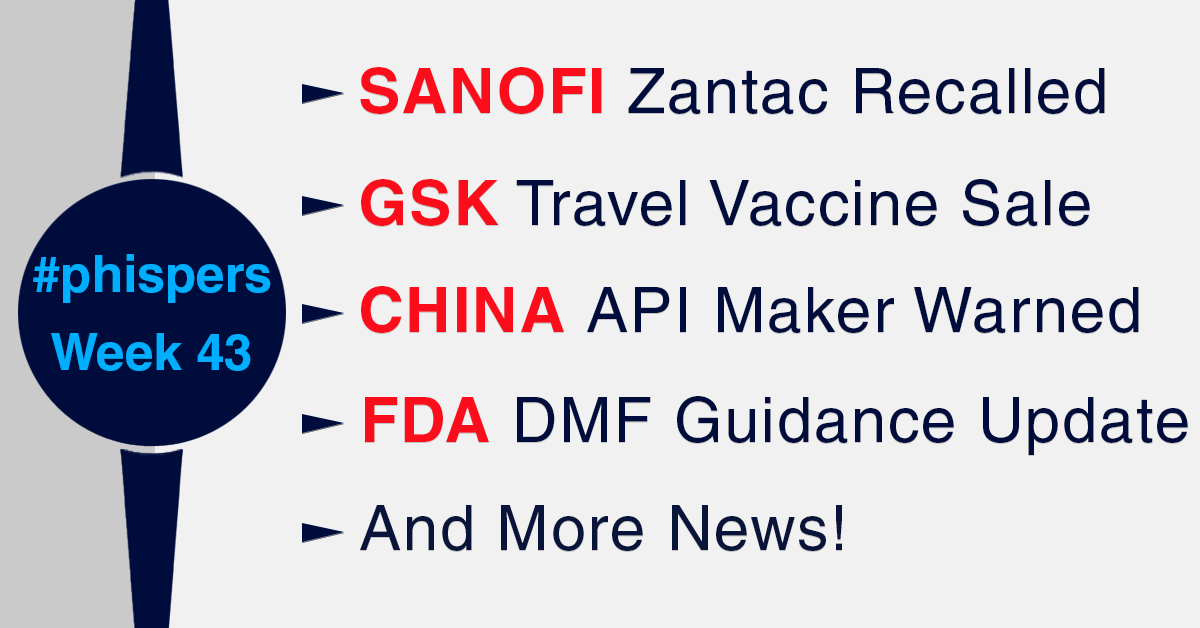 ×
This week, three drug distributors along with Teva, agreed with two Ohio counties to a US$ 260 million deal to avert the first federal trial over the opioid epidemic.
In fact, this last-minute deal could open the door to a bigger US$ 48 billion settlement of all opioid cases against these companies in the US.
GSK is selling two travel vaccines to Bavarian Nordic for around US$ 1.1 billion.
The USFDA revised its draft guidance on drug master files, while the drug industry called for expansion of guidance on inactive ingredients.
It also issued a warning letter to a Chinese API manufacturer — Jiangsu NHWA Pharmaceutical.
And Sanofi recalled Zantac in the US and Canada due to the presence of a probable cancer-causing nitrosamine impurity.


After warning letters in India, FDA slams Chinese API manufacturer
Compliance concerns in India have been dominating news headlines over the last few weeks. Phispers recently reported on the warning letter issued to Lupin's Mandideep facility, data integrity concerns at Aurobindo Pharma and the warning letters issued to Glenmark and Torrent.
This week, FDA's focus shifted to China as the agency issued a warning letter to API manufacturer Jiangsu NHWA Pharmaceutical's site located at Jiawang.
The five-day inspection, conducted from April 1 to 5, 2019, had raised concerns over improper laboratory protocols being used to support expiration dates of the APIs being produced by the firm. The firm's products being shipped to the United States had used Chinese Pharmacopoeia testing methods which were not demonstrated to be equivalent or better than the current United States Pharmacopoeia methods.
In addition, concerns were raised over the analytical test results used to release drugs to the US, using non-USP methods, to determine if any passing test results were, in fact, out of specification when compared to the USP standards.
In one instance, the firm's failure to adequately investigate out of specification failures into the presence of foreign particles led to the products being returned to the firm.
Although the firm went on to commit that it would cease distribution of drugs manufactured at the Jiawang site to the US market until all the corrective actions and preventive actions (CAPA) had been completed, the FDA requested the firm to confirm that it will not resume manufacturing drugs for the US market until the FDA has verified the adequacy of the firm's actions and the FDA has been notified in writing.


Nitrosamine impurities scare: Sanofi pulls Zantac from US, Canada; Teva from UK
Last week, French drugmaker Sanofi said it would recall popular heartburn medicine Zantac in the United States and Canada, after the medicines were linked with a probable cancer-causing impurity, known as N-nitrosodimethylamine (NDMA).
Sanofi said it was working with health authorities to determine the level and extent of the recall, which it termed as a precautionary measure.
Earlier this month, the US Food and Drug Administration (FDA) had said it had found unacceptable levels of NDMA in drugs containing ranitidine. The regulator asked ranitidine makers to conduct their own testing to assess the levels of the impurity.
The French drugmaker has been selling over-the-counter Zantac in the US and Canada since 2017 after it acquired the drug from Boehringer in 2016. It is pulling the drug off shelves after previous recalls by some manufacturers of generic versions of the drug.
Last month, Sandoz had announced a voluntary recall of 14 lots of its prescription ranitidine capsules because of the NDMA impurity. The other companies to recall and suspend supplies of ranitidine are Apotex, Dr Reddy's Laboratories and drug sellers like CVS pharmacies, Walgreens and Rite Aid.
Sanofi reported Zantac sales of US$ 141.23 million (Euro 127 million) in 2018 and US$ 76.73 million (Euro 69 million) over the first half of 2019.
In the UK, Teva UK Limited is recalling all unexpired stock of Ranitidine Effervescent Tablets from pharmacies as a precautionary measure due to NDMA contamination. An alert to the effect was issued by the UK's Medicines and Healthcare products Regulatory Agency (MHRA).


FDA updates DMF guidance; industry calls for expansion of guidance on inactive ingredients
The US Food and Drug Administration (FDA) revised its draft guidance on drug master files (DMFs) which deals with submissions of confidential information about facilities, manufacturing, processing, packaging and storing drugs.
The agency said the update includes new procedures for DMFs referenced in abbreviated new drug applications (ANDAs), more detailed instructions on submitting original DMFs versus amendments, reference to the electronic submission requirements under section 745A of the Federal Food, Drug, and Cosmetic Act (FD&C Act) that apply to certain DMFs, clarification and reorganization of material associated with Type III and Type IV DMFs and a change in FDA's contact person for the guidance.
The 22-page draft, updated from September 1989, discusses all the four different types of DMFs.
Meanwhile, the pharmaceutical industry has called on the FDA to expand and clarify its recent draft guidance on how to use its inactive ingredient database (IID).
The 13-page draft guidance, released for comment in July, provides recommendations for drugmakers on using FDA's IID, an online repository of information about excipients used in FDA-approved products, during drug development.
In its comments, the International Pharmaceutical Excipients Council of the Americas (IPEC-Americas) highlighted that much of the information about how the database should be used is mostly relegated to footnotes.
The group suggests moving some of the information from the footnotes to new sections in the final guidance and adding more details on how information within the database should be used.


Four drug firms may reach US$ 48-billion to settle all opioid cases against them
Four companies — including Teva Pharmaceuticals and three drug distributors — entered into a last-minute, multi-million dollar payout agreement on Monday over the US opioid epidemic cases. The payout agreement came hours before a landmark federal trial in which they were facing charges of conspiring to profit from addiction and death.
The three drug distributors are AmerisourceBergen Corp, Cardinal Health Inc and McKesson Corp. The four companies agreed with two Ohio counties to a US$ 260-million deal to avert the first federal trial over their role in the US opioid epidemic. This was the first of thousands of lawsuits by communities across the US that accuse the industry of creating an epidemic that has claimed more than 400,000 lives over the past two decades.
In fact, the companies are likely to resume talks to try and reach a US$ 48 billion settlement of all opioid litigation against them, a Reuters report said.
Under the US$ 260 million settlement, the distributors, which handle around 90 percent of US prescription drugs, will pay a combined US$ 215 million immediately to Ohio's Cuyahoga and Summit counties that were plaintiffs in this week's trial. Teva said it would pay US$ 20 million in cash and will contribute US$ 25 million worth of Suboxone, an opioid addiction treatment.
Teva will make its contribution over three years.
Other trials are scheduled in the coming months if a comprehensive deal involving all parties is not reached. Talks over a total payout of about US$ 50 billion was stalled last week. However, lawyers said the US$ 260 million settlement may provide a path to an agreement.
"Lawyers believe the industry is keen to avoid trials which will expose internal decision-making around the marketing, sale and delivery of opioids, and how much executives ignored evidence of rising addiction from prescription painkiller," an article published in The Guardian said.


GSK sells travel vaccines to Bavarian Nordic for US$ 1.1 billion
GlaxoSmithKline is selling two travel vaccines to Danish biotechnology firm Bavarian Nordic for around US$ 1.1 billion (Euro 955 million), the company said this week.
The company is selling anti-rabies treatment — Rabipur and Encepur — used for the prevention of tick-borne encephalitis, to Bavarian Nordic. The amount includes an upfront payment of around US$ 335 million (Euro 301 million) and milestone payments of up to US$ 550.4 million (Euro 495 million).
GSK said both vaccines will continue to be manufactured at its Marburg site in Germany until full production is transferred to Bavarian Nordic within five years. GSK had acquired the vaccines from Novartis in 2015 as part of a broad asset-swap.
With this sale, the British drugmaker hopes to strengthen its position in the cancer drug market. Incidentally, GSK's shingles vaccine launched two years back — Shin­grix — has proved to be a block­buster, bringing in US$ 1 bil­lion in sales through the first half of 2019.
"This agreement with Bavarian Nordic will enable us to commit greater resources to our key growth assets and to our R&D pipeline," Roger Connor, President of Global Vaccines at GSK said.
The PharmaCompass Newsletter – Sign Up, Stay Ahead
Feedback, help us to improve. Click here
Image Credit : #Phisper Infographic by SCORR MARKETING & PharmaCompass is licensed under CC BY 2.0
" The article is based on the information available in public and which the author believes to be true. The author is not disseminating any information, which the author believes or knows, is confidential or in conflict with the privacy of any person. The views expressed or information supplied through this article is mere opinion and observation of the author. The author does not intend to defame, insult or, cause loss or damage to anyone, in any manner, through this article."
Read More