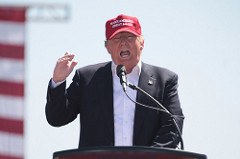 ×
Pharma stocks on Nasdaq may have shot up on news of Republican Donald Trump's victory, but market realities may come in the way of fulfilling some of the promises he has made.
Donald Trump's victory as the President-elect of the United States of America last week sent the Nasdaq Biotechnology Index — known as NBI — on a 9 percent increase. Big Pharma saw impressive increase in their stocks. For instance, Pfizer saw an 8.5 percent increase, while biotech firm Celgene saw a 10.4 percent increase in its stock. The impact of his win was also felt in Europe, where several drug companies saw a 2 to 6 percent increase in their share prices.
What was it about Trump's victory that made investors feel so much better about the future of the pharma and biotech industry the very next day? Was it respite from Democrat Hillary Clinton's promise to take tough action on drug pricing? Or was it a perception that Trump could usher in a new era of mega-mergers?
PharmaCompass analyzed some of the statements made by Trump during his campaign trail in the backdrop of market realities, and compiled probable impacts his policies could have on healthcare in the US.

1. Repealing and Replacing Obamacare
The Patient Protection and Affordable Care Act, also known as the Affordable Care Act (ACA) and Obamacare, has been touted as the crown jewel of Obama's presidency. Enacted in March 2010, Obamacare has brought about considerable change in the healthcare scenario in the US by increasing health insurance quality, reach and affordability.
According to Trump though, Obamacare is a disaster, and it needs to be replaced with something less expensive. Trump's Contract with the American Voter, his 100-day action plan to 'Make America Great Again' commits to fully repeal Obamacare.
During his campaign trail, Trump proposed a series of measures that will allow people to buy affordable health insurance policies outside of the Obamacare exchanges. The measures include promoting tax-free health savings accounts, and allowing people to deduct the cost of their insurance premiums while filing their income tax returns. Trump also wants to allow insurers to sell policies across state lines to boost competition.
With Trump moving into the Oval Office in January 2017, it will be worth seeing if he will repeal the six-year old law that has had an impact on every aspect of the healthcare industry in the US. According to Jack Hoadley, a research professor at Georgetown University's Health Policy Institute, "to get a true repeal and replace through, he needs 60 votes in the Senate".
But repealing and replacing Obamacare will not be easy, says Merrill Matthews, resident scholar at the Institute for Policy Innovation (IPI). According to Matthews, "it could be a minefield".
After meeting President Barack Obama last week, Trump sent signals that he was reconsidering his stance. In an interview, Trump said he plans on retaining Obamacare's ban on insurers refusing to cover individuals with pre-existing conditions, calling it "one of the [law's] strongest assets". He also said the law's provision allowing young adults to remain on their parents' insurance until turning 26 is something that "we're going to very much try to keep".

2. Cutting the red-tape at the FDA
The next measure on Trump's to-do list is to cut the red-tape at the US Food and Drug Administration (FDA). According to him, there are over 4,000 drugs awaiting approval. He wants to speed up the approval of life-saving medications.
However, the number seems to be far from reality and misleading as the 4,000 drugs awaiting approval are generic drug applications and not new life-saving medications. At a Generic Pharmaceutical Association meeting, the FDA said there are only about 2,200 ANDAs physically with FDA.
About 1,800 of those 4,000 drug applications are awaiting a response from generic manufacturers, as they have already received Complete Response Letters (CRLs) from the FDA. This means the applications are deficient and need more information to be submitted.
An increase in approvals of generic drugs will eventually hurt the generic drug industry as more players enter the market and start driving down prices.

3. Bringing price transparency and negotiating on drug prices
While it was Clinton's takeover of Washington that was being considered the drug industry's worst case scenario, Trump too has advocated increasing price transparency in healthcare.
Trump has said he wants Medicare (a national social insurance programme providing health insurance to people with disabilities and to Americans aged 65 and above) to directly negotiate the price it pays for prescription drugs.
"When it comes time to negotiate the cost of drugs, we are going to negotiate like crazy," Trump had said. At present, Medicare is barred by law from negotiating lower prescription prices with pharmaceutical manufacturers. Bills have been introduced in recent years to allow the government to negotiate for Medicare. But none have gained traction in Congress.
To have any real effect on drug prices, Medicare should be able to say "no" to drugs that might be expensive, but are still badly needed by people with chronic conditions. It would have to establish a list of covered drugs, known as a formulary, and be willing to leave drugs off it.
In Britain, drug companies negotiate directly with the National Health Service (NHS) – the main healthcare provider for majority of the population. However, the country is now witnessing thousands of NHS patients missing out on access to innovative treatments that are available to patients living in other countries of comparable wealth.

4. Applying free market principles to healthcare
Trump has advocated a free-market approach to the sector. He supports allowing drugs to be imported from other countries – a move that drug makers are not in favour of.
"Trump and Republicans on Capitol Hill will focus on injecting more free market principles into the health system as we know it," Ben Isgur, who analyzed the healthcare implications of the US Presidential elections for PricewaterhouseCoopers, said.
Republican Senator Ted Cruz, along with Republican Senator Mike Lee have introduced a bill called the RESULT Act to overhaul the process for approving drugs and medical devices. Under this proposed law, the FDA would have to approve "life-saving" products for which there is an unmet medical need, if those drugs or devices have already been endorsed in "trusted, developed countries," such as European Union member states, Canada, Israel, Australia and Japan. The agency would have only 30 days to make a decision. And Congress could override an FDA rejection with a majority vote.
But there are severe downsides to such a law, and some feel it can jeopardize public healthcare in the US.

5. Labeling China a currency manipulator and withdrawing from TPP
Donald Trump has also talked about withdrawing from the Trans-Pacific Partnership or TPP (a trade agreement among 12 Pacific Rim countries, excluding China). While this may sound pro-America, it would cause serious damage to the growth prospects of US-headquartered big pharma companies like Pfizer and Gilead Sciences.
Moreover, Trump's pledge to "label China a currency manipulator" will probably lead to capital getting sucked out of top emerging markets like China, resulting in unfavorable exchange rates for US pharma companies.
Given the fact that the US (as also several other countries, including India) is heavily dependent on bulk drugs from China, such a move will have an adverse impact on the global pharmaceutical industry.


6. Ushering in an era of mega-mergers
Trump has pledged to cut corporation tax for American companies and suggested that he could allow businesses to repatriate money earned overseas back into the US without having to pay hefty fines. This could usher in a new era of mega-mergers for the pharmaceutical sector, say analysts.
According to Thomson Reuters data, overall life sciences deal-making is down 65 percent from the same period last year.
"The reasons why mega mergers were hot over the last two years was partly because US companies wanted to make tax savings, but if US rates become more competitive internationally and pharma companies are able to bring money in from offshore, you could see a return to mega mergers as companies awash with cash look to boost their pipeline and save costs," said Paul Cuddon, a healthcare analyst at Numis Securities.

Our view
Back in June, Pfizer chief Ian Read had mulled over which presidential candidate will best serve Big Pharma's interests. And he couldn't figure it out.
"At this moment, I can't distinguish between the policies that Donald Trump may support or those that Hillary Clinton may support," he had said at Sanford Bernstein Strategic Decisions Conference.
Our view is that while Trump may have talked about a lot of measures before becoming the 45th president of the US, a lot might change once he grapples with the ground realities after moving into the White House.
It's too early for the pharma industry to uncork the bubbly.
The PharmaCompass Newsletter – Sign Up, Stay Ahead
Feedback, help us to improve. Click here
Image Credit : Donald Trump by Gage Skidmore is licensed under CC BY 2.0
" The article is based on the information available in public and which the author believes to be true. The author is not disseminating any information, which the author believes or knows, is confidential or in conflict with the privacy of any person. The views expressed or information supplied through this article is mere opinion and observation of the author. The author does not intend to defame, insult or, cause loss or damage to anyone, in any manner, through this article."
Read More