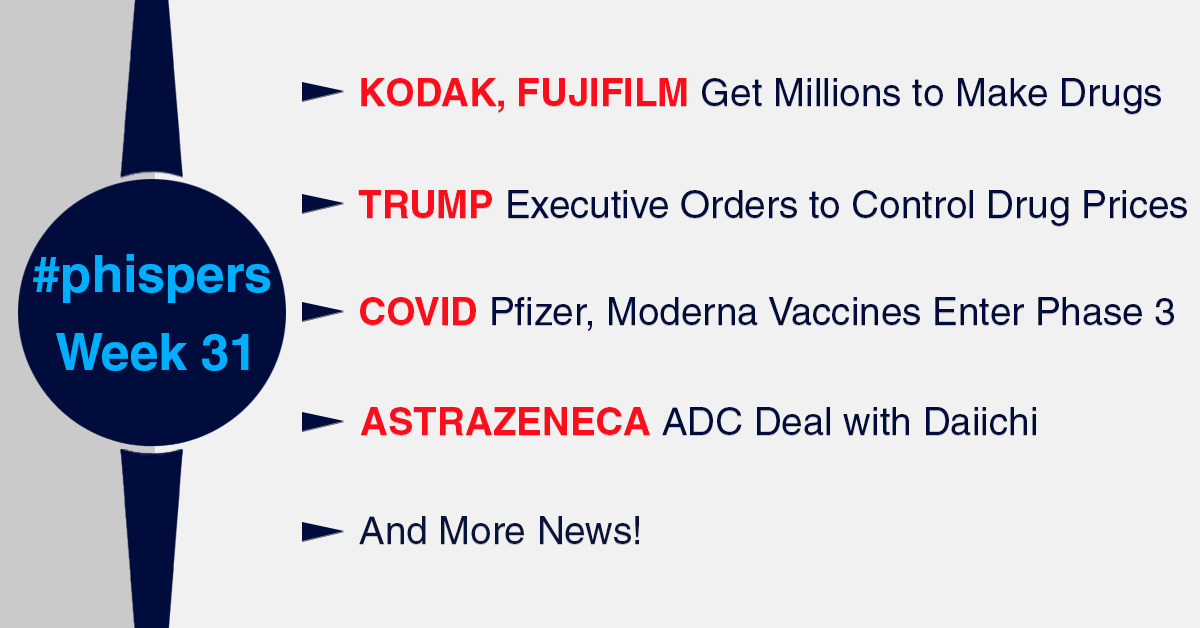 Kodak, Fujifilm get millions from US government to produce drugs; Trump's orders to check drug prices upsets industry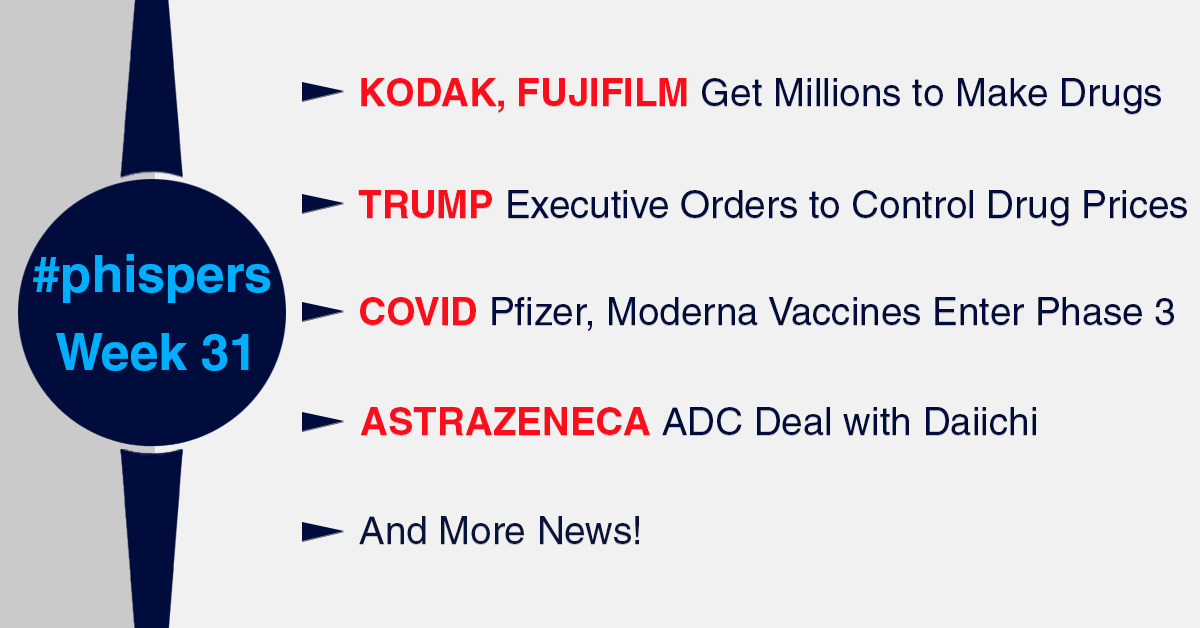 ×
This week, Phispers brings you news on four executive orders issued by the Trump administration to keep drug prices under check.
In Covid vaccine updates, we bring you news that Moderna's mRNA-1273 candidate has not just entered Phase 3 trials, but also bagged an additional US$ 472 million funding from BARDA, taking BARDA's total funding in Moderna's vaccine to nearly US$ 1 billion.
Both US and Europe are trying to increase domestic manufacturing of drugs.
While US granted a US$ 765 million loan to Kodak to increase domestic manufacturing of APIs, Sandoz entered into a tie-up with the Austrian government to step up antibiotic manufacturing in Europe.
Taro USA became the fifth pharmaceutical company to admit that it fixed the prices of generic drugs in the US, and also agreed to settle the allegations.
Indivior agreed to pay US$ 600 million, to resolve allegations in an opioid case.
AstraZeneca announced another multi-billion dollar oncology deal with Daiichi.
And the US House of Representatives approved a US$ 3.2 billion budget proposal for the FDA.
Kodak bags US loan to push domestic manufacturing of drugs; Fujifilm bags HHS order
Eastman Kodak, which started making drug ingredients four years ago after filing for Chapter 11 bankruptcy in the US in 2012, is now going to drastically expand drug production at its New York and Minnesota facilities. The former giant of the photography industry has received a US$ 765 million US government loan in a bid to increase America's self-sufficiency in producing drugs to treat several medical conditions. Kodak will have to repay the loan over 25 years.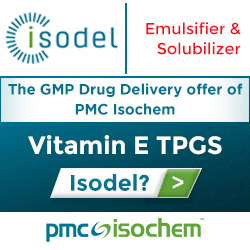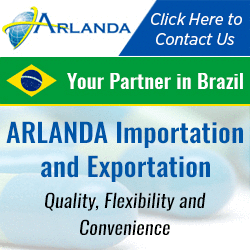 The loan, which is the first of its kind under the Defense Production Act (DPA), will be used to produce ingredients for generic drugs. According to The Wall Street Journal, those drugs include the antimalarial drug hydroxychloroquine, which is still being touted as a cure for Covid-19 by the US President Donald Trump, despite the withdrawal of its emergency use authorization by the FDA.
Kodak's chief executive officer, Jim Continenza, said API production will eventually make up for 30 to 40 percent of Kodak's business. He also mentioned that he expects the loan to create about 300 jobs in Rochester, and 30 to 50 jobs in Minnesota.
Continenza said the White House is considering 30 additional companies for DPA funding. With such moves, the Trump administration and other lawmakers hope to address concerns over America's reliance on foreign countries for key materials for drug production.
Fujifilm bags US$ 265 million HHS order for Covid vaccine: Interestingly, the other former photography giant that got into pharmaceuticals way before Kodak — Japanese firm Fujifilm — also bagged a US$ 265 million contract in the US to boost the output of a potential Covid-19 vaccine.
The announcement was made by Trump when he visited a Fujifilm facility in North Carolina. The order widens a pact between the Department of Health and Human Services, the Texas A&M university system, and Fujifilm Diosynth Biotechnologies.
Last week, Fujifilm Diosynth, a drug ingredient subsidiary of the Japanese firm, said it would make bulk drug substances for Novavax Inc's Covid vaccine candidate, NVX-CoV2373. The funds will speed up an expansion planned at the Texas facility in College Station, with completion now expected this fall, Fujifilm said. The company will also spend US$ 928 million to double capacity at a Denmark facility that is also involved in making virus treatments.
Sandoz, Austrian govt in tie-up to push antibiotic manufacturing in Europe: Just like the US, Europe too is planning to step up its production capacity of key drugs. This week, Novartis' generic drug unit, Sandoz, and the Austrian government announced joint plans to drive long-term competitiveness of European production for key antibiotics in Europe.
Sandoz plans to invest around US$ 177 million (Euro 150 million), over the next five years, in its integrated antibiotic manufacturing plants at Kundl in Austria.
Trump issues four executive orders to control drug prices; CEOs skip White House meet
US President Donald Trump signed four executive orders last week designed to reduce drug costs for consumers. This comes months before the US presidential elections. With this step, he hopes to reiterate his commitment to cutting prescription drug prices in the US ahead of presidential polls.
One executive order requires pharmaceutical benefits managers (PBMs) to pass the discounts they receive directly to consumers. The rule applies to Medicare Part D, a government health plan primarily for seniors. The administration said the order could reduce drug costs for seniors by as much as US$ 30 billion per year.
Another executive order instructs the US Department of Health and Human Services (HHS) to permit individuals to import lower cost drugs from other countries. It also permits re-importation of insulin and orders HHS to complete an ongoing effort (initiated last year) to allow US states to import drugs from Canada.
Trump has also ordered certain healthcare providers to sell insulin and injectable epinephrine at heavily reduced prices to patients who have no health insurance or scant coverage.
Another executive order reportedly attempts to cap some prices Medicare pays for drugs to the prices in other countries, which are usually significantly lower.
Pharmaceutical industry's prominent lobby group — PhRMA — was displeased. Its president, Stephen Ubl, said: "The research-based biopharmaceutical industry has been working around the clock to develop therapeutics and vaccines to treat and prevent Covid-19. The administration's proposal today is a reckless distraction that impedes our ability to respond to the current pandemic – and those we could face in the future."
"The president's plan to import policies from socialized health care systems abroad is disrupting our work and diverting our focus away from those life-saving efforts," a spokesperson for PhRMA said.
Trump had fixed up a meeting on Tuesday (July 28) to facilitate talks with pharmaceutical executives on an issue important to many Americans. But pharma trade groups declined to send representatives as they reportedly weren't sure it would have been a "productive meeting." The White House, therefore, called off the Tuesday meet, an official said.
Pfizer's CEO, Albert Bourla, said Trump's executive orders threaten the possibility of job cuts for US workers. "We have plans to invest in both R&D and manufacturing in the United States," Bourla said. "If finalized, these new executive orders could force us to rethink those plans, consider job reductions and add to the economic and health anxiety already widely felt in our country," Bourla added.
However, news reports say the moves are largely symbolic and the orders are unlikely to take effect anytime soon.
Covid vaccine update: Moderna, Pfizer kick-off Phase 3 trials; BARDA bets big on Moderna
Massachusetts-based biotechnology company, Moderna, has received an additional funding of US$ 472 million from the US government's Biomedical Advanced Research and Development Authority (BARDA) to support the development of its Covid-19 vaccine. This is over and above the US$ 483 million funding it received from BARDA in April, when its experimental vaccine — known as mRNA-1273 — was in an early-stage trial. This takes BARDA's total funding for Moderna's experimental vaccine to nearly 1 billion. Moderna's mRNA-1273 vaccine was the first in the US to begin human trials.
This week, two of the most advanced experimental coronavirus vaccines — the one being developed by Moderna, and the other by Pfizer — entered Phase 3 trials in the US. The Phase 3 study on the Moderna vaccine, conducted in collaboration with the National Institute of Allergy and Infectious Diseases, began on July 27 and will involve around 30,000 participants. The study will provide the answers regulators need to potentially approve the vaccine.
Moderna said the additional funding from BARDA will support its late-stage clinical development including the expanded Phase 3 study of its vaccine candidate.
Meanwhile, the Moderna vaccine has shown promise in monkeys. According to a New York Times report, monkeys were given the vaccine and then deliberately infected with the novel coronavirus. The animals were able to fight off the virus quickly, researchers said.
While the findings do not guarantee that the vaccine will perform in a similar manner in humans, the results are considered encouraging.
Pfizer, BioNTech select different vaccine for Phase 3 trials: Pfizer and its German biotech partner, BioNTech kicked off Phase 3 trials on the same day as Moderna. However, the duo have selected a vaccine candidate for Covid-19 which is not the one for which results were released earlier this month. The companies picked another one from four different experimental Covid-19 vaccine candidates in its bouquet, all of which use the messenger RNA (mRNA) technology.
On July 1, the companies announced results on vaccine candidate - BNT162b1. However, the vaccine that is being taken forward is BNT162b2. It should lead to "more consistent responses across diverse populations and in older adults," Pfizer said in a statement. Like Moderna, they too are hoping for a quick turnaround and hope to seek regulatory review by October 2020.
Sun
'
s Taro division
settles price fixing charge; Indivior dishes out US$ 600 million in opioid case
In the US, Indian drugmaker Sun Pharmaceutical's Taro division became the fifth pharmaceutical company to admit that it fixed the prices of generic drugs. This is the tenth case to be filed in the Antitrust Division's ongoing investigation into the generic drug industry.
According to the US Department of Justice (DOJ), Taro USA had been charged for conspiring to fix prices, allocate customers, and rig bids for generic drugs. Taro USA has agreed to pay US$ 205.7 million to settle the allegations and also agreed to cooperate in DOJ's ongoing probe.
Taro and other companies fixed prices and rigged bids for medications used to prevent and control seizures and treat bipolar disorder, pain and arthritis, and various skin conditions, DOJ has said.
Meanwhile, DOJ also announced that a subsidiary of Indivior Plc — Indivior Solutions Inc — has pleaded guilty in Abingdon, Virginia, to making false statements related to healthcare matters.
Indivior has agreed to pay US$ 600 million to resolve allegations that it engaged in an illegal scheme to boost prescriptions of its opioid drug, Suboxone.
The agreement came after the parent company was indicted in April 2019 in the US opioid addiction crisis. The indictment alleged that Indivior deceived doctors and healthcare benefit programs into believing the film version of Suboxone, which has an opioid component, was safer and less susceptible to abuse than similar drugs.
AstraZeneca announces another multi-billion dollar ADC deal with Daiichi
Japanese drugmaker Daiichi Sankyo has entered into a global development and commercialization agreement with AstraZeneca for its TROP2 directed DXd antibody drug conjugate (ADC) — DS-1062 — currently in phase 1 clinical development for non-small cell lung cancer (NSCLC) and triple negative breast cancer (TNBC).
Daiichi Sankyo and AstraZeneca will jointly develop and commercialize DS-1062 worldwide, except in Japan where Daiichi Sankyo will maintain exclusive rights. Daiichi Sankyo will manufacture and supply DS-1062.
"We see significant potential in this antibody drug conjugate in lung as well as in breast and other cancers that commonly express TROP2," said Pascal Soriot, Chief Executive Officer, AstraZeneca.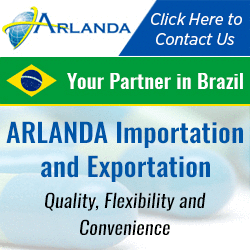 This agreement represents the second global ADC collaboration between the two players following a similar agreement in March 2019 for Daiichi Sankyo's Enhertu, a HER2-directed DXd ADC.
Under the agreement, AstraZeneca will pay up to US$ 6 billion to Japan's Daiichi Sankyo to develop and market DS-1062. The agreement involves an upfront payment of US$ 1 billion by AstraZeneca to Daiichi Sankyo. Contingent payments of up to US$ 5 billion include US$ 1 billion for achievement of future regulatory milestones, and US$ 4 billion for sales-related milestones.
AstraZeneca said the drug could bring US$ 1 billion or more in annual sales. With this agreement, Astra has six cancer drug hopefuls with so-called blockbuster revenue potential.
US House clears FDA's US$ 3.2 billion budget proposal
The US House of Representatives approved a US$ 3.2 billion budget proposal for the US Food and Drug Administration (FDA) that will boost the agency's abilities to approve new medicines and medical devices, as well as protect America's food supplies.
A report by the publication of the Regulatory Affairs Professional Society (RAPS), said the budget will include a "minibus" for fiscal year 2021.
The four-bill appropriations minibus includes an amendment giving FDA the authority to recall drugs. Other targeted initiatives include cross-departmental initiatives designed to enhance food and medical product safety; additionally, "[T]he bill includes a strong focus on continuing FDA's efforts to enable faster responses to food-borne illness outbreaks and increase the safety and cybersecurity of medical devices," according to the House Appropriations Committee's summary of the minibus.
The bill also looks to fund new initiatives such as advancing influenza vaccinations. It also appropriates US$ 70 million to accelerate medical product development as authorized in the 21st Century Cures Act. Additional funds are also targeted to develop a cannabidiol regulation framework.
The PharmaCompass Newsletter – Sign Up, Stay Ahead
Feedback, help us to improve. Click here
Image Credit : #Phisper Infographic by SCORR MARKETING & PharmaCompass is licensed under CC BY 2.0
" The article is based on the information available in public and which the author believes to be true. The author is not disseminating any information, which the author believes or knows, is confidential or in conflict with the privacy of any person. The views expressed or information supplied through this article is mere opinion and observation of the author. The author does not intend to defame, insult or, cause loss or damage to anyone, in any manner, through this article."
Read More