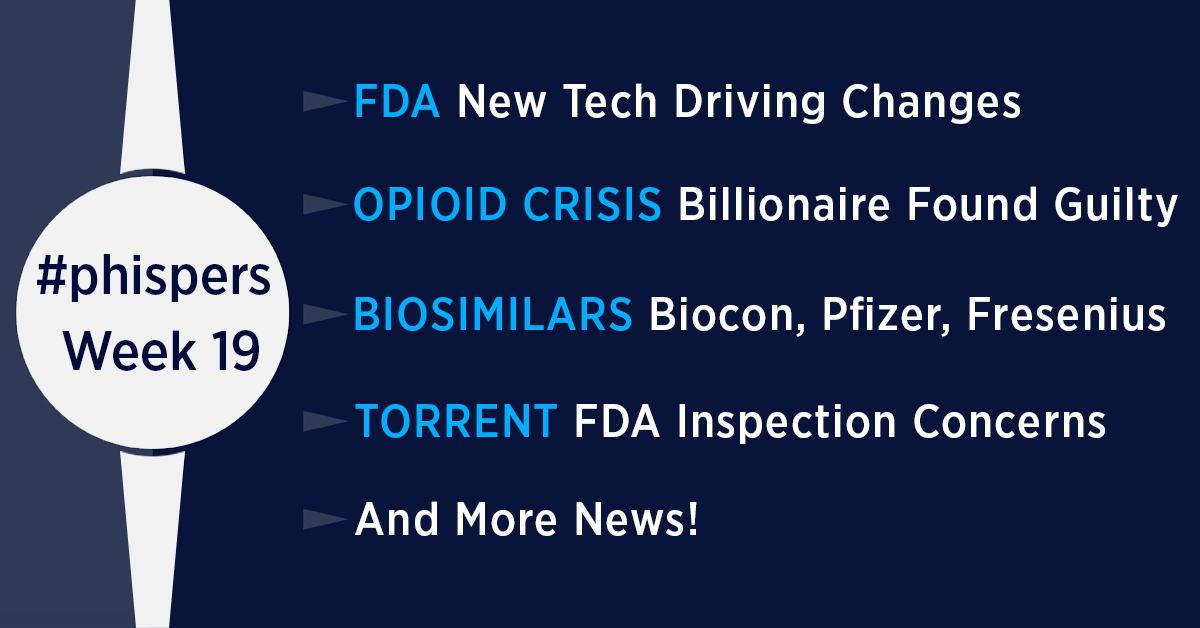 Insys founder Kapoor convicted in opioid scandal; FDA rules changing due to new technologies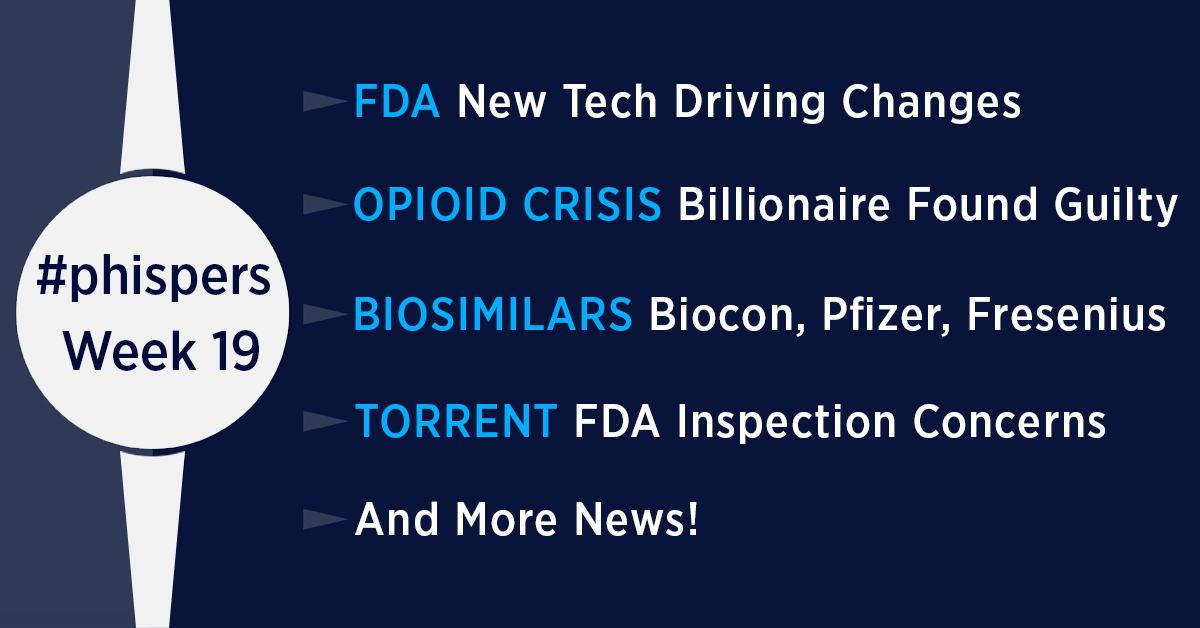 ×
This week, Phispers brings you news about John Kapoor, the founder of Insys who was found guilty of engaging in a bribery scheme to get doctors to prescribe a highly potent and addictive opioid.
FDA granted approval to Pfizer's rare and fatal heart disease drug — tafamidis.
Sanofi's controversial dengue vaccine also bagged the FDA nod, albeit with several caveats.
Lundbeck bought Abide Therapeutics for US$ 250 million, a company that has been working on a cannabinoid platform for new drugs to treat brain diseases.
Meanwhile Ned Sharpless, the acting commissioner of the FDA, said he will take the agency in the same direction as Gottlieb.
In biosimilars, Biocon said it is looking at the potential option of raising money through an IPO by spinning off its biologics business as a separate entity.
And Torrent Pharma's API facility in India received an FDA Form 483, wherein the agency has raised concerns over its investigations and process validations.


Billionaire John Kapoor found guilty in bribery scheme to drive opioid sales

Indian-American billionaire John Kapoor, who founded Insys Therapeutics, and four of his senior colleagues have been found guilty of engaging in a bribery scheme to get doctors to prescribe its potent and addictive opioid painkiller — Subsys. A federal jury in Boston has also charged them with duping insurers into paying for the drug.
Each defendant — Kapoor; former vice-president of managed markets Michael Gurry; former national director of sales Richard Simon; and former regional sales directors Sunrise Lee and Joseph Rowan — faces up to 20 years in jail.
Kapoor is the first CEO of an opioid maker to be convicted in a trial. The historic criminal conviction takes aim at the powerful pharmaceutical executives behind a marketing ploy designed to put profit ahead of patients.
All five of them have denied any wrongdoing on their part, and have also signaled their plans to appeal against the judgement.
Kapoor created Insys in 1990. In 2012, the company's fentanyl spray — Subsys — was approved by the FDA for breakthrough cancer pain. Fentanyl is a man-made opioid 50 times more potent than heroin and 100 times more potent than morphine.
Three years later, in a damning report, Roddy Boyd of the Southern Investigative Reporting Foundation brought to light the deadly impact of Subsys (when prescribed indiscriminately), triggered by Insys' questionable marketing practices. In 2017, Kapoor was charged with criminal conspiracy, on the same day as the US President Donald Trump declared the US opioid crisis a public health emergency.



FDA's inspection at Torrent raises concerns over investigations into OOS results
An eight-day FDA inspection at Torrent Pharmaceuticals' finished dosage form and active ingredient facility in India revealed concerns over investigations and process validations.
The Form 483 posted on the FDA website following the April 2019 inspection highlighted that over the past three years Torrent's investigations into out of specification (OOS) results for finished products had concluded that almost 73 percent of them were invalid.
The FDA investigation mentions almost a dozen examples where the original failing results were invalidated without a scientifically-sound and justifiable root cause.
In addition, "review of process validation documents revealed that manufacturing batches run under a process validation protocol failed to meet requirements and quality attributes." However, the process validation was deemed acceptable and counted towards successful manufacturing process validation.
Torrent Pharmaceuticals has been besieged with drug recalls in the United States as its 'sartan' products have been found to contain cancerous nitrosamine impurities, which were found to be above the acceptable daily intake limits released by the FDA.



Sharpless calls for nimble FDA; Gottlieb had sought changing FDA rules due to new technologies
In his first speech to an outside group since taking charge as the acting commissioner of the US Food and Drug Administration (FDA), Ned Sharpless has revealed that he will keep the agency headed in the same direction as his predecessor Scott Gottlieb. Last month, Sharpless took over the reins of the FDA from Gottlieb, who resigned from the post after two years on the job in order to spend more time with family.
"If we want to harness the full potential of therapies to transform care, we need to become more efficient, more collaborative, and more data-driven so that we can learn from every patient's journey," Sharpless said.
"It is crucial that FDA be nimble, flexible, and adaptable as we continue to advance regulatory frameworks, products, and interventions," he added.
Known for his deep understanding of oncology and big data, Sharpless, said he has a commitment to science-based decision-making and will prioritize the FDA's efforts to benefit public health. Sharpless spoke at the Food and Drug Law Institute's (FDLI) annual conference in Washington, DC, and at the Reagan Udall Foundation's annual public meeting at Pew Charitable Trusts.
Meanwhile, the US Congress passed a new law that gave the FDA the authority to impose Risk Evaluation and Mitigation Strategies (REMS) and Elements to Assure Safe Use (ETASU). These measures were meant for certain drugs that had serious safety concerns associated with their use. The agency's aim was to help ensure that the benefits of drugs with known safety issues would outweigh their risks.
The agency also pursued, and acquired, the authority to require drugmakers to conduct post-market studies to minutely evaluate emerging safety concerns.
These new capabilities represent a fundamental modernization in the FDA's review process.
Former FDA commissioner Gottlieb had talked about changes the agency maybe undertaking due to the new therapies and technologies that have come in the market. According to industry sources, old rules of the FDA do not apply to new technologies such as artificial intelligence and gene therapy. Moreover, safety issues will be more challenging to identify in clinical trial settings due to these new technologies.
According to sources, FDA may issue new guidelines for cell therapy in a year's time. Moreover, as phenotype, genotype and other targeted and innovative medicines emerge, pre-market testing will become more challenging.
The agency is adopting a standard dynamic template for submissions. It will eliminate paper from the submission process. Moreover, the agency is also working on Medicare Part B reimbursements since Medicare has a difficult time adjusting payments for new medicines such as CAR-T or chimeric antigen receptor T-cell therapy, a relatively new immunotherapy for cancer.



Biosimilars on a roll: Biocon's potential IPO; new launches by Fresenius, Pfizer
There was a lot of news from the world of biosimilars. First, Fresenius Kabi announced it is launching its first biosimilar medicine in Germany — Idacio. The drug is a biosimilar of the world's best-selling drug Humira and is available in the following administration options: pre-filled syringe, pre-filled pen and vial.
The launch follows marketing authorization granted by the European Commission (EC) to Idacio for all indications of Humira in the areas of rheumatology, gastroenterology and dermatology.
"The launch of Idacio in Germany is an important milestone for our company and for all patients who will now have an additional option for access to high-quality treatment," Michael Schönhofen, President Pharmaceuticals and Devices Division of Fresenius Kabi, said.
Second, Pfizer is preparing for three biosimilar launches this year in the field of cancer-care — trastuzumab, rituximab and bevacizumab.
"Trastuzumab was already launched in the EU in the first quarter, and we look forward to the launch of trastuzumab in Japan in the third quarter," Pfizer's group president of biopharmaceuticals, Angela Hwang, told investors. "Rituximab will also be launched in Japan, and that will be in the fourth quarter."
"Bevacizumab will be launched in both the US and Japan in the fourth quarter," she revealed.
"We've seen some nice uptake in the supportive oncology portfolio that we launched late last year and we look forward to the oncology biosimilar portfolio contributing to our growth," Hwang stated.
Since the start of this year, Pfizer has already boosted its oncology biosimilars portfolio by obtaining an authorization in the EU for Zirabev, a biosimilar to Avastin (bevacizumab) for treating multiple forms of advanced or metastatic cancer. And in the US, the FDA had approved Pfizer's Trazimera (trastuzumab-qyyp) biosimilar to Herceptin in March as a treatment for certain forms of breast and gastric cancer.
"Revenues from our biosimilars portfolio grew 7 percent operationally in the quarter," CEO Albert Bourla said.
Biocon Biologics IPO: Indian drugmaker Biocon Limited continued to show strong results in the fourth quarter, buoyed by momentum in its biologics business and robust growth in its research services segment. Chairperson and managing director Kiran Mazumdar-Shaw has said Biocon could spin-out its biologics division to raise funds for further biosimilar development.
During an investor call, Biocon said it is looking at consolidating its biosimilars business under Biocon Biologics India Limited. "And one of the potential options for our money raising is the IPO, and we can consider raising IPO at this entity level," the company said.
Biocon's biologics business grew 87 percent to US$ 64.6 million (INR 4.51 billion) in the fourth quarter of the financial year that ended in March 2019. Mazumdar-Shaw termed the year as a "landmark" year for the segment, as the revenues crossed US$ 200 million.
"Our biosimilar strategy has begun to deliver with the start of monetization of our biosimilars pipeline in the developed markets of the US and EU. The launch of biosimilar pegfilgrastim (marketed as Fulphila by Biocon's partner Mylan NV) in the US and the ramp-up of sales of our biosimilar trastuzumab in emerging markets were the main contributors to this growth," Mazumdar-Shaw said.



Pfizer's rare disease drug, Sanofi'
s dengue vaccine
bag FDA nod; Lundbeck buys Abide
Sanofi's controversial dengue vaccine — Dengvaxia, which took two decades to develop, has bagged the approval of the US Food and Drug Administration (FDA), albeit with a raft of caveats.
Last week, the US regulator sanctioned the use of Dengvaxia as the first-ever product to prevent the mosquito-borne disease in individuals who have previously contracted dengue and who live in areas rife with the disease. Originally, Sanofi had sought approval for people aged 9 to 45. But the FDA has only recommended its use in individuals aged 9 to 16 who have had laboratory-confirmed previous dengue infection and live in areas where the disease is endemic, such as Puerto Rico, the US Virgin Islands and American Samoa.
The FDA said Dengvaxia — which is administered as three separate injections — was found to be roughly 76 percent effective in preventing symptomatic dengue disease in individuals aged 9 to 16 who previously had laboratory-confirmed dengue disease. However, according to Sanofi, the FDA hasn't cleared any tests in the United States to determine a previous dengue infection.
Meanwhile, the US FDA has approved Pfizer Inc's oral drug, tafamidis to treat a rare and fatal heart disease, known as transthyretin amyloid cardiomyopathy.
Tafamidis had earlier been rejected by the FDA. But now, it is ready to disrupt a rare-disease field only recently tapped by Alnylam and Ionis. Pfizer's tafamidis, to be sold under brand name Vyndaqel, comes at a list price of US$ 225,000 a year for the medicine. According to analysts, its annual sales are forecast to exceed US$ 1 billion in 2024.
Tafamidis is the first approved medicine for the disease in the United States. Pfizer believes there are about 100,000 people in the United States with the condition, the vast majority undiagnosed. Only about 2,000 to 5,000 patients are currently diagnosed with the progressive heart disease globally. The company has been in talks with insurers and is confident the drug will be reimbursed at the US$ 225,000 list price, he said.
Lundbeck buys into cannabinoid platform: New Lundbeck CEO Deborah Dunsire is turning to M&As to build the company's drug pipeline. Dunsire had agreed to pay US$ 250 million cash to buy San Diego-based Abide Therapeutics, where researchers have been working on a cannabinoid platform for new drugs to treat brain diseases.
In addition to the cash, Lundbeck is keeping aside up to US$ 150 million for milestones. And the drugmaker will be retaining the San Diego base, designating it as a discovery center for Lundbeck.
The PharmaCompass Newsletter – Sign Up, Stay Ahead
Feedback, help us to improve. Click here
Image Credit : #Phisper Infographic by SCORR MARKETING & PharmaCompass is licensed under CC BY 2.0
" The article is based on the information available in public and which the author believes to be true. The author is not disseminating any information, which the author believes or knows, is confidential or in conflict with the privacy of any person. The views expressed or information supplied through this article is mere opinion and observation of the author. The author does not intend to defame, insult or, cause loss or damage to anyone, in any manner, through this article."
Read More