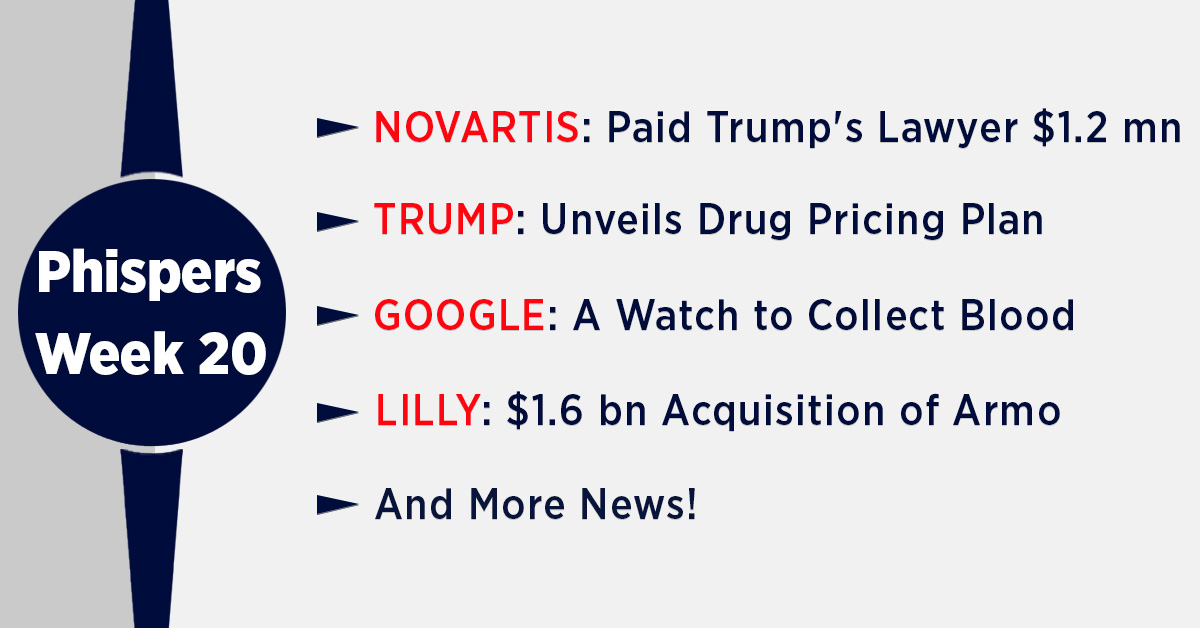 As Novartis gets embroiled in payments scandal, Trump unveils drug pricing plan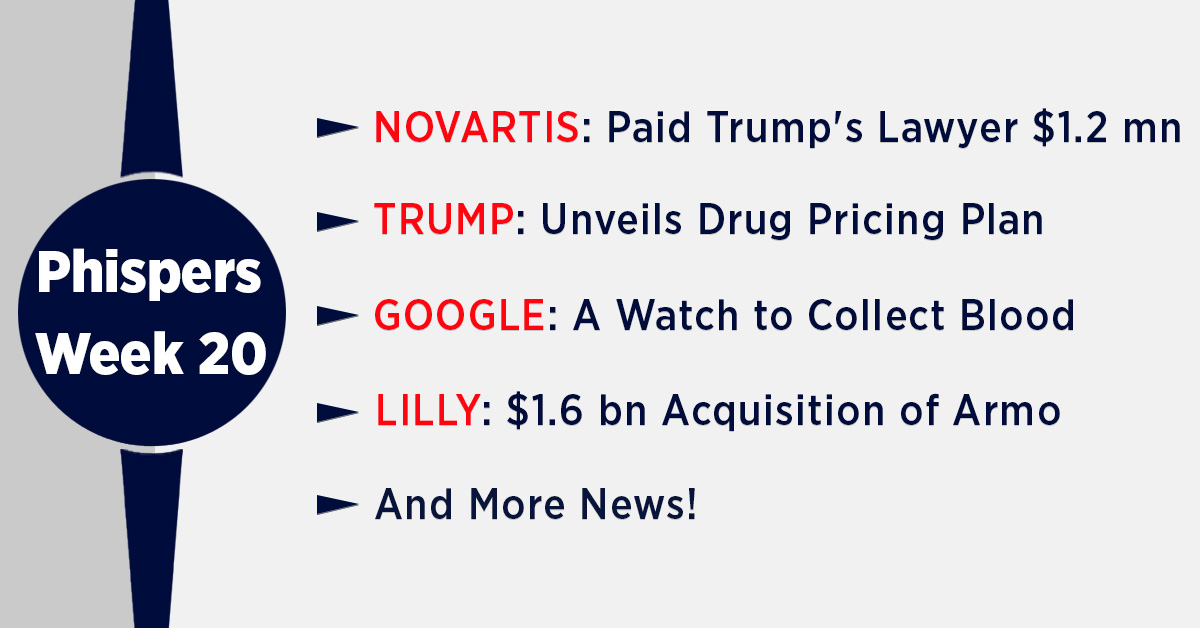 ×
This week, Phispers brings you the latest scandal brewing in the US involving President Trump's personal attorney Michael Cohen and his shell company Essential Consultants that received payments from various corporates. One such company was Novartis that paid US$ 1.2 million to Cohen. We look at how Novartis is handling the crisis. Amid this scandal, Trump revealed his new drug pricing plan that was long on rhetoric and short on tough moves. In other news, Alphabet firm Verily is building a watch that can collect blood using micro-needles and magnets; and Eli Lilly purchased Armo BioSciences for US$ 1.6 billion to play catch up in cancer cures.



Novartis in another ethical woe over US$ 1.2 million payment to Trump's lawyer
There was much uproar over corruption at the White House last week as Senator Ron Wyden opened up a probe of Novartis' US$ 1.2 million in payments to Michael Cohen, President Donald Trump's personal attorney.
In a letter dated May 11, Wyden spelt out big business issues Novartis had in front of the US government since it arranged the contract and handed over about US$ 100,000 a month in 12 payments that ended in February this year.
In an interview, Wyden said: "What America has seen here raises the specter of corruption in the White House…I want to know what Novartis thought it was buying for the US$ 1.2 million."
Cohen's firm — Essential Consultants — isn't a healthcare policy consultancy nor is it a lobby firm. Moreover, the money Novartis paid Cohen's firm far exceeded what it paid any of the registered lobbying firms it engaged during the first 15 months of the Trump administration.
Essential Consultants is the same firm Cohen used to pay US$ 130,000 to a former adult-film actress (Stormy Daniels) in October 2016 to keep her from discussing an alleged sexual encounter with Trump. Both Trump and Cohen deny the encounter took place.
Meanwhile, in an interview to Forbes, Novartis' former CEO Joseph Jimenez, has said he takes full responsibility for the company's decision to hire Cohen.
"I brought him into the company, so I would… we as a company were looking for people who could help us on policy," Jimenez said.
Novartis has defended its new CEO Vas Narasimhan since the issue first came to light, while admitting that it actually paid Cohen more than a million dollars. Company sources pointed the finger at Jimenez and asserted that through these payments, Novartis was buying access to President Trump and his inner circle.
The Cohen scandal adds to the Swiss drugmaker's growing list of ethical woes, including issues with the way it rewarded doctors in China.
Meanwhile, Narasimhan is doing all he can to fight for the company. On May 10, he sent out an email to employees that said: "Yesterday was not a good day for Novartis… Many of you have seen media reports regarding the Novartis relationship with Essential Consultants in the US, and many of you will feel disappointed and frustrated," he said.
The following day, Trump made his long-awaited speech about drug prices.
This week, Narasimhan dialed into a conference call with 5,000 of Novartis' top managers. His key message — Novartis needs to regain public trust and rethink the way it does business with consulting firms, lobbyists and other groups.
Meanwhile, Novartis' general counsel Felix Ehrat (61), has stepped down over the issue.
"Although the contract was legally in order, it was an error," Ehrat said in a statement released by Novartis. "As a co-signatory with our former CEO, I take personal responsibility to bring the public debate on this matter to an end."



Google
firm Verily building a watch that can collect blood
Google sister company Verily is working on a less invasive way of collecting blood for those who need to monitor it frequently. It is working on a device that collects blood using tiny exploding micro-needles and magnets.
The device attaches to the body, and Verily has tested this idea with a watch. The needles 'explode' into the wearer's skin to draw blood while magnets retract the needles for future uses.
However, the device is still years away from hitting the market.
The Alphabet company which was formerly known as Google Life Sciences, has been working on this device for many years to collect blood painlessly. The Silicon Valley team has developed a prototype of this device.
However, it is said the device also faces significant scientific, technical and regulatory hurdles. The project is yet to be announced publicly. The team at Verily is reportedly still exploring potential uses for its watch. For instance, it could be used to track key blood markers for people that are enrolled in clinical trials.



Lilly plays cancer catch up with US$ 1.6 billion Armo buy
Last week, Eli Lilly acquired the Redwood City, California-based Armo BioSciences for US$ 1.6 billion. Armo BioSciences is focused on cytokine drugs. With this, Eli Lilly has made a mark in the fast-moving, highly competitive field of cancer immunotherapy.
Lilly agreed to pay US$ 50 per share — a 68 percent premium over Armo's closing price on Wednesday last week.
With the deal, Lilly is betting that engineered cytokines, substances secreted by immune cells during an immune response, can help more people respond to immunotherapy. Cytokine drugs have been approved as treatments for melanoma and Kaposi sarcoma. Recently, cytokine drugs have become hot commodities for their potential as drugs use in combination with other cancer treatments.
Armo's key drug, pegilodecakin, is among them. It is an engineered form of the cytokine interluekin-10 (IL-10), which activates a cancer-fighting white blood cell, CD8+T. Armo's version is in late-stage testing for pancreatic cancer.
Armo has tested pegilodecakin on its own and in combination with chemotherapies. The company says the drug might also be useful in combination with a different type of immunotherapy called a checkpoint inhibitor, which has become the backbone of a wave of new cancer-fighting regimens.



Amid 'Novartis paying his lawyer' scandal, Trump unveils drug pricing plan
After a long-wait, President Trump made his speech last Friday on 'lowering drug prices'. However, the President's short speech — that came in the backdrop of revelations that Novartis had paid his personal attorney US$ 1.2 million — was long on rhetoric and short on tough moves. It will require action by the Congress to become real.
Trump avoided the contentious issues — such as allowing Medicare to directly negotiate drug prices or allowing Americans to import drugs. As a result, stocks of major drug companies and pharmacy benefit managers (PBMs) actually rose after his speech.
During his campaign trail, Trump had said he would allow Medicare to negotiate the price of the drugs it buys for older people. Last week's proposal fell far short of that goal.
In his remarks on the drug policy blueprint, the Health and Human Services Secretary of the US, Alex Michael Azar II, said the problem has multiple parts, such as high list prices, overpaying in government programs, high out-of-pocket costs, foreign-government freeloading.
"Pharma spends more than US$ 175 million a year trying to understand what the President and I are thinking," he said. "So I'm going to save pharma some money and tell you what the President and I have planned," he added.
According to Azar, there are four strategies for reform set out in the administration's drug-pricing blueprint: improved competition, lowering out-of-pocket costs, enhanced negotiation, and incentives for lower list prices.
For instance, the US government intends to ban PBMs from negotiating discounts with drugmakers as a percentage of list prices. Today PBMs make deals in the form of rebates since drug companies offer around 30 percent off the list price of their drugs if the PBM places the medicines in a favorable spot on their preferred drug lists.
When prices go up, PBMs often make more money as rebates increase. Azar plans to force PBMs to write contracts based on a set price for drugs, rather than a percentage-based rebate.
Similarly, the Trump administration wants to simplify the way Medicare pays for many drugs by moving some expensive medications that are administered in doctors' offices — like cancer drugs — into the standard Medicare prescription drug program.
Many of those expensive drugs are paid for through Medicare Part B. It's a system in which doctors buy the drugs and get paid a percentage of their cost to administer them to patients. Under this system, the government pays the full list price and doctors make more money when they prescribe more expensive drugs.
Azar said he wants to move some of those expensive drugs to the Part D program, which is administered by private health insurance companies that negotiate discounts with drug companies. "This move from B to D gives us the power to negotiate against drug companies," he said.
Moreover, the government wants to improve competition. Pharma companies use US Food and Drug Administration's safety rules or commercial distribution restrictions to block generic drug manufacturers from having access to samples of the branded drug. Those samples are needed to perform the testing that gets generic drugs approved, giving consumers safe and effective lower-cost medications. "It's time to shed light on these practices and call out the manufacturers who may be abusing the rules that built our free market for drugs," Azar said.
And then, the US government spells out the need to reduce Americans' out-of-pocket drug costs. Azar wants to end what he calls a 'gag rule' in some PBM contracts that forbids pharmacists to tell patients they can get their drug cheaper by going outside their insurance plan. That's because, when patients use insurance, the PBM gets a cut of the deal, and not when they pay cash.
The PharmaCompass Newsletter – Sign Up, Stay Ahead
Feedback, help us to improve. Click here
Image Credit : #Phisper Infographic by SCORR MARKETING & PharmaCompass is licensed under CC BY 2.0
" The article is based on the information available in public and which the author believes to be true. The author is not disseminating any information, which the author believes or knows, is confidential or in conflict with the privacy of any person. The views expressed or information supplied through this article is mere opinion and observation of the author. The author does not intend to defame, insult or, cause loss or damage to anyone, in any manner, through this article."
Read More