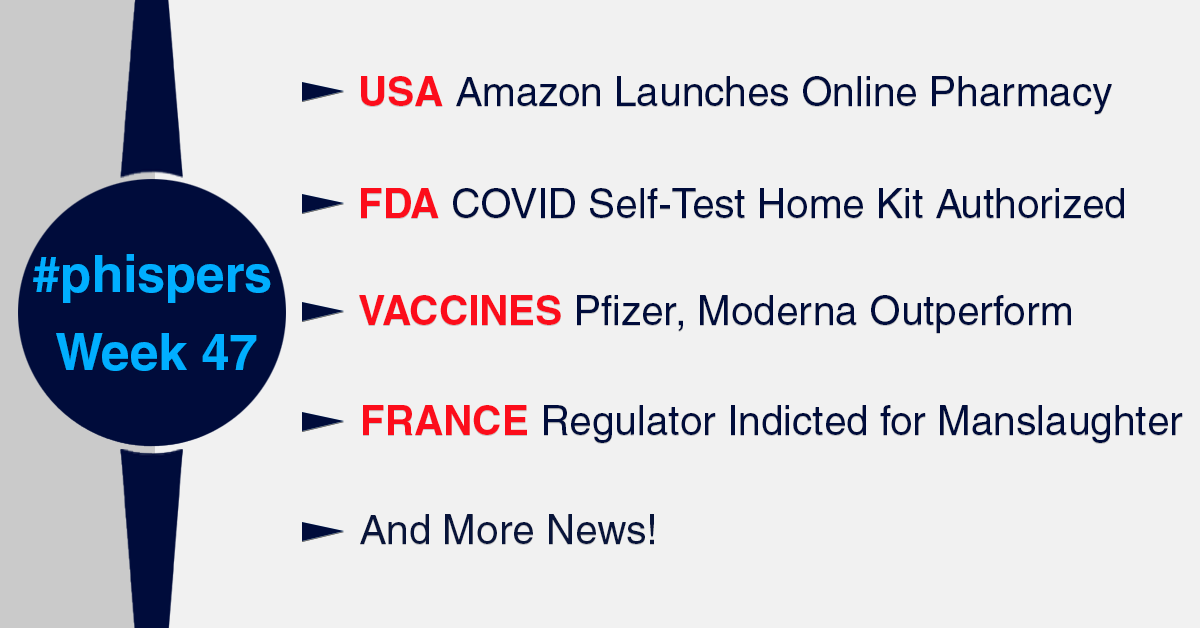 Amazon launches online pharmacy; FDA authorizes first self-test home kit for Covid-19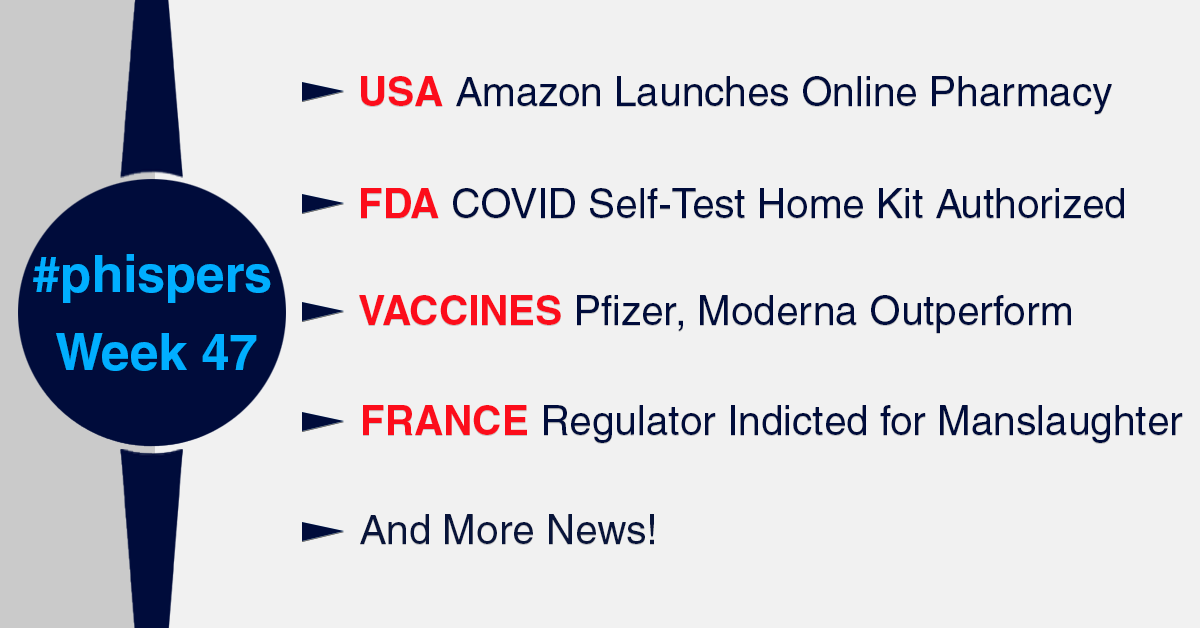 ×
This week, Phispers brings you some good news on vaccines for Covid-19. While Pfizer and BioNTech said their candidate shows 95% efficacy, Moderna has claimed 94.5 % efficacy of its shot. In other vaccine-related news, US infectious disease expert, Anthony Fauci stressed on the need for equitable access to vaccines, and J&J's Covid vaccine moved into phase 3 trials. Furthermore, the first self-test home kit for Covid — Lucira — was granted an EUA by the FDA.
In non-Covid news, Amazon finally announced its entry into the online pharmacy space in the US. French regulator ANSM was indicted for 'manslaughter by negligence' in a probe into Sanofi's epilepsy drug. The French drugmaker faced another setback to its drug pipeline as the FDA rejected sutimlimab, a rare-disease drug it had picked up through its US$ 11.6 billion acquisition of Bioverativ In Canada, drugmakers are offering the government US$ 761 million to scrap some drug pricing rules that come into effect on January 1, 2021.
Pfizer and BioNTech to apply for FDA's EUA as results show 95% efficacy
On Wednesday, Pfizer and BioNTech announced that the efficacy portion of their Covid-19 vaccine trial has been completed, and shows that the vaccine prevents 95 percent of cases of the disease.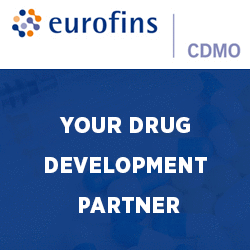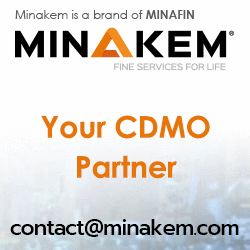 The companies said they plan to submit to the US Food and Drug Administration (FDA) for an emergency use authorization (EUA) "within days." They will also submit to regulatory agencies around the globe.
The results come a week after Pfizer and BioNTech said an analysis showed the vaccine reduced infections by more than 90 percent. Pfizer said no serious safety concerns related to the vaccine were reported in its study, which included 43,661 volunteers.
Meanwhile, Pfizer is also weighing several options for an improved vaccine, including a powder format. The first-generation form must be stored frozen at -94°Fahrenheit, mandating the need for cold-storage. "For the Covid-19 disease, I think we'll roll out next year a vaccine in powder format," Pfizer's chief scientist, Mikael Dolsten, said. While Dolsten didn't specify the storage temperature requirements for a powder-form vaccine, the second-generation version "could be just for refrigeration".
Amazon enters online pharmacy space in the US
Since it acquired PillPack for US$ 750 million in 2018, Amazon has been quietly building on its plans to enter the online pharmacy space. This week, it finally announced its entry, sending the stocks of online pharmacies like CVS Health Corp, Walgreens and Rite Aid into a tailspin.
That's because Amazon's online store is much larger, with millions of loyal shoppers who are already buying various products online. The company said its online pharmacy will offer commonly prescribed medications in the US. Shoppers have to set up a profile on Amazon's website, where doctors' prescriptions need to be posted. It won't ship high-risk medications, like opioids.
Amazon Pharmacy will also accept most forms of insurance.
Moderna claims 94.5% efficacy of its vaccine candidate; longer shelf life at refrigerated temperatures
Moderna has said its vaccine candidate against Covid-19 — mRNA-1273 —met the statistical criteria pre-specified in the study protocol for efficacy, with a vaccine efficacy of 94.5 percent.
This study, known as the COVE study, enrolled more than 30,000 participants in the US and is being conducted in collaboration with the National Institute of Allergy and Infectious Diseases (NIAID), a part of the National Institute of Health (NIH), and the Biomedical Advanced Research and Development Authority (BARDA).
Moderna intends to submit for an Emergency Use Authorization (EUA) with the US Food and Drug Administration (FDA) in the coming weeks. The company remains on track to manufacture 500 million to 1 billion doses globally in 2021.
Moderna also announced new data showing that mRNA-1273 remains stable at 2° to 8°C (36° to 46°F), the temperature of a standard home or medical refrigerator, for 30 days. Moreover, mRNA-1273 remains stable at -20°C (-4°F) for up to six months, at refrigerated conditions for up to 30 days and at room temperature for up to 12 hours. This facet of the vaccine gives it an edge over Pfizer's vaccine that requires a deep freezer for storage and transportation. Such infrastructure is expensive, and beyond the reach of several poor nations.
Vaccine update: Fauci stresses on need for equitable access; J&J starts phase 3 trials
Anthony Fauci, US infectious disease expert, said last week that vaccine developers should push to make billions of their Covid-19 vaccines to ensure access to all parts of the world, instead of focusing on rich countries.
Fauci said: "We need billions (of vaccine doses), so whether you live in the darkest part of the developing world, or if you live in London, you should have the same access."
J&J starts its phase 3 trial: A coronavirus vaccine from Janssen Pharmaceutical Companies (a unit of Johnson & Johnson) is all set to move to the third phase of clinical trials in the UK, J&J has said. The Phase 3 trial — known as Ensemble — of the single-dose regimen of the experimental vaccine (JNJ-78436735) will include 6,000 volunteers and will take place across 17 sites.
French regulator ANSM indicted for 'manslaughter by negligence'
France's National Medicines and Health Products Agency (ANSM) has got roped into a multi-year investigation into Sanofi's epilepsy drug, Depakine. ANSM got indicted last week for "injuries and manslaughter by negligence" in the Depakine case.
For years, Sanofi has faced a French probe into birth defects tied to Depakine. The drug, sodium valproate, has been on the market since 1967 to treat epilepsy, migraines and bipolar disorder and is prescribed in over 100 countries. In August this year, the investigation moved forward on manslaughter charges against Sanofi.
French professor faces disciplinary case over HCQ claims: A French professor who highlighted the benefits of anti-malaria drug hydroxychloroquine (HCQ) as a treatment for Covid-19 will appear before a disciplinary panel charged with ethics breaches. Marseille-based Didier Raoult has been accused by his peers of spreading false information about the benefits of HCQ.
Sanofi faces another pipeline setback as the FDA rejects rare-disease drug
In August last year, we had reported on how Sanofi saw the market for Eloctate shrink in the face of Roche's new drug, Hemlibra. Sanofi had acquired Elocate through its acquisition of Bioverativ in 2018.
Sanofi faced another setback this week when the US Food and Drug Administration rejected sutimlimab. This drug too had come into Sanofi's fold through its US$ 11.6 billion acquisition of Bioverativ. The drug seeks to treat cold agglutinin disease — a rare disorder where the immune system runs amok attacking healthy red blood cells.
The complete response letter cites "certain deficiencies identified by the agency during a pre-license inspection of a third-party facility responsible for manufacturing," Sanofi wrote.
Drugmakers offer Canadian govt US$ 761 million to scrap some drug pricing rules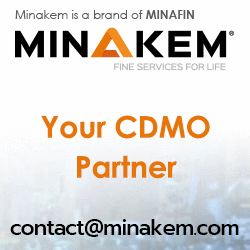 Last year, the Canadian government had announced regulations to reduce patented drug prices that were meant to save Canadians US$ 10 billion over a decade, overriding heavy opposition from drug companies. The regulation comes into effect on January 1, 2021.
In a last ditch bid, the drug industry has made a US$ 751 million (Canadian dollar 1 billion) proposal to the Canadian government in the hope of fending off parts of the regulation on drug pricing. The remaining regulations would still reduce drugmakers' revenue by at least US$ 15.1 billion (Canadian dollar 19.8 billion) over 10 years. The government has argued that Canada's patented drug prices are too high, trailing only the US and Switzerland.
FDA issues EUA to first self-test home kit for Covid-19
The US Food and Drug Administration (FDA) has issued an emergency use authorization (EUA) for the first self-test for Covid-19 that can provide rapid results at home.
Known as Lucira, the all-in-one test kit is a molecular single-use test available by prescription for self-diagnosis of the coronavirus. Lucira uses self-collected nasal swab samples and is authorized for use by people aged 14 or older with suspected Covid-19 and people under 13 when performed by a healthcare provider.
"While Covid-19 diagnostic tests have been authorized for at-home collection, this is the first that can be fully self-administered and provide results at home," FDA Commissioner Stephen Hahn said in a statement.
The PharmaCompass Newsletter – Sign Up, Stay Ahead
Feedback, help us to improve. Click here
Image Credit : #Phisper Infographic by SCORR MARKETING & PharmaCompass is licensed under CC BY 2.0
" The article is based on the information available in public and which the author believes to be true. The author is not disseminating any information, which the author believes or knows, is confidential or in conflict with the privacy of any person. The views expressed or information supplied through this article is mere opinion and observation of the author. The author does not intend to defame, insult or, cause loss or damage to anyone, in any manner, through this article."
Read More