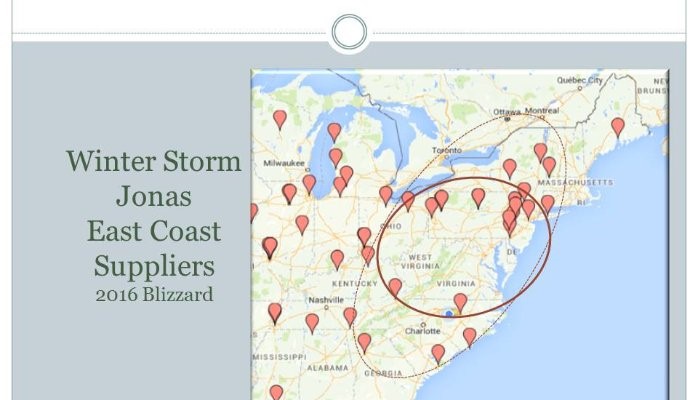 ×
I hope everyone was warm and safe during the snow storm. Times like this is when we get to practice our personal risk mitigation skills, such as stocking up on milk, bread and water. This storm was complicated by the big playoff games and required further mitigation of additional inventory of beverages and snacks. Hopefully, everyone planned appropriately.
Summary: This week our risks are the Winter Storm Jonas, PP FM (risk to cleanroom apparel and other commodities) and Potash Corp (risk to potassium based products like potassium hydroxide).
Winter Storm Jonas: A Nor-Easter hit the East Coast this weekend and dumped ice and snow everywhere, especially western Virginia/Pennsylvania and West Virginia (~40 inches) as well as Virginia, New Jersey, Delaware, Baltimore and Pennsylvania (~30 inches). When looking at my chemical supply chain risk map (above), the NJ/PA/DE area has a chemical supplier concentration that requires "touching base" (solid red line).
While the snow is an immediate concern, the next issue will be flooding. A weathermen compared the areas at risk to Hurricane Sandy. Basically, the areas that flooded and lost power during Sandy are probably vulnerable during this storm. The weatherman did make it a point that Jonas would not be as impactful as Sandy, just similar in the areas impacted.
Bottom Line: My interpretation is that if you had suppliers impacted by Sandy, prioritize those suppliers on your "touch base"list.
Polypropylene (PP): Ineos has declared Force Majeure (FM) at their Texas plant. This is on top of the FM they declared in December at their California plant. Alot of things are made out of PP, including clean room apparel, packaging, and filters. Here's a more complete list of materials that could be impacted by PP.
Potash Corp: Potash Corp suspended operations at its Piccadilly location this week due to weak fertilizer demand. This is significant because potash is a building block for materials used in our industry. In the electronics industry, the key risk is that this area has mines that produces naturally low sodium material used to make low sodium potassium hydroxide. While overall demand is weak for potash, there can be a down side too, such as shutting down the mine spec-ed into your processes. Be vigilant and watch for back orders.
Alaska Earthquake: On Sunday, there was a 7.1 magnitude earthquake near Anchorage Alaska. Luckily, damage is minimal and there were no tsunamis. My supply chain map should not be impacted by this earthquake.
Author: Charlotte Hicks
The PharmaCompass Newsletter – Sign Up, Stay Ahead
Feedback, help us to improve. Click here
Image Credit : Winter Storm Jonas East Coast Suppliers by Charlotte Hicks is licensed under CC BY 2.0
" The article is based on the information available in public and which the author believes to be true. The author is not disseminating any information, which the author believes or knows, is confidential or in conflict with the privacy of any person. The views expressed or information supplied through this article is mere opinion and observation of the author. The author does not intend to defame, insult or, cause loss or damage to anyone, in any manner, through this article."
Read More