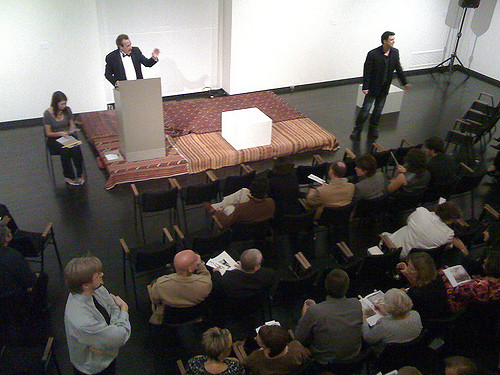 ×
This week, Phispers brings you news on Mylan's EpiPen rival Auvi-Q, which is due for launch this year. We analyse Takeda's US $ 5.2 billion acquisition of Ariad, and also bring you news on Sun Pharma's consolidation plan, a big patent battle between Bristol-Myers and Merck and a multimillion dollar advertising blitzkrieg launched by the pharma industry to boost its image. And there is lots more. Read on.


Pharma industry unveils new campaign to counter price hike fracas
The pharmaceutical industry – which has been under caustic public criticism for unrealistic price increases – is rolling out a multimillion-dollar ad campaign to repair its reputation and defend the value its drugs provide.
The campaign was unveiled by the Pharmaceutical Research and Manufacturers of America (PhRMA) recently. PhRMA officials said they would spend tens of millions of dollars every year for the next four to five years. This way they hope to rehabilitate the industry's image, that has been tarred by episodes of price-gouging.
The campaign will emphasize how biopharmaceutical companies develop breakthrough medications that save lives and can be the answer to the problem of rising healthcare costs.
"Less hoodie, more lab coats" is how PhRMA President and CEO Stephen Ubl described the advertising campaign in a press briefing.
Did Takeda pay a heavy price to buy Ariad?
On January 9, Takeda made a US $ 5.2 billion acquisition of Ariad Pharmaceuticals. Takeda valued Ariad — a Cambridge-headquartered cancer firm — at US $ 24 per share. This marks a 75 percent premium over Ariad's previous closing stock price. Here's how the deal, which analysts find overpriced, got sealed.
On December 9, Takeda offered to buy Ariad for US $ 20 per share. But Ariad's CEO Paris Panayiotopoulos rejected Takeda's offer, citing it had been undervalued.
On December 22, Takeda decided to up the offer to US $22 per share. But even that was rejected. On December 24, Takeda's CEO Christophe Weber called Panayiotopoulos and made Takeda's "best and final" offer — at US $24 per share. Ariad decided to move forward with the deal. It had not received a formal offer from three other potential suitors.
On January 8, the two companies agreed to the acquisition. In October last year, Ariad had come under criticism from Senator Bernie Sanders for increasing the list price of its blood-cancer drug Iclusig four times in 2016.
Takeda seems to be making a big bet on Ariad's top pipeline asset — the lung-cancer drug brigatinib. However, brigatinib is a late entrant in the field and faces tough competition from companies like Roche and Novartis. Moreover, Pfizer has a third-generation version of a similar drug in its pipeline. Therefore, a fight for market share may considerably limit brigatinib's potential. And the US $ 5.2 billion price may eventually prove to be a heavy price for Takeda.
Sun Pharma
to sell Ohm Labs to reduce manufacturing footprint in US
Sun Pharmaceutical plans to sell its Ohm Labs manufacturing site based in New Jersey as part of a larger consolidation plan for its manufacturing units. The US site came into Sun's fold through the acquisition of Ranbaxy in 2015, and is expected to fetch roughly US $ 100 million.
Sun has a total of 33 formulations and 14 active pharmaceutical ingredient (API) sites. Last year, as a part of its manufacturing consolidation in the US, Sun had announced the sale of two facilities located in Philadelphia (Pennsylvania) and Aurora (Illinois) to Frontida Biopharm. Subsequently, the Philadelphia site received an FDA warning letter, for an inspection that took place in June-July last year.

Bristol-Myers and Ono settle patent dispute with Merck over Keytruda
Two weeks back, Phispers had predicted that this year may well be the year of big patent battles between pharmaceutical giants. This week, there is more on patent disputes — Bristol-Myers Squibb and Ono Pharmaceuticals have agreed to set aside their patent dispute with Merck over the PD-1 (short for programed cell-death protein-1) checkpoint drug – Keytruda – in exchange for US $ 625 million in cash and a 6.5 percent royalty on sales for the next six years.
Even though Bristol-Myers Squibb may keep losing to Keytruda on key franchise initiatives, it can now get a share in Merck's good fortunes. Bristol-Myers has experienced a series of painful setbacks on the checkpoint front.
On January 20, Bristol-Myers issued a late release which said it is abandoning any plans for an accelerated approval of a combination of Opdivo and Yervoy for lung cancer, conceding the early lead for frontline use to Merck and Keytruda.

Mylan's EpiPen competitor to be reintroduced in the US market
An EpiPen rival Auvi-Q is set to return to the market free of charge for millions of consumers who have commercial insurance. But the list price for Auvi-Q, and the starting point for insurance companies, will be much higher — at US $ 4,500 — which is 7.5 times the list price drugmaker Mylan charges for EpiPen. A single prescription for EpiPen (in a two-injector pack) comes at a list price of US $ 608.
In 2015, Sanofi had voluntarily recalled all its Auvi-Q injections in the US due to inaccurate doses. This gave Mylan a virtual monopoly in the field of epinephrine injection.
In 2016, Kaleo was given back the rights to reintroduce its epinephrine auto-injector in the US market. Kaleo intends to reintroduce Auvi-Q in the first half of this year.
Mylan faced serious criticism after media reports pointed how the company had raised the price of EpiPen by more than 500 percent since 2007. Public outcry forced Mylan to develop a generic version of EpiPen priced at US $ 300 for a two-pack.
The generic EpiPen hits the market just weeks after Kaleo would reintroduce Auvi-Q.

GSK poaches AstraZeneca's Miels to head its pharma business
GlaxoSmithKline's Abbas Hussain, who is president of global pharmaceuticals, is leaving the company. And GSK has announced that AstraZeneca's current executive vice president of European operations, Luke Miels, will replace Hussain.
Miels will take the responsibility for a portfolio of medicines and vaccines with annual sales of more than US $ 18.8 billion (£15 billion) and operations in over 100 markets. Earlier, Hussain was being viewed as a potential contender to take over from GSK's CEO Andrew Witty, who steps down at the end of March this year.
However, in September last year, GSK announced that Emma Walmsley, head of the company's consumer healthcare division, will succeed Witty. While commenting on Hussain's departure Witty said: "Succession processes are challenging for everyone involved and, unfortunately, it is rare that all of those involved stay in the company."

Mallinckrodt coughs up US $ 100 million in penalty to settle FTC charges
Drugmaker Mallinckrodt has agreed to pay US $ 100 million to settle Federal Trade Commission (FTC) charges that the company and its Questcor division violated antitrust laws after Questcor purchased rights to a drug that "threatened its monopoly in the US market" for its own drugs.
The FTC complaint claims that while benefiting from its monopoly in the highly-expensive Achthar drugs — that are used to treat spasms in infants and as a drug of last resort in other serious conditions — Questcor illegally acquired the US rights to develop a competing drug — Synacthen Depot — from Novartis, in 2014.
In 2001, Questcor had acquired the rights to Acthar and overtime raised the price of a vial from US $ 40 to more than US $ 34,000, the FTC said. Simultaneously, it monopolized the market by purchasing the rights to a similar drug, Synacthen, which was being sold by Novartis in Europe and Canada at a fraction of the price.

Eli Lilly buys back migraine drug out-licensed to CoLucid
Eli Lilly has said it will buy out CoLucid Pharmaceuticals for US $ 960 million in cash, and bring back to its fold lasmiditan — the late-stage acute migraine pill candidate Lilly had out-licensed to CoLucid in 2005.
This announcement comes as a shot in the arm for Lilly, which is struggling from the recent setback to its experimental Alzheimer's treatment, solanezumab. In November 2016, there was news that the drug failed in a large clinical trial.
Lasmiditan was discovered by Lilly and licensed out to CoLucid in 2005. CoLucid's lasmiditan has already succeeded in a late-stage trial for acute migraine relief.
Lilly said in a statement that the acquisition will "enhance its existing portfolio in pain management for migraine."
According to Migraine Research Foundation, about 40 million Americans suffer from migraines, and the disease costs America around US $ 36 billion annually in terms of healthcare costs and loss in productivity.
"We are excited that lasmiditan will be back at Lilly, where it was originally discovered, for the conclusion of phase 3 development and potential commercialization," CoLucid's CEO Thomas Mathers said.

The PharmaCompass Newsletter – Sign Up, Stay Ahead
Feedback, help us to improve. Click here
Image Credit : Auction by M C Morgan is licensed under CC BY 2.0
" The article is based on the information available in public and which the author believes to be true. The author is not disseminating any information, which the author believes or knows, is confidential or in conflict with the privacy of any person. The views expressed or information supplied through this article is mere opinion and observation of the author. The author does not intend to defame, insult or, cause loss or damage to anyone, in any manner, through this article."
Read More