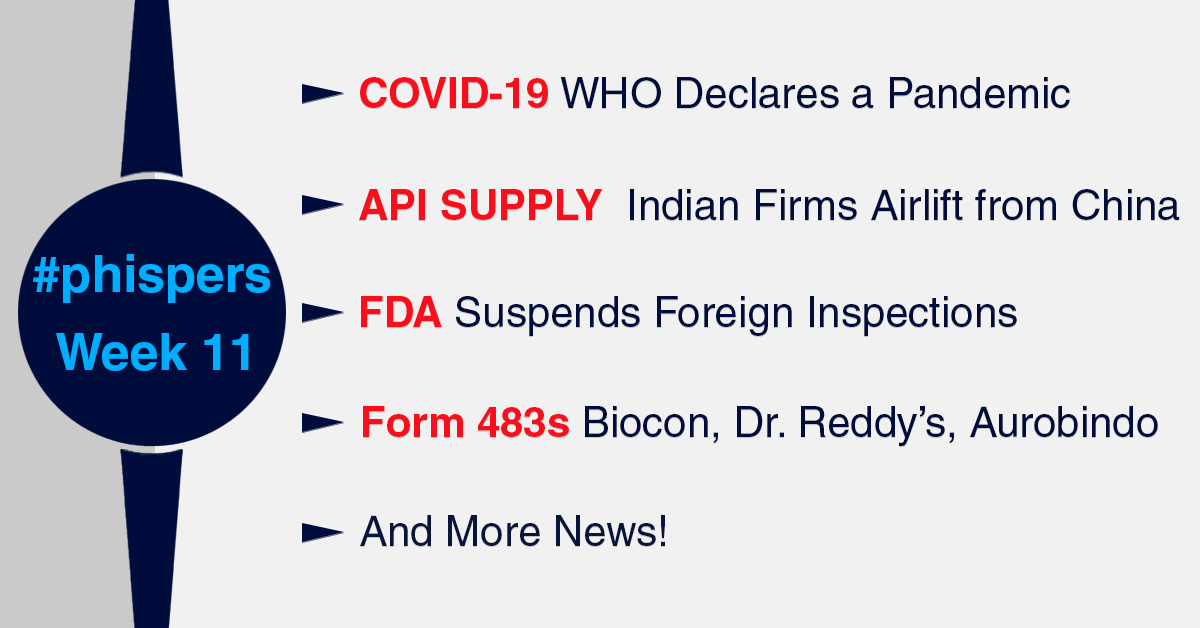 Covid-19 update: Indian firms airlift APIs from China; FDA suspends foreign inspections; pharma events get cancelled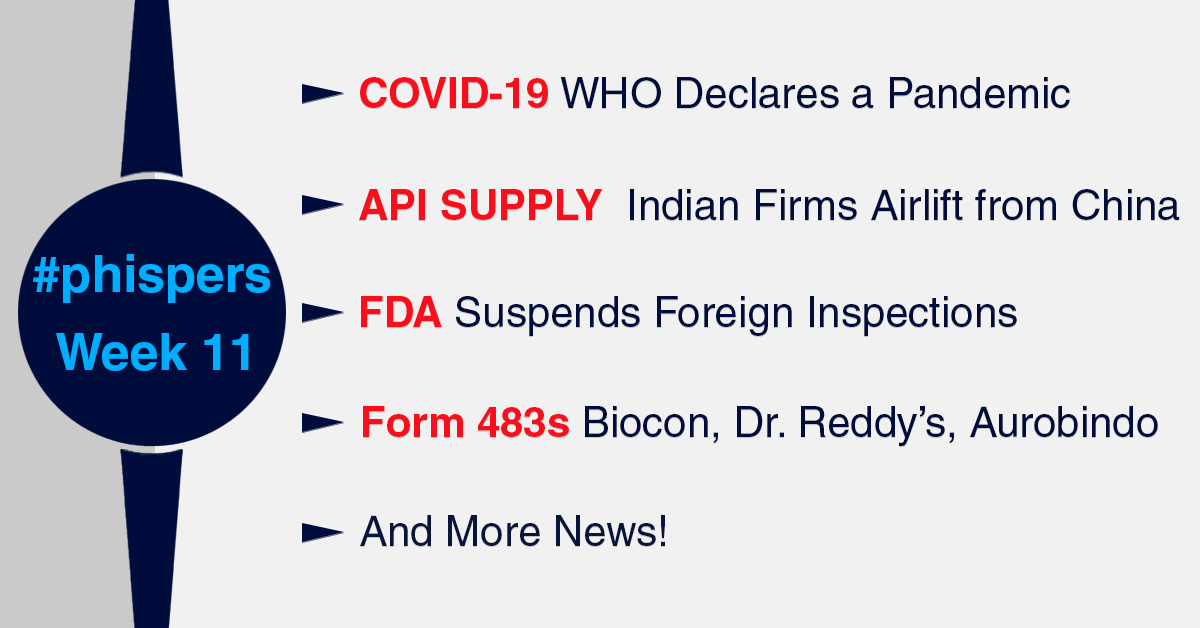 ×
This week, Phispers brings you more updates on the novel coronavirus, as the WHO declared its spread a pandemic.
The USFDA has postponed most inspections outside of the US through April.
It has also issued Form 483s to three Indian drugmakers — Biocon, Dr Reddy's and Aurobindo.
Major pharmaceutical events — such as the annual events of the American College of Cardiology, the DCAT Week 2020, the annual meet of the American Association for Cancer Research and the European Congress of Clinical Microbiology and Infectious Diseases — stand cancelled due to Covid-19.
Several drugmakers are also coming up with new workplace guidelines to contain the outbreak.
Indian drugmakers such as Mankind Pharma and Granules India are airlifting raw materials from China in order to ensure there are no supply disruptions due to the prolonged lockdown in production activity in China.
Bristol Myers Squibb unveiled a new corporate identity post completing its US$ 74 billion acquisition of Celgene.
And four drug companies in the UK were fined for colluding to fix the price of an anti-depressant.


WHO declares
Covid-19 a pandemic; pharma events get cancelled; new work guidelines issued
On Wednesday, the World Health Organization (WHO) declared the spread of the novel coronavirus as a pandemic. "We have rung the alarm bell loud and clear," said Tedros Adhanom Ghebreyesus, the WHO's director-general.
The novel coronavirus outbreak maybe slowing in China, its country of origin, but it's picking up across other parts of the world, spreading to more than 100 countries, infecting over 121,000 people around the world, and killing at least 4,300.
The US has suspended all travel from Europe for 30 days, beginning on Friday. The restrictions do not apply to Britain, President Donald Trump said. Similarly, India suspended most visas in a bid to halt the spread of the novel coronavirus. And Italy is shutting down all shops except food stores and pharmacies.
In the world of pharmaceuticals, important meetings and conferences are getting cancelled. The American College of Cardiology (ACC) has decided to cancel its huge annual flagship event, scheduled for Chicago in late March.
Similarly, the DCAT organization has cancelled DCAT Week 2020. "We recognize the challenges this may cause, and we apologize for the inconvenience; however, it is our responsibility to prioritize the health and safety of our member companies, attendees, employees and all of those who help with this week-long event," the DCAT board of directors said.
The American Association for Cancer Research (AACR) also announced that its annual meeting, scheduled for April 24 to 29 in San Diego, California, stands cancelled due to the Covid-19 outbreak. The association noted that a "rescheduled meeting is being planned for later this year."
The European Congress of Clinical Microbiology and Infectious Diseases (ECCMID) also said it will cancel the on-site part of its annual congress and instead prepare for a "complete online" meeting. The conference was scheduled to be held from April 18 to 21 in Paris.
New work guidelines: Late last month, several employees of Biogen Inc attended a management meeting at the Marriott Long Wharf Hotel in Boston and ended up testing positive for Covid-19. As a result, Biogen has ordered all staff to work from home until further notice.
There are 13 confirmed cases of the virus in Massachusetts, according to the Massachusetts Health Department, and a majority of them are connected to the Biogen meet. About 175 people attended the meeting, including CEO Michel Vounatsos and workers from the Swiss operation
Indianapolis-based Eli Lilly has also asked staffers to work remotely, if possible, as two attendees at the Biogen meeting returned to Indiana with the new coronavirus.
Takeda, which has a big presence in Boston/Cambridge area since it closed the Shire buyout, has also adopted new work guidelines.
Takeda has urged its 50,000 global employees, including around 5,000 employees in Massachusetts, to work from home if possible (or until further notice) to avoid spreading the new coronavirus. For employees who work in a laboratory or at a plant and can't telecommute, it has said that workplace gatherings should be limited to no more than 10 people.
IMF's Covid-19 aid package: International Monetary Fund (IMF) Managing Director Kristalina Georgieva announced a US$ 50 billion aid package last week to help fight the coronavirus. She said the money is available "immediately" and is for low-income and emerging market countries.


Indian firms airlift APIs from China; EU assesses drug shortages due to Covid-19
Drug companies have begun to airlift raw materials and are placing "irregular orders" with vendors in order to ensure there are no supply disruptions due to the prolonged lockdown in production activity in China following the Covid-19 outbreak.
"We have invested Rs 100 crore (US$ 13.58 million) in placing irregular orders with vendors as we don't want to face any supply shortage in days to come," R C Juneja, chairman and managing director of Mankind Pharma, a Delhi-headquartered drug company, said. Mankind has also airlifted material for making antibiotics and vitamins from China.
Similarly, Granules India, an API-focussed drug company, said it was airlifting anti-inflammatory Ibuprofen from Hubei province whose capital Wuhan is the epicentre of Covid-19. "We are airlifting some stock of Ibuprofen from Hubei. The factory is not running but there is some stock. The Chinese government has permitted us to airlift," Krishna Prasad Chigurupati, chairman and managing director, Granules India told the Economic Times.
The company is awaiting supplies from other provinces of China. Granules India also imports Para-aminophenol, an intermediate for making paracetamol, from other provinces of China. To avoid any shortages, Granules India which is one of the major manufacturers of paracetamol, is getting APIs from other sources in the US and India.
Delays in drug supplies in EU: Europe is experiencing delays in supplies of medicines and face masks due to Covid-19. The EU has organized the first meeting of the EU Executive Steering Group to discuss measures aimed at addressing the impact of Covid-19 on the supply of medicines. The mandate of this group is to provide strategic leadership for urgent and coordinated action within the EU in case a crisis caused by major events, such as the Covid-19 outbreak, risks impacting the supply of medicinal products for human and veterinary use.
Though the European Union (EU) has not received any reports of shortages or supply disruptions of medicines due to Covid-19, the EMA has said that as the public health emergency develops, shortages or disruptions cannot be excluded.


FDA suspends foreign inspections; issues Form 483s to Biocon, Dr Reddy's, Aurobindo
In response to the Covid-19 outbreak, the US Food and Drug Administration (FDA) announced on Tuesday that it is postponing most inspections outside of the United States, through April, with immediate effect.
In a statement posted on the FDA website, commissioner Stephen M. Hahn said only foreign inspections "deemed mission-critical" will be considered on a case-by-case basis.
As an interim measure, the FDA will be ensuring the safety of products imported into the US through physical examinations and/or product sampling at borders, by reviewing a firm's compliance history, using information shared by other governments as part of mutual recognition and confidentiality agreements and by requesting records "in advance of or in lieu of" on-site drug inspections.
Meanwhile, the agency issued Form 483s to three Indian drugmakers — Biocon, Dr Reddy's and Aurobindo Pharma.
The Form 483 issued to Biocon's API manufacturing facility near Bengaluru highlights concerns over the firm's cleaning and equipment qualification procedures. There were deficiencies in Biocon's investigations into out-of-specification results, coupled with failure on part of the quality control unit to fulfill its responsibilities.
The five-day inspection, which occurred in January 2020, uncovered that Master Batch Record documentation were reviewed and approved by the Quality Unit of Biocon without documentation of critical process parameters. In addition, executed batch records were reviewed, approved with product subsequently released, without documentation of critical process parameters. The Form 483 also states that labeling procedure was deficient as labels were generated using a word processing software which did not allow for reconciliation of labels of in-process, intermediate or finished API product.
Dr Reddy's Laboratories informed the bourses that its API manufacturing plant located at Miryalaguda in Telangana was inspected by the FDA and had been issued three observations.
"The audit of our API manufacturing plant-5 at Miryalaguda, Nalgonda District, Telangana, by the US FDA, has been completed today. We have been issued a Form 483 with three observations. We will address them comprehensively within the stipulated timeline," Dr Reddy's said in a statement.
The third Indian drugmaker to receive a Form 483 from the US regulator was Aurobindo Pharma, whose finished formulations facility Unit 12 had been inspected from February 10 to 14, 2020 and from February 17 to 21, 2020. It was issued six observations.
According to the FDA observations, the facilities at Unit 12 are not adequate to ensure prevention of contamination. Moreover, procedures to prevent microbial contamination are not established and employees require training.


BMS unveils new corporate identity; to phase out Celgene brand
Bristol Myers Squibb, which completed its US$ 74 billion acquisition of Celgene in November 2019, has unveiled a new corporate identity and plans to phase out the Celgene brand.
The rebranding, with a new logo and website, reinforces the unified BMS and Celgene brands and reintroduces the company to the market post the mega merger. The last time BMS redid its logo was in the 1980s.
The new BMS logo, meant to symbolize the unified company, includes a purple hand graphic followed by the company name in a new san serif font. The BMS team began the rebranding process last year. The hyphen in "Bristol-Myers" has also been removed.
"We realized that the deal with Celgene was so transformational that we were starting 2020 with a new company, a new BMS," said Kathryn Metcalfe, EVP of corporate affairs at Bristol Myers Squibb. "We needed something that was fresh, more representative of who we are and who we will be in the future," she added.
BMS is spreading the word about the new brand through its employees, social media advertisements and other digital efforts. The company is also sharing its message through paid, earned and owned media.


After US, UK levies price fixing fines on four drug companies
Last week, we carried news on how Novartis AG company Sandoz had to pay record US$ 195 million fine to settle price fixing allegations in the US. Sandoz was charged for conspiring to allocate customers, rig bids, and fix prices for generic drugs.
This week, there is similar news from the UK. The Competition and Markets Authority (CMA) of the UK has ruled that four drug companies — King Pharmaceuticals, Auden Mckenzie, Accord-UK and Alissa Healthcare — broke the law in relation to the anti-competitive supply of nortriptyline, an anti-depressant.
The four drugs firms have been fined a total of £3.4million (US$ 4.4 million) for conspiring to push up the prices of nortriptyline. The CMA probe also led to £1million (US$ 1,292,365) payments to be made to the National Health Service (NHS) and the firing of a company director.
From September 2014 to May 2015, King Pharmaceuticals and Auden Mckenzie agreed that the former would supply only 25 mg and Auden Mckenzie only 10 mg tablets of nortriptyline.
Both admitted to breaking the law in September 2019 after the CMA probe, with Accord-UK also being held accountable for taking control of Auden's nortriptyline business after this market sharing ended. Alissa Healthcare was also targeted and fined for illegally sharing commercially sensitive information in order to keep nortriptyline prices up.
NHS spending on nortriptyline peaked at £38 million (US$ 49 million) in 2015 — when illegal conspiring began.
The PharmaCompass Newsletter – Sign Up, Stay Ahead
Feedback, help us to improve. Click here
Image Credit : #Phisper Infographic by SCORR MARKETING & PharmaCompass is licensed under CC BY 2.0
" The article is based on the information available in public and which the author believes to be true. The author is not disseminating any information, which the author believes or knows, is confidential or in conflict with the privacy of any person. The views expressed or information supplied through this article is mere opinion and observation of the author. The author does not intend to defame, insult or, cause loss or damage to anyone, in any manner, through this article."
Read More