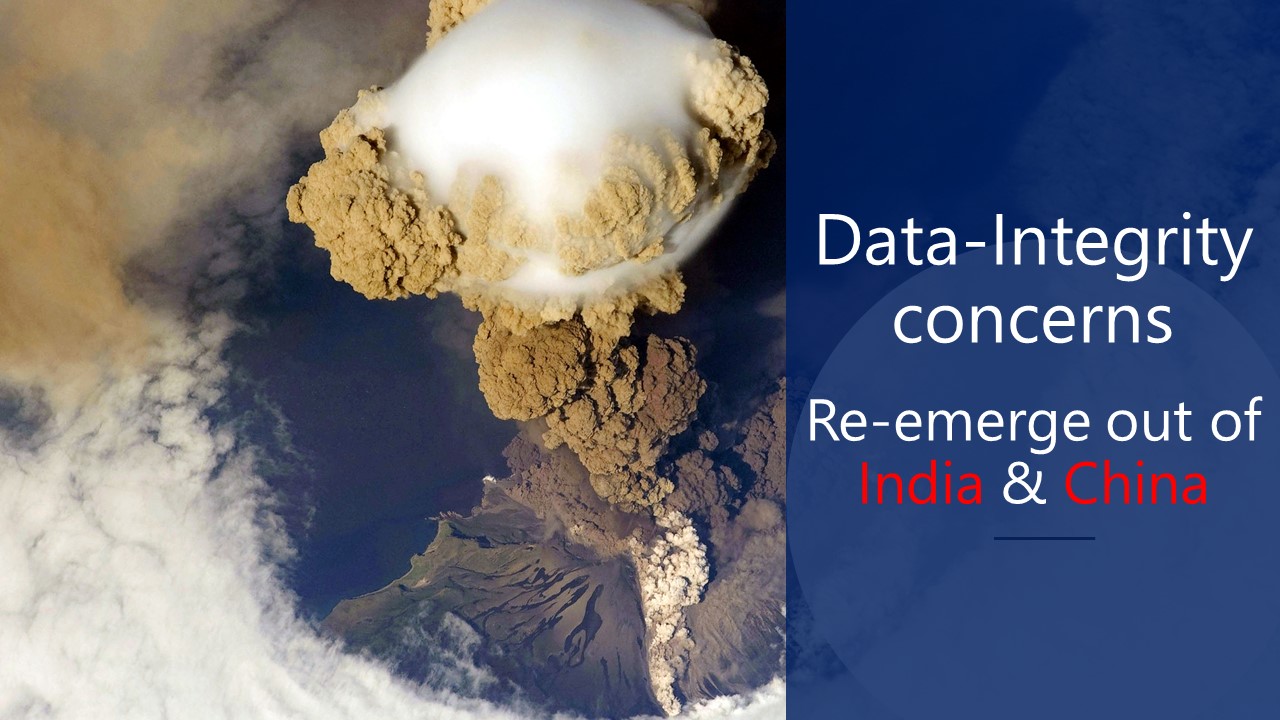 ×
It has been a while since firms in India and China were reported for flagrant violation of data-integrity norms.
In a major setback for Indoco Remedies whose Plants II & III in Goa, India had received a warning letter from the FDA in 2017 had its Plant I in Goa cited by U.K.'s MHRA for GMP non-compliance after inspectors found "evidence of falsification of data in GMP records".
The inspection, which was conducted in March 2018, also found that the company's Pharmaceutical Quality System was ineffective and the firm provided false and misleading statements to the inspectors.
In a restricted GMP certificate issued to the site, Indoco is permitted to continue manufacturing and testing products considered to be medically critical or to ensure continuity of supply into the United Kingdom.
Another finished dosage form manufacturer in India, Theon Pharmaceuticals, was also inspected in March 2018 by the Regulatory Authority from Malta who uncovered critical deficiencies concerning "evidence of falsification of documents" while major deficiencies were highlighted as the firm was found to have an inadequate pharmaceutical quality and documentation management system, deficient controls to prevent cross-contamination.
In the firm's first inspection by an EU/EEA authority, regulators also raised concerns over the company's manufacturing activities, qualification and validation activities and approval of supplier procedures.
The FDA also shared the Form 483 issued to Indian intermediate, API and finished dosage drug manufacturer, Suven Life Sciences Limited following an inspection performed from Feb 5, 2018 to Feb 15, 2018.
The FDA raised concerns as the firm could not provide documentation that the audit trails used to analyze raw material, finished product and related substances had been electronically reviewed by quality personnel.
Consistent with observations at other sites, the FDA investigator found discolored equipment as well as a white, powdery residue inside equipment that was labeled as clean.
Suven had also failed to implement corrective and preventive actions (CAPAs) for out-of-specification (OOS) results when unknown impurity peaks or sub-potent assay results were found in tablets and capsules.
In China, the FDA issued a warning letter to active pharmaceutical ingredient (API) manufacturer Lijiang Yinghua Biochemical and Pharmaceutical Co., Ltd. following an October 2017 inspection.
The FDA inspection found that the laboratory equipment used to generate analytical data for batch release purposes lacked restricted access as the high-performance chromatography (HPLC) and gas chromatography systems each had a single username with administrator rights.
In a previous March 2015 inspection the firm had committed to enabling the audit trail function on laboratory electronic instruments, assigning unique user names and passwords for each staff member and setting up the laboratory systems to prevent electronic data from being deleted, removed, transferred, renamed or altered.
In the October 2017 inspection, FDA observed that the firm had not implemented any of these promised corrective actions.
During the inspection, when the FDA inspectors sought to reconcile HPLC assay testing, for API released to the United States, reported in the quality control data package with the underlying electronic data, the firm responded that they could not provide the electronic data from laboratory analyses as the electronic data in question had been deleted by accident and was no longer available.
The firm's quality unit was also found to approve a certificate of analysis (COA) for release of an API batch to your customer before testing was complete and available for review.



Our View
It has been a while since compliance concerns emerged out of India & China which involved flagrant disregard for data-integrity standards. While there have been many episodes reported in the past where inspectors found falsification of documents or improper configuration of audit trails on chromatography systems, the reporting of such incidents had reduced significantly.
With a lot of the inspection scrutiny shifting to improper handling of out-of-specification results along with an in-depth review of a firm's operations it remains clear that there are still many organizations which have failed to adapt to the current regulatory standards and expectations.
The PharmaCompass Newsletter – Sign Up, Stay Ahead
Feedback, help us to improve. Click here
Image Credit : Sarychev Peak Volcano erupts on Matua Island by John is licensed under CC BY 2.0 // Modification: Data-Integrity concerns Re-emerge out of India & China was added to the original image
" The article is based on the information available in public and which the author believes to be true. The author is not disseminating any information, which the author believes or knows, is confidential or in conflict with the privacy of any person. The views expressed or information supplied through this article is mere opinion and observation of the author. The author does not intend to defame, insult or, cause loss or damage to anyone, in any manner, through this article."
Read More