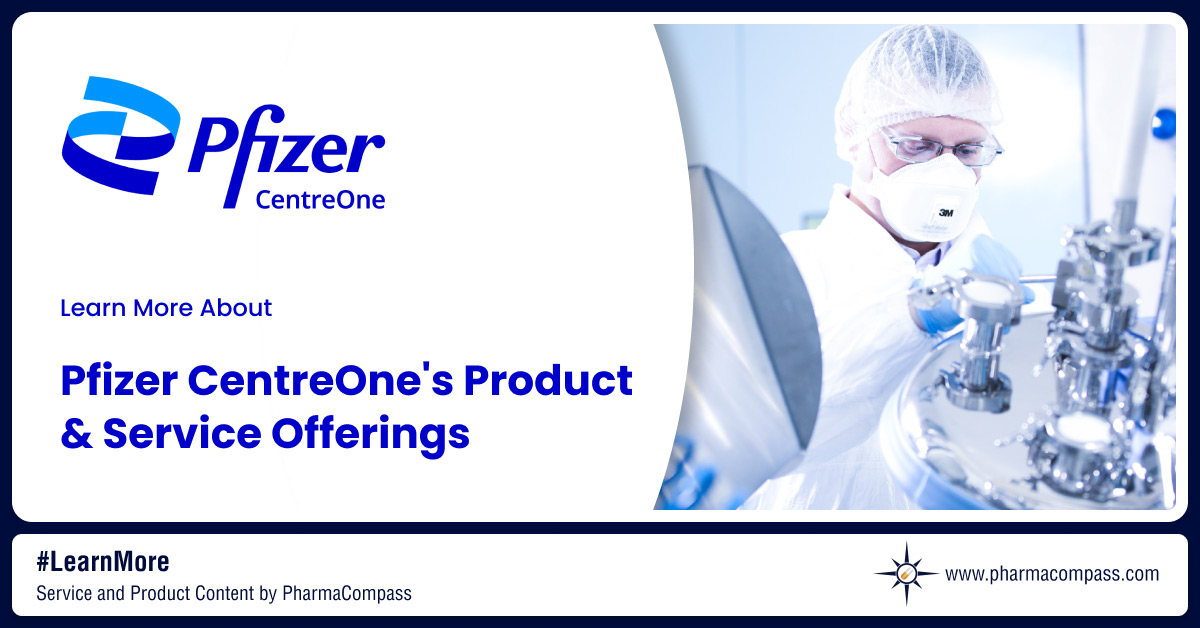 ×
View Pfizer CentreOne's portfolio of APIs & intermediate products & also view Pfizer CentreOne's CDMO / CMO services on PharmaCompass.
Q1. What is Pfizer CentreOne and what services does it offer?
Pfizer CentreOne is a global CDMO embedded within Pfizer and it's a leading supplier of specialty APIs (Active Pharmaceutical Ingredients). Backed by Pfizer resources, they deliver technical expertise, global regulatory support and long-term supply.
For more than 40 years, Pfizer CentreOne has been guiding complex compounds (e.g. antibiotics, complex steroids and hormones, etc.) securely and efficiently from development through to commercialization.
Pfizer CentreOne also provides contract development and manufacturing for small molecule APIs, large molecule biologics, oral solids and sterile injectables, along with being a leading supplier of specialty APIs and intermediates.?
Consequently, their key services are divided into the following categories:
1. Development
Pfizer CentreOne offers development services for drug substances (small molecule APIs and large molecule biologics) and drug products (oral solid doses and sterile injectables). Some of these development services are noted below.
- Formulation Development
- Process Development
- Clinical manufacturing
- API Development
- Safety screening
- API synthesis
- Scale-up (including API scale-up)
- Regulatory support
Manufacturing
Pfizer CentreOne also offers manufacturing services for drug substances (small molecule APIs and large molecule biologics) and drug products (oral solid doses and sterile injectables). Some of these manufacturing services are noted below.
- Lyophilization
- Micronization
- Complex organic synthesis
- Microbial fermentation
- Compression
- API manufacturing
APIs and Intermediates
Pfizer CentreOne offers both API development services (e.g. API scale-up, process development, etc.) and API manufacturing services (e.g. API synthesis, complex organic synthesis, etc.). It makes some of the most difficult-to-produce complex steroids and hormones, prostaglandins, and antibiotics. Furthermore, Pfizer CentreOne has been a leading provider of specialty APIs for more than 50 years.
They bring quality, integrity, technical expertise and supply assurance, and seek to continuously improve your products. Some key products in Pfizer CentreOne's API and intermediate portfolio are noted below.
- Dexamethasone
- Hydrocortisone
- Progesterone
- Testosterone
Q2. Where are some of Pfizer CentreOne's manufacturing sites located and what is their regulatory inspection history?
Pfizer, with more than 170 years of experience and hundreds of products to its name, continues to invest more than $1B annually into its manufacturing sites.
Their global manufacturing network includes more than 35 sites across six continents. From these facilities, they deliver technical expertise (e.g. complex organic synthesis, API scale-up, etc.), global regulatory support and reliable supply to customers across the world.
Pfizer CentreOne's Facility Highlights:
- Freiburg, Germany
The site in Freiburg, Germany manufactures about 4.5B tablets and capsules annually, supporting millions of patients all over the world. Freiburg offers expertise in oral solid process and product development, flexible volume manufacturing, leading packaging technologies, and global delivery.
With decades of worldwide experience and regulatory approvals for all markets including U.S., China and Japan, Freiburg is well equipped to meet all global aggregation and serialization requirements.
- Kalamazoo, Michigan
The largest manufacturing site in the Pfizer network is in Kalamazoo, Michigan, with facilities spanning a total area of 90 acres. Kalamazoo has a long legacy of innovation, industrial safety, and regulatory compliance, as well as an industry leading sustainability program, and produces approximately 1 million kg of API (Active Pharmaceutical Ingredient) and 10 million kg of intermediates every year.
The Kalamazoo site is inspected on an ongoing basis by regulatory authorities from around the globe and is committed to patient safety and product quality at every step in the manufacturing and supply chain process. From 2015 to 2020, Pfizer CentreOne's Kalamazoo site has received numerous regulatory inspections from major regulatory bodies such as FDA (USA), EMA (Europe), ANVISA (Brazil), etc.
- Newbridge, Kildare, Ireland
The manufacturing site in Newbridge, Ireland offers specialized expertise in complex oral solids and capabilities ranging from pilot to commercial scale manufacturing (commercialization). Newbridge has over 25 years of experience in contract manufacturing and supplying medicines to patients around the globe. The site is 800-colleague strong, with 10,000+ years of collective expertise.
Pfizer CentreOne's Newbridge site has received 25 regulatory inspections in the past 10 years from USFDA, HPRA (Irelend), Argentina, Korea, etc. and has a track record of zero critical observations. Furthermore it has been certified by the Health Products Regulatory Authority and received regulatory approvals from the FDA (US) and ANMAT (Argentina).
- Ascoli, Italy
The manufacturing site in Ascoli, Italy offers high quality pharmaceutical manufacturing in oral solids with specialization in highly potent medicines and high complexity management. Ascoli offers end-to-end CDMO services from product and process development for lab and pilot scale to full manufacturing at commercial scale (commercialization).
It receives regulatory inspections from major regulatory bodies such as FDA (USA), ANVISA (Brazil), AIFA (Italy), Turkey, Russia, and MFDS Korea and the site's commitment to quality is evident by their regulatory record, with zero critical observations throughout the history of the site.
- Hangzhou, China
Pfizer Hangzhou Global Biotechnology Center is part of Pfizer's Global Biotech Operating Unit and offers CDMO services for drug substance, drug product and sterile injectables. The Hangzhou site leverages Pfizer's global experience in bio products, including mAbs. It was designed to meet international as well as CFDA cGMP requirements.
Q3. What are the environmental sustainability initiatives taken by Pfizer CentreOne?
Pfizer CentreOne is committed to high standards of Environmental, Health and Safety (EHS) performance. Embedded within Pfizer, Pfizer CentreOne aims to follow and achieve the objectives set out in Pfizer's EHS policy.
This policy is implemented through a comprehensive EHS Management System and overseen by governance arrangements that involve everyone within Pfizer CentreOne. Performance is monitored and regularly reviewed to ensure that the standards meet Pfizer's expectations, and that the EHS Policy continues to be of value to business, customers and patients.
Furthermore, they have a long-standing commitment to protecting the environment and the communities in which they operate, including a commitment to all 17 of the U.N. Sustainable Development Goals. Pfizer CentreOne continues to find ways to minimize its impact on the environment during the manufacturing of pharmaceuticals.
Some environmental sustainability initiatives taken by Pfizer CentreOne:
- All of Pfizer CentreOne's facilities quantify water use, report performance against reduction targets, and support community efforts during drought conditions. They follow the framework under the U.N. Global Compact Water Mandate to guide their Water Sustainability Program.
- Pfizer CentreOne is dedicated to collaborating across their supply chain to reduce the environmental footprint of packaging. They leverage innovative packaging materials, designs and systems that minimize impact on the environment, provide benefits to patients and reduce costs.
- At Pfizer CentreOne's Kalamazoo manufacturing site in Michigan, USA, they've implemented projects that have annually reduced greenhouse gas emissions by 24,000 metric tons and hazardous waste disposal volume by 10 million kilograms.
- At their Puurs facility in Belgium, the online wind turbines have reduced CO2 emissions by 13,000 tons per year, with onsite renewable energy sources providing more than half of Puurs' electrical needs.
- Environmental sustainability initiatives include managing waste in a responsible manner. Pfizer CentreOne takes a multi-faceted approach by focusing on source reduction, waste minimization, and recycling improvements. Typically, this is done at both the site and regional level by establishing targets to reduce the generation of solid waste and reuse solvents through recovery processes.
- Pfizer CentreOne's green chemistry program has launched its first compound, Enviero (en-VI-ro) progesterone, which led to more than a 70% reduction in their carbon footprint as compared to the traditional progesterone production process they previously used. Furthermore, no metal catalysts were used.
- Pfizer CentreOne supports and undertakes environmental projects that restore land, preserve wildlife, and help conserve natural resources.
- Pfizer CentreOne leverages its Green Chemistry and Biotechnology program to advance scientific innovation to help develop processes that are more sustainable, environmentally sound and cost-effective.
Q4. What are some of the new technologies offered by Pfizer CentreOne?
Pfizer CentreOne sells APIs and intermediates manufactured in the U.S. under Pfizer's quality standards and their API and intermediate capabilities encompass complex steroids and hormones, antibiotics, and prostaglandins.
Pfizer CentreOne uses various new technologies. Some of these new technologies for intermediate and API development and manufacturing (API synthesis) and the production of other pharmaceuticals are noted below.
- Continuous Manufacturing Technology (CMT)
These innovative, next generation technologies allow for continuous processing and greater flexibility for partners. CMT has proven to increase efficiency and quality of production. The process is made possible by a proprietary Pfizer technology called continuous mixing.
With the technology, a specially designed mixing unit can blend active ingredients into a homogeneous compound without interruption. The process saves time and money, and reduces the possibility for error.
- High Containment (HighCon) Manufacturing
The latest addition to Pfizer's Freiburg site is a high containment facility due to open in 2021. Implementing latest technology in automated dispensing and weighing processes, the facility expands the site's high containment offer in OEB 4/5 and provides the level of expertise and capacity required to respond to partner challenges in highly potent oral solids.
Analytical capabilities include real-time release and NIR process analytical technology for blending and content uniformity. The facility equipment meets industry 4.0 standards and is certified for energy efficiency and sustainability through Leadership in Energy and Environmental Design (LEED) program.
- Portable Continuous Miniature and Modular (PCMM) Manufacturing
PCMM comprises a network that integrates a small footprint, continuous processing equipment, smart control systems and PODs (portable, self-contained GMP modules) to process API (Active Pharmaceutical Ingredient) powders and inactive ingredients into bulk tablets.
Materials arrive to production through a fully automated feeding system; this and the Pfizer developed mixing technology ensure high homogeneity and uniformity. New measuring methods constantly check the quality during ongoing production in real time.
This self-contained and fully automated process allows Freiburg to further increase production flexibility and accelerate scale-up.
- Osmotic Drug Product Technology
In 2021 Pfizer CentreOne's Newbridge facility will become equipped with osmotic drug product technology which will enable solvent membrane coating, laser drilling, aqueous film coating, printing, bead solvent coating, bead solvent coating, active (hormonal and non hormonal) coating, sugar and film coating, and encapsulation.
- Hi-tech Packaging Machine
In August 2020, Pfizer CentreOne's Ascoli site installed a new hi-tech machine for one of their packaging lines. The robotic machine, created by their engineering and manufacturing department in collaboration with a local supplier, reaches new heights of performance assuring high quality and safety standards.
Q5. What are Pfizer CentreOne's revenues?
Pfizer invests US$ 1 billion annually into its manufacturing network and operations and this sustained commitment to innovation and optimization positions Pfizer CentreOne as a highly competitive, technology leading CDMO.
Pfizer CentreOne falls within the Pfizer Biopharmaceuticals Group, a science based medicines business that includes six business units - Oncology, Inflammation and Immunology, Rare Disease, Hospitals, Vaccines and Internal Medicine. More specifically Pfizer CentreOne falls under the Hospital unit of the Pfizer Biopharmaceuticals Group.
The Hospital unit which includes Pfizer's contract manufacturing operation, Pfizer CentreOne, commercializes Pfizer's global portfolio of sterile injectable and anti-infective medicines. As per Pfizer's 2019 financial reports, Pfizer CentreOne's revenue increased from $755 million in 2018 to $810 million in 2019, with 9 percent growth year-on-year. Therefore, Pfizer CentreOne is a strong commercial entity poised to show solid financial results in 2020 as well.
In the fourth quarter of 2019, Pfizer CentreOne reported global revenues of $245 million, which was 20% higher than the activity recorded in Q4, 2018. Pfizer thus attributed Pfizer CentreOne as a key driver towards the 8% increase in the hospital unit observed overall.
Pfizer CentreOne includes revenues from Pfizer's contract manufacturing and active pharmaceutical ingredient sales operation, including sterile injectables contract manufacturing, and revenues related to its manufacturing and supply agreements, including those with Zoetis Inc.
Furthermore, in the fourth quarter of 2017, Pfizer sold its equity share in Hisun Pfizer. As a result, effective in the first quarter of 2018, Hisun Pfizer-related revenues, previously reported in emerging markets within legacy All Other LEP and legacy All Other SIP, are now reported in emerging markets within Pfizer CentreOne.
The PharmaCompass Newsletter – Sign Up, Stay Ahead
Feedback, help us to improve. Click here
Image Credit : Biosynthesis, tech advancements by PharmaCompass is licensed under CC BY 2.0
" The article is based on the information available in public and which the author believes to be true. The author is not disseminating any information, which the author believes or knows, is confidential or in conflict with the privacy of any person. The views expressed or information supplied through this article is mere opinion and observation of the author. The author does not intend to defame, insult or, cause loss or damage to anyone, in any manner, through this article."