Top drugs and pharma companies by sales in 2020
Top drugs and pharma companies by sales in 2020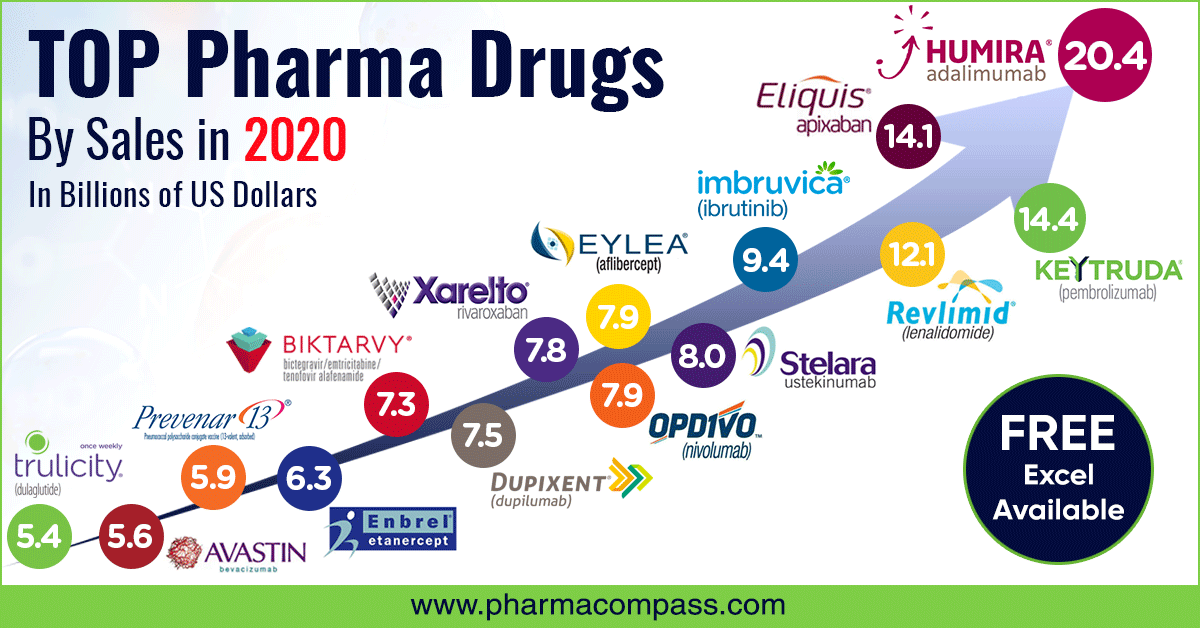 ×
Last year, the pandemic impacted everyone's life in one way or the other. It turned the limelight on to the pharmaceutical industry, which stepped up efforts to deliver treatments and vaccines for Covid-19. It was a year of challenges for the drug industry as it struggled to supply existing drugs and treat emergencies amid disruptions in the way business was conducted the world over.
Unlike previous years when the top five drug companies largely remained unchanged, 2020 saw several movers and shakers. The acquisition of Allergan by AbbVie helped it enter the 'top five' list, while companies like Pfizer and Merck got edged out. Despite a 2 percent increase in revenues, Pfizer dropping out of the top five was not a complete surprise as it spun-off its Upjohn unit. The unit merged with Mylan to create Viatris, an entity with over US $10 billion in revenues.
View Our Interactive Dashboard on Top drugs by sales in 2020 (Free Excel Available)

Roche emerges as top drug company by global sales
The top five list of global pharmaceutical companies by sales in 2020 was quite a mix of surprises. While Swiss major Roche topped the ranking of global drug companies by pharmaceutical sales (with global revenues of US$ 49.6 billion or CHF 44.532 billion), it also witnessed a sales decline of 8 percent, which was partially an outcome of the Swiss franc gaining against most currencies during the pandemic. Overall, competition from biosimilars and the Covid-19 pandemic had a negative impact on Roche's pharmaceutical sales in 2020. However, it witnessed strong sales growth of newly launched medicines like Tecentriq, Hemlibra, Ocrevus, Perjeta and Kadcyla, which helped in offsetting the CHF 5 billion (US$ 5.53 billion) impact of competition from biosimilars.
At the second position was Swiss drugmaker Novartis, whose global sales (at US$ 48.7 billion) were marginally lower than Roche's. Unlike the numero uno, Novartis' pharmaceutical sales grew 4 percent, driven by cardiology drug Entresto that witnessed a 44 percent increase in revenues. While its oncology unit and Sandoz's biosimilars business also posted an increase in sales, Covid-19 negatively impacted demand, particularly for the company's ophthalmology and dermatology operations and the retail operations of Sandoz. The year also saw Novartis' gene therapy Zolgensma, the world's costliest drug, reach nearly US$ 1 billion in sales.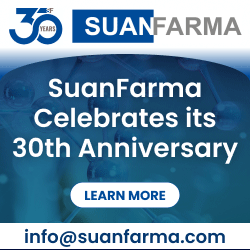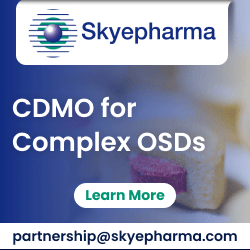 As the British pound became a lot stronger against the US dollar, GlaxoSmithKline Plc (GSK) witnessed a 3 percent increase in sales in constant currency terms and saw its group sales (£ 34.1 billion or US$ 47.27 billion) take the number three spot in US dollar terms. Strong sales performances from key growth drivers in HIV, respiratory, oncology and consumer healthcare offset disruptions from Covid-19. GSK's consumer healthcare division reported over £10 billion (US$ 13.91 billion) in sales and the firm is on track to create new standalone biopharma and consumer healthcare companies in 2022.
View Our Interactive Dashboard on Top drugs by sales in 2020 (Free Excel Available)

AbbVie's
international
Humira sales drop 13.6% due to biosimilars
AbbVie reported worldwide revenues of US$ 45.8 billion, an increase of 38 percent versus the previous year. This included US$ 10.3 billion in revenues from the Allergan acquisition, growth in the immunology portfolio, and the continued strength of Humira in the US as well as revenue growth from Imbruvica and Venclexta. Humira, the best-selling drug since 2012, continued to dominate with US$ 19.83 billion in sales, an increase of 3.5 percent as compared to 2019. While the international sales of Humira dropped 13.6 percent due to competition from biosimilars, in the US sales increased as Humira is protected from biosimilar competition until 2023.
J&J's pharmaceutical division delivered a strong performance as its pharmaceutical sales grew 8 percent to US$ 45.6 billion and contributed more than the combined sales of its other two units — consumer health and medical devices. This sales growth was largely attributed to primary operational drivers including Imbruvica and Stelara, which were among the top 10 drugs by sales in 2020. J&J and AbbVie have an equal share in the profits (and losses) from the sales of Imbruvica, which witnessed a double digit increase in sales to US$ 9.4 billion. Similarly, J&J's Stelara reached US$ 8.0 billion in sales. J&J's overall revenues grew by just 0.6 percent to US$ 82.6 billion (including sales from its consumer health and medical devices divisions). It will be interesting to see what J&J's 2021 revenues look like as it benefits from the sales of its single-dose Covid-19 vaccine.
View Our Interactive Dashboard on Top drugs by sales in 2020 (Free Excel Available)

Merck's Keytruda on
its
way to becoming world's best-seller
With AbbVie's Humira beginning to face generic competition, Merck's oncology drug Keytruda continued to go from strength to strength posting a sales growth of 30 percent. Keytruda delivered more than US$ 14.4 billion in sales, almost a third of the firm's US$ 43 billion revenue. It's only a matter of time before Keytruda becomes the world's best-selling drug.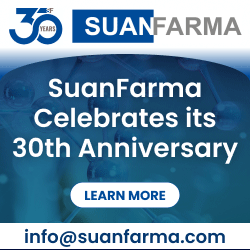 Bristol Myers Squibb (BMS) reported worldwide revenues of US$ 42.5 billion in 2020. BMS' products Revlimid and Eliquis reported significant growth last year, and followed Humira and Keytruda in terms of sales. Eliquis, which is also promoted by Pfizer in some geographies, had total sales of US$ 14.1 billion while Revlimid posted over US$ 12 billion in sales. Revlimid, which BMS picked up through its acquisition of Celgene, will face limited generic competition sometime after March 2022. Furthermore, while BMS' oncology treatment Opdivo's sales (US$ 7.2 billion) declined by 3 percent compared to 2019, it remained one of the top selling drugs in 2020 (US$ 7.9 billion) with a small portion of sales coming from Ono Pharma in Japan.
Sanofi reported approximately US$ 43.6 billion (€36 billion) in net sales for 2020, which rose by 3.3 percent at constant exchange rates even as some of its flagship products' sales declined due to generic and biosimilar competition. Solid performances from Dupixent, vaccines and its specialty care global business unit across all geographies, more than offset lower sales.
In the case of Gilead, while products like Biktarvy in its HIV portfolio witnessed a growth of over 50 percent to more than US$ 6 billion, it was Gilead's treatment for Covid-19 — remdesivir — promoted under the brand Veklury which went from no sales in 2019 to US$ 2.81 billion in sales in 2020.
View Our Interactive Dashboard on Top drugs by sales in 2020 (Free Excel Available)

Our view
The human health business of many companies was negatively impacted by the Covid-19 pandemic. However, operating expenses saw a reduction due to lower promotional and selling costs, as well as lower R&D expenses.
This year, as Covid vaccines from Pfizer, Moderna, J&J and AstraZeneca are rolled out in more countries across the world, they are expected to ring in significant revenue contributions for these companies. For instance, Pfizer recently announced that it expects US$ 26 billion in revenues from the sale of its vaccine in 2021. Similarly, Moderna said it expects US$ 19.2 billion in sales from its Covid-19 vaccine this year.
Given this scenario, the order of the top drug companies and the sales contribution of various drugs will change significantly in 2021. It seems likely that Pfizer's vaccine will become the best-selling product by sales in 2021 and the American drugmaker will be back among the top five in the global drug companies by sales list.
View Our Interactive Dashboard on Top drugs by sales in 2020 (Free Excel Available)

The PharmaCompass Newsletter – Sign Up, Stay Ahead
Feedback, help us to improve. Click here
Image Credit : Top-Pharma-Drugs-2020 by PharmaCompass is licensed under CC BY 2.0
" The article is based on the information available in public and which the author believes to be true. The author is not disseminating any information, which the author believes or knows, is confidential or in conflict with the privacy of any person. The views expressed or information supplied through this article is mere opinion and observation of the author. The author does not intend to defame, insult or, cause loss or damage to anyone, in any manner, through this article."